I know many of you are probably so over the DIY boxwood wall trend. Let's face it, they're all the rage at baby showers, bridal showers and dessert table type set-ups.
The pop of green makes for a gorgeous photo backdrop. You can also add on faux flowers or flower stems, which is a great way to incorporate more colors for those social media worthy pics.
But I love them not for their great backdrop indoors or a photo booth…I love faux boxwood walls for outdoor areas.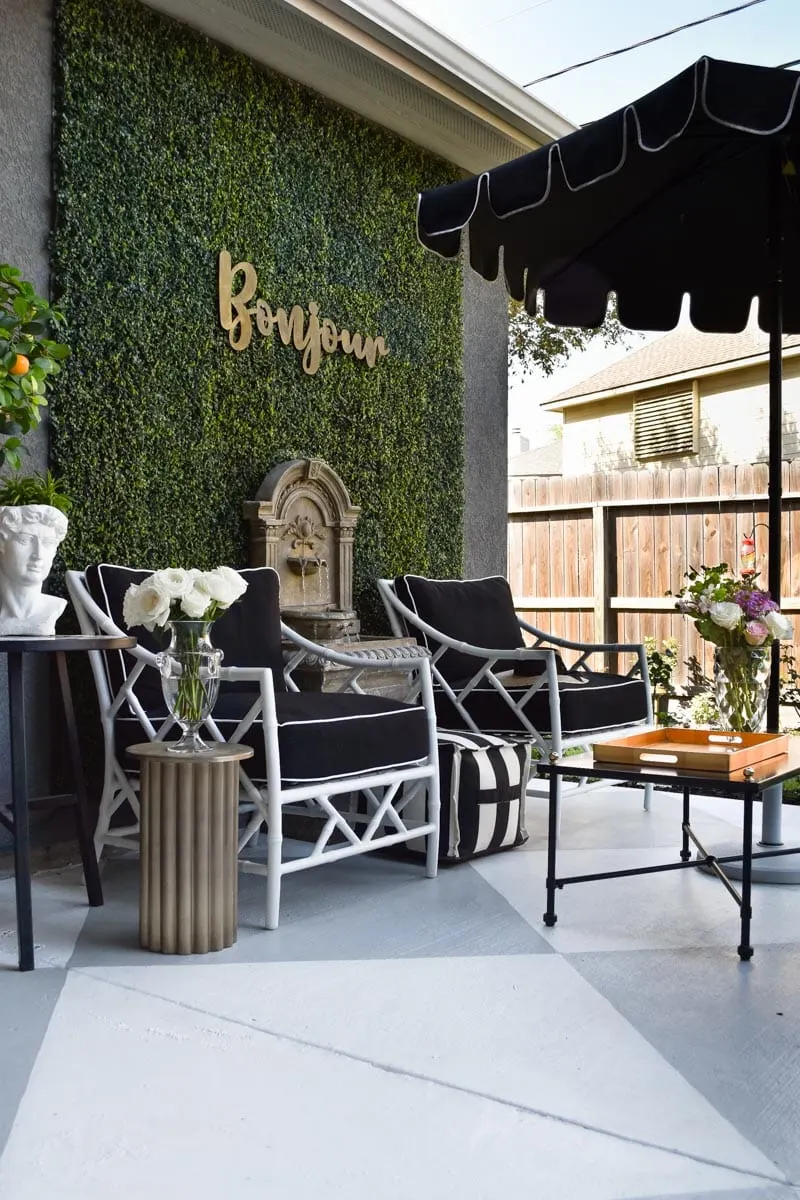 When I was planning our Parisian inspired patio makeover over the last year and a half or so, artificial boxwood panels were high on my list of wants as the one of the major decorative elements.
I also wanted a custom neon sign, but I haven't splurged on that just yet. I instead opted for an affordable wooden sign that I painted gold with spray paint.
Outdoor Faux Boxwood Wall
Creating a faux boxwood wall or DIY boxwood backdrop (whatever you want to call it!) is truly not that challenging, but it does take a bit of prep work.
You'll likely need a second set of hands to help connect the faux greenery panels together and save your thumbs.
This is a DIY project you can easily accomplish in the span of an afternoon. If my memory serves me correctly, this whole process took Daniel and I about two hours and minimal arguing.
The results are totally worth it to have an outdoor faux boxwood wall that withstands our hot, humid coastal Texas climate… but makes me feel like I could be living in a tiny French cottage.
Our faux boxwood wall is still a gorgeous dark green hue 18 months after installing it, and it gets BEATEN with direct sun until about 2 p.m. daily, not to mention the insane winds here in Corpus Christi that blow dirt and dust onto it regularly.
---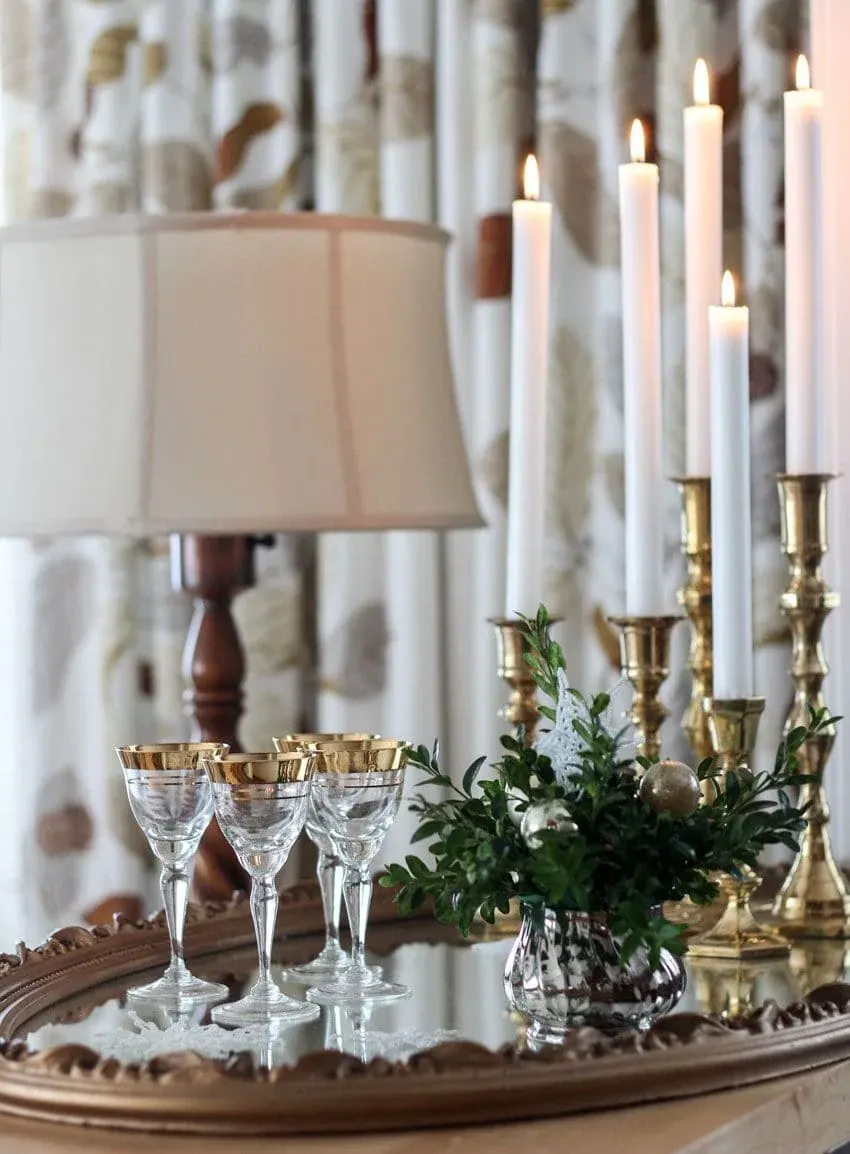 29+ Vintage French Decorating Ideas
Check out this post that features creative ideas for secondhand, vintage items to look for to achieve the french aesthetic.
---
Tips for Buying Faux Boxwood Panels
I will state, not all boxwood panels are created equal. You'll see a ton of them at varying price points on sites like Amazon and the quick, free shipping is always a draw. Instant gratification, right? I totally get it.
The BEST Faux Boxwood Panels
If you're going to use these panels outside and you want them to last, you'll want to invest in these high quality faux boxwood panels that I used.
Use code MONICA15 to save 15% on purchases over $100.
Now depending on the size of your design or area, it can be pricey. If you're on a tight budget, I'd recommend doing a small "framed" area rather than a whole floor to ceiling wall.
Some things to keep in mind when buying faux boxwood wall panels:
Color: some are almost bright Crayola green versus a more natural green color of boxwood.
Size: you want the panels to be a manageable size. The larger they are, the more likely they are to warp.
Connection Method: most panels will feature a way to connect the panels to one another. Is it sturdy? If it's solely zip ties, I'd skip that item.
UV Protection: Are they rated for outdoor use? If so, is it only recommended for covered or shaded areas?
Density: You'll notice some panels have more greenery than others. If you lift up the panel, how much can you "see" through it? You want panels that have a good density for proper coverage and the most impact.
You'll see on my DIY boxwood wall that I centered it in relation to our concrete patio extension.
I knew I wanted the panels to cover the wall from right under the soffit to as close to the bottom of the stucco as possible because I planned on hiding the extension cords for our fountain and lights under the bottom row.
We've discussed how to select and buy your faux boxwood panels for this DIY project, so now let's get to it! I'll break down the steps into a manageable tutorial. You can do this!
---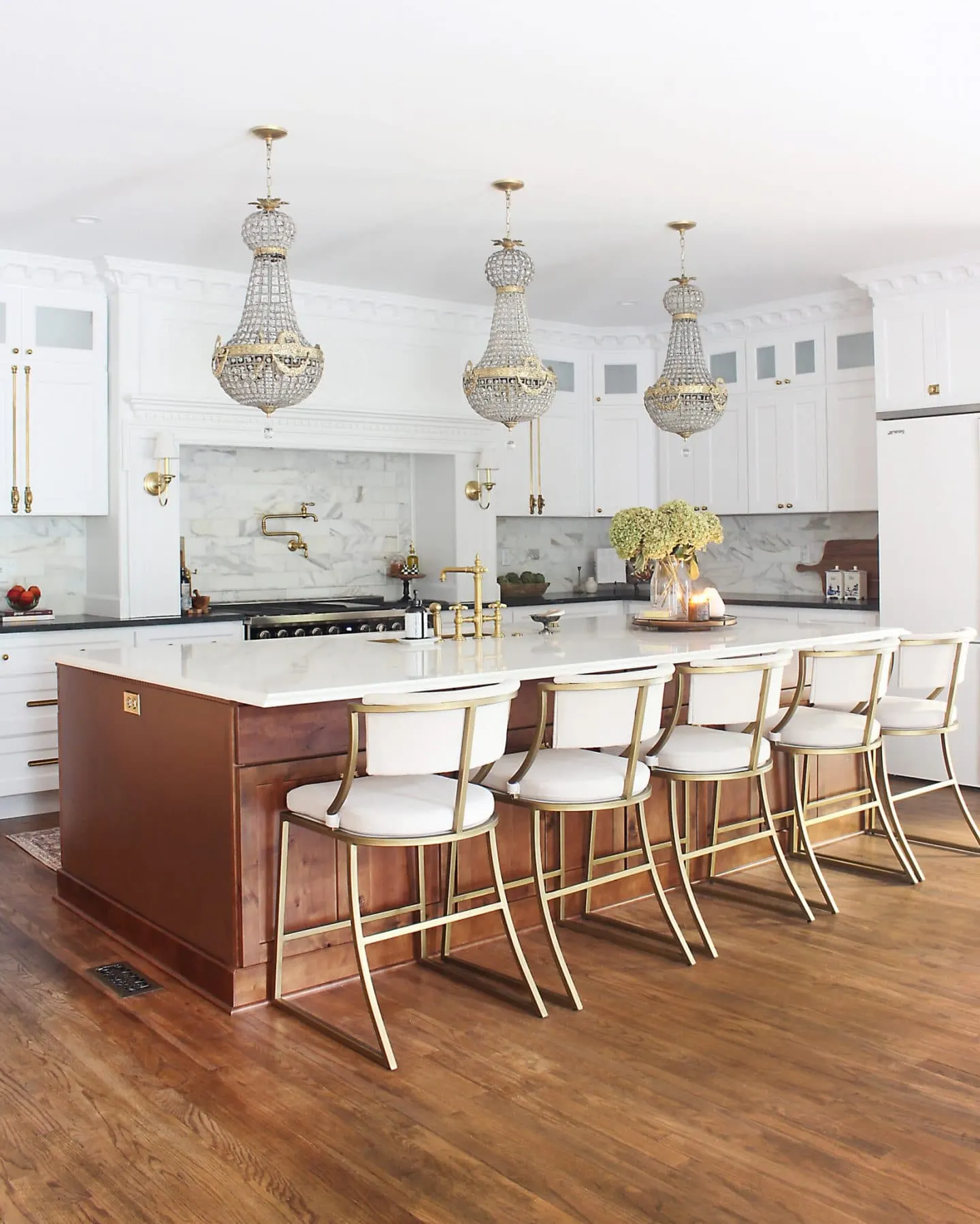 Need Kitchen Island Centerpiece Ideas?
This post features over 40 kitchen island centerpiece ideas for any holiday, season or decor style.
---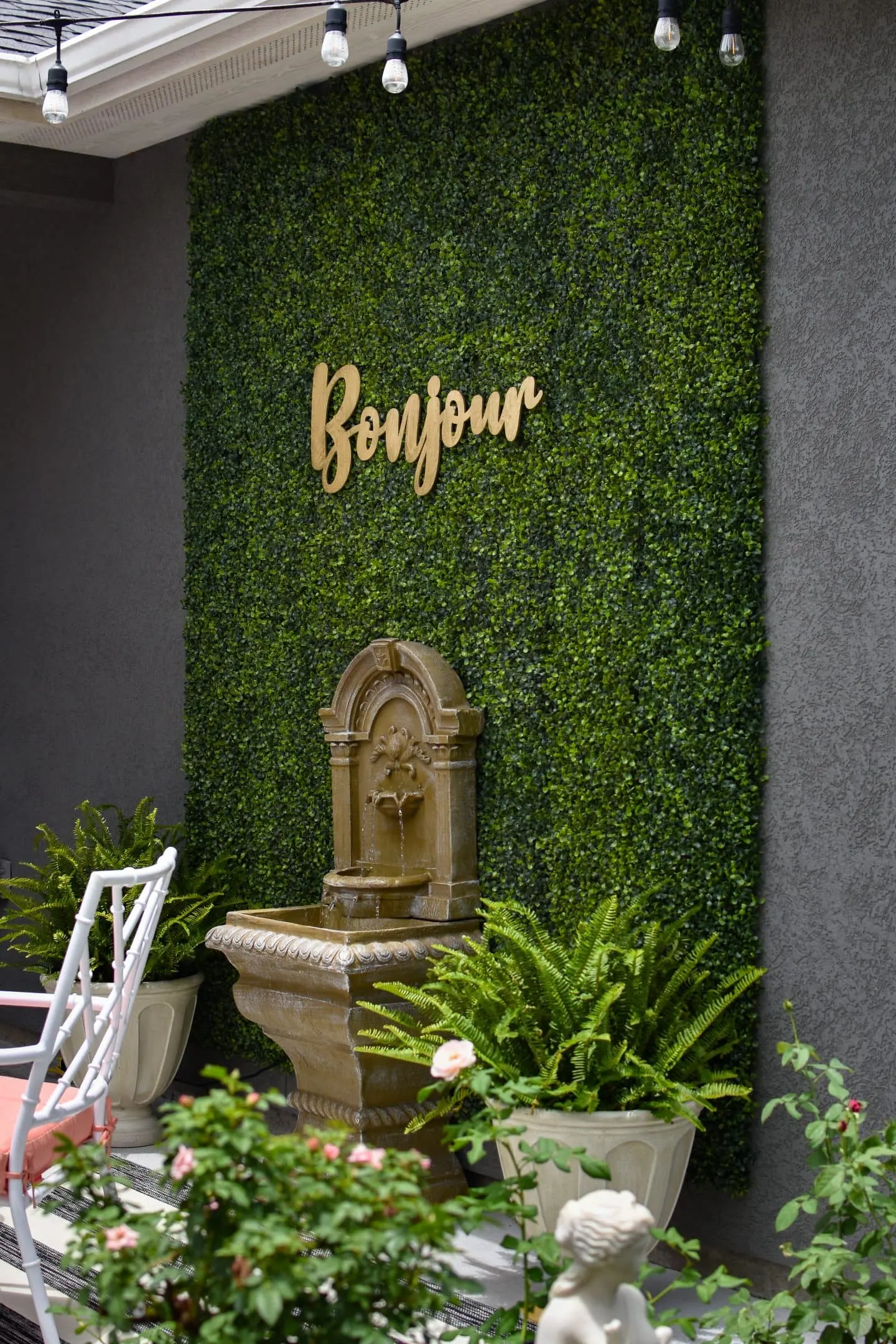 Using this DIY Boxwood Wall Tutorial on Other Surfaces
You can use this tutorial for truly any surface.

-If you're mounting the faux boxwood panels to wood, use 1.5″ wood nails or screws.
-If you're doing this indoors on drywall, I'd recommend using these self-drilling anchors and screws to support the weight of the panels.
-If you're adding a faux boxwood accent to a metal chainlink fence, you can likely just use zip ties.
Timelapse Video of Our DIY Boxwood Wall
---
I hope you're now empowered to tackle your very own DIY boxwood wall. If you do, please tag me (@monicabenavidez) in your posts or stories. Enjoy the process, but most importantly, enjoy the outcome for many years to come!
---