I have been obsessed with the gorgeous framed chinoiserie wallpaper panels that you see in high-end, luxury homes. They're usually so feminine, impeccably chic and hand painted, which makes them prohibitively expensive.
I was determined to find a way to DIY these chinoiserie wallpaper panels for a lot less and share the tutorial with you all, which is what we are all gathered for here today.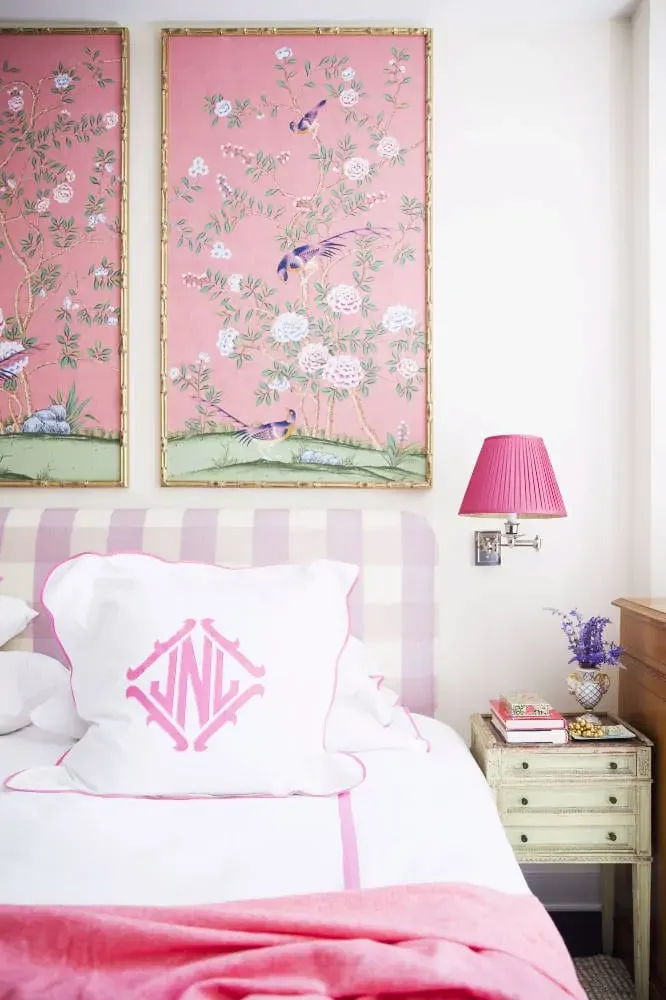 I've been hoarding some floral chinoiserie wallpaper from Graham & Brown for awhile just for this sort of DIY chinoiserie wallpaper project.
I've been hoarding it so long that this particular pattern is no longer made, but they do have some gorgeous chinoiserie wallpapers online that are similar.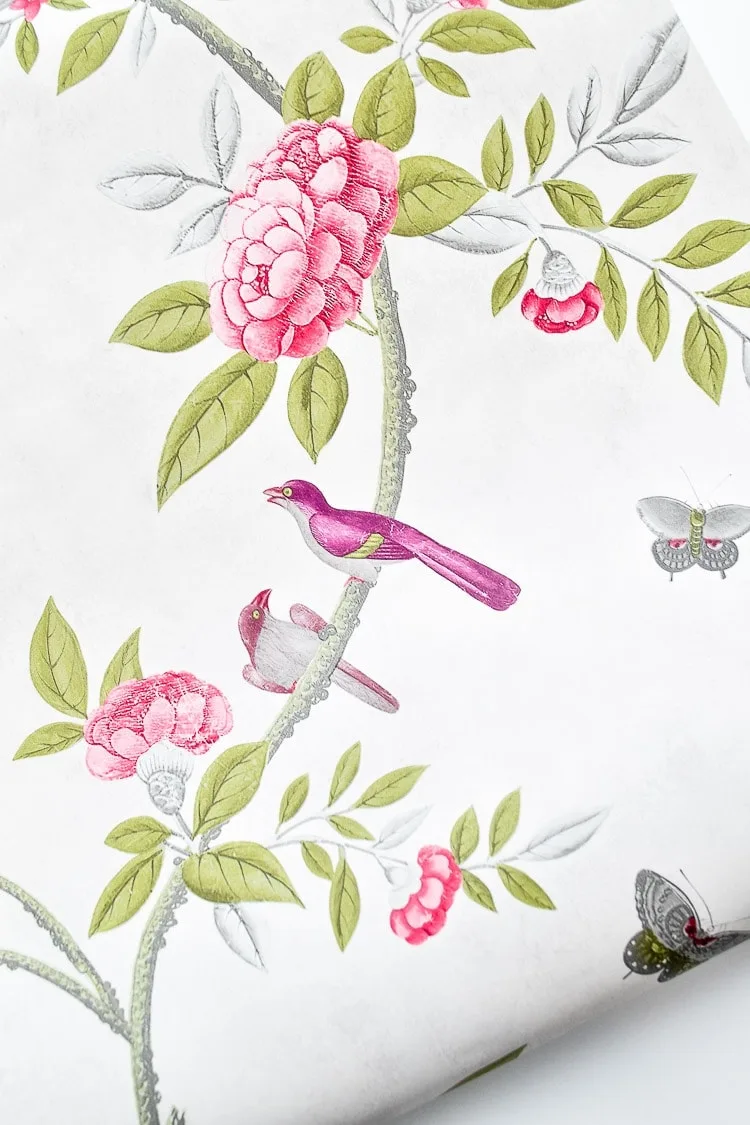 These chinoiserie wallpaper panels are going to be the main wow piece on my accent wall in my home office makeover. You may be asking yourself, "Didn't she redo her home office in January?" and you'd be correct.
However, it was a super simple face lift, and this is going to be more involved with painting a wall and getting a fantastic new rug, which I'll be talking about in a post soon.
Large Bamboo Picture Frames for Wallpaper Panels
When thinking about how to DIY these chinoiserie wall panels, I kept wishing someone sold giant bamboo frames to make this whole process easier.
Initially I was going to settle for just buying some simple trim at the hardware store and building the frames myself, but I really, really wanted bamboo.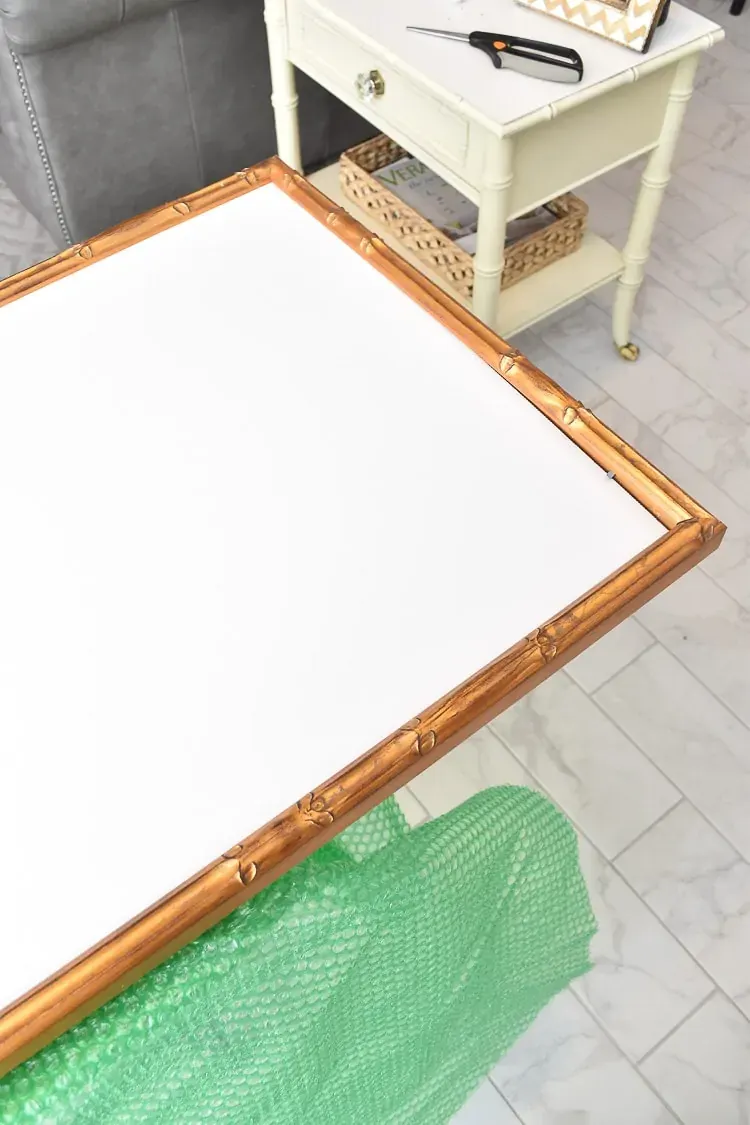 One evening, a Google search led me to PictureFrames.com where I found the most perfect bamboo frame.
It's thin, gold and available in custom sizes. In fact, they have over 800 (!!!) different frames to choose from, a fantastic design blog with tons of art/framing inspiration, and are a zero-landfill company. Nothing from any of their orders goes to waste, and I love when companies are Eco-conscious.
I reached out about my idea for this project, and they graciously agreed to provide the frames and foam core board. The frames came in perfect shape and packed to ensure zero damage.
Putting these together was actually a really easy project that is perfect for both skilled and novice DIY-ers. No power tools are needed, and you can knock out a pair of wall panels in under 90 minutes or so.
My office has nine foot ceilings, so I opted to have the frame opening be 20″ by 72″ tall. The 20″ width meant I only had to trim about a 1/4 inch of wallpaper off each side, but you'll learn more about that in the tutorial at the end of this post.
I still have to paint my office accent wall, which will be black, so for now I positioned a panel against my black doors so you'll kind of see the dramatic effect I'm going after.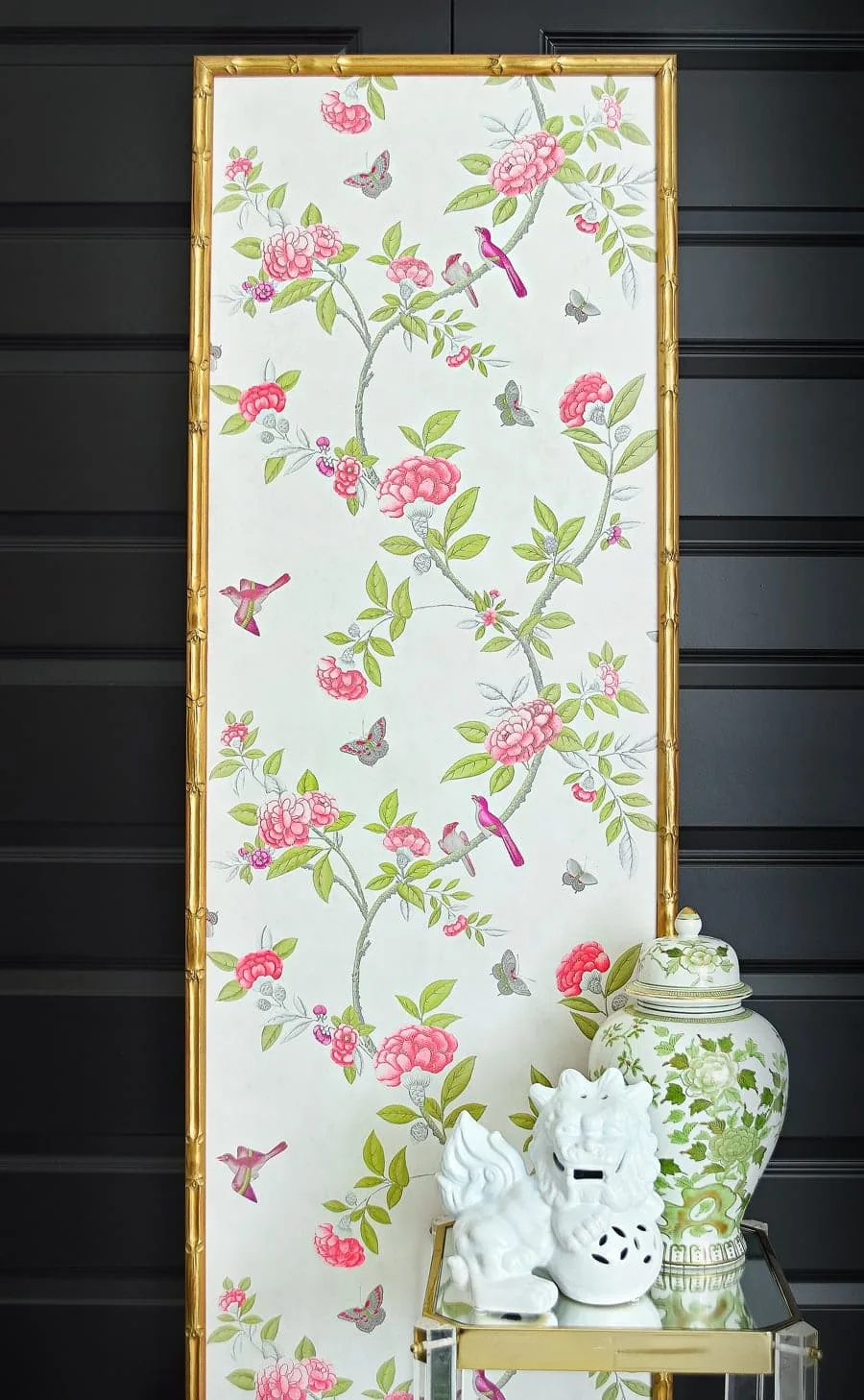 I put the other by my chinoiserie Christmas tree with my blue and white DIY ornaments, and it totally works there, too.
I love the bold pink and purples paired with the very light gray background on the wallpaper. And the birds…gosh, I am so smitten with those birds. This wallpaper is so me!
And you all know I simply had to stage it with a foo dog and ginger jar to show you all that chinoiserie doesn't have to totally revolve around blue and white.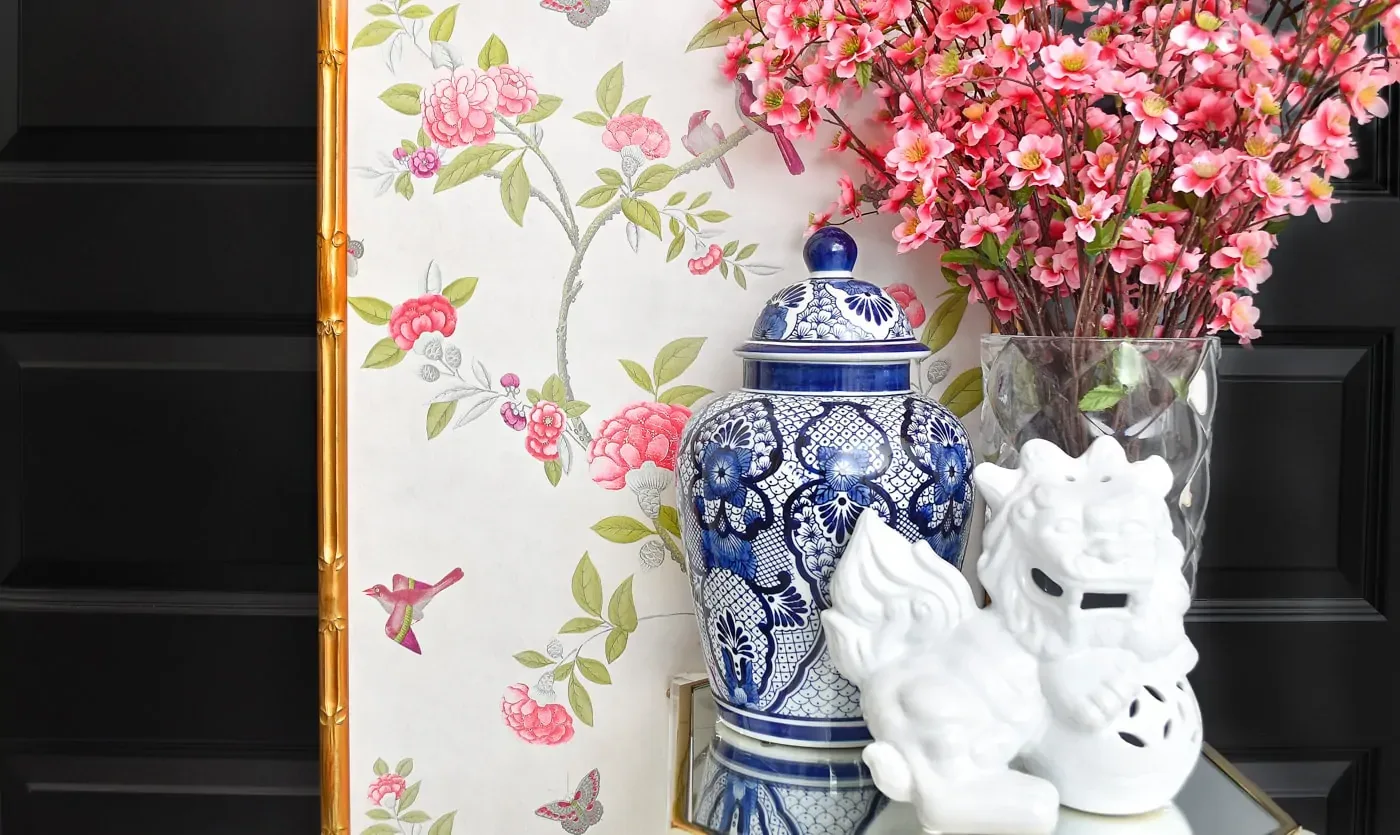 The DIY chinoiserie wallpaper panels look amazing in my chinoiserie home office– you can see the full reveal here.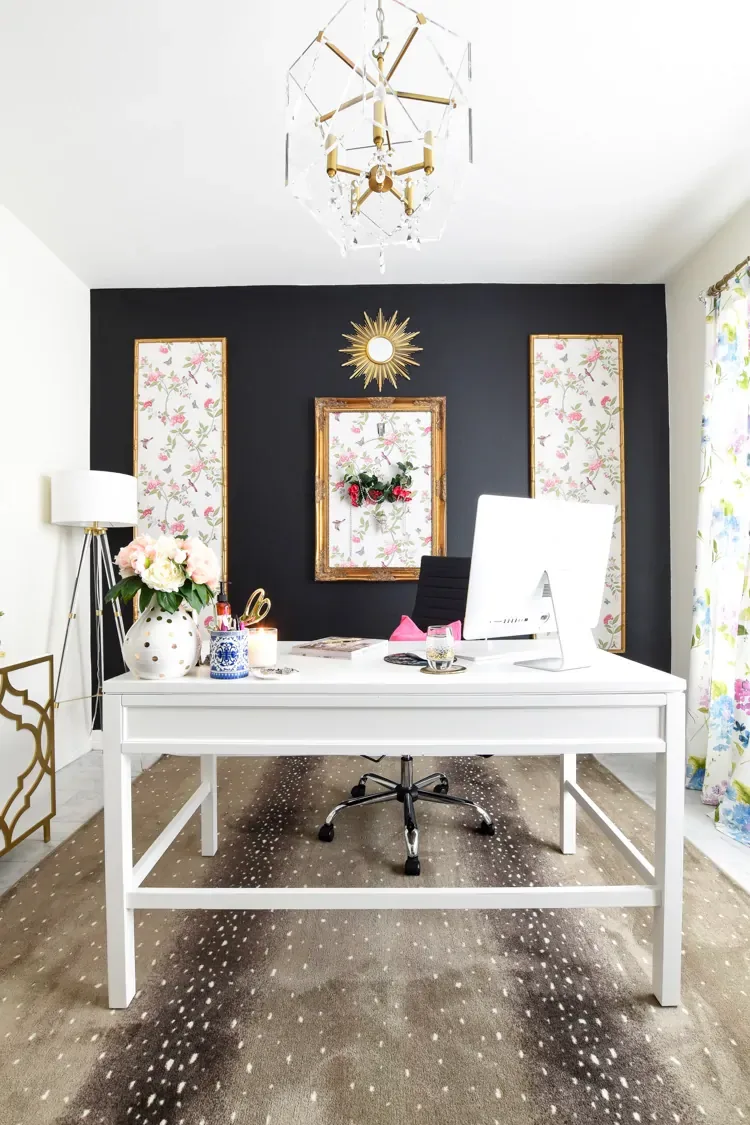 Other Chinoiserie Content You May Love: