I haven't let many people come over since moving in because I didn't want any guests til my house was finished and magazine ready. Yeah, in that case, I wouldn't have visitors for like 10 years or so. Therefore, I've done the unthinkable- I scheduled a party on December 18th for my co-workers. It's not a housewarming party, but in our office we all like to host Wii game nights, and the same co-worker always hosts…so we figured we should do it soon because we realize she spends a small fortune on our "Wii nights" with food, drinks, etc.
But this means people are coming to MY HOUSE in like, 1 month & 3 days.
Holy fudgesicles.
This really makes me feel worse about my living room situation. As I mentioned a few days ago, we peeled back some of our wood paneling and did NOT find drywall. We found studs, and not this kind:
I really, really want my living room to NOT have wood paneling before Christmas. Like, really, really want. After looking more at pictures of painted wood paneling, I don't think the beadboard kind of look is my cup of tea. I know many like the cottage, country chic look of it…but I simply don't. Here are some examples that ALMOST made me convert to this idea though:
Credit: Elizabeth Anne Designs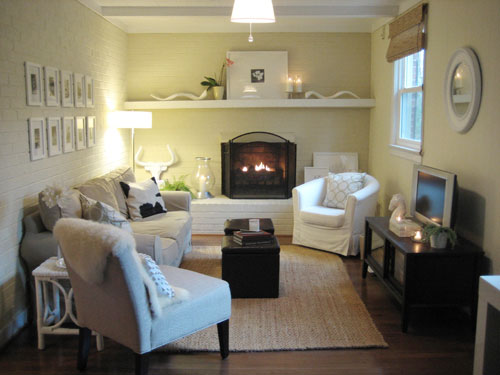 Credit: Young House Love
Credit: Décor Pad
Now, I figure I have 4 choices. You tell me what you think.
A.) Leave it as is and save up for drywall. I got an estimate today for TWO THOUSAND DOLLARS. Shit. That is a lot of money people. A LOT.
B.) Paint it and live with it for awhile.
C.) Try to find a handyman or someone who can help us with the drywall that isn't a contractor. I know a maintenance man at work who is supposedly really good. So, essentially this is a semi-DIY option.
D.) Fill in the grooves to create a smooth, wall like finish. This seems insane, I know. And it'd probably be an immense amount of work. But I am a woman on a mission who has people coming over in about a month. I apparently am not the only one who is a glutton for punishment. I found someone else like me. I wish I could hug her.
She used flexible joint compound (4 coats of it!) to do this to her living room walls:
And after all that blood, sweat and tears, her wall now looks like this:
Is that not AMAZING?! I think so. I love her blog, but it seems she hasn't updated in months. I actually contacted her via her blog website to encourage her to continue blogging because I need more help & ideas to recreate. I also nearly fainted when I saw her gorgeous fainting sofa. I want!
Isn't that color TO. DIE. FOR.
I think it is.
So, am I crazy for wanting to put 4 coats of joint compound in all the cracks and grooves, or should I just be happy as is and wait until we can drywall? Is there an option I missed?