This is a sponsored conversation written by me on behalf of Cricut. The opinions and text are all mine.
I'm so excited to announce I'm partnering up with Cricut as an influencer to bring you creative, chic and fun project ideas that you can use to DIY decor for your home and soirees.
I'm new to the Cricut universe, so getting acquainted with my new Cricut Maker was a fun process. For about ten years, I had a small craft cutting machine by Silhouette, so I'm not entirely new to craft cutting machines.
What is new to me is how beautiful this machine is. I always stashed away my previous one because it was kind of bland and small, but my new Cricut Maker is simply gorgeous and very beefy.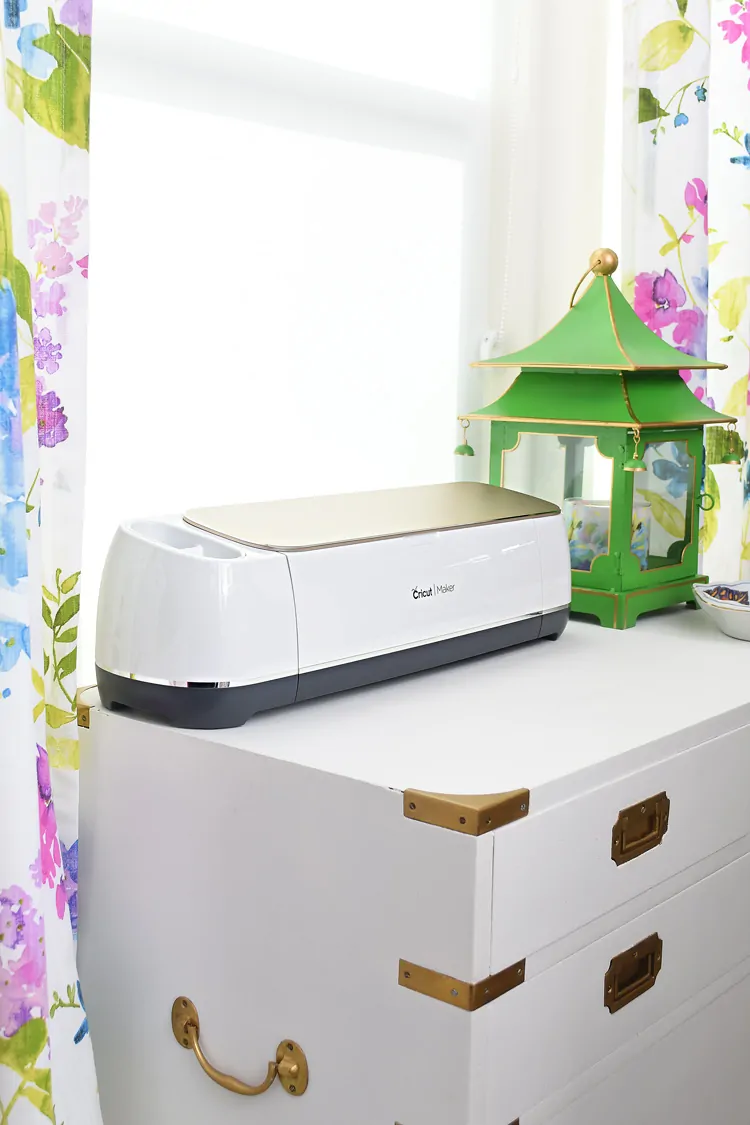 It is a beast of a machine and that's because it can DO SO MUCH. I'm not ever going to scrapbook or do a ton of paper crafts, so this machine appeals to me for its capabilities to cut fabric, wood, leather and vinyl material. The adaptive tool system intelligently controls the direction of the various blades/scoring tools/pens to make it powerful!
This machine is a huge upgrade for me not only because of the features (and trust me, there's plenty!), but also because of the size. For a decade I was relegated to sticking to 8.5" wide material and now I can cut things up to 12" wide.
It opens up a whole new world of DIY potential for me. Some other fun bonuses are that it has USB plugs to charge your tablet or phone, plus a handy place to store your tools and such on the left side of the machine.
The Cricut Maker exudes luxe, high end quality. My former machine was basically plastic, and I cannot stress what a huge upgrade this is for me.
While getting my machine all set-up, which was an easy process that happens online, I noticed that all the enclosed materials also had a premium, high end, luxe vibe. As someone who works in the marketing world, these little touches do stand out to me.
The welcome materials even include some sample materials for you to make some cuts on to get a feel for the machine. Also, at the end of the set-up, it helps guide you through a quick project to help you get your feet wet before diving in to your very own first project.
A major, MAJOR shift for me is getting used to the Design Space. Previously I was accustomed to using software installed on my computer, and it never fails that the software is a bit glitchy on my Mac. Cricut's Design Space is all online, web based, which is easier for me.
I spent a bunch of time browsing their Design Space YouTube videos to help myself get acquainted with how to use the Design Space, and I enjoyed that Cricut's tutorial videos tackle ONE thing at a time and that they're each only a couple of minutes long.
An included feature within the Design Space are templates which help you design stuff to scale—such as using the t-shirt template to create an iron-on design that is of appropriate scale. There's every type of shirt style in the templates that you can imagine!
So far, I've just been using it to cut through fabric scraps and random cardstock to get a feel for the settings and such…I can't wait to get to work on some projects I have in mind.
There's so many features/capabilities I want to point out and showcase, but I'll reserve those for my specific project posts. I have one coming up using the Cricut Maker and the Easy Press (which helps create cool iron-on projects for shirts, tea towels, and throw pillow covers!) to create some GORGEOUS chinoiserie napkins.
I also have a project coming up showing you how to make a lucite calendar/memo board using a Cricut Maker and some vinyl.
If you need some inspo, my recent guest bedroom polka dot accent wall could easily be made with a Cricut Maker– simply cut some 5-6″ circles using some of their gorgeous gold foil vinyl and you have an instant, affordable and EASY accent wall with no painting required.
If you have a project idea or request, feel free to shoot me an email! Otherwise, expect to see seasonal and home décor related content from me that'll inspire you to get creative and crafty with your Cricut.