This is a sponsored post written by me on behalf of Cricut. All opinions are 100% mine.
Back in January, I headed out to Salt Lake City thanks to Cricut for a first look at the new brand Cricut Joy.
I then had to keep it all to myself until they made the announcement and the product became available.
It's officially available now, and for those of you more casual/occasional crafters, I think you all will be so pleased and happy with all it can do.
What Can the Cricut Joy Do?
You all know that I'm very home decor/entertaining oriented, so I never, ever use my Cricut machines for scrapbooking type things.
I'm working on a list of 101 Cricut Joy home decor (decor, organizing, entertaining/parties) ideas, but here's some for now.
Cricut Joy Project Ideas:
-Add monograms to cloth napkins, tablerunners, placemats
-Personalize mugs, travel tumblers or dishware
-Create labels for your pantry, spice rack or cleaning supplies
-Make your own greeting cards
-Design fun party decor, placecards and accessories for birthdays, weddings, bridal and baby showers
-Use it to make personalized gifts and apparel (vinyl, iron-on, or infusible)
-Cut your own gift tags for holidays and birthdays
The Cricut Joy can cut paper, labels, vinyl, greeting cards, iron-on, infusible ink, cardstock, construction paper.
Add-in compatible markers or pens, and now you can write your own thank you cards, envelopes, labels, stickers, placecards, etc.
How is Cricut Joy Different than the Cricut Maker?
The Cricut Joy is small and mighty! There's no doubt I love my Cricut Maker, but it is a BIG machine.
The Cricut Joy is small, portable (especially when put into this adorable tote), and connects via Bluetooth to a PC, Mac or a smartphone. It has just the power cord– no buttons or anything else to worry about.
YES, this totally means you can craft while watching TV via Design Space on your phone. In fact, grab a snack and make it a solo craft party.
Besides the size, and fewer cords, the Cricut Joy aims to keep it simple. There's a blade tool and compatible pens/markers.
That's it. But don't let that make you think it's not versatile or cutting edge…because it is.
The Cricut Joy has a matless option (HOORAY!), can cut a single pattern or phrase up to 48 inches/4 feet long and a repeating pattern or phrase up to TWENTY feet long.
Yes, you can create your own fabulous wall or sign decor, or heck, make your awesome wallpaper borders for the kiddos' rooms.
Some other differences are obviously the cutting width is capped 4.5" wide, but the length is super flexible.
There are mats available for the Cricut Joy, so using a trimmer you can easily trim down vinyl from rolls or sheets you already have to use with Cricut Joy projects.
Who should think about getting a Cricut Joy?
I think this machine has mass appeal.
If you already have a Cricut Maker or Explore, this is a great companion machine for quick, easy projects.
If you're tight on space, the Cricut Joy is small, compact and easily fits into a bookshelf, kitchen countertop (seen below) or coffee table.
Other groups of people I feel would benefit from owning a Cricut Joy are daycare workers, teachers, moms, party planners, a bride-to-be, scrapbookers, small business owners and home decor enthusiasts like myself.
If you're budget minded, the Cricut Joy is $200 less than the Cricut Maker, which frees up some craft budget for investing in the awesome new Smart Materials (pictured below) that don't need a mat or stocking up on the new greeting card kits (more on that in an upcoming post).
DIY Monogrammed Napkins:
I wanted to do a project that would be easy, QUICK and something most home decor people would actually do.
So I used the monogram I created for my DIY floral infusible ink coaster tutorial and made it smaller to add some pizazz to some magenta cloth napkins I had sitting in a drawer.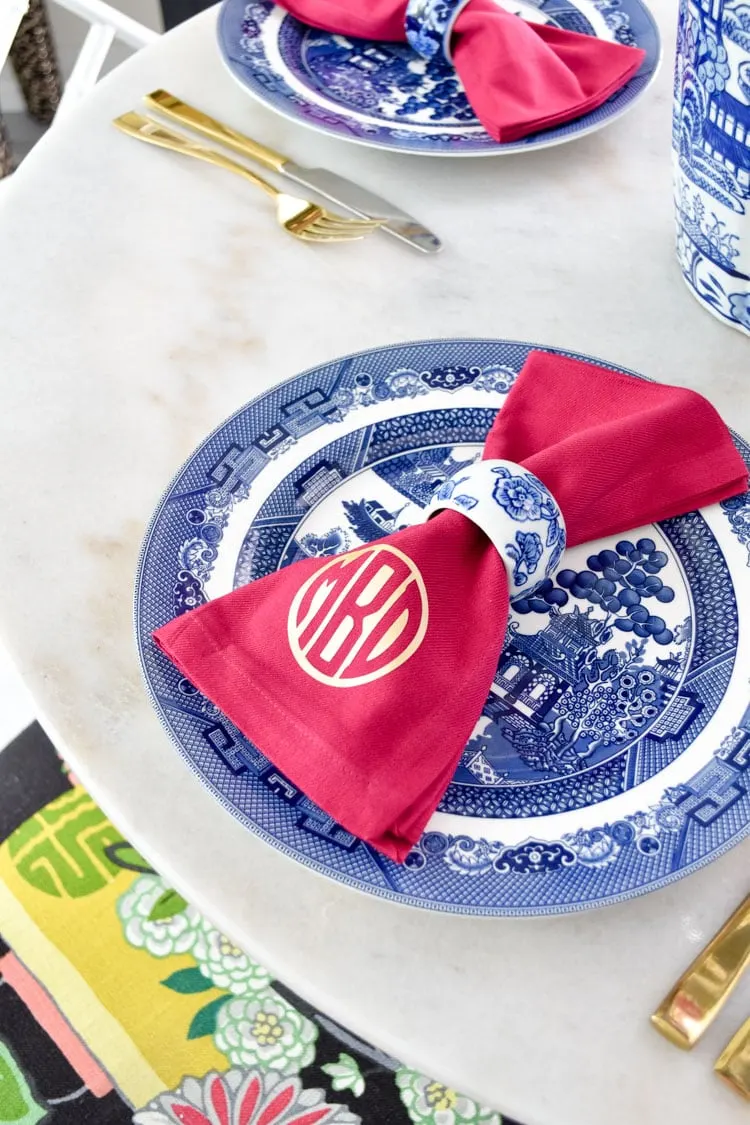 I have this affinity for buying cloth napkins at estate sales and such…I truly think they can make even the most casual table settings look a bit more refined and polished.
They're also perfect for personalizing for your own use or even as a hostess or bridal shower gift.
I ended up using some gold metallic iron-on material I had leftover from another project. To use it on the mat with my Cricut Joy, I used my paper trimmer to cut it down to 4.5" wide and 12" tall. Easy peasy.
I do have these gorgeous glittery rolls of iron-on Smart Material that I plan to use to make a custom Greek Key table runner tutorial that I'll be sharing as soon as I find a suitable runner!
Let's dive in to the tutorial.
I love how vibrant these napkins look on my small dining table. Even keeping the decor simple, they still add a big punch of color.
Sometimes people think tablesettings have to be over the top, but truly I think a beautiful plate, monogrammed cloth napkins, pretty napkin rings and simple silverware can set a casual, chic vibe for any space.
Now that spring is here, I'll definitely be using bold, colorful decor and these napkins fit right in.
Now I just need to find a table runner to help tie all of this together.