Our new lucite and glass cocktail table has been a delight! I truly love it, and today I'm sharing coffee table decor ideas in partnership with Southern Enterprises.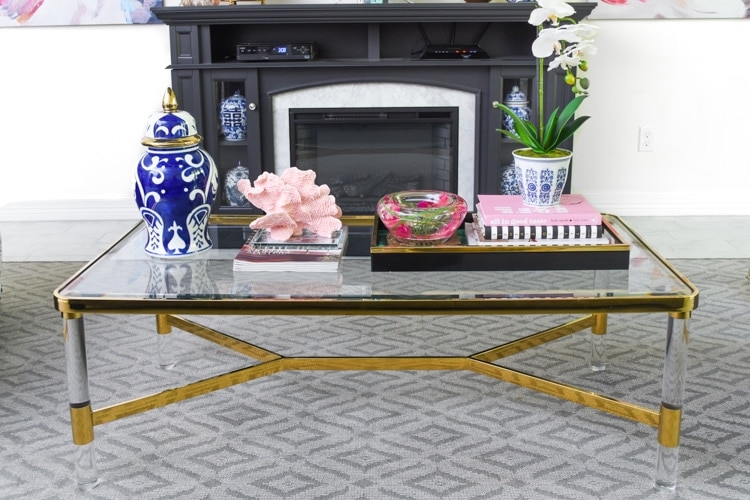 They provided my swanky new lucite, gold and glass coffee table, and they're also being super generous and giving away the matching end table to one of you lovely readers! It's a simple, airy, modern piece that works well with any decor, so make sure to enter (details at bottom of this post).
Altair Coffee Table
I had a round coffee table for about three years, and before that we had a giant ottoman as a coffee table, so this new one is truly the first time I've had a more traditionally shaped coffee table to decorate.
I chose the rectangular shaped Altair Acrylic Coffee Table because our living room is very wide and kind of narrow…so is this table.
Now when people sit in the recliners, they'll be able to reach the coffee table to put down their drinks. Before the round table was not within arms reach at all, whatsoever.
The lucite (acrylic) legs with the simple brass finish is perfect for our decor, and the glass keeps this 48″ wide table from feeling too heavy in our space. Cleaning/dusting is a breeze, and it's SO EASY to vacuum under this table.
5 Easy Coffee Table Decor Ideas
There's a few tricks and tips that I turn to time and time again when it comes to coffee table decor. Once you have your own unique coffee table styling formula down, you'll find yourself able to replicate it using different home decor accent pieces throughout the seasons and holidays.
Here's my five favorite ways to approach coffee table decor and styling:
Use Trays:
Trays are super inexpensive and they can serve dual purpose such as corralling items or serving as a spot to put food/drink.
I tend to gravitate towards trays that are a bit bolder in pattern, such as the black lacquer with gold trim tray currently on this cocktail table.
I recommend going bold with your tray choice since most of it may be covered up with books or other accessories.
Include Something Oversized:
A lot of interior design is all about scale and getting it right. Too large and you can dwarf a room; too small and it just blends right in.
However, I truly think on a coffee table you need a decor item that commands attention. For me, it was this very large, bold ginger jar. A tall pillar candle in a simple hurricane vase could also be the "big" item on your coffee table.
The graphic pattern, large size and gold trim really stand out on the glass. It almost looks like it's floating.
Stack Some Books or Use Pedestals:
To piggy back off the previous tip of including something large, you want to find ways to elevate decor so not everything is at the same level.
A stack of books (hit up a local thrift store for some on the cheap), magazines, or even a decorative pedestal (again, a great thing to snag for a couple bucks at a thrift store) can help add height to decor pieces.
My beautiful floral bowl would just blend into the tray if it wasn't for the vintage brass pedestal under it (a lucky $2 Goodwill find!)
Add a Plant or Florals to Your Coffee Table Decor:
You all know me for my love of florals and plants, and a coffee table is absolutely begging for something "live" on it to give it some soul.
If you need DIY tutorials, I have a tutorial for a faux orchid arrangement and another on creating GORGEOUS faux floral arrangements.
I kill all plants I come into contact with, so my choice is faux florals/plants 99% of the time. This faux orchid is tall, but dainty, and adds that classy touch.
You could even get some gorgeous leaf clippings/stems from your own yard and put them in a vase or mason jar for a more rustic, farmhouse, shabby chic vibe if that's your thing.
Divide Your Table Into Thirds*:
So, you have your trays, vases, books, plants/flowers, candles, or any other number of coffee table decor accents…now what?
Arranging them is literally half the battle, and for a rectangular cocktail table like mine, I like to divide it into thirds and then decorate each section.
You can divide them into equal thirds, or you can have the middle section be the widest with the left and right sections smaller, etc. The basic premise is to try to think of it as each section being able to stand on its own as a vignette AND yet all working cohesively together.
*For a round coffee table, I recommend dividing into four sections/quarters, sort of like a giant pie.
Hopefully you learned a tip or two that will help you decorate your coffee table. I'm all about empowering you with easy to implement ideas for your home.
These tips also work when you're decorating a console table (as seen below with my rule of thirds), so definitely keep that in mind when you find yourself struggling to pull a look together.
If you'd like to enter to win the gorgeous acrylic end table for your home, you'll want to head over to my Instagram, find the post with the picture of my coffee table and leave a comment to enter the giveaway!