Christmas is fast approaching, and I'm so happy to have my decorating DONE. This post is full of simple and elegant Christmas living room decor ideas that I hope leave you inspired!
My friend Marty from A Stroll Thru Life is always so kind and includes me in these tours, and I appreciate having such a dear, longtime blogging friend. A warm hello to those of you visiting from 11 Magnolia Lane. I simply adore their style!
Blue & White Christmas Decor in a Foyer
My foyer recently got a little bit of an upgrade with a new mirror we found at a consignment store. The mirror is such a statement piece!
The rug runner is a recent new addition that I love, and I chose to place my ghost chairs flanking the console table to add a bit of interest.
A big glittered wreath hovers over some ginger jars and a bowl of carpet balls and holiday ornaments. Simple, elegant and no fuss.
Now, onto my living room. This space opens up to the dining room and kitchen, which I shared holiday decor tours of recently:
Elegant Christmas Living Room Decorations
In my living room, the main star of the show is my chinoiserie Christmas tree adorned with DIY blue and white ornaments.
I love how opulent and classic my Christmas tree looks paired with my more casual and modern furnishings.
Sitting in these new gray recliners and basking in the Christmas living room decor has become my favorite way to spend my weekends. I've watched Elf at least five times.
The emerald green velvet curtains were a recent purchase, and I love the impact they make in the room. Green truly looks good with anything!
Gold & Chinoiserie Ginger Jars Mantel Decor
I HAVE A FIREPLACE! We lucked out in finding this fireplace for under $150 at Lowes this fall, and I couldn't wait to decorate it for Christmas.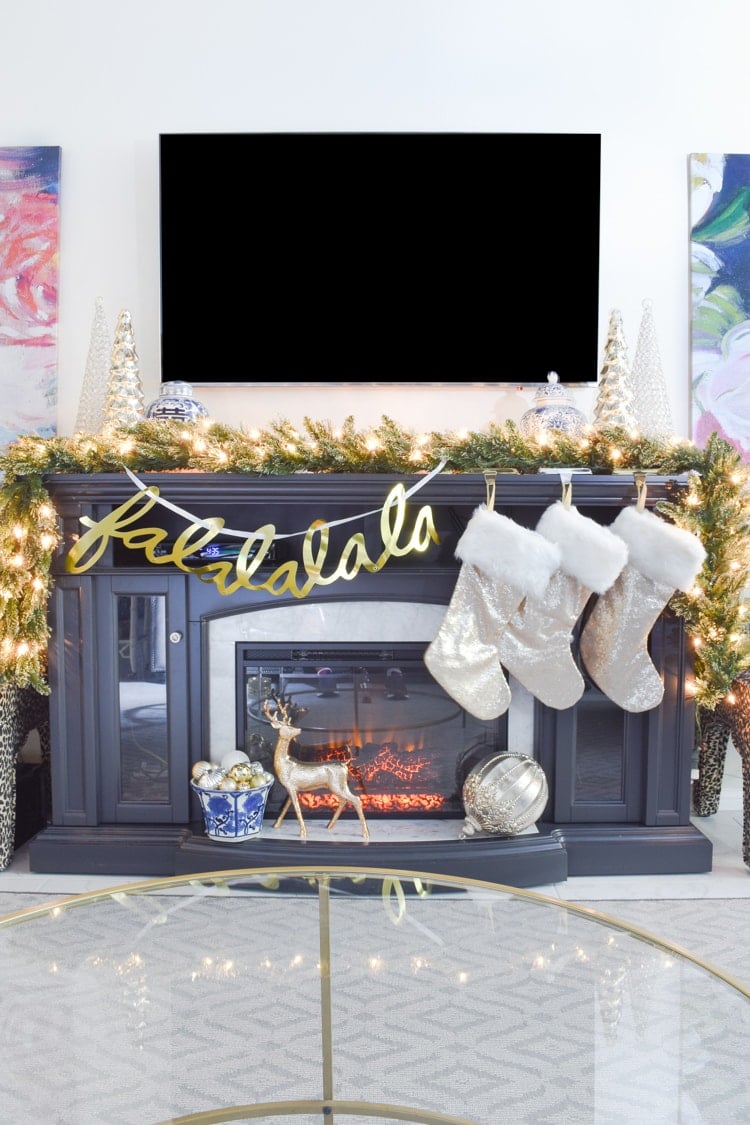 I think a fireplace mantel is one of the best places to incorporate Christmas living room decor, but I chose to keep it kind of simple.
A ginger jar and two Christmas trees flank each side of the fireplace mantel.
Floral Art Prints
I love how my new art canvases look- those are printables I bought on Etsy and had enlarged into 30×40 inch canvases at Nations Photo Lab.
The left floral art print has a peony/rose vibe while the florals on the right have a more bouquet/abstract vibe.
And my fave matte gold sequin stockings add a punch of girly glam.
The leopard ottomans provide extra seating in a pinch during family gatherings, and overall this living room space is cozy and inviting. That black box hiding under the ottoman is the bass for our sound system.
Open Concept Christmas Living Room Decor
I also incorporated some simple decor on our end tables since to tie in the various colors and patterns used in the adjacent kitchen and dining room.
These bamboo end tables were a heck of a find at a local thrift store. I added some casters to add height to the end tables.
I never put away unused ornaments- I simply toss them into vases or apothecary jars to add glamour to vignettes.
My living room holiday decor this year really makes me happy and I pretty much used what I had on hand.
Truthfully, I keep my Christmas decor stored away by color, so if I want to change it up, it's as simple as maybe buying an additional color or two. Overall, I use the same main pieces each year.
BUT…My absolute favorite holiday space of mine this year though has to be my colorful Christmas home office!
Here's another sneak peek, but if you want to see more, go take my floral home office holiday tour!
Thank you so much for stopping by to see my Christmas living room decor (and foyer!) You can checkout more of my content ideas for Christmas below: