In this article, we will explore a myriad of cabin kitchen decor ideas that embrace the coziness, simplicity, and rugged charm that defines cabin life.
Cabin living brings to mind images of serene natural landscapes, crackling wood-burning stoves, and the warmth of a rustic, welcoming atmosphere. One of the central spaces where this ambiance can be beautifully crafted is the kitchen.
Whether you're in the process of designing a cabin kitchen from scratch or looking to give your existing log cabin kitchen a makeover, these decor ideas will help you create a space that captures the essence of cabin living and embracing that rustic look.
Embrace Natural Materials
Cabin kitchens are all about integrating nature into your design. One of the best ways to do this is by selecting natural materials for your cabinetry, countertops, and flooring. Weathered, reclaimed wood is a classic choice for cabinetry and can add an authentic, aged look to your kitchen.
For countertops, consider stone or butcher block surfaces. These materials not only exude a rustic appeal but are also durable and practical.
Warm Up a Cabin Kitchen with Natural Wood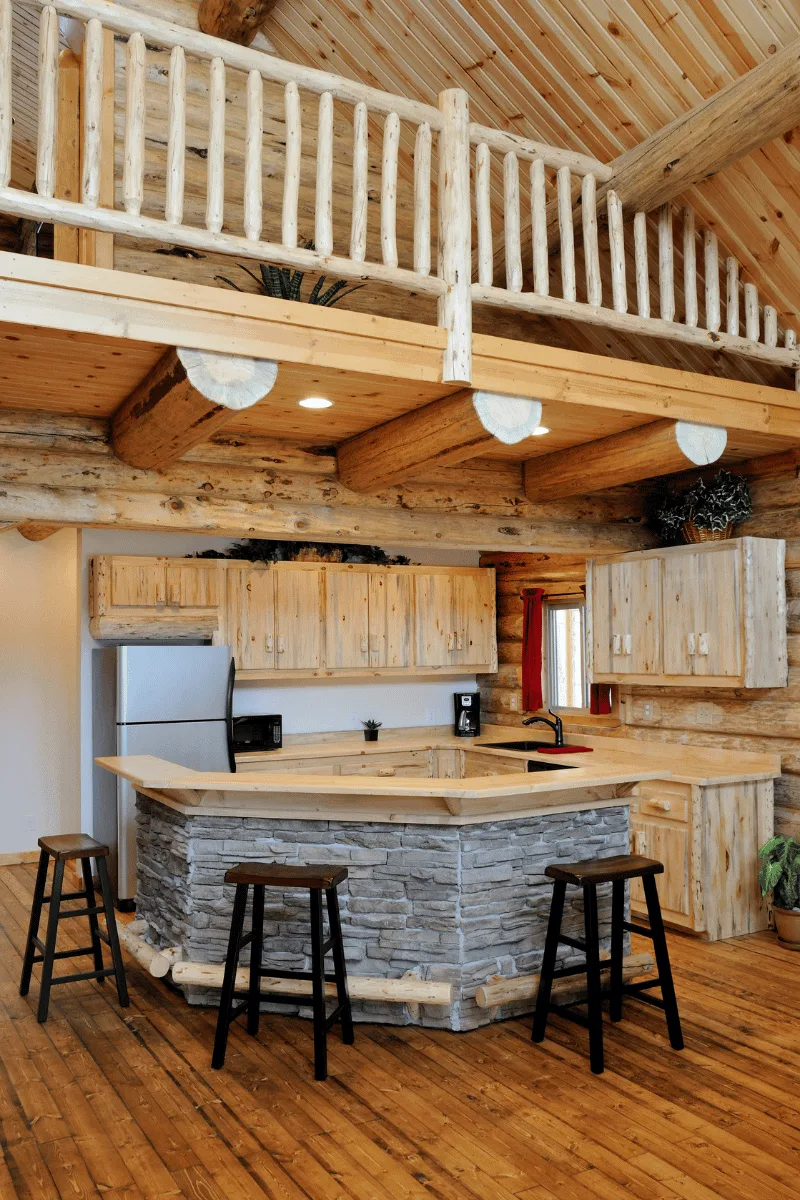 Wood plays a vital role in the interior design vibe of cabin kitchen decor. You can incorporate wood elements in various ways, such as exposed wooden beams on the ceiling, wooden wall paneling, or wooden floors. Reclaimed or distressed wood is particularly appealing, as it gives your kitchen design a sense of history and character.
Earthy Color Palette
Opt for an earthy and muted color scheme that mimics the natural surroundings of a cabin. Warm browns, soft grays, forest greens, and deep blues work well as primary colors in a small kitchen. These tones create a soothing and inviting atmosphere, which is a great way of connecting your kitchen to the outdoors.
Open Kitchen Shelving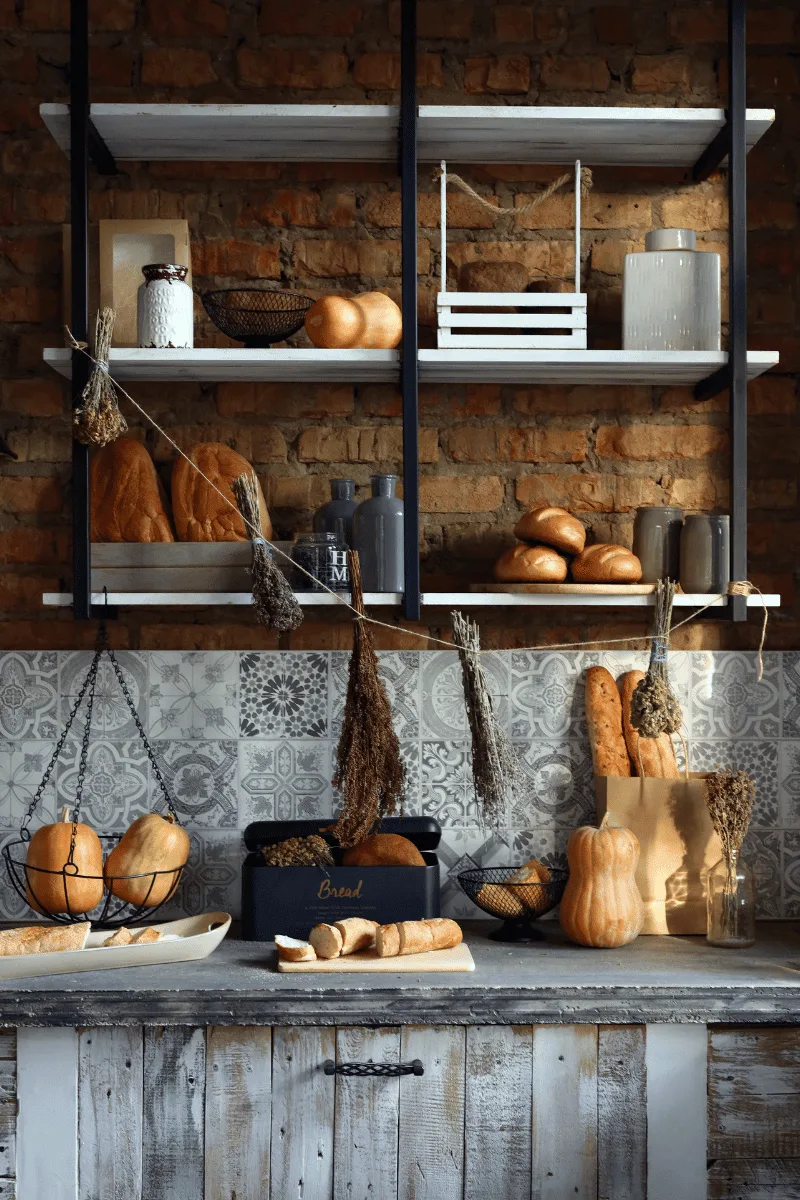 Consider open shelving instead of closed cabinets to give your cabin kitchen a more casual and inviting look, especially if it's a small space.
Open shelves allow you to display rustic dinnerware, mugs, and jars filled with dried herbs and spices. It also promotes a more laid-back approach to organization.
---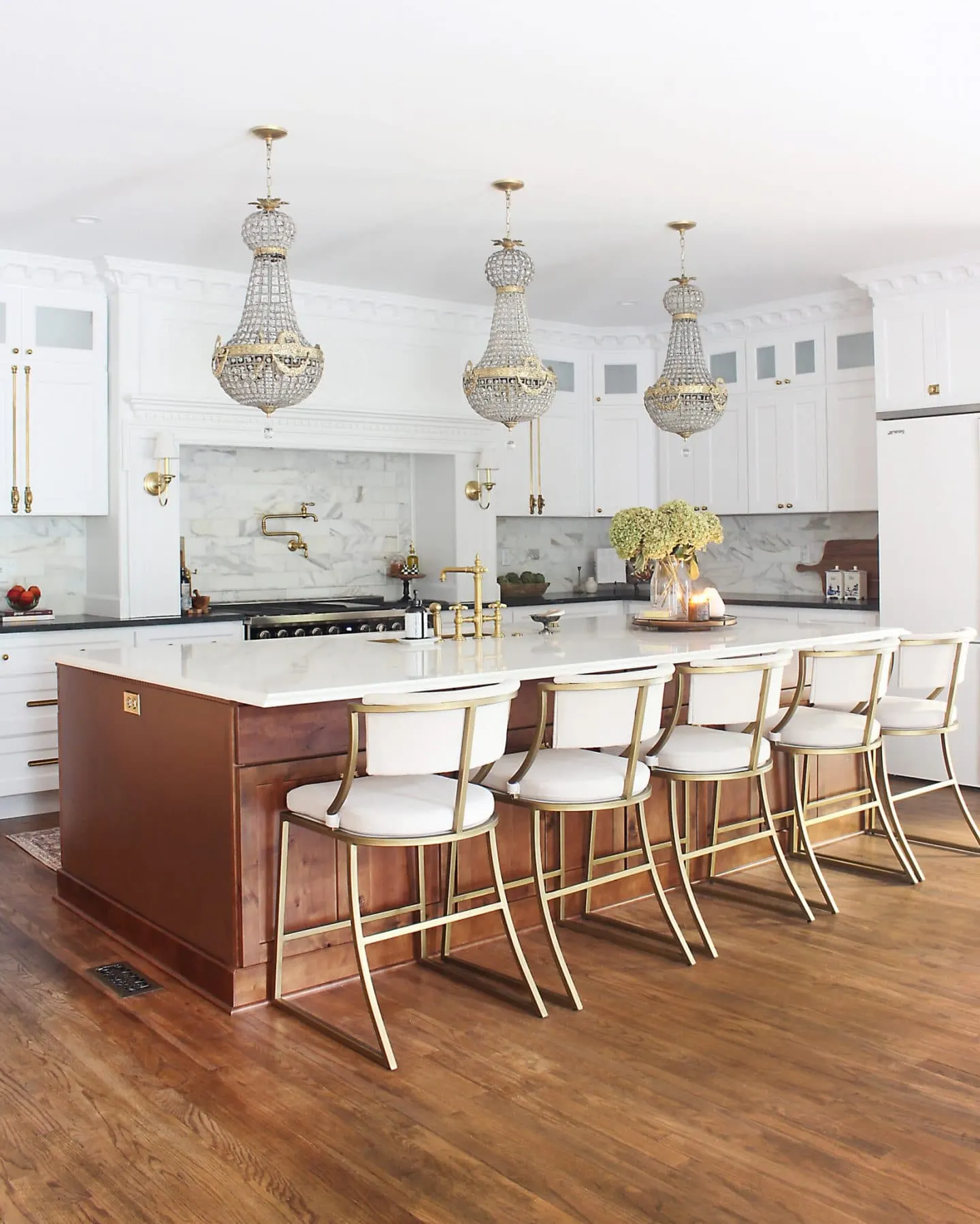 Need Kitchen Island Centerpiece Ideas?
This post features over 40 kitchen island centerpiece ideas for any holiday, season or decor style.
---
Cozy Lighting
Cabin kitchens should have warm, soft lighting that enhances the cozy ambiance. Incorporate pendant lights with warm-toned bulbs over the island or dining area. Wall sconces and under-cabinet lighting can provide practical illumination while adding to the cabin's charm.
Farmhouse Sink in a Cabin Kitchen
A farmhouse or apron-front sink is a quintessential addition to a cabin kitchen. These sinks not only look charming but also provide ample space for washing dishes and food preparation. Pair it with rustic faucet fixtures to complete the look.
Vintage Appliances
For a touch of nostalgia, consider incorporating vintage-style appliances into your modern cabin kitchen decor. Vintage stoves, refrigerators, and ovens can add a unique and retro feel to the space. If authentic vintage appliances are hard to come by, there are many modern options designed to replicate the classic look.
Stone Backsplash
A stone backsplash adds a touch of rugged elegance to your cabin kitchen. Natural stone, such as slate or river rock, can be used to create a stunning backdrop behind the stove or sink area. The texture and earthy colors of the stone will enhance the rustic appeal of your kitchen.
Cabin-Inspired Kitchen Decor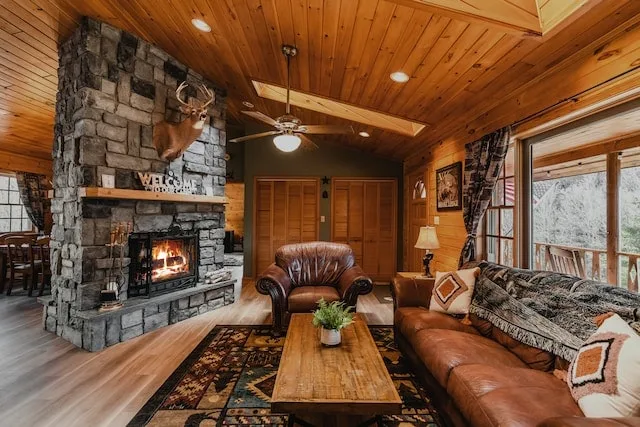 Decorate your cabin kitchen with elements that evoke the spirit of the outdoors. Consider adding antler chandeliers, wildlife-themed artwork, or a collection of vintage camping gear as decor pieces. These details help reinforce the cabin aesthetic and allow you to embrace different styles.
Warm Textiles
Introduce warmth and comfort to your cabin kitchen with cozy textiles. Incorporate rustic, cabin-inspired fabrics for curtains, seat cushions, and table linens. Plaid, gingham, and faux fur can all contribute to a cozy and inviting atmosphere, especially in a living room.
Wood-Burning Stove
If space allows, consider installing a wood-burning stove or a fireplace in your cabin kitchen. This not only serves as a source of heat but also adds a delightful focal point to the room. You can cozy up to it during chilly evenings while savoring a warm meal.
Rustic Hardware
Pay attention to the details, like cabinet knobs and pulls. Opt for rustic and vintage-style hardware to enhance the overall cabin decor. Wrought iron, antique brass, and wooden knobs can add character to your cabinetry.
Functional Storage
Incorporate functional storage solutions that maximize space and keep your cabin kitchen organized. Utilize pull-out pantry shelves, built-in spice racks, and pot hangers to make the most of your kitchen's layout.
Dining Nook
Create a charming dining nook within your cabin kitchen. A built-in or freestanding wooden bench paired with a rustic table and chairs offers a cozy spot for family meals. Add soft cushions and pillows for extra comfort in a neutral color scheme.
Natural Stone Flooring
Consider natural stone flooring, such as slate or flagstone, to create a durable and visually appealing foundation for your cabin kitchen. These materials are not only beautiful but also easy to clean and maintain.
A cabin kitchen is more than just a place to prepare meals; it's the heart of the cabin where memories are made, and the beauty of nature is celebrated. By embracing natural materials, warm colors, and rustic elements, you can create a cabin kitchen that reflects the cozy comfort and timeless charm of cabin living.
Whether you're in the mountains, by the lake, or nestled in the woods, these cabin kitchen decor ideas will help you craft a space that feels like a true retreat into the heart of nature.
---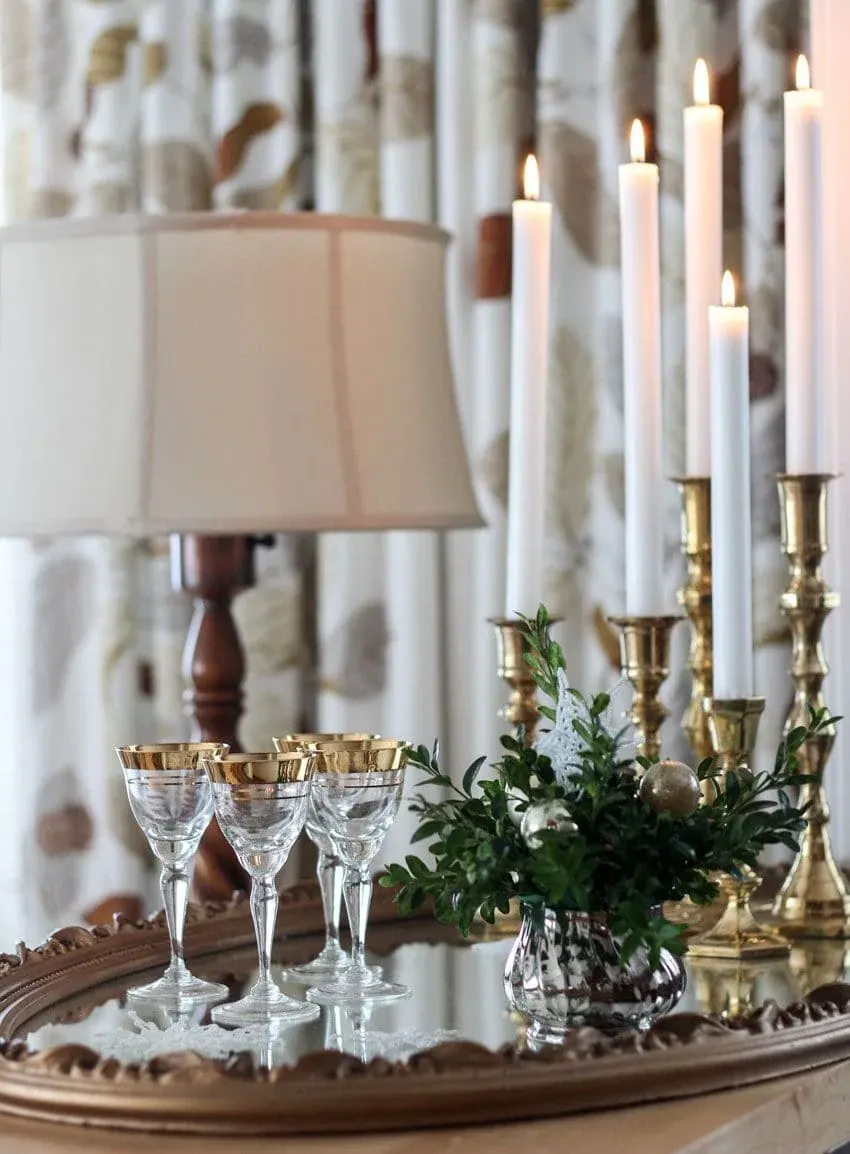 29+ Vintage French Decorating Ideas
Check out this post that features creative ideas for secondhand, vintage items to look for to achieve the french aesthetic.
---
DIY Cabin Kitchen Decor Ideas
Decorating a kitchen in a cabin can be a delightful and rewarding DIY project. It allows you to infuse your personal style while embracing the rustic charm of cabin living.
Whether your cabin is tucked away in the woods, nestled near a lake, or perched in the mountains, these DIY ideas will help you transform your cabin kitchen into a cozy and inviting space.
Reclaimed Wood Accents
Reclaimed wood, and wood tones in general, is a quintessential element of cabin decor. Incorporate it into your kitchen by creating DIY wood accent pieces. Consider making open shelves, a wooden range hood cover, or a rustic kitchen island using reclaimed wood. The weathered and aged appearance of the wood will add character to your kitchen.
Hand-Painted Cabin Kitchen Signs
Personalize your cabin kitchen with hand-painted signs featuring cabin-inspired quotes, your family name, or the cabin's established date. You can paint these signs on reclaimed wood paneling or even old barn boards. Hang them on the kitchen walls for a touch of rustic charm.
Natural Stone Fireplace
For a DIY project that adds both elegance and rusticity to your kitchen, install a natural stone backsplash. Gather flat stones or river rocks and arrange them in a mosaic pattern on your kitchen wall. Finish the project by grouting and sealing the stones to create a durable and visually appealing backsplash.
Mason Jar Storage
Mason jars are versatile and make excellent storage containers with a rustic flair. Use them for storing dry goods like grains, pasta, and spices. To enhance their decorative appeal, consider painting the lids in a coordinating color or attaching leather labels with twine.
DIY Rustic Shelves
If you have some basic woodworking skills, create custom rustic shelves to display your cabin kitchen essentials. You can use live-edge wood slabs, reclaimed lumber, knotty pine, or rough-hewn beams to craft these shelves. Stain or seal the wood to protect it and enhance its natural beauty.
Burlap Curtains
Burlap fabric exudes rustic charm and is perfect for creating cabin-inspired curtains. Sew burlap curtain panels and embellish them with natural jute rope ties or wooden curtain rods. These curtains will allow diffused natural light to filter into your kitchen while maintaining privacy and a cozy feel.
Rustic Pot Rack
Hang a DIY pot rack above your kitchen island or stove. You can use reclaimed metal pipes or wooden planks with hooks to create a functional and visually appealing storage solution (which is great in a tiny space!) for your pots and pans. This not only adds convenience but also enhances the cabin aesthetic.
Twig Drawer Pulls
Replace existing drawer pulls and knobs with rustic twig handles. You can collect twigs from your surroundings or purchase them from a craft store. Attach the twigs securely to your cabinet drawers and doors to infuse a touch of nature into your kitchen.
Mason Jar Pendant Lights
Transform ordinary mason jars into unique light fixtures. Drill a hole in the jar lid and insert a light fixture socket with a cord. Hang these DIY pendant lights above your kitchen island or dining table for a warm and rustic lighting solution.
Vintage Kitchenware Display
Scour your local flea market, thrift stores, or Facebook Marketplace for vintage kitchenware items like enamelware, cast iron skillets, or old coffee pots. Arrange them on open shelves or as part of your kitchen wall decor. These vintage pieces not only serve as functional items but also contribute to the vintage, rustic aesthetic.
Painted Log Slice Coasters
Collect log slices and sand them to create a smooth surface. Paint or stencil cabin-inspired designs onto the slices and finish them with a clear sealant. These DIY log slice coasters not only protect your countertops but also add a touch of woodland charm, or even bright colors, to your kitchen.
Herb Garden Window Boxes
Create a mini DIY herb garden in your cabin kitchen by installing window boxes to add a dash of farmhouse style. Fill them with your favorite herbs like basil, rosemary, and mint. Not only will you have fresh herbs at your fingertips for cooking, but the greenery will also add life and color to your kitchen.
Decorating a cabin kitchen with DIY projects allows you to infuse your personality and love for the outdoors into your living space. These creative ideas incorporate natural elements, rustic charm, and functional design to create a kitchen that feels cozy, inviting, and uniquely yours.
As you embark on your DIY journey, remember that the process is as enjoyable as the end result, and your cabin kitchen will become a testament to your creativity and appreciation for the cabin lifestyle.