The budget master bedroom closet makeover is done as part of the $100 Room Challenge! Let the closet organization ideas commence.
I feel like our closet has a dash of luxury, sprinkle of glam decor and tons of organization and function. My hope is you'll get lots of closet decorating ideas and inspiration for your home.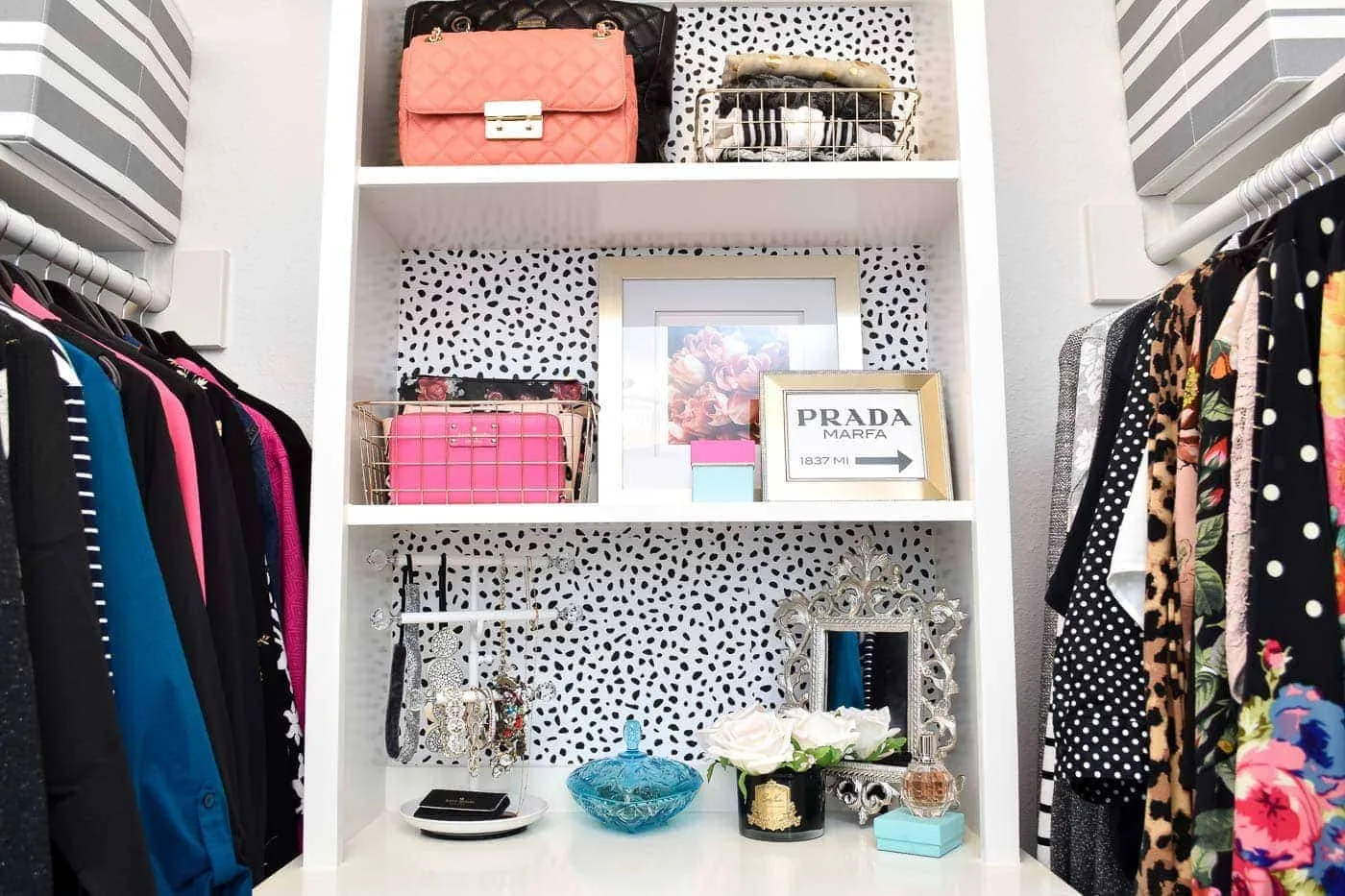 Over the weekend I finally got the ottoman reupholstered, and I simply love the subdued vibe it has now. Catch up on the before photos of the closet, lining the closet shelves with wallpaper tutorial and the DIY vintage jewelry shadowbox artwork.
Closet Organization Ideas
Here's the before: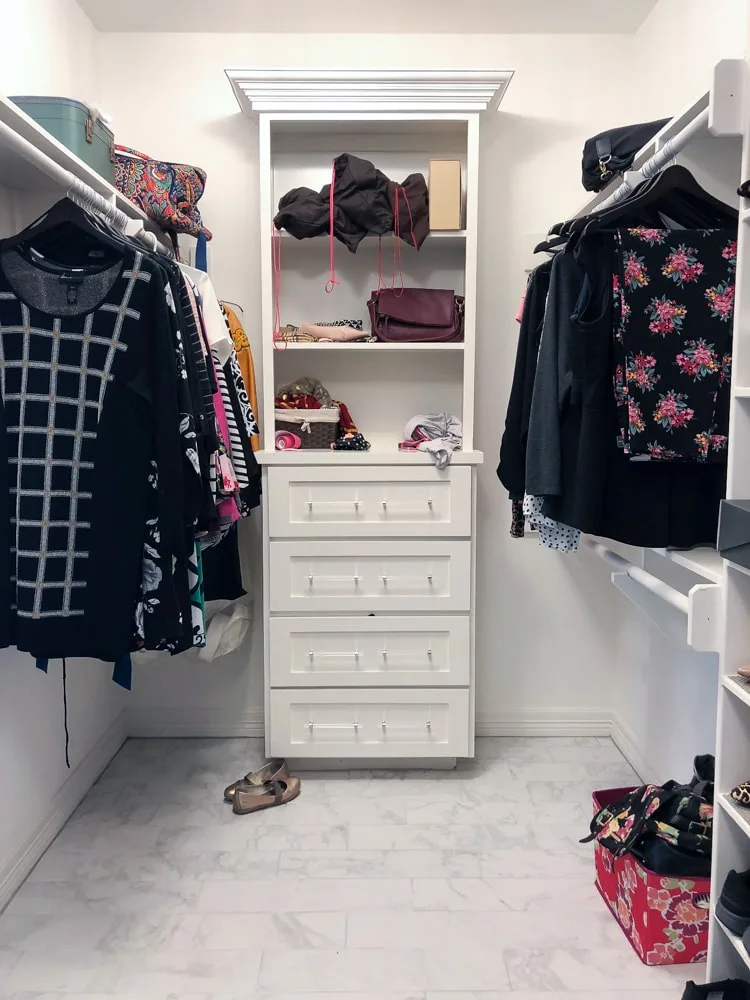 And the after… so many affordable, DIY closet organization ideas here from the built-ins to the gold baskets and fabric bins.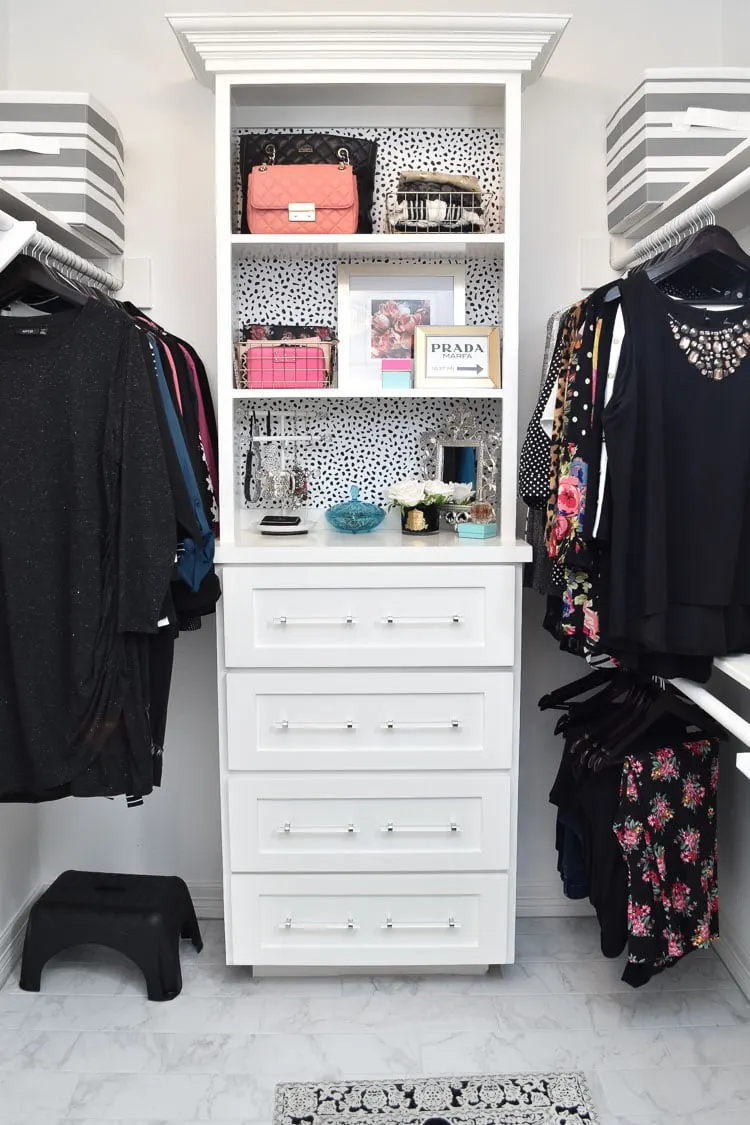 DIY Ottoman Makeover
I also redid this antique ottoman that used to be in my office space: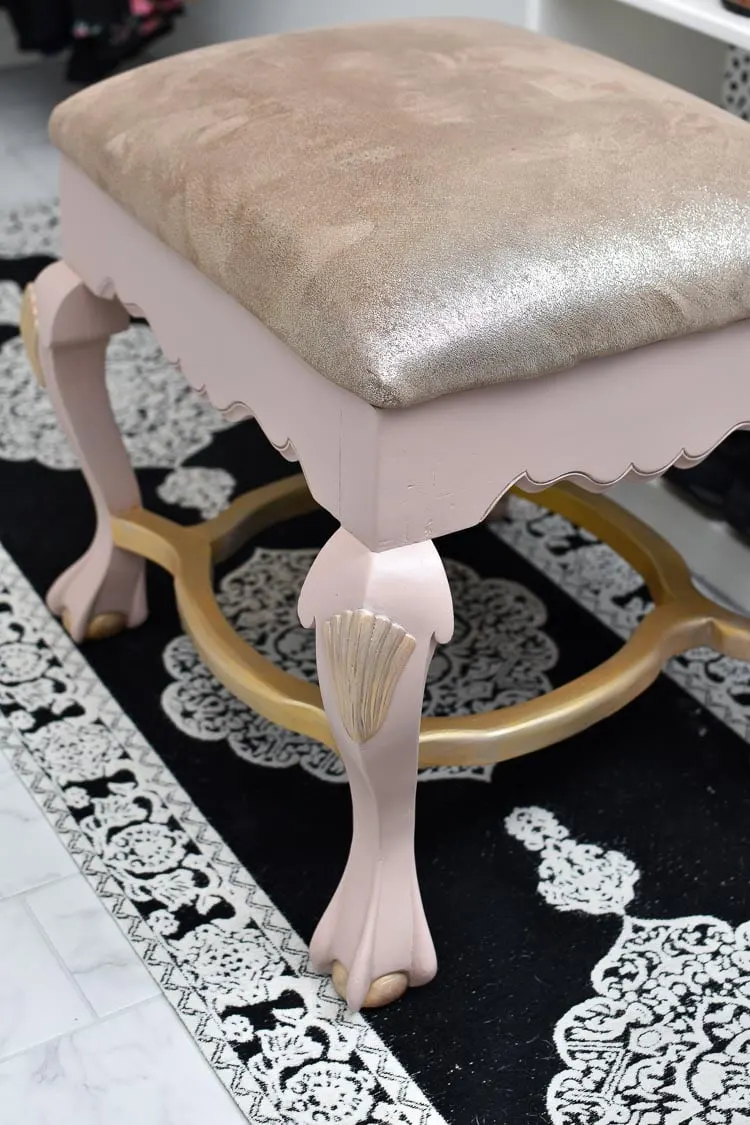 The base was spray painted with Krylon's matte wild rose and I used liquid gold leaf to glam up the ornate details (much like I had before).
The fabric on the seat is from Hobby Lobby's fall collection.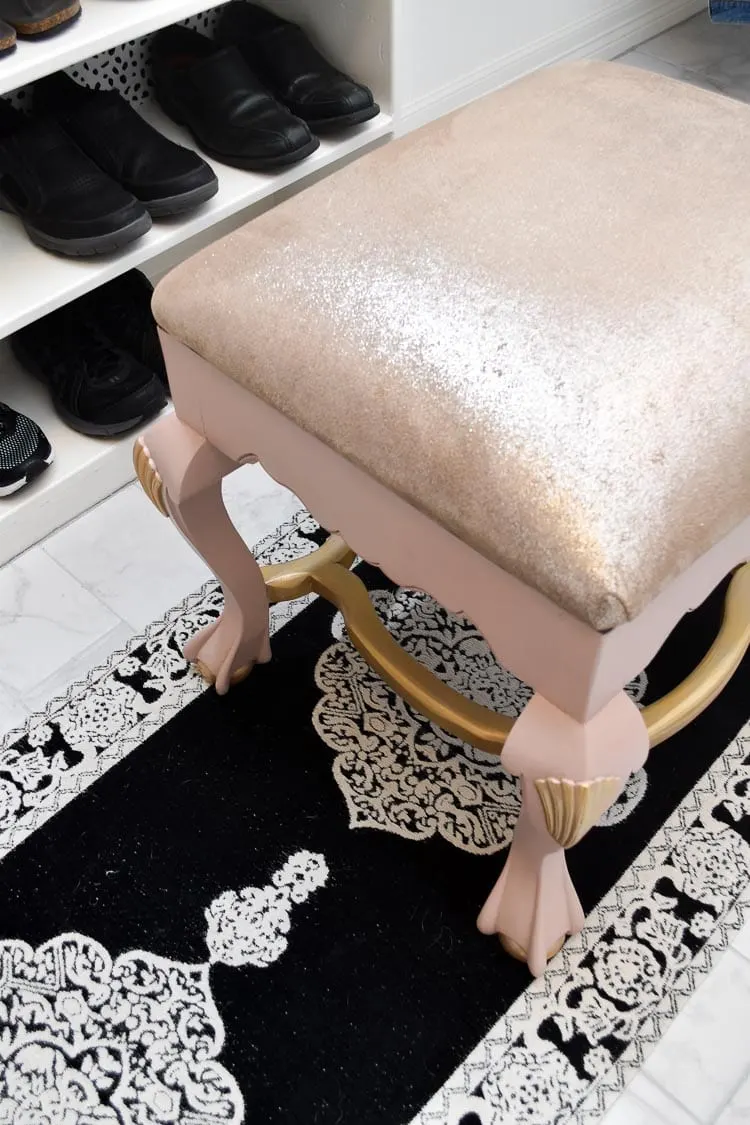 The ottoman is placed right in front of our shoe rack so we can easily put our shoes on. It's a glam little spot!
Shoe Organization for a Closet
As you can see, we did not find a new rug in time, and then I decided to swipe this one from the foyer to see if it would be a great size…and it is.
Looks like I'm shifting my focus to finding a gorgeous runner for this space instead of a 3×5 rug.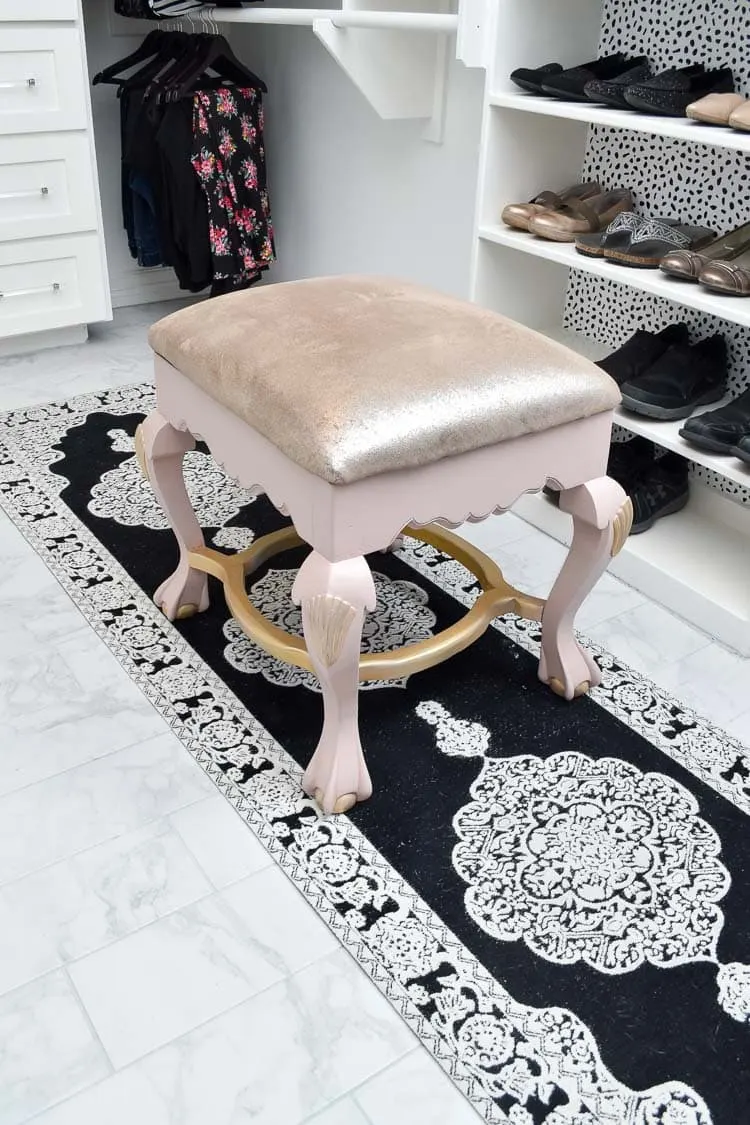 The one major thing I just couldn't get accomplished was spray painting the drawer pulls…BUT I will get to it eventually.
Closet Decor Ideas & Tips
Lining the shelves with black and white speckled wallpaper made such an impact in the space and really gives it some oomph.
I highly recommend a fun design on the back of built-ins to add style and personality to the space. Wallpaper, fabric or even gift wrap can work!
My husband's main request is for me to keep his "stuff" stylish, but masculine, which meant I kept his shelves minimal, functional and they feature our dear Pee Wee.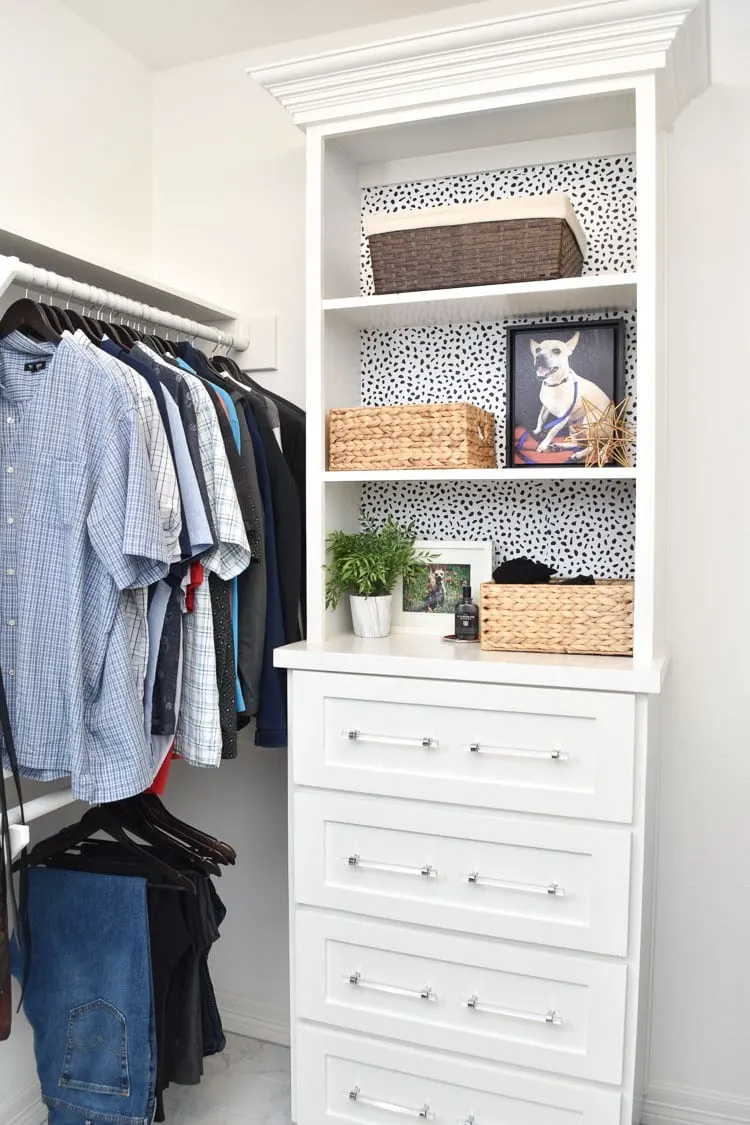 You cannot beat how easy and affordable it is to throw stuff in baskets in a closet.
My husband stores his socks in the baskets you see here, and it frees up drawer space for bulkier items.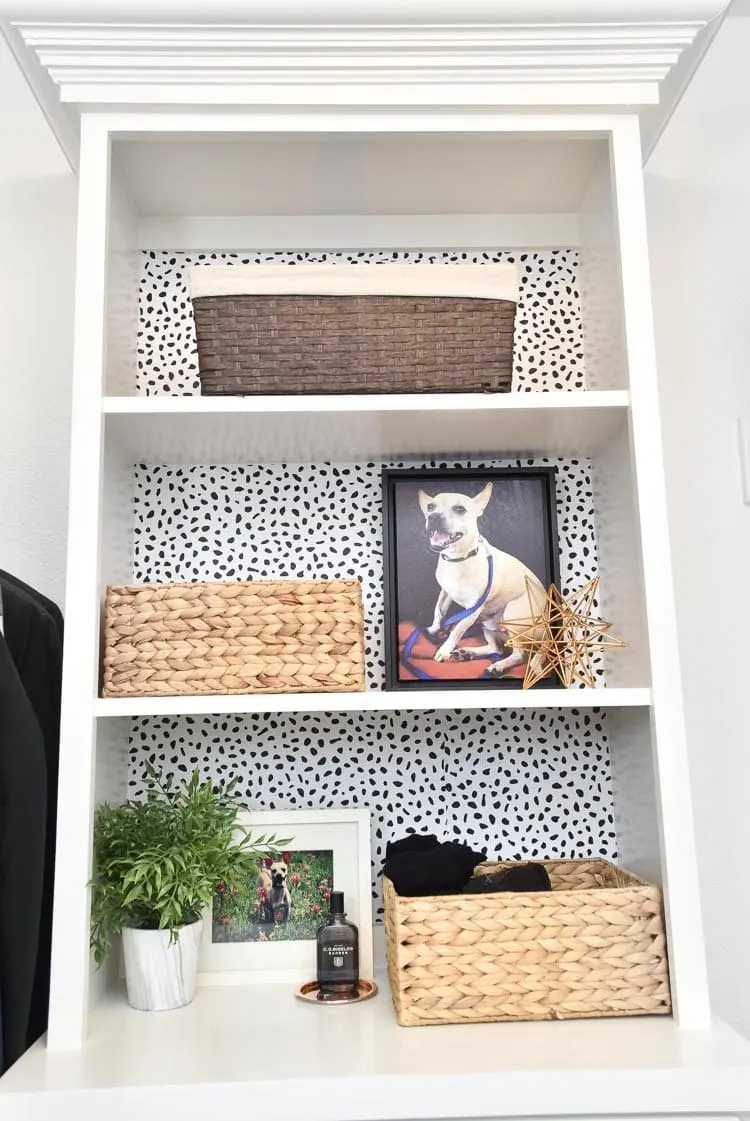 Luxury Closet Decor & Organization
My side is a bit of a different story, as you can see.
I incorporated some gold wire baskets for storage for my wallets and wristlets next to a floral art print and a DIY Prada Marfa printable.
Lots of little gold baskets and punches of pink make for chic closet organization ideas in my book.
When decorating a tight or small closet space, I recommend trying to keep the finishes minimal- my husband's side has more organic baskets and mine is gold and metallics.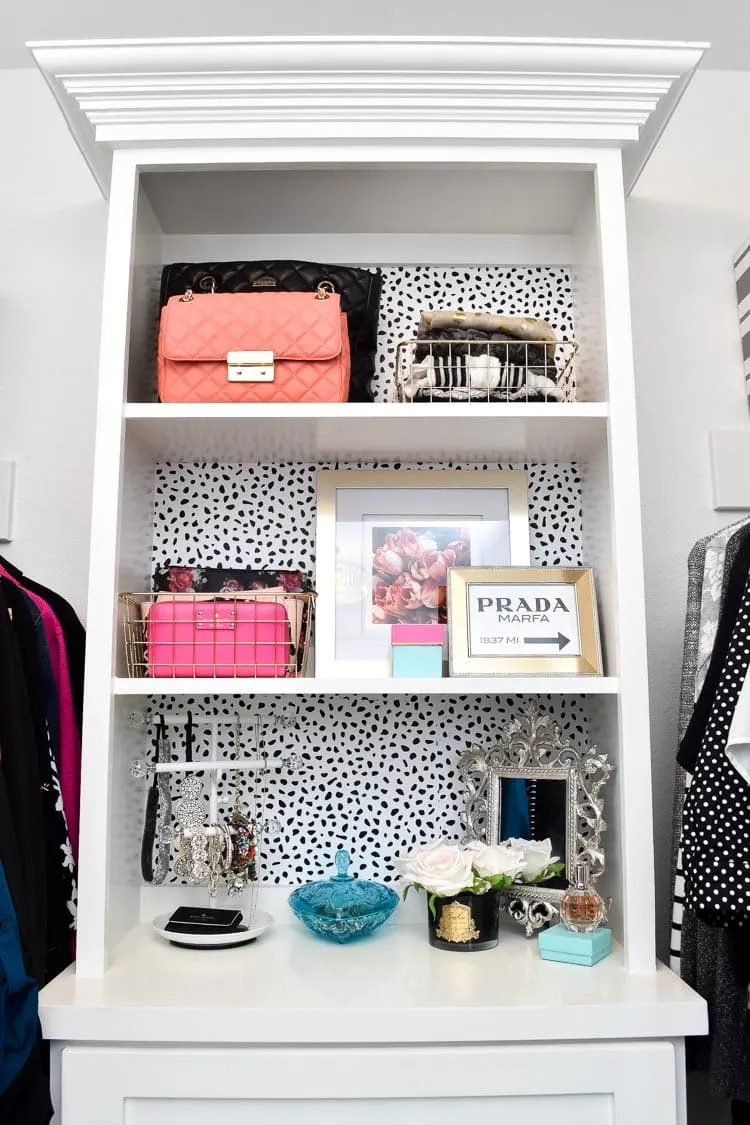 My scarves are neatly folded up top next to my two most favorite quilted handbags.
If you want to display your purses or handbags, make sure you dust often!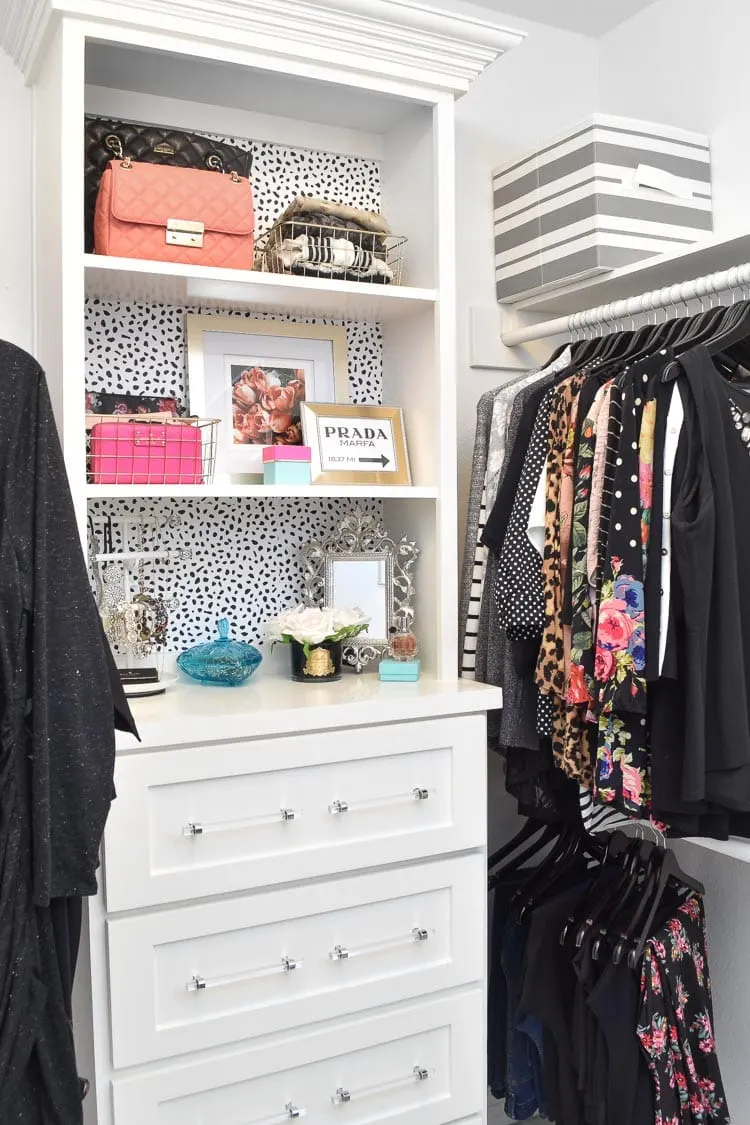 On the bottom shelf, I have my jewelry stuff and a fun ornate mirror I picked up at HomeGoods over the weekend specifically for this spot.
It's nice to be able to get dressed in such a fun space and now all of my jewelry, shoes, handbags are in one spot.
This totally must be like what celebrities feel like, right? Totes.
Initially I wanted to display all my handbags, but opted to keep most in their dust bags for practical reasons.
Now they're all in their dust bags AND in those gray and white bins I had laying around that now sit on top of shelves.
I divided them into two bins- one for more fall/winter handbags and the other for spring/summer.
DIY Closet Decor Ideas
Our shoe rack shelving unit holds all of our shoes and my grandmother's vintage jewelry that is now beautifully displayed in some shadowboxes.
The DIY jewelry shadowbox art was one of my fave DIY's for this closet makeover. Plus I had the supplies on hand.
As you can tell, no glamorous heels in sight mostly because I place a tremendous amount of value on not breaking an ankle.
But, I do love all of my cute and stylish flats that keep me on the ground.
This budget master bedroom closet makeover was fun, and it forced me to clean-up and implement some of my closet organization ideas.
It was also fun to get creative with finding useful ways to add decor and not waste any storage or organization space.
Let's tally up the total I spent on this challenge (and cross our fingers I adhered to the strict $100 budget):
$12 for the ottoman fabric
$8 for the spray paint
$14 for the silver mirror
$14 for the baskets for my husband's side
$32 for more wallpaper to line the shelves
Total of $90
Yasss! I stayed under budget. Woo hoo! I'll have to take those $10 left over and treat myself to some ice cream or something over the weekend- I've earned it for sure.
DIY Closet System Tutorials
Adding storage space and function to closets is kind of my thing. If you're thinking of installing a closet system soon, these posts will help you.
Small Closet System DIY Installation
Bedroom Closet System Installation for $100
Affordable Room Makeovers
If you want more ideas for how to makeover a space for $100, I have a few other makeovers I'm linking to below:
Botanical & Audubon Dining Room Makeover