Hi everyone! So happy to have you all over for a fall home tour. Ideally my whole home would have been ready for its pumpkin close up, but I do have my dining room and foyer ready for you all to enjoy thanks to this tour hosted by my friend Marty from A Stroll Thru Life.
If you've landed here from Follow the Yellow Brick Home, welcome! I'm happy you're here and hope you're open to some non-traditional fall colors and décor choices because I'm a bit of a traditional meets colorful meets feminine florals kind of gal.
Chinoiserie Dining Room Fall Décor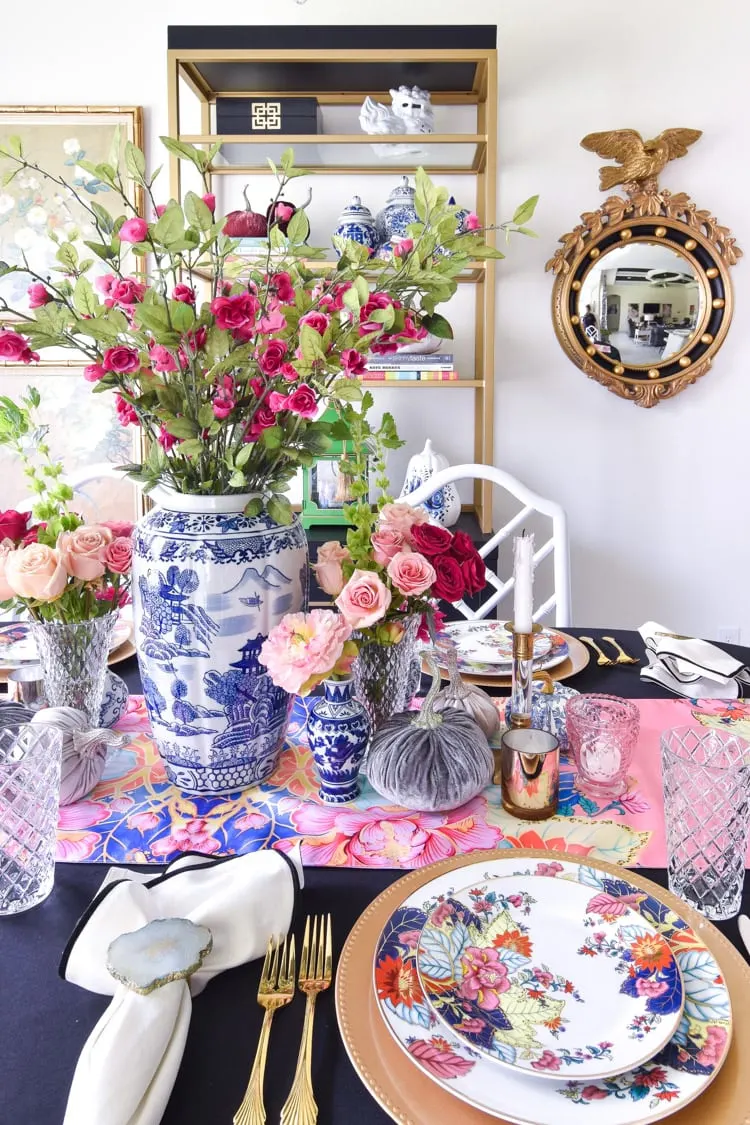 My dining room recently got a fabulous upgrade with some fretwork dining chairs I snagged on Facebook Marketplace and got professionally reupholstered. I painted the frames myself to save some money.
I love, love, love tobacco leaf china so that was the inspiration for my dining table. A runner from my home décor line (yup, I design and sell my own home decor designs at www.monicabenavidez.com) adorns the center.
My ginger jar vase with some faux florals paired with thrifted glass vases with real flowers AND some beautiful velvet pumpkins make this whole dining room feel glam and girly.
On the dining hutch the pumpkin décor I incorporated blends in beautifully with the other chinoiserie and ginger jar accent pieces. That blue and white gourd is one of my fave finds from HomeGoods.
If you're having trouble fitting in seasonal décor, all you need to do is incorporate small touches into places you likely already have decorated (like china cabinets, bookshelves, console tables, etc.)
Blue & White Ginger Jar Fall Décor
In my foyer, I decided to group together so ginger jars and big pink florals along with my gorgeous tobacco leaf lamp, some Foo Dogs, velvet pumpkins and GIANT white pagodas.
That tobacco leaf lamp was a lucky consignment store find, but some person had decided to paint over all the blue leaves with a yucky maroon paint color. Lots of elbow grease was needed to restore this lamp to this condition, read the tutorial here.
Overall, I really love not decorating with traditional fall colors. I'm really into pink, blue and white, plus all things chinoiserie, so it really works well to stick to what I love and incorporate some additional seasonal décor accents.
Thank you so much for coming over and checking out these spaces in my home.
My living room is still a work in progress (sneak peek below!), so I hope you'll come back to see that next week or so on the blog.
I recently completed my master bedroom makeover, which I am absolutely smitten with. You can check out the pink quartz accent wall over in this post.
And now I have you over to my friend Cassie over at Cassie Bustamante who also has a unique and eclectic home décor vibe. I simply love her front door color- make sure you check it out.
Fall Home Tour Line-Up
2019 Fall Home Tour Monday Lineup
2019 Fall Home Tour Tuesday Lineup