One of the topics I get emails weekly about are my black interior doors. Our modern black doors are one of the things I love most about our home, so I'm thrilled you all love them, too.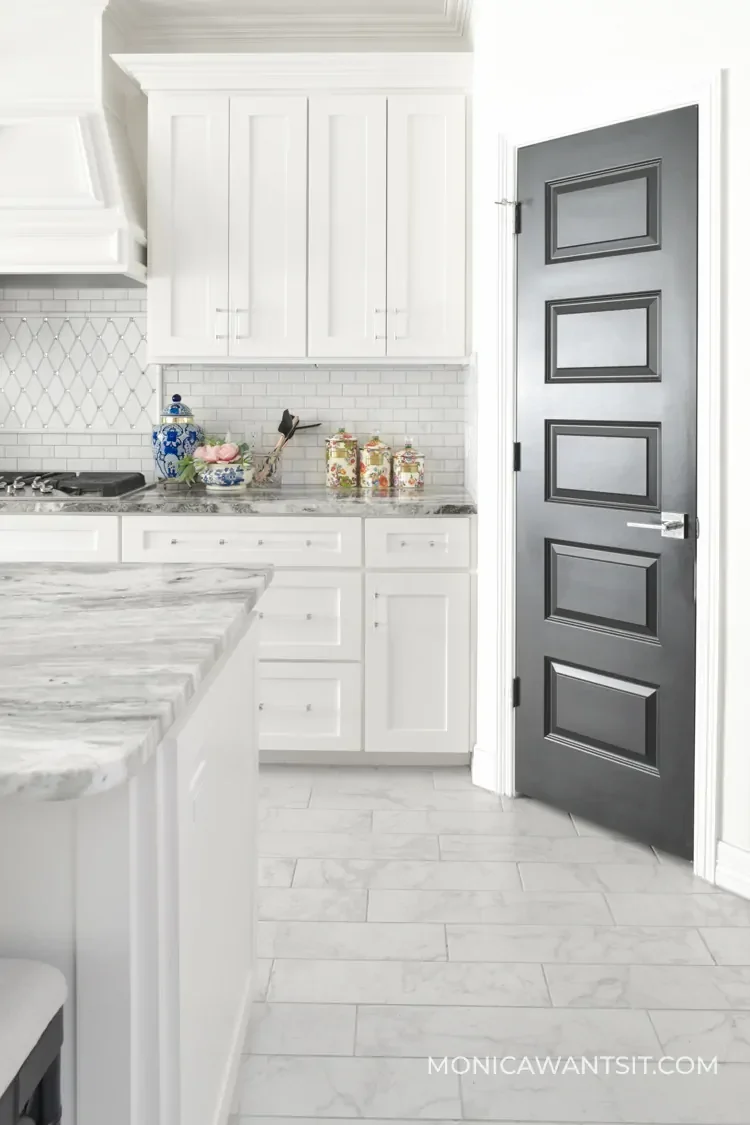 I notice a few common questions and issues that many of you all worry about when deciding to paint interior doors black instead of the standard white builder grade color, and today I hope to answer all of your questions regarding cleaning, maintaining, dusting and living with black doors.
I wrote about my initial take of living with black doors after six months of living in our home, but now I have a few tips, tricks and hacks to keeping your doors clean and looking new.
Here's a post detailing why I chose black doors for my home and some construction photos of our house as it was being built.
Having a home or house with black interior doors is definitely unique and not for everyone, but it can really make a big impact in a space.
---
---
Are Dark Interior Doors More Work?
I think one of the main concerns people have is whether or not cleaning or maintaining black doors is more challenging than cleaning standard white doors.
Personally, I truly feel it is easier, and I will tell you why.
The dust isn't as noticeable on a door that is black in color– in fact, I tried over and over again to get a good picture to show you all the dust on the door in our master bathroom (toilet paper dust is a pain!).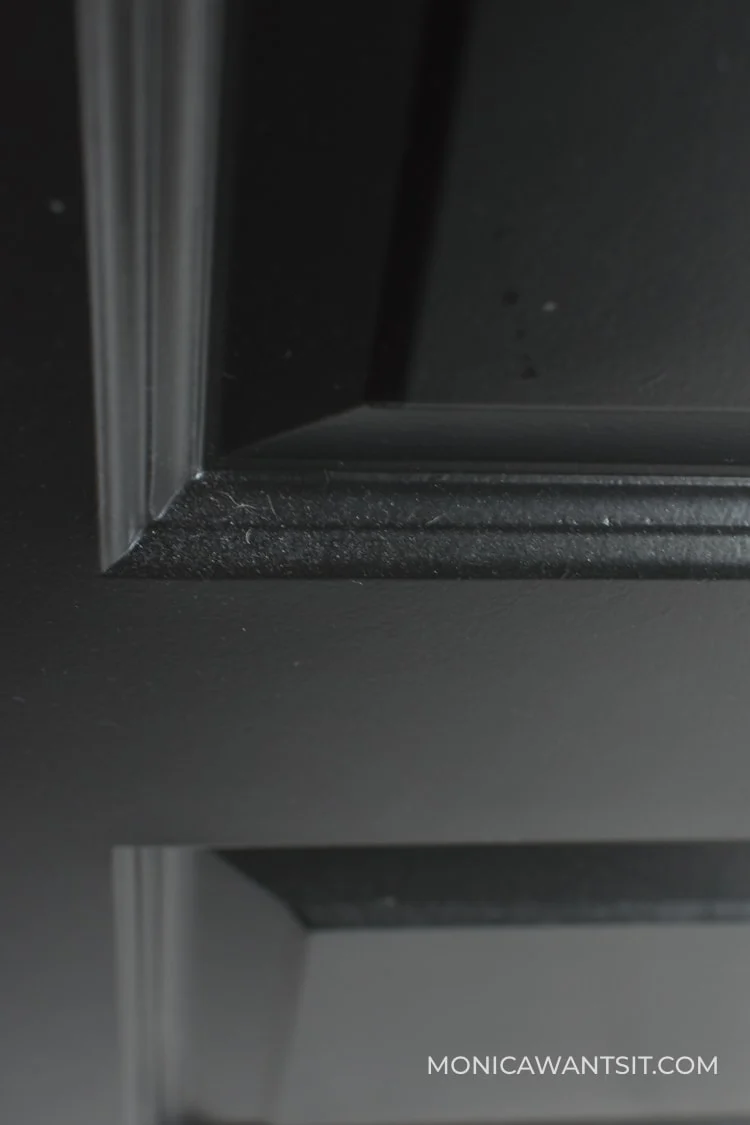 It was very challenging to get a good photo because it's simply not that noticeable.
In our former house, we painted our doors a high gloss white, and when they'd get dirty they'd have this dingy brown gunk on them that was super obvious.
I also feel the paint finish we chose for our doors works in our favor, but more on that later.
Cleaning Fingerprints Off Black Doors
The one thing I will say is a tiny negative/con about black doors is the fingerprint situation. This is especially apparent on the black pantry door in our kitchen.
If you opted for black french doors with glass, this would be less of an issue in high traffic rooms, so that is something to consider when choosing the type of black door you'd like.
However, with just two super simple, common and inexpensive cleaning items, you can easily clean your modern black doors and keep them looking pristine…
A magic eraser and a clean towel.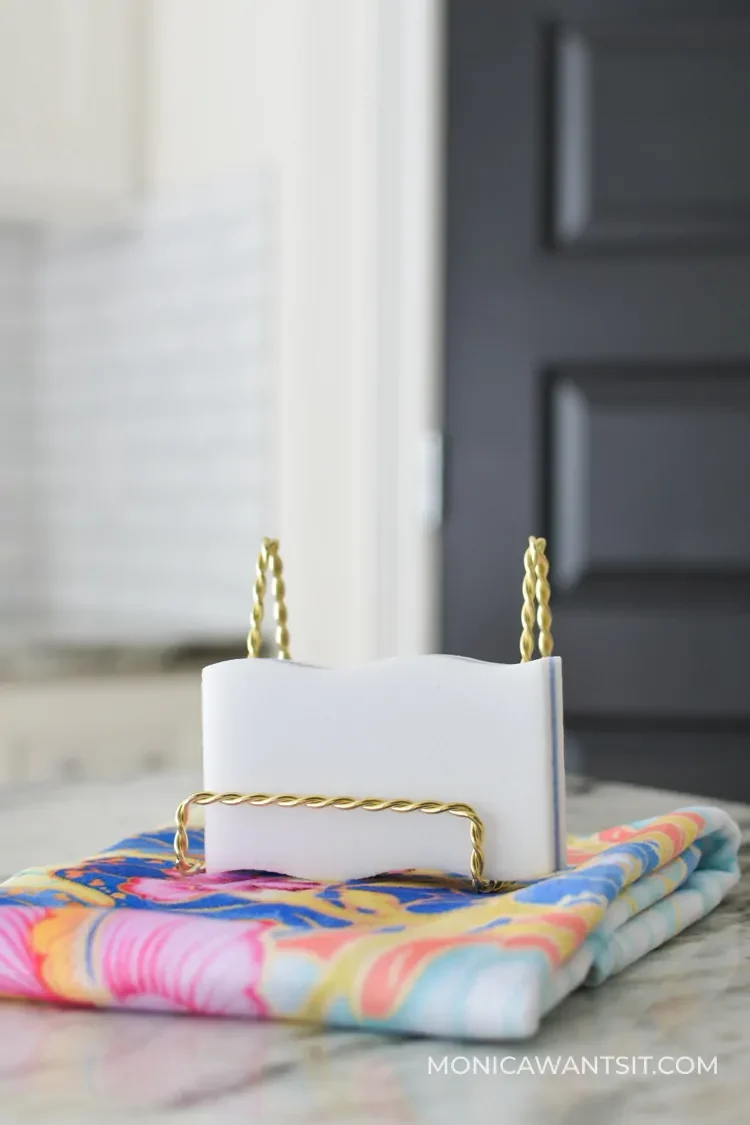 Every month, or every other month if I'm being totally honest, I will grab a magic eraser, slightly dampen it (it should be very nearly dry AND without any chemicals or cleaning agents on it that could harm your door) and I gently erase or buff out the fingerprints.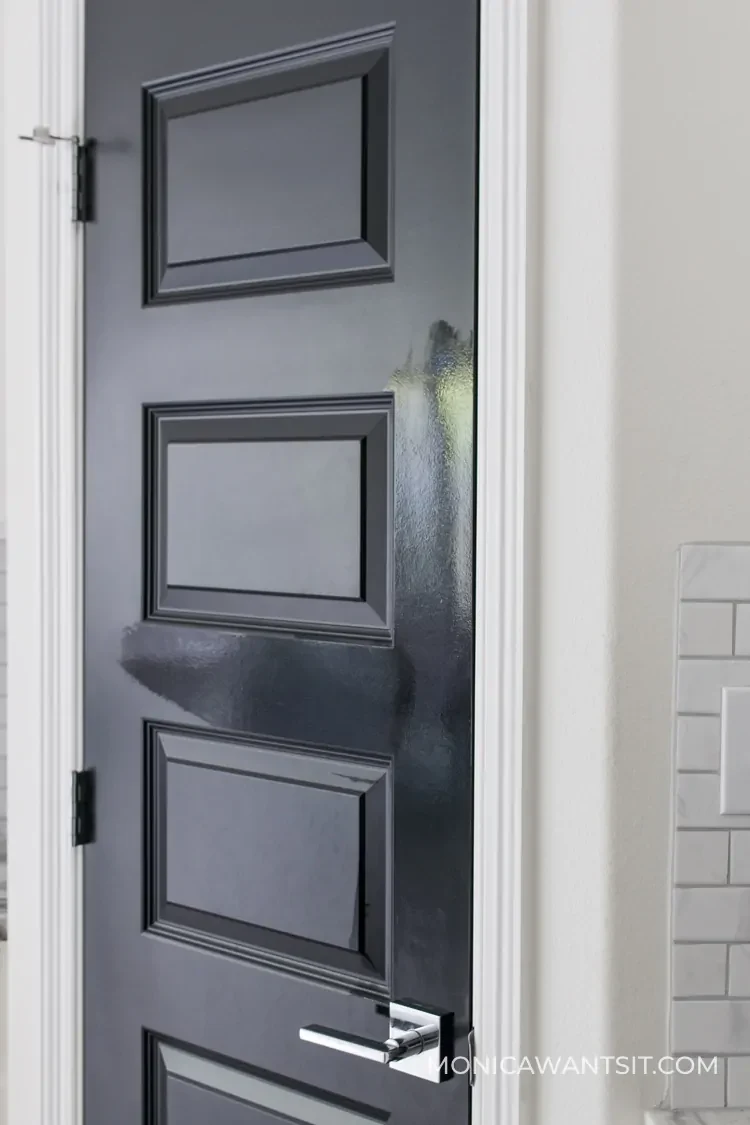 Then because I am impatient, I will dry the area with a CLEAN microfiber towel and marvel at how the fingerprints just disappear.
Sometimes if the doors are particularly icky, I'll have to do this twice (mostly on my pantry door – look below the door handle in picture below to see with/without fingerprints).
Overall, it takes me less than a minute per door since I'm usually just focusing on the areas that have fingerprints. While I'm doing this, I also use the magic eraser on the chrome door handles to remove fingerprints from there, too.
How to Easily Remove Dust From Black Doors
As you can see, my black doors have five beveled panels which attract dust and dog hair. Whenever I vacuum a room, I use the soft bristle brush to vacuum the dust out of the bevels and go on my merry way.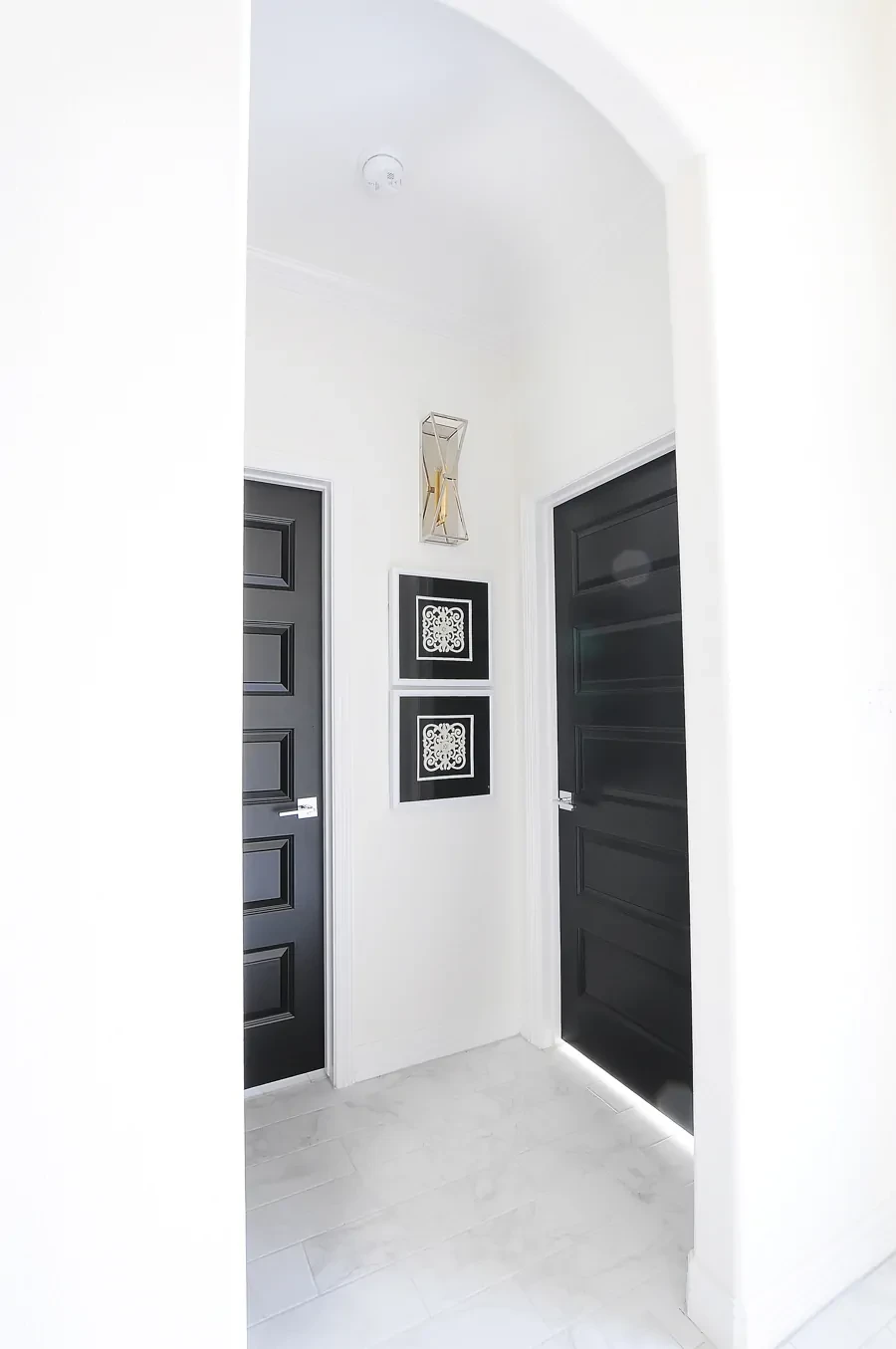 The vacuuming of the door bevels takes me less than one minute per side of the door.
I would say to be careful to not dig or drag the bristle attachment into or onto the door in order to prevent any dings or scratches. My method essentially involves very lightly hovering over the door with the vacuum attachment to get the dust off.
This little practice of mine also usually leads to me quickly vacuuming the baseboards and door jamb around the door, which helps keep all of our trim work looking good in addition to the black interior doors.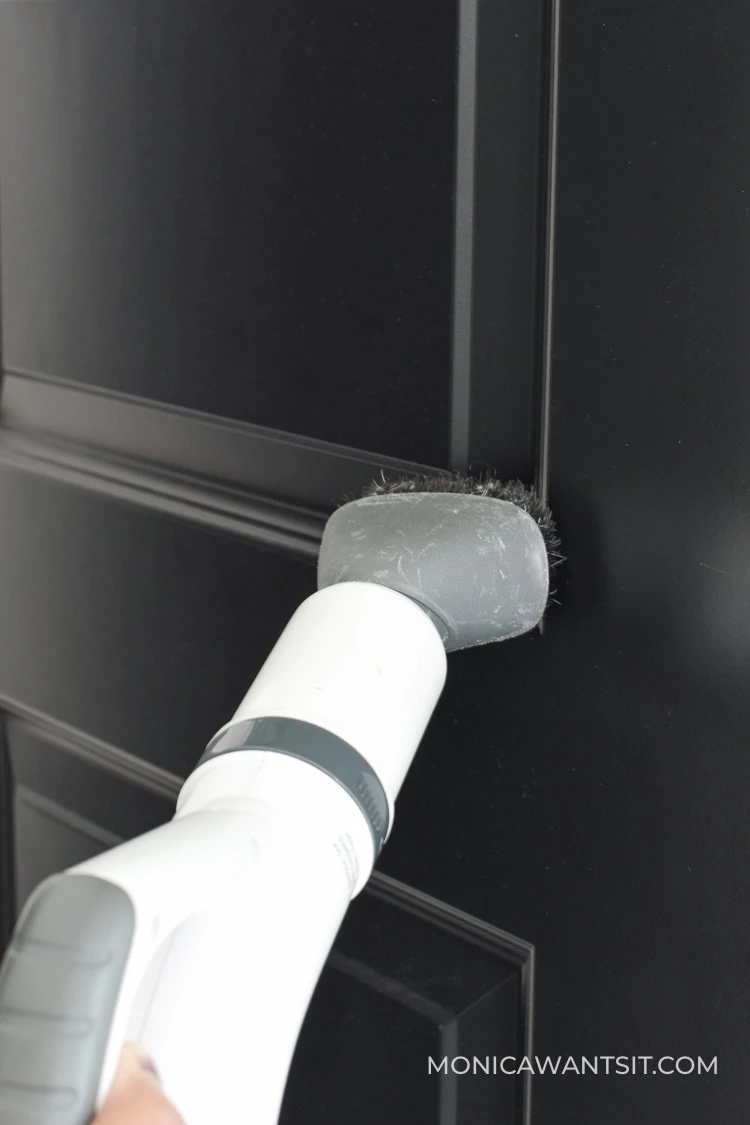 The rooms that gather the most door dust in my home are the frequently used rooms like our master bedroom, home office, kitchen and bathroom doors.
Selecting the Perfect Paint Color & Finish for Doors
To me there is no question that Sherwin Williams' Tricorn Black is the most perfect black paint color for doors and walls.
I feel this particular shade of black complements all interior design styles and would look great with nearly all paint colors you could possibly think of.
I also knew 100% in my gut that going with a satin finish instead of semi-gloss or high-gloss would make maintenance a lot easier, and I still stand by that decision to this day.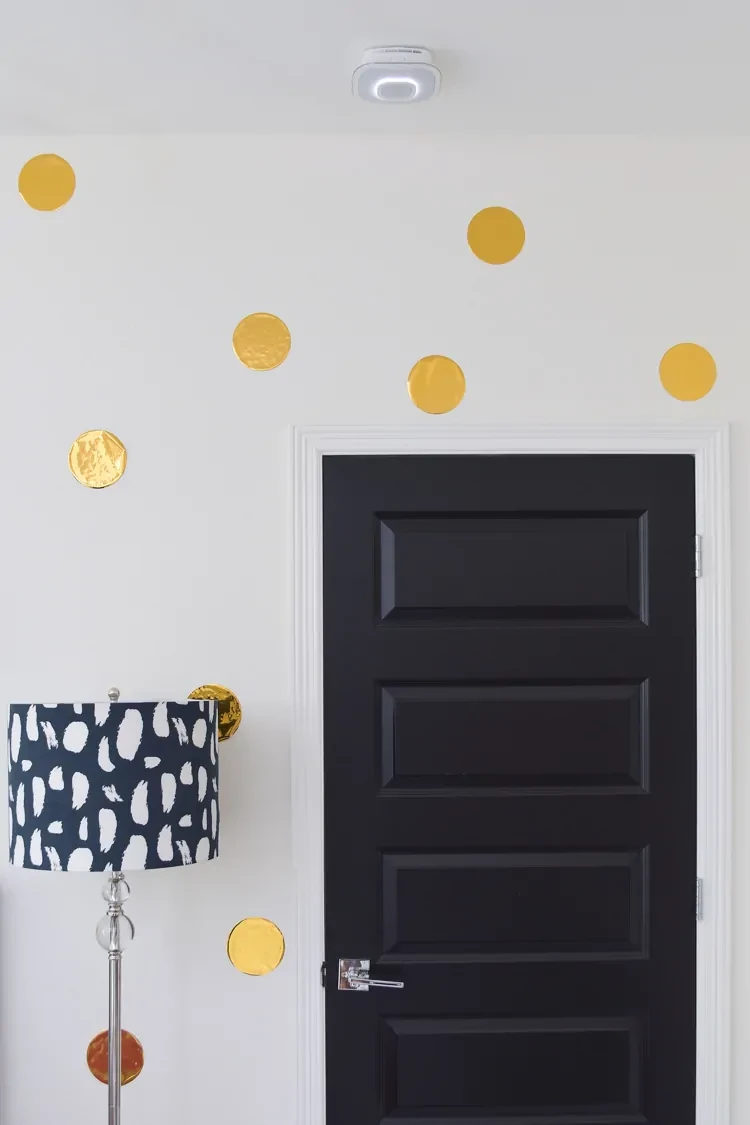 A satin is the perfect middle ground in terms of a paint finish. It has enough of a gloss sheen to make it look chic and modern.
In my opinion, super high gloss black doors tend to remind me of 80's style decor, and I do not mean that in a good way!
If you feel you must have a glossier finish because of kids, I'd suggest sticking with a semi-gloss that is scrubbable yet not overly shiny.
Do Black Interior Doors Cost More Money?
We built our home in 2017 with a local builder, and I will be fully honest and transparent that we did not pay extra to have our doors painted black. I could have picked white, black, red, lime or yellow and the price would have been the same.
Some reader emails I receive about black doors state the builder is either trying to charge them more OR flat out doesn't want to do it.
Only you can decide if black doors are worth the extra money for the upgrade with your builder.
If you feel you'd want to DIY it later, I will warn you painting doors is a meticulous, arduous process for a homeowner and you may want to have it done professionally instead and spare yourself the work later.
If you are a homeowner who wants to DIY paint your black interior doors to modernize your space, I would highly suggest this paint sprayer. I have written a blog post about the best paint sprayer for DIY projects that I highly recommend you read.
---
---
I've owned three different consumer paint sprayers during my time as a homeowner, and I can say without a doubt this affordable paint sprayer is the BEST and requires no air compressor and is beginner friendly.
It works flawlessly with this type of semi-gloss paint which I used to paint my dining room chairs. The finish is flawless, the paint doesn't need to be thinned much at all and has excellent coverage.
Now, if your builder is flat out refusing to paint your doors black, it is likely because of the extra work involved.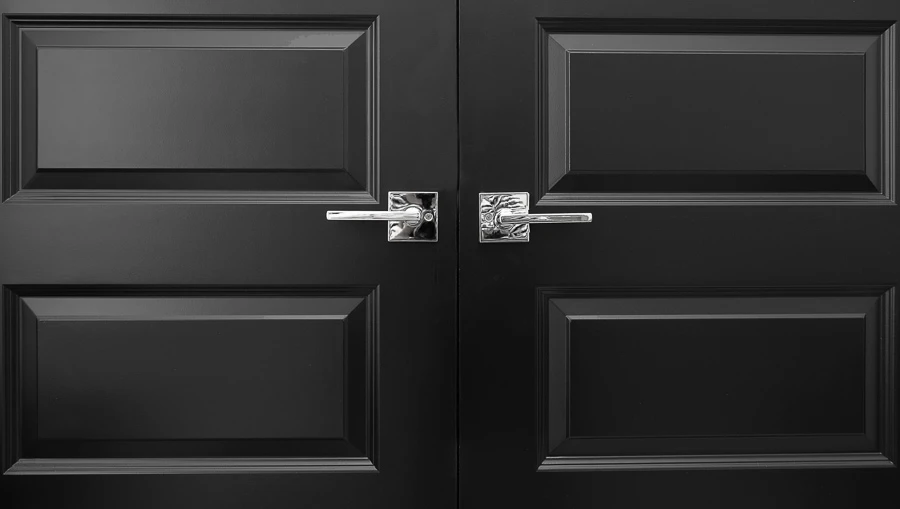 Any drips or paint mishaps are highly noticeable which means they'll have to pay extra attention! That is what you are paying them for, so hold your ground if black interior doors are a must have.
What Color of Trim Work Do I Choose?
I am well known for my love of black and white, so I chose to go with white high gloss for all of my trim work which includes crown molding, door trim, baseboards, and any other decorative moldings around.
As for the color of white, I wanted absolutely zero undertones, warmth, etc. so my builder suggested going with the color white straight out of the can.
Totally untinted paint, and it's absolutely perfect.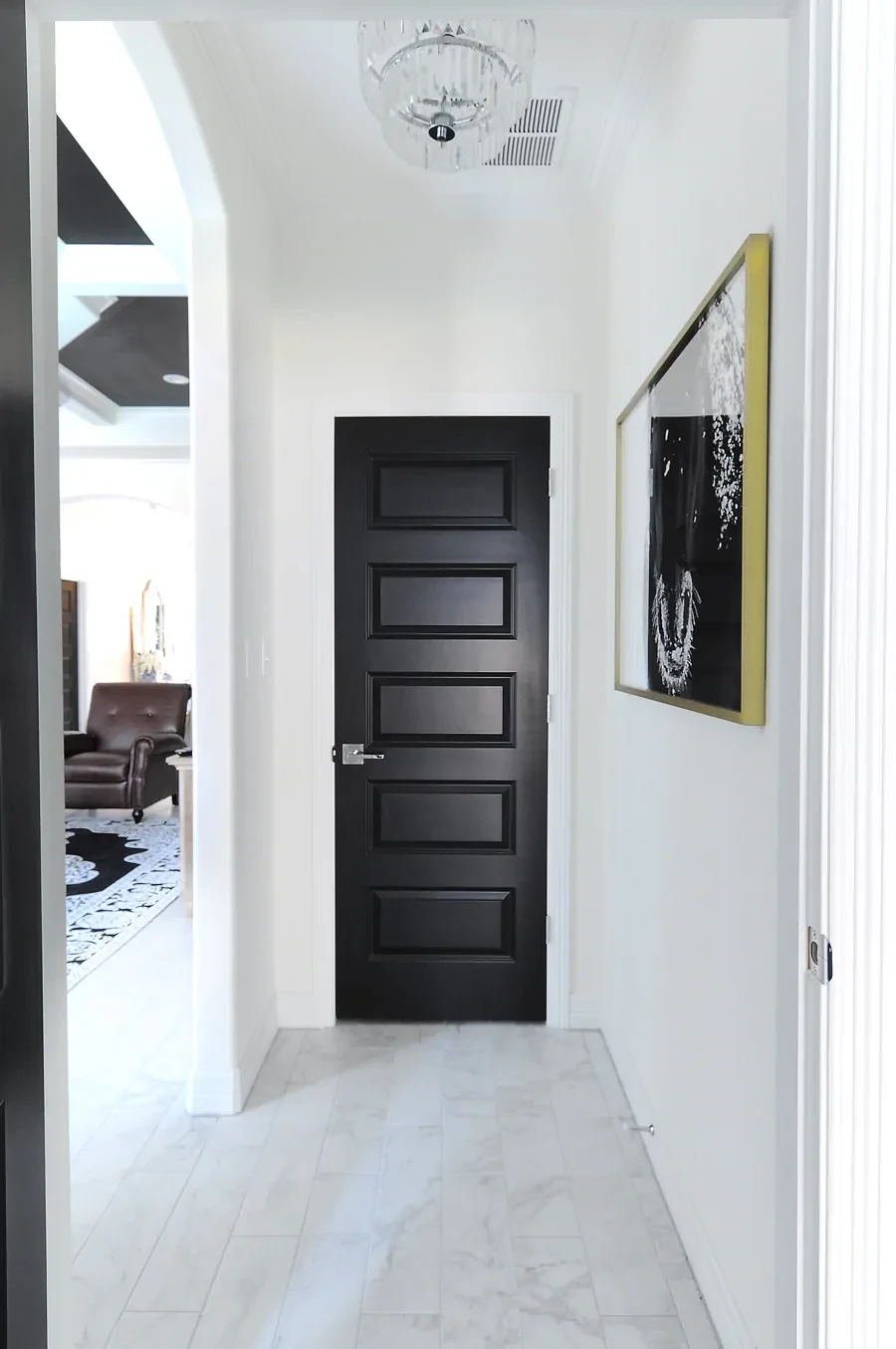 The main factor to consider when deciding on your trim work paint color is the color and finish of the interior walls, your design and decor style (farmhouse, modern, boho, eclectic).
If you're on the fence, I truly do not think you can go wrong by sticking to a classic white color. It can be a huge undertaking to repaint all of the trim in a home, so really think about it before committing and play it safe for resale, too.
Decorating Around Black Interior Doors
If you go with black doors, you can decorate as you normally would.
If your style leans farmhouse chic, all of those creams, whites, warm wood tones and rustic finishes would look so fabulous next to black interiors doors.
If you lean more minimalist and modern with a Scandinavian vibe, then those very streamlined, hard edges and contemporary styles would be complimented by the stark black doors.
If you're a maximalist or bohemian, you're going to likely have tons of patterns, textiles, colors, textures that will all mesh well to create a moody, global look if you decide to incorporate black interior doors.
And then there's people like me who kind of mix traditional with eclectic- I love my chinoiserie classic blue and white decor, but yet also love touches of glam and the bold contrast of black doors and white walls for extra flexibility.
I would suggest to take your decorating style (and family situation- kids, pets, etc.) into consideration when selecting what style of doors (beveled panels, louvered, french doors, glass insert, flat panel, etc.) AND your paint finish (is it durable? scrubbable?)
Have Our Black Interior Doors Chipped or Gotten Ruined?
I get this question often on my Instagram or via reader emails. I'll be completely honest that we haven't had any chips in the black finish of any of our doors.
Now, we have had some scratches. I know that I have run into our black door in our closet and bathroom several times with the laundry basket. This leaves a white mark that is usually able to be buffed out, but there are some faint scratches.
I'm pretty persnickety about things being perfect, but the small scratches here and there don't cause me to lose sleep at night.
And in the guest room, which used to be my office, a piece of furniture fell over and left quite a few scratches towards the bottom panel. Not fun, but not the end of the world.
Overall, I think our builder did an excellent job on the doors because we aren't exactly super careful with our black interior doors anymore after living here for five years and they're truly holding up well.
What Type of Door Hardware Should I Choose for Black Interior Doors?
Honestly, we went with chrome hardware for our black interior doors for one reason and one reason only: it fit in the allowance the builder gave us.
At the time we were building in late 2017, the cost for gold finishes was a lot more expensive than chrome or nickel.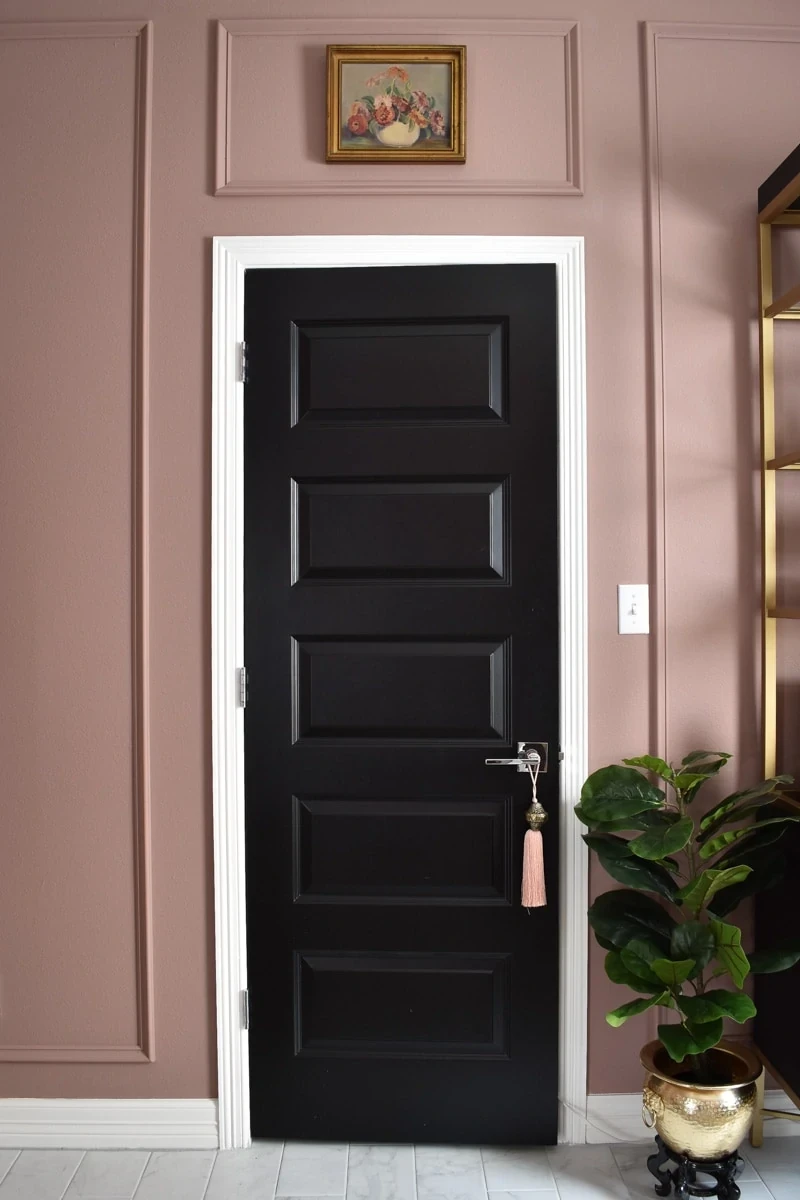 In 2017, I truly wanted a brass or gold door hardware. This still holds true today.
We've been in our home nearly five years at this point, and the cost to change out all of our door handles and hardware would probably run about $500, which is not a necessary expense. (This set of 6 door handles is super inexpensive though, so maybe…)
But I may do it anyway because we're in this home for the long haul. If I could go back, I would have gotten the gold door handles to begin with and paid the price difference.
The chrome door handles on our black doors are still totally functional, so it seems like a bit of a waste to change them just for the sake of changing them.
I know I mentioned spray painting door handles and such earlier in this post, but with all the doors we have, it is not a project I'd want to undertake.
But back to the question at hand: what color and finish to pick for door hardware.
The great thing about black interior doors is that they look good with ANY finish you choose.
If you have farmhouse style, you might opt for oil rubbed bronze or brass type finishes to enhance the aesthetic.
If you are more modern, then chrome or a black finish for a monochromatic look might be a better choice.
If you have an eclectic style or love antiques, you could even buy crystal door knobs and unique backplates to add vintage charm.
Bottom line- just like with a little black dress, anything looks good with a black door.
Could I Spray Paint My Door Handles for My Black Interior Doors?
You totally could! I cover my favorite gold spray paint for DIY projects in this post, but the good news is that the specific spray paint I love comes in many colors.
I've always loved the ability for spray paint to completely transform items such as my $2 spray painted lamp, and to me, painting door handles is no different.
If you plan to tackle a DIY spray painting project to upgrade your current door hardware (note: do not spray paint the hinges- more on that in the next section), here are some tips for your project.
Remove your door handle and the hardware and give it a good cleaning. A Lysol wipe would be fine or a microfiber cloth. Use what you've got.
Put the hardware for each door handle in a sandwich bag and label it. Trust me, you'll thank me later.
Lay out all of your door handles and the strike plates (the one that is on the door as well as the plate that is on the door jamb) on a drop cloth, tarp, old shipping box. This will help you paint them all at once.
Use a spray paint primer (the one I linked to is my favorite spray paint primer for heavy ue item like a door handle) on all of the door handles and strike plates. Do not skip this step! You've invested the time to do this project, so do it properly so your hard work will last.
When spray painting, use a sweeping motion, stay about 8-12″ away from the item and do THIN COATS. If you saturate the item with spray paint, you'll likely end up with drips galore that you'll have to sand off.
Once the first coat of primer is dried, do another thin coat or primer. Why? I'd hate for you to spend all this time painting door handles and then they instantly chip.
Now, do 3 light coats of whatever spray paint color and finish you plan on using. Some ideas are black, oil rubbed bronze or of course, gold.
Here's another extra step I'd suggest- seal your handles and strike plates with a clear coat. I would suggest a satin clear coat, but there are gloss options available, too.
Let everything dry and cure for 24 hours before installing. I recommend bringing the door handles and plates back inside for this part to help speed the process along.
Re-install your door handles and plates and enjoy!
Is it worth all the effort to spray the door handles if you plan to replace them eventually? It depends. How much does the current finish bother you? How long until you plan to buy the new handles.
Overall, spray painting the handles for your black interior doors could all be done in the span of a day in terms of active time and then of course you need to allow ample time for the paint to dry and cure.
What Color of Hinges to Use With Black Interior Doors?
Luckily, our builder thought of this decision when we were selecting finishes, and he chose to get the coordinating chrome hinges for us, which you can see below.
I think it is a good idea to select the coordinating hinges to match your door handle hardware. So if you chose polished brass, then use polished brass hinges.
Now, we were fortunate to make these decisions while building. If you have existing doors that you want to paint black, I would suggest going ahead and also swapping the hinges out to coordinating finish.
It seems that with the current gold trends for home decor and home improvement, the cost of gold or other desirable finishes has gone down because there's so much demand.
If you can fit it into your budget, definitely splurge on replacing the hinges with the matching finish to your door handle.
All that being said, I truly don't ever look at the color of hinges in other people's homes, so always do what works best for your wallet and time.
I will strongly recommend not spray painting or painting over hinges. No matter how good of a job you try to do, the paint will very likely chip off or the hinges will squeak or not work as smoothly.
Better to keep them as is instead of to trying to paint over them.
Any Regrets About Black Interior Doors?
Nope! If I ever build again, I'd choose black time and time again.
I remember when we painted our doors white in our first home (we were cursed with 1970's brown hollow core doors), and the dust, dog hair and scuffs stood out so much. It drove me nuts!
With black doors, sure they get dusty, but overall any imperfections are easily buffed out or not as apparent.
I do regret our black exterior FRONT door. Living in Corpus Christi means a ton of wind, so our front door always looks so dirty. I plan to paint it soon.
I hope this thorough guide to living, painting, cleaning, maintaining and decorating around black interior doors is helpful. If you have any other questions, drop them in the comments.
You May Also Love These Posts: