Thanks to the pandemic, many of us have created an outdoor living space to enjoy and give us more room to entertain or lounge. But what is the best tile for outdoor kitchen?
I know I thoroughly enjoyed the nearly two years it took me to complete my Parisian inspired patio makeover because now I have a gorgeous outdoor space to do my gardening, enjoy a glass of wine or sit under an umbrella and work on my blog.
If I had the square footage needed, I'd love to add an outdoor kitchen (and I'd also have loved to use porcelain tile to create a black and white checkered floor rather than paint one…).
There are a lot of considerations to keep in mind with outdoor kitchen design. Unlike indoor kitchens, an outdoor area (kitchen or not) will be subjected to direct sunlight, moisture, cold climate (or warmer climates), dirt, wind and other harsh weather conditions so to make the perfect choice you've got to pick the best materials to weather the outdoor elements.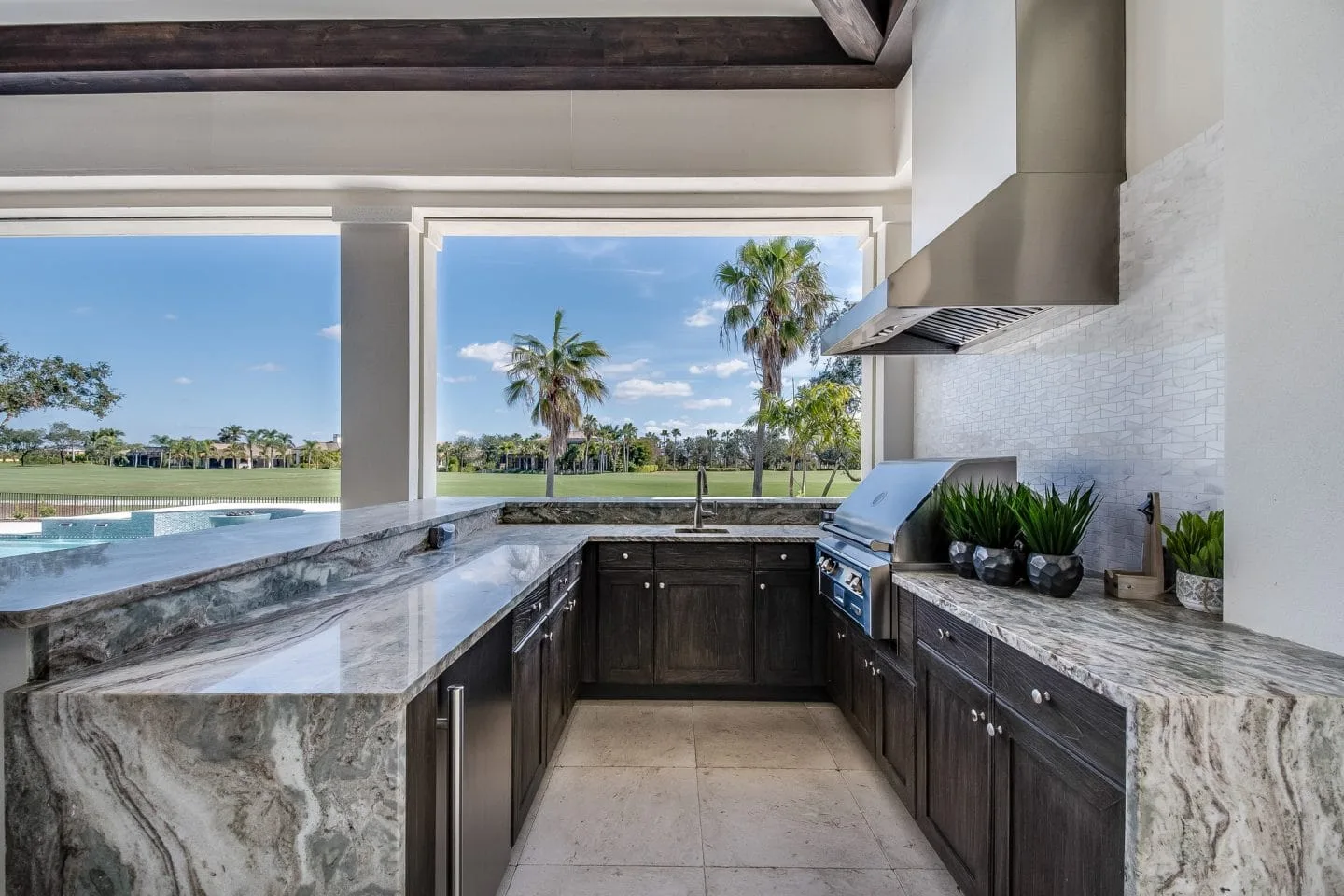 In this guide, I'll cover different materials to help you make an informed decision on things like the best outdoor kitchen countertop, patio floors and types of outdoor tile so you can get the most value for your money. The goal is to find the best options for durable materials that will serve you for years to come.
Differences Between Indoor & Outdoor Tile:
Construction: tiles for indoor use will usually have a shiny, slick, glazed surface that makes it easier to clean. Outdoor tiles will often not be glazed but will have a texture on the surface to help prevent slips, falls and other accidents. Plus, it'll help your patio furniture move around a lot less.
Durability: tiles made for outdoor use will have to withstand a lot more than indoor tile in terms of harsh weather conditions. Additionally, tile made for use outdoors generally is a bit thicker and non-porous.
Best Tile for Outdoor Spaces
If you're just here to grab a quick tidbit of the best tile material for your outdoor space, here's a summary of my recommendations below.
Outdoor countertop materials: porcelain, granite, or concrete
Backsplash or wall accent: ceramic, porcelain or marble* (*if under a covered space)
Patio floor: porcelain or natural stone (but not marble)
Pool area: slate, travertine or porcelain
Outdoor fireplaces or fire pits: ceramic has been taking the heat (quite literally) for many years
---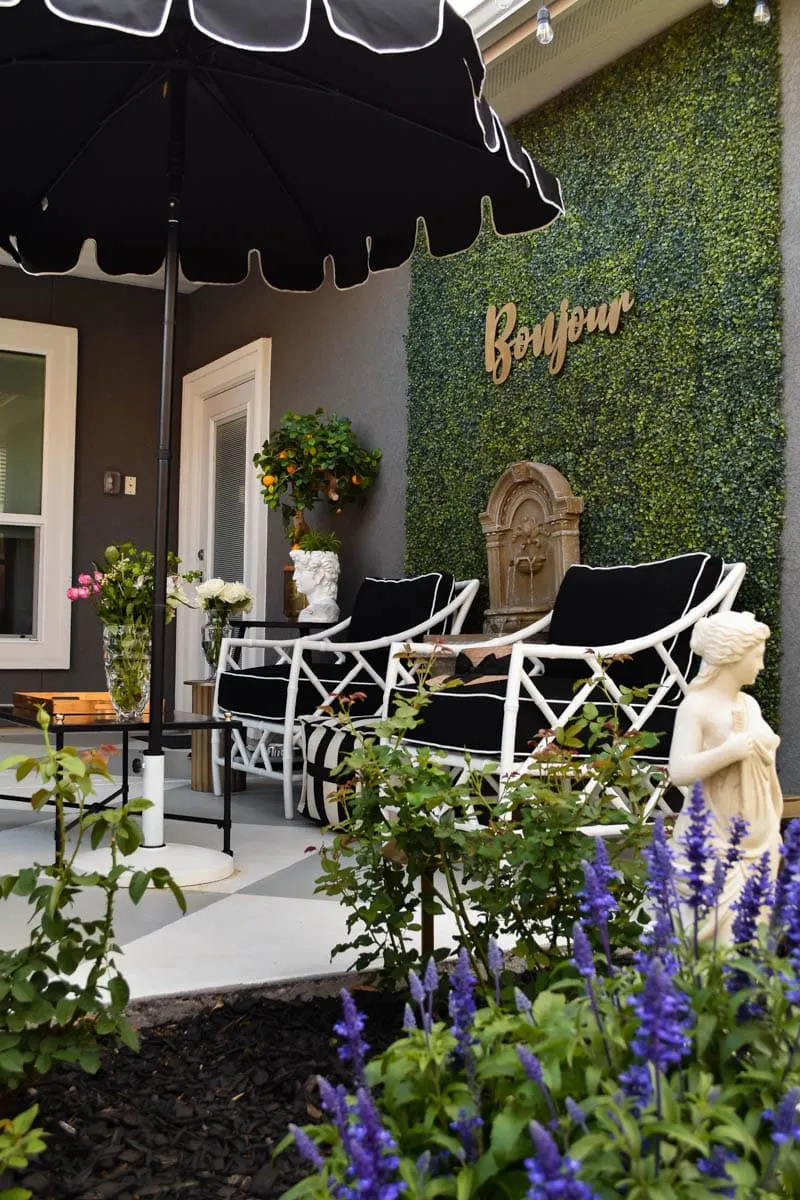 DIY Boxwood Wall Tutorial
Your neighbors and friends will be GREEN with envy after you install a faux boxwood wall in your home or outdoor spaces. I have a step-by-step tutorial that will guide you along the way.
---
Types of Tiles for Outdoor Use:
You'll want to use outdoor tiles in an outdoor patio or kitchen because they are incredibly resilient. Tile can handle spills, pets, a lot of foot traffic, kids running around and it can also withstand mother nature.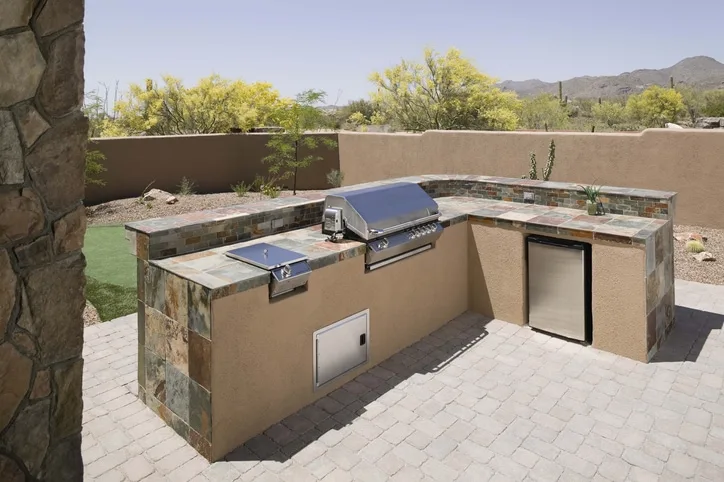 Another great thing about tile is that it is readily available and the options range from inexpensive to luxury, so truly there's something for style and budget.
Lowes and Home Depot have beautiful options in-store both indoor tiles and outdoor tiles so you can look and feel in person.
Porcelain Tile
The best outdoor tile in my opinion is porcelain tile. It's a durable option that is also very affordable. The way porcelain tile is manufactured makes it densely packed and extremely resilient to water.
Incredibly strong and nearly waterproof due to its low water absorption rate, porcelain tiles are a good choice for areas that are near a pool, water features or if you live in a rainy climate.
We have porcelain tile in our shower that looks like marble tile, and it's been a breeze to maintain and has bacteria resistance. Our tile cost about $2 a square foot and is rated for outdoor commercial use. I'm telling you, this tile is AMAZING and a bargain.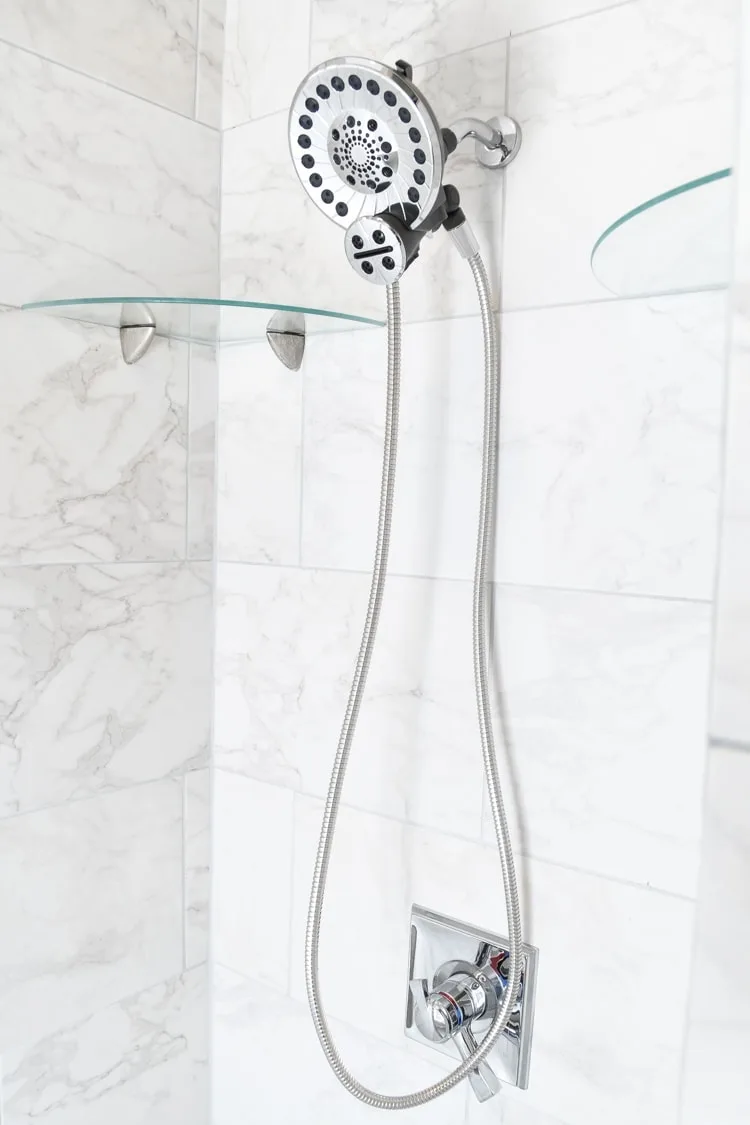 We chose porcelain tile specifically because many of the styles available provide the stone look without all of the maintenance and extra cost. When choosing our tile grout, I chose a gray that would highlight the veining in the tile.
I feel confident that outdoor porcelain tile is an excellent choice for most outdoor areas, especially areas with foot traffic. Truly, it's the perfect tile.
Ceramic Tile
In my experience these can be very slippery to walk on when wet or damp, so I would recommend ceramic tile for outdoor countertops, backsplashes, small accents or as wall tile versus something to walk on.
Experts also recommend picking ceramic tile options that carry a PEI rating indicating sufficient strength and external usage.
"PEI" is the abbreviation for Porcelain Enamel Institute. A PEI Rating is given to a tile product based the hardness of its glaze, according to this source.
Before you fork over the credit card, make sure the tile is rated for outdoor use. Again, the right materials for each application or use is key for safety and long-term durability. With a wide variety of colors and designs available, it's a popular choice in covered patios.
Concrete Countertops
Technically not tile, although you could buy a mold like this one and DIY some tiles, concrete is a low cost, durable alternative to a tile countertop. I don't know about you, but I am not a fan of tiled countertops. It's way too many grout lines and just doesn't have that polished, high-end look I am usually after.
Natural stone options make for good countertops materials, but they're also very pricey. Hence, the concrete countertop. Concrete is cheap.
Concrete is the best countertop option for DIYers (with tons of tutorials on YouTube and Pinterest) on a budget and can be custom made to fit your outdoor kitchen specs.
A word of caution: sometimes these type of countertops can develop hairline cracks. While these cracks won't be pretty to look at, they usually won't make a huge impact on the structure itself.
Terra Cotta Tile
Terra cotta tiles are really popular in coastal areas due to its style and warmth. It exudes a timeless vibe and makes me feel like I could be on vacation at a resort.
Depending on the density of the clay and how it's fired, many terra cotta tiles are suitable for use outdoors, and some are frost-resistant. They also look amazing when you go all in and use terra cotta planters to hold topiaries or small trees. Very European and upscale.
Much like all the other options in this post, maintenance is key. You'll need to seal to help prevent stains, but they will make a lovely addition as a patio, garden pathway or even just as planters.
Natural Stone Tile
Travertine tiles, granite tile, slate tiles, limestone tile and marble tile are all part of the natural stone family. Natural stone options seamlessly blend into natural surroundings which makes for a beautiful outdoor space with a higher price tag.
Travertine tile: rustic in appearance, the natural texture of travertine makes it a great option for a pool area. It can handle extreme temperatures like a champ without cracking.
Granite tile: tends to be the most expensive of the natural stone options because it is the strongest and most durable.
Limestone tile: very tough, but is a bit prone to scratches. Limestone comes in a variety of lighter colors with beautiful texture that will help keep patios cooler in hot climates.
Slate tile: when you think of slate, you likely think of dark colors, but it does come in a variety of shades. Slate is water-resistant and very durable which is a good reason why it would make a great patio floor.
Marble tile: absolutely gorgeous, timeless and easy to stain, a bit softer than other stone and also porous requiring a lot of upkeep.
I know here locally in Corpus Christi the homes that tend to feature natural stone accents outdoors are the more expensive luxury homes. I often see a granite countertop used for outdoor kitchens in a covered patio and I love the natural look and design style it brings to the space.
I love marble tile, but it is a very porous material that I myself wouldn't recommend for an outdoor patio unless it was small mosaic tiles used in a backsplash accent.
But besides the cost, natural stone makes for a good tile material with proper maintenance. This type of tile tends to be more porous, so using a high quality sealer will make a huge difference in preserving the look and life of your investment.
FAQ's About Outdoor Tile
What About Using Pavers?
I love pavers, and I've been trying to psych myself up to create a cobblestone inspired paver walkway in my garden… BUT I also know the importance of proper paver installation. Yes, it's a totally doable DIY project, but it is really hard work.
If you're up for the challenge, using pavers to create your outdoor patio space to put your grill, etc. can definitely save you money. If you plan to hire it out, weigh the pros and cons of tile versus pavers. Tile will last a lot longer.
How Much Extra Tile Do I Need?
As I mentioned earlier in this post, in case you need to do repairs down the line, I'd recommend buying 10-15% more than you think you need. This also accounts for any chipped tiles and cutting mishaps.
How Expensive is Outdoor Tile Installation?
This is a popular question that will vary by location, but most industry sources state the current rate is about $15-$25 a square foot. I've seen estimates at about $10 a square foot, and I've seen some pricing as high as $40+ per square foot for natural stone tiles.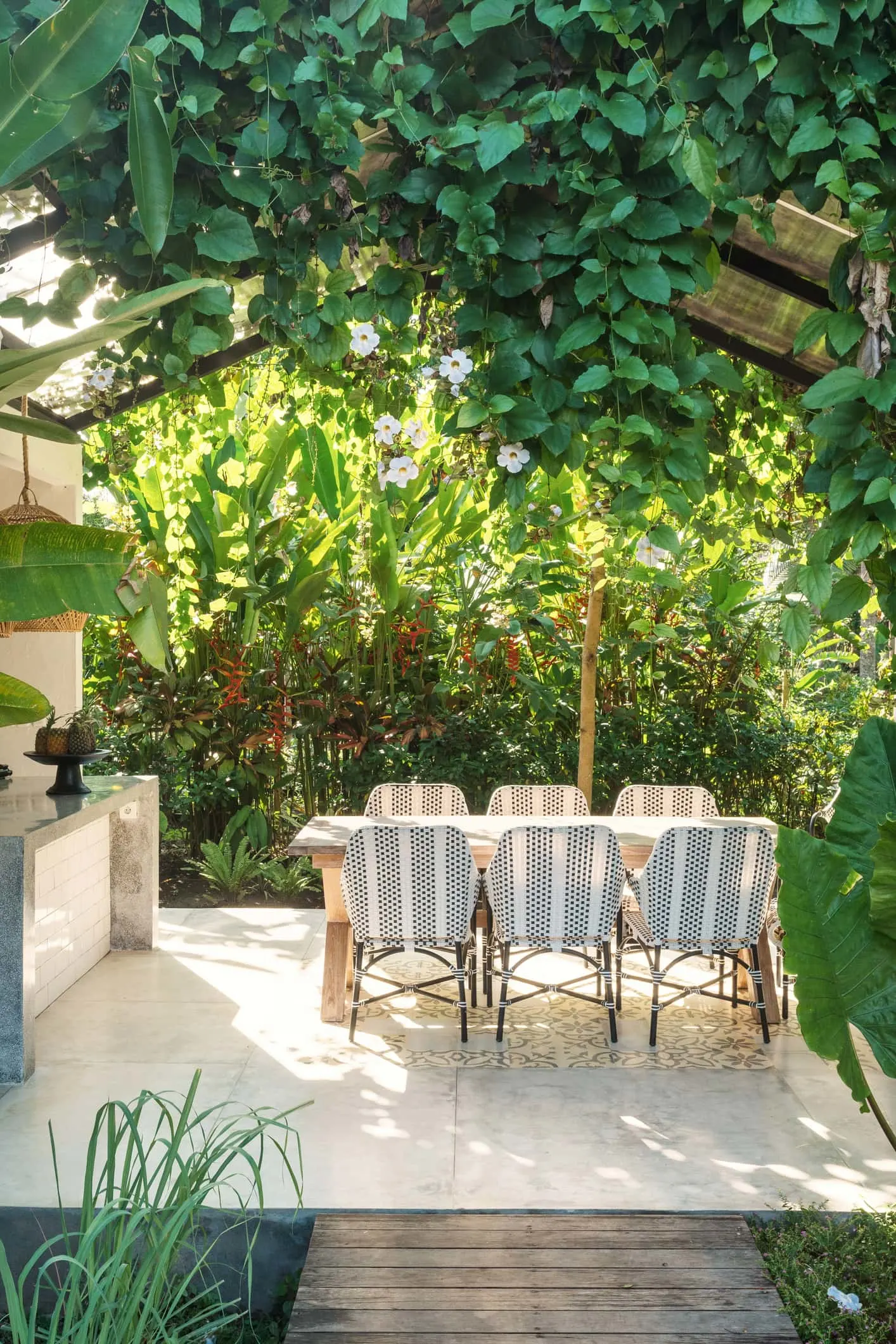 It's no secret that installing tile is hard work that requires attention to detail and proper installation.
I recommend asking for references, obtaining quotes from several tile installers, ask if they have a limited warranty on the installation (ex: a tile comes loose within 30 days) and then comparing the labor costs.
It may be tempting to go with the lowest bid, but sometimes you get what you pay for. Checking references can make a huge difference.
Do I Need to Grout and Seal Outdoor Tile?
Yes, absolutely! Grout is naturally porous (think of grout in bathrooms and how easily they seem to stain/crack), so using a good sealer is important when you first install the tile AND regular maintenance of your grout and tile should include resealing.
This will help preserve the look and function of your grout.
But no matter which type of tile you select, periodic sealing is something you should plan on every few months so the tiles can hold up to the elements and maintain their style. Again, some tile has a more porous surface than others, so make sure to follow the manufacturer's guidelines.
Can I Repair Just a Few Tiles?
If you have outdoor tiles, overtime you may have one (or a few) that cracks or chips from the wear and tear of everyday life.
The good news is that you can usually repair any chipped or cracked tiles easily and don't have to tear out all of your outdoor kitchen tile. This is why you should always buy about 10-15% more tiles than you may need to have some spare tiles in case you need to do minor repairs.
Any Ideas to Save on Costs?
Yes! Check out your local granite shop. Most outdoor kitchens aren't nearly as large as an indoor kitchen, so you may be able to snag a granite slab remnant for a great price.
The other option is to splurge on the tile needed for your outdoor kitchen surfaces (countertops, backsplash and the surround of your kitchen) and leave your floors simple concrete which you can then paint and install tile on down the line.