Painting laminate furniture is an easy way to add style and customize pieces of furniture in your home. In this post, we'll discuss the best paint for laminate furniture along with some tips on finding laminate furniture to paint.
I myself have a few painted laminate furniture pieces in my home, and I am always amazed that people think "But can you paint laminate furniture?" and the answer from me is a resounding HECK YES.
Some of my painted laminate furniture makeover projects are my MOST popular projects because essentially I've taken an inexpensive, discarded piece or old piece of furniture and turned it into a high-end stunner.
Furniture painting is my jam! Seriously, it is such a thrill to take something super basic or ugly and turn it into a beautiful piece of furniture, and I wanted to empower you all to get out there and make this happen for your home, too.
---
Where can I buy laminate furniture?
Finding laminate furniture to paint is usually pretty easy, plus it is low cost and low risk…but with high rewards!
I know IKEA furniture immediately comes to mind, but truthfully, a lot of the low cost furniture options at Walmart, Target, Big Lots, etc. are made from laminate and are not real solid wood, nor are they wood veneer either. Think particle board, light weight type furniture pieces that are perfect for paint projects.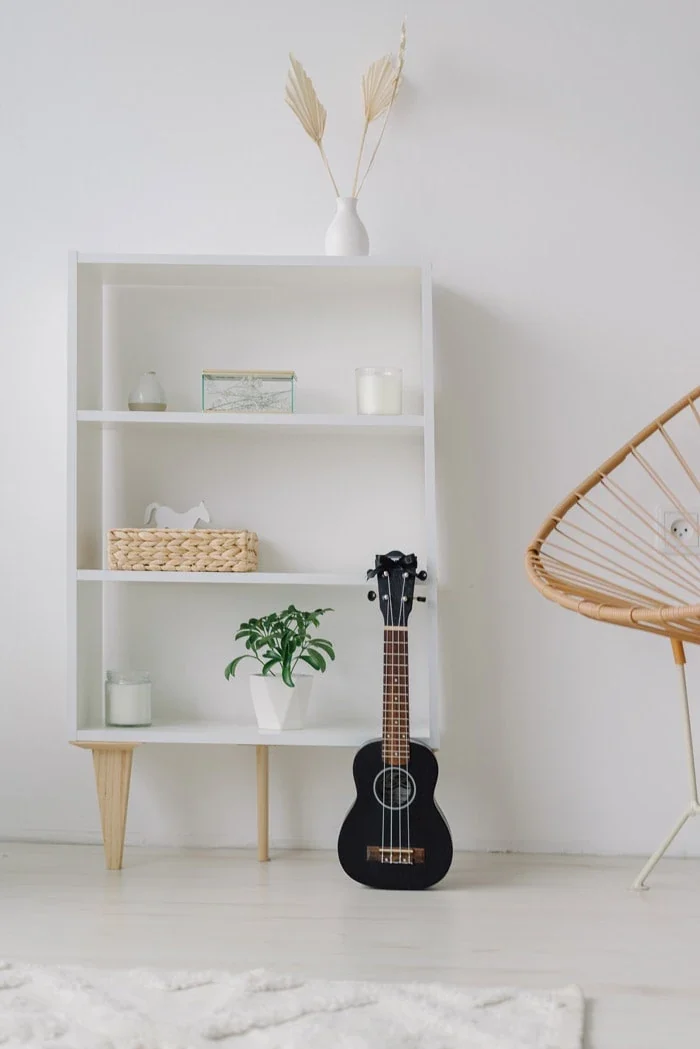 The best time of year to find or buy laminate furniture pieces is definitely back to school season (August-September) as parents shop for their college student who is moving in to a dorm or apartment. You'll see a ton of bookshelves, cube storage, and laminate dresser type options.
Another great time and place to find laminate surface type furniture pieces is the thrift store at the END of a school year when those same students are donating items left and right that they don't feel like moving or packing up.
And definitely keep an eye on places like Craigslist or Facebook Marketplace as another great option. Students will list items for cheap, which is a good thing and good news for you!
Another good time of year is around December/January when people start to clean and purge items in their homes for the holidays, followed up by spring cleaning when people are Marie Kondo-ing their homes and the weather is grand for garage sales.
Can I buy secondhand laminate furniture online?
Don't forget you can shop online for secondhand or gently used laminate furniture via the many online marketplaces that let people list items for sale near you. Some of the most popular ones are Facebook Marketplace, Offer Up, Craiglist, and your local Facebook resale groups.
If there's a particular item you have in mind, such as a bookcase or book shelf, try setting up some alerts within those apps so you'll be notified when there's a listing that matches your desired item.
Remember to keep your item alerts a little generic. For example, setting up an alert for a BILLY IKEA Bookcase may not yield as many results as "bookcase" and if you're wanting some kitchen cabinets, I'd suggest keeping your search very top level versus "laminate cabinets".
Other common pieces of furniture that tend to be laminate are dressers, desks, dining tables and chairs. Basically, if an item doesn't look to be made of wood, has a "sticker" like finish (which is usually white or a faux wood or faux wood grain finish that is clearly machine made and not natural), and is relatively lightweight and easy to move around, it is probably laminate.
Bottom line: do not overpay for laminate furniture, and if possible, try not to buy new! Save an item from ending up in a landfill and save yourself quite a few dollars, too.
---
---
What to look for when buying secondhand furniture.
Let's face it- laminate furniture is not heirloom or antique quality because it's not real wood. It is prone to chipping, peeling and bubbling up if exposed to moisture or dramatic heat. With that in mind, I'd try to keep these things in mind when buying new or previously owned laminate furniture to breathe new life into.
Is it in good condition? If a whole corner is chipped off, don't think that wood filler is going to fix it. Wood filler is best for small holes or hairline type cracks. Laminate furniture is so affordable that you shouldn't spend money on a piece of junk. There will always be another piece to buy.
What color is it? I recommend buying a darker piece of furniture if your goal is to end up with a navy, gray, black or deep green type color. I recommend buying a lighter colored piece of furniture if you're wanting to end up with a final color of a pastel shade, light gray, mint, pink, or a simple fresh coat of white paint.
Has it been previously painted? Personally, if the answer to this is yes, I'd pass. Who knows what kind of paint or prep methods they used. It'd be a nightmare to start painting and the paint starts to peel. You may also even notice a bunch of brush marks if they used a cheap brush. In worst case scenarios, you may find a piece that was spray painted (like with spray paint out of a can) that has drips in the finish, is not opaque, or is a bit sticky/tacky to the touch.
Are all the surfaces flat and level? Seems like an obvious thing, but on bookshelves you may notice the shelves bow a bit in the center and the same can go for those cube organizers. Make sure everything is relatively flat/straight and will support your items. You want your finished product to look good, not wonky!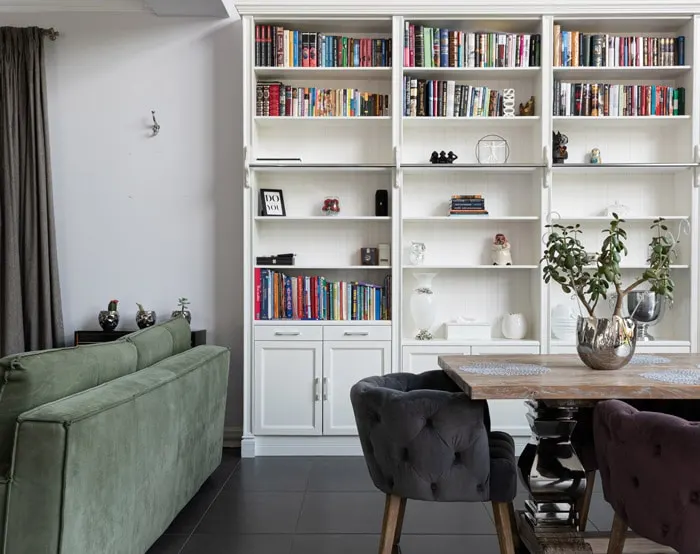 What rooms could I use laminate furniture in?
Truly you could use laminate furniture in any space of your home, but from my personal experience I like using these types of pieces as smaller accent pieces in living room or dining room corners, small wall areas or in rooms such as a craft room where nothing is too precious to potentially get glitter glue on.
I often see laminate type of furniture used in young kids rooms until the child gets old enough to not use Crayola markers or paint on an heirloom quality piece of wood furniture.
Guest rooms are another good option since it is a great way to make an infrequently used space stylish on a budget by reviving some old furniture. Truly, you can get years and years of use from a painted furniture piece if you prep and paint properly.
My living room also used to have a vintage laminate end table that I painted twice when I felt like I wanted a new furniture piece on the cheap.
However, I do not recommend painting laminate that will get super heavy use or may come into contact with water (for instance a dining table or coffee table with small children around).
You may find the paint chipping, wearing or bubbling a bit as time goes on because it's essentially a porous surface. If you want to keep that smooth surface, stick to using painted laminate pieces in accent decor OR plan to protect the top of a laminate piece with contact paper, glass, wood top or other solid surface (non-porous material).
There are also lots of cabinets and cabinet doors that are made of laminate that could be used in kitchens, laundry rooms or even mudrooms. Bottom line, anywhere you need furniture is a good place for an upcycled painted laminate piece.
What is the best paint for laminate furniture or cabinets?
I've used a lot of different paints over my 10+ years of having a DIY blog, and I do have a few favorites that I constantly use because they work well in my favorite paint sprayer. Now if you don't have a paint sprayer, I highly recommend you read my article about the best latex paint sprayer for furniture.
If you don't want to use a spray gun, I totally understand! A good paint finish can be achieved without one by using the kind of paint, primer and techniques below with a paint tray and a good paint brush.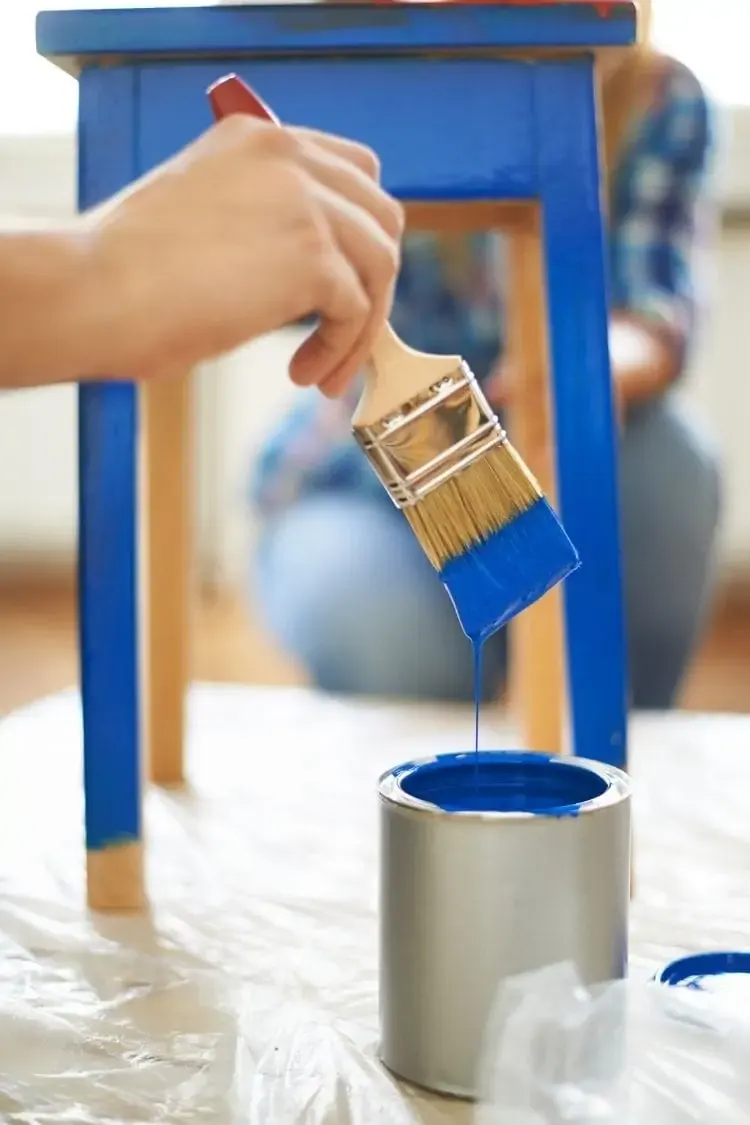 The best part is that the latex paint I love is totally affordable and you can find it at a big box store (Home Depot or Lowes) near you and online! I can't tell you how many times I've ordered paint online early in the week so that it'd get here in time for weekend projects.
TIP: This past weekend, I actually found cans of KILZ primer, Zinsser, and even quarts of paint by Rustoleum (my fave!) and Martha Stewart at Ollie's for $4.99 a can.
My favorite paint is Rustoleum's Paint Touch Ultra Cover. This paint provides opaque color in about 2-3 coats, dries quickly and easily clean ups with soap and water. It also levels beautifully without any additives to the paint, and in addition to being found at the hardware store, it's also stocked at Target and Walmart, or you can have it to your door in two days via Amazon Prime.
The one caveat to this paint is that it comes in many "basic" paint color options such as black, white, navy, red, green, gray, brown, etc. You could always get the white tinted to the color of your choice, but I find myself usually wanting black or white.
BUT, another good thing about this paint is that it comes in pint and quarts so if you're doing a smaller project, you don't need to get a whole quart.
Sherwin-Williams also offers paint in quarts and with a coupon or sale going on, it is totally worth the extra dollars to spend on their paint for projects IF you want a custom color. Otherwise, the off the shelf Rustoleum will work well for you.
---
---
Can I spray paint laminate items or furniture?
In my experience, spray paint in a can does not come out looking fabulous on laminate pieces. I find it's always a little too shiny, sticky, hard to work with, and the paint smell just penetrates the furniture piece.
I love using spray paint for lamps (like my popular spray painted lamp tutorial), hardware and other small accent decor items, but not furniture.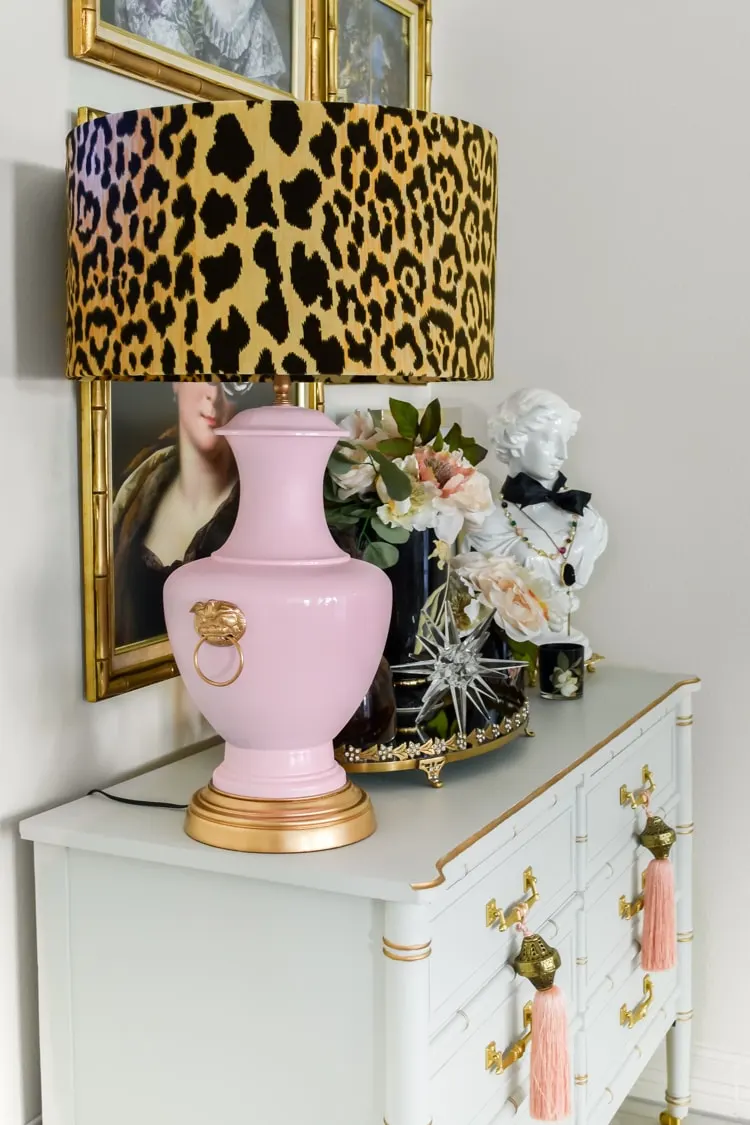 If you feel you must use spray paint, I'd suggest definitely work outdoors in a WELL ventilated area where there's not a ton of wind. A thin coat many times will be your best strategy versus laying it on thick. Moreover, pick a sheen that is more on the satin side for best results.
What is the best primer for laminate furniture or cabinets?
I have a strong affinity for KILZ 2 latex primer. I've used it for years and I find it the best at stain blocking plus providing a good base for that first coat of paint. I get it… priming is an extra step, but it is so worth it.
In our first home, I used KILZ primer to paint over our dark brown wood paneling before painting it a light gray. That wood paneling was stained with oil based paint, and I was worried those wood knots would be a beast to cover up. The KILZ coat of primer had zero issues and was up to the task.
On my living room fireplace that I painted back in 2021 (see it below), I was going from a dark gray color (that was very nearly black) to a crisp white color, and I used a foam roller to paint on two coats of KILZ latex primer on the entire piece.
I've had ZERO issues with the dark gray color showing through and I can safely report nearly 8 months later that I have NO chips or peeling at all.
I like to do at least two coats of primer, but if you at least do one that should be good enough and it's a very important step in this kind of project.
What you don't want to attempt to do is get a solid coat of primer on– it is totally ok if you can see some of the original color peeking through,
I use white primer 98% of the time, but there are darker primers which I would recommend if you're painting on a darker color.
What are the best paint brushes and rollers for painting furniture?
I get it- none of us want to see brush strokes in our finished project. Using a high quality foam roller or paint brush will help with that!
I love to use these small foam rollers and roller covers that are great for both small and large projects.
My favorite paint brush of all time that I use when I'm cutting in on walls or painting furniture, is this one. It flexes in my hand and makes it easy to work in tight spaces like corners or around moldings, trim and ceilings. I have at least three of these brushes at all times in my painting supplies.
Do I need to prime before painting laminate furniture?
I've learned this the hard way a few times, but yes, I think 9 out of 10 times you absolutely need to prime. Prep work is no fun, but in the end it all works out and you'll be so much more satisfied with the finish and durability.
Laminate furniture is usually high gloss or has some sort of sheen to it. By using a primer, you essentially block that layer and give your paint a fresh canvas to adhere to.
Second, it is also a good idea to prime your laminate furniture piece before painting ESPECIALLY if you are going from a dark color to a lighter one. Let's say you have a black bookcase you want to paint a light blue color- priming will help you use less paint, which means less coats and an all around quicker paint job.
And finally, and possibly most importantly, by priming your laminate furniture before painting it, you're instantly making your paint job more resilient and will ultimately need fewer coats of paint. Seeing paint peel days after you finish a project is not a good feeling.
There's a lot of great chalk paint out there that claims to be no primer needed that lot of people have had great success with. If it's going to be rarely used and it's a high quality chalk paint like the one I used for this chalk paint dresser project, I'd say give it a go without priming…but I will remind you that it is always the "right way" to prime your painting projects no matter what.
Do I need to sand before painting laminate items?
Yes and no. You do not need to whip out the electric sander or the orbital sander. For this kind of project, you'll want a very fine, 220-grit sandpaper or sanding block if you feel you must sand an area or if you need to lightly sand between coats of paint.
Remember to always clean any sanding dust off with a tack cloth before moving forward to your next coat. For me, I think I'd reserve the sanding for right before I put on that last coat of paint.
The key with sanding laminate furniture is to stick to light sanding. I'd say to stick to no sanding, but again, you may need to sand some areas gently between your coats of paint for a smooth finish.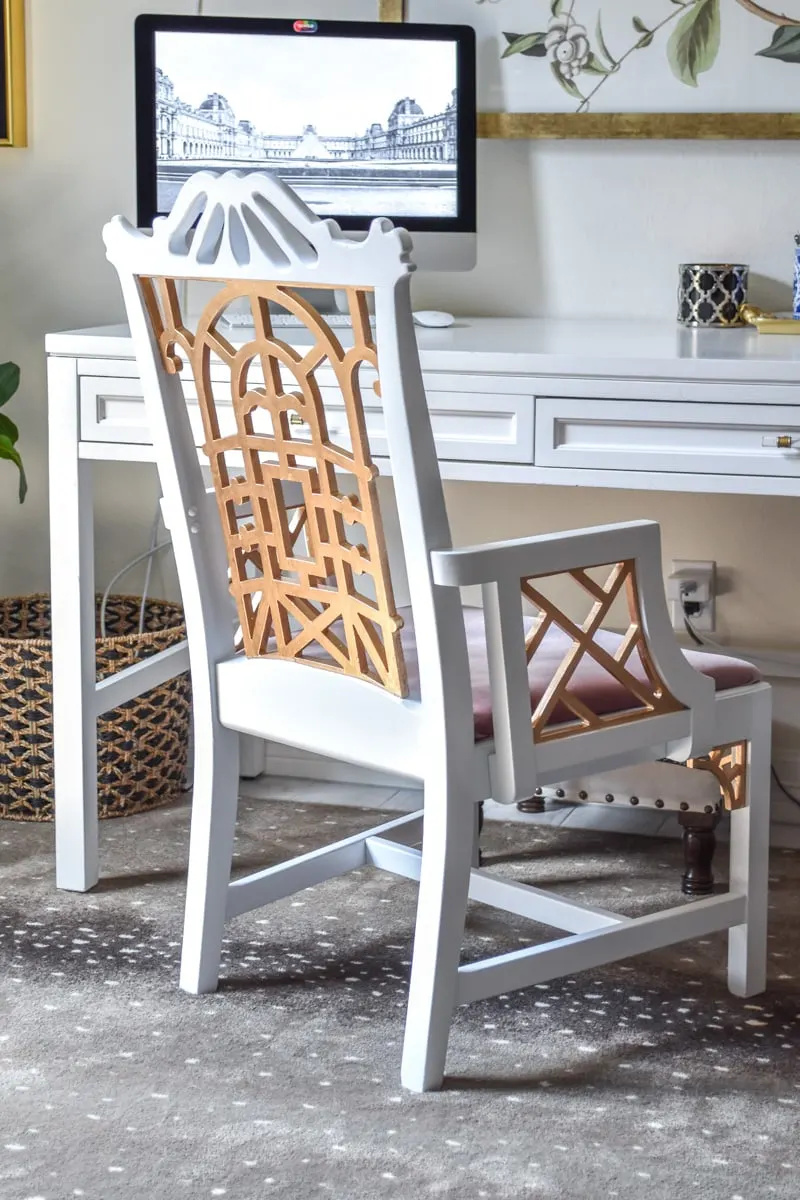 For most pieces in decent shape, I find giving the piece a good cleaning with a dry cloth is often good enough to get started on the priming. If the piece is really dusty and crusty, I like to use a tack cloth to get as much dust off as possible, and then I'll wipe the whole piece with a damp towel.
Do I need to seal laminate furniture?
Honestly, not a fan of a formal top coat on this kind of project because if you did things the best way and used primer, thin layer(s) of paint, etc. you should be fine.
You may be tempted to seal a piece with a white finish, but most sealants will turn white paint a shade of yellow over time. I find it's not worth the extra effort to seal painted laminate furniture.
The exception would be chalk paint- you'll definitely want to use a wax that gives you the sheen or desired finish you want. I used a satin wax finish on the chalk painted chest below.
Other DIY Paint Tutorials