Over on Instagram, I often joke that I will gild anything that doesn't move. I love adding in touches of gold throughout my home, so I thought I'd share my knowledge of the best metallic gold paint for furniture and other DIY home decor projects.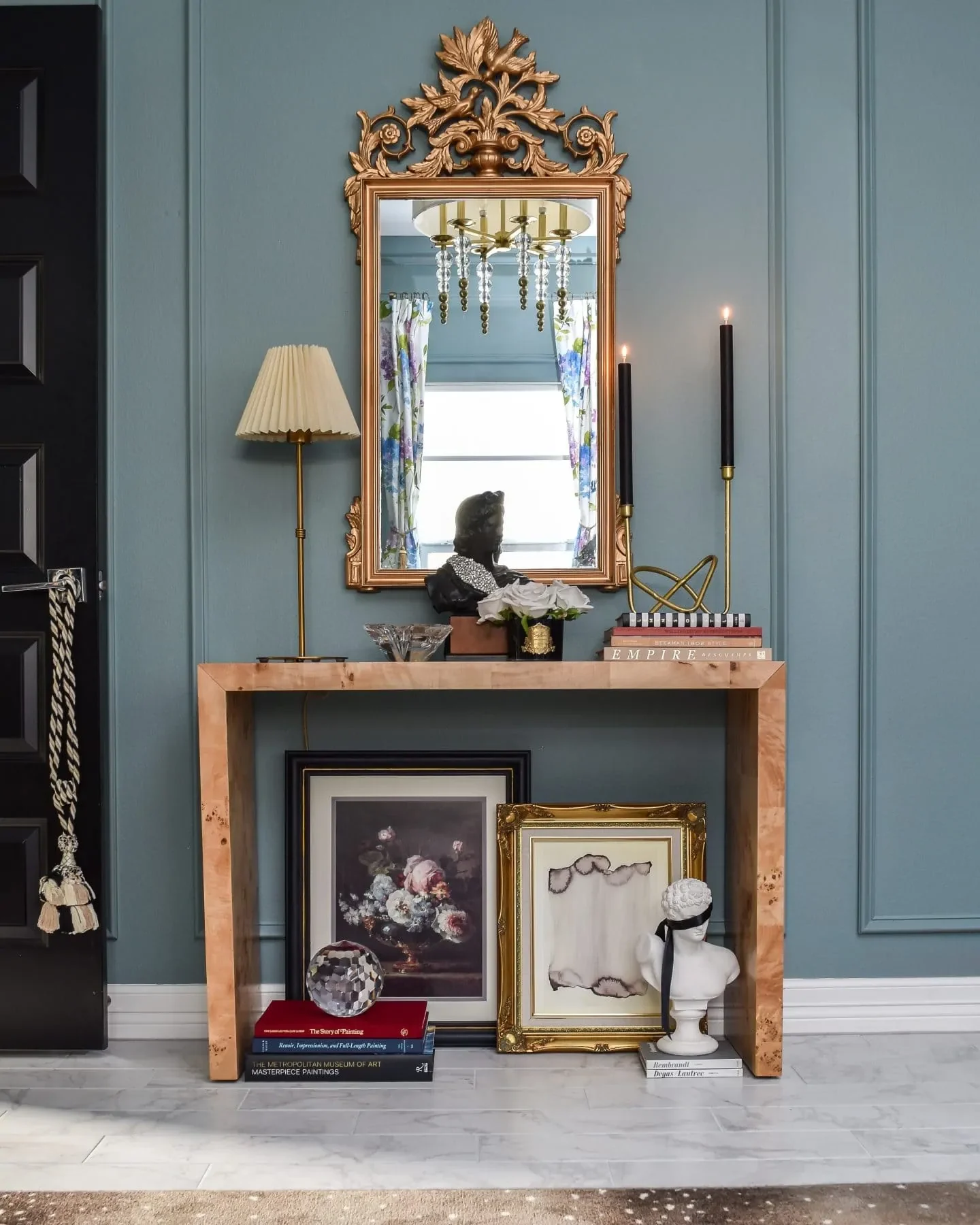 I wish there was one solid recommendation, and there sort of is one gold leaf paint that is at the absolute top of my list as a must have for the perfect metallic look. But I've learned that sometimes the best gold paint depends on what type of item you're working on, the amount of surface area you need to cover, and the kind of gold finish you're aiming for.
---
This post contains excerpts from my 60-page guidebook to gilding furniture.
You can buy it now for $10 and save $5 off the regular price ($15). The PDF e-book is delivered instantly.
---
Gold Spray Paint
If you've ever gone to a big box store and stood there trying to decide on a gold spray paint you've probably wondered which is the BEST gold spray paint.
I know a lot of people love the gold spray paint by Design Master or Modern Masters, and I find it just OK in durability, which is important to me for home decor.
I can safely say that I've tried at least a dozen cans of spray paint brands with varying degrees of success in both the color and finish. Some have weird undertones and others are hard to work with.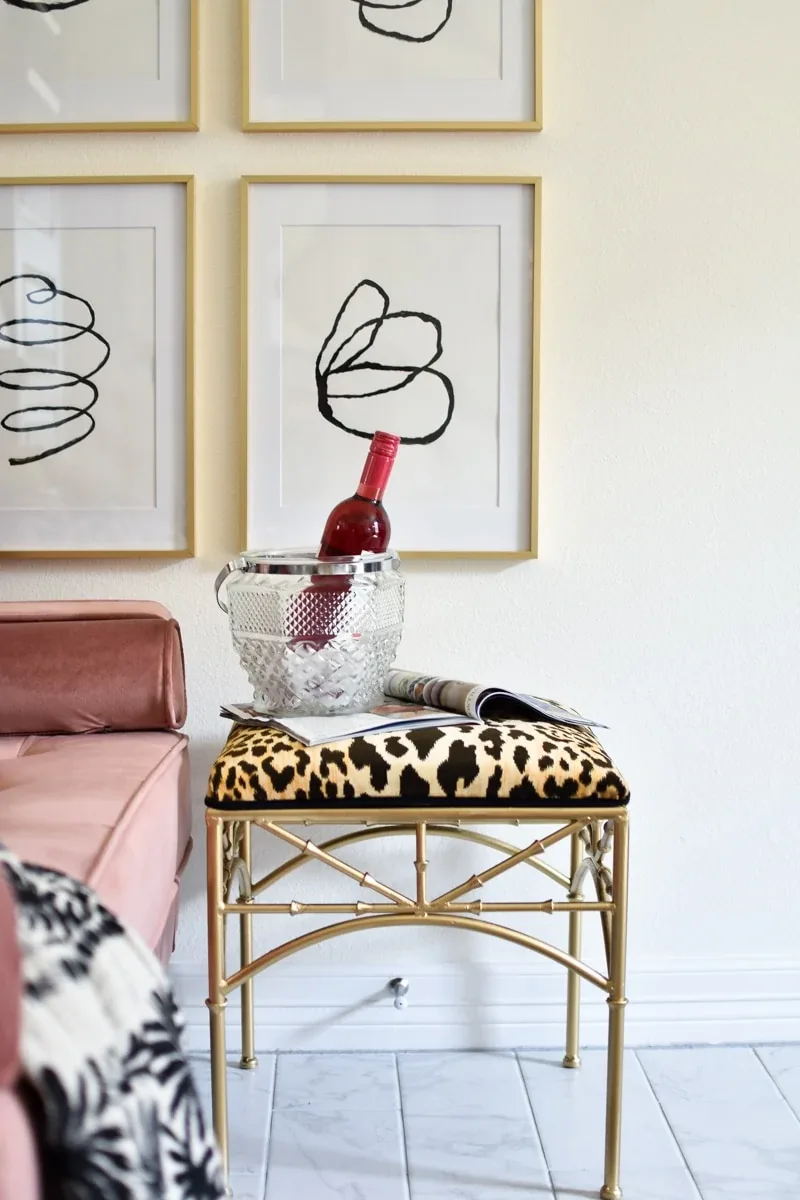 I've spray painted on everything from wood to metal to plastic to glass, so I totally understand the dilemma of choosing the perfect and best gold spray paint out there.
In this post, I'll share my very favorite gold spray paint for your projects, and some tips for what I choose to spray paint and why.
When to Spray Paint an Item Gold
The main reason I personally use gold spray paint is usually to transform and update wood, metal or ceramic home decor finds, seasonal decor or smaller accent furniture.
I tend to buy most of the items I spray paint at thrift stores, resale shops or even garage sales. These sort of inexpensive items tend to be dated, have chipped/faded paint or are otherwise just plain ugly as-is and need a glow-up of sorts.
Here are some spray paint project examples to get your DIY wheels turning:
Seasonal and outdoor decor such as ornaments, pumpkins and planters.
Small to medium accent furniture and decor pieces like end tables, floor/table lamps, picture frames and metal shelving that would require an insane amount of liquid gold gilding or rub n buff.
Cabinet and furniture hardware (such as the example below)
Small decorative objects such as vases or figurines
Best Metallic Gold Spray Paint: Rustoleum 2X
My go-to for most of my DIY spray painting projects is the Rustoleum 2X gold spray paint.
This is also the best gold spray paint for cabinet hardware– my DIY gold posts on my lucite cabinet hardware turned out beautiful and have held up well for over three years at this point.
I love that this spray paint doesn't require a ton of coats, doesn't tend to drip and dries very quickly.
The finish when using this spray paint is a matte gold color which I think is great for home decor or furniture with clean lines.
I have used this spray paint on furniture before on both metal and wood surfaces, and once again, it is the best metallic spray paint. On the VITTSJO shelf (which is a metal surface) it was really easy to get an opaque coat with spray paint.
On the wooden drawers of my cherry wood console table makeover, I did not use primer and the initial gold I spray painted on bubbled up and peeled right off. Basically, even if it states primer and paint in one, on wood surfaces you might need to prime first.
The spray trigger on this particular Rustoleum gold spray paint is also easy to use and comfortable for larger projects.
Before you head out to snag this spray paint, I will note that Home Depot DOES sale this spray paint, but Lowe's does not. If you plan to shop at Lowe's, you'll want to look for the Krylon gold spray paint, which is just as good!
If gold isn't your cup of tea, there's so many other metallic spray paint colors out there such as silver, rose gold and even copper or gunmetal gray.
Using gold spray paint is a quick, easy, inexpensive way to quickly update these items so they fit into my home decor better. And when I get tired of the items I've spray painted gold, it is easy to switch them to almost any other color available in the spray paint aisle.
Tips for Spray Painting Items
Spray painting is pretty straight forward and easy. The key with spray paint is many light coats of paint for a smooth finish. Luckily, it's quick to get an opaque gold color rather quickly, but trust me, drips are no fun to sand off if they happen.
Before starting to spray paint, shake the can vigorously for at least 30-60 seconds to ensure the paint is well mixed and ready to use.
Over my many years of painting, I have found elevating items will make your DIY project a lot easier on you and your back.
I often use old shipping boxes to lift my items a few inches, and I also use cheap plastic cups or painters triangles to raise items off the box/cloth so the item doesn't stick. You may have to rotate/lay/lean your item to ensure it gets coverage from all angles. Do so once it's dry to the touch to not ruin your finish.
If the item sticks to the floor/dropcloth/box, you risk the paint peeling off when you lift it and starting again. Be cautious and spend the extra few minutes to prep correctly.
When spray painting, try to be about 10-12″ away from your item and remember to let up on the trigger. I tend to go from left to right and slightly overlap using short bursts of paint for best results.
Again- thin coats are always best. Doing a series of lighter coats, often 2-3 coats, is always better than aiming for one solid opaque coat right out the gate. Your drying time will be faster, less drips to contend with, and you'll be able to bring it inside that much sooner.
Dry time can vary especially if you live in hot, humid environments, so as much as it sucks to hear this… the more time the better in terms of curing and drying.
---
---
Best Metallic Gold Paint for Furniture: Liquid Gilding
I've used my favorite gold gilding MANY times, and I've learned a thing or two about gilding techniques for a variety of items made from anything from wood to metal to furniture to hardware to glass.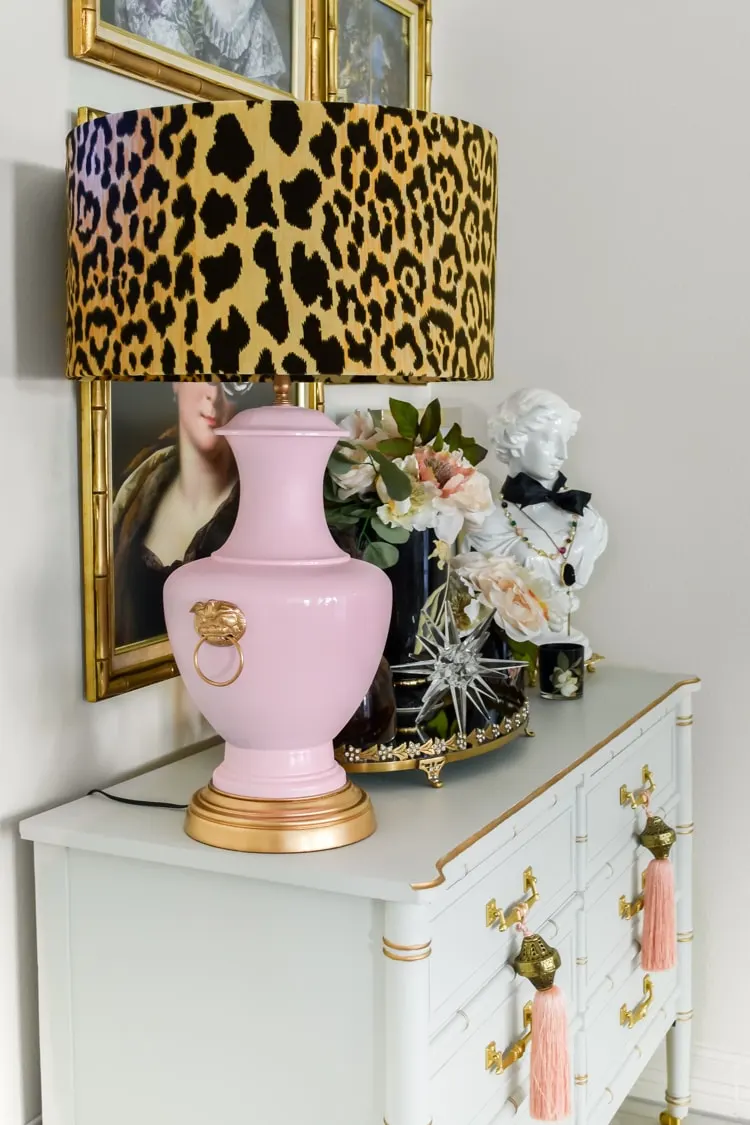 Hands down, this liquid gold gilding is the absolute best. It is oil based, so definitely not an acrylic paint, but the finish and color achieved far outweighs the fumes that accompany it. One jar will last you a long time, but I personally always have about two to three jars on hand for different projects.
You can find liquid gilding under two brand names. One is by Craft Smart, and it can usually be found at Michael's. In this line they also have different colors such as rose gold, vintage gold, copper and silver metallic paint color options, so make sure you get the right paint color for your project.
The other brand name this paint is commonly sold under is Plaid, and this is super easy to find online and often way cheaper (AKA: a good value!) than the Martha Stewart or Craft Smart branded version. And I promise, they're exactly the same and good quality.
To me, liquid gold gilding is a good option for items that are detailed or hard to spray paint (ex: framed art, mirror frame, a decorative accent on a wood furniture piece, details on lamps, light fixtures hardwired to a wall, cabinet or furniture hardware, details on wreaths or garlands).
Basically, small DIY projects are perfect for this.
Overall, nothing compares to the smooth, lustrous finish that liquid leaf gold gilding gives. I will preface your expectations of using liquid gold leaf to gild things by clearly stating the finish is not shiny. It will not look like polished brass or gold chrome.
It's satin like in finish and has a subtle metallic sheen. It's delicate and reserved but commands attention.
How to Use Liquid Gold Gilding on Furniture
Most liquid gilding is oil-based paint, so it may separate if it's been sitting in the jar awhile. Give it a good shake for a few seconds before starting and make sure the lid is on tightly before doing so.
With gilding, it's important to select the appropriate sized craft brush(es) for your project. Often times I will use several brushes of varying sizes on one project. For example, on this piece of furniture, I used a larger craft brush for the large ormolu accents and then had to get out the detail brush for the areas near the black paint.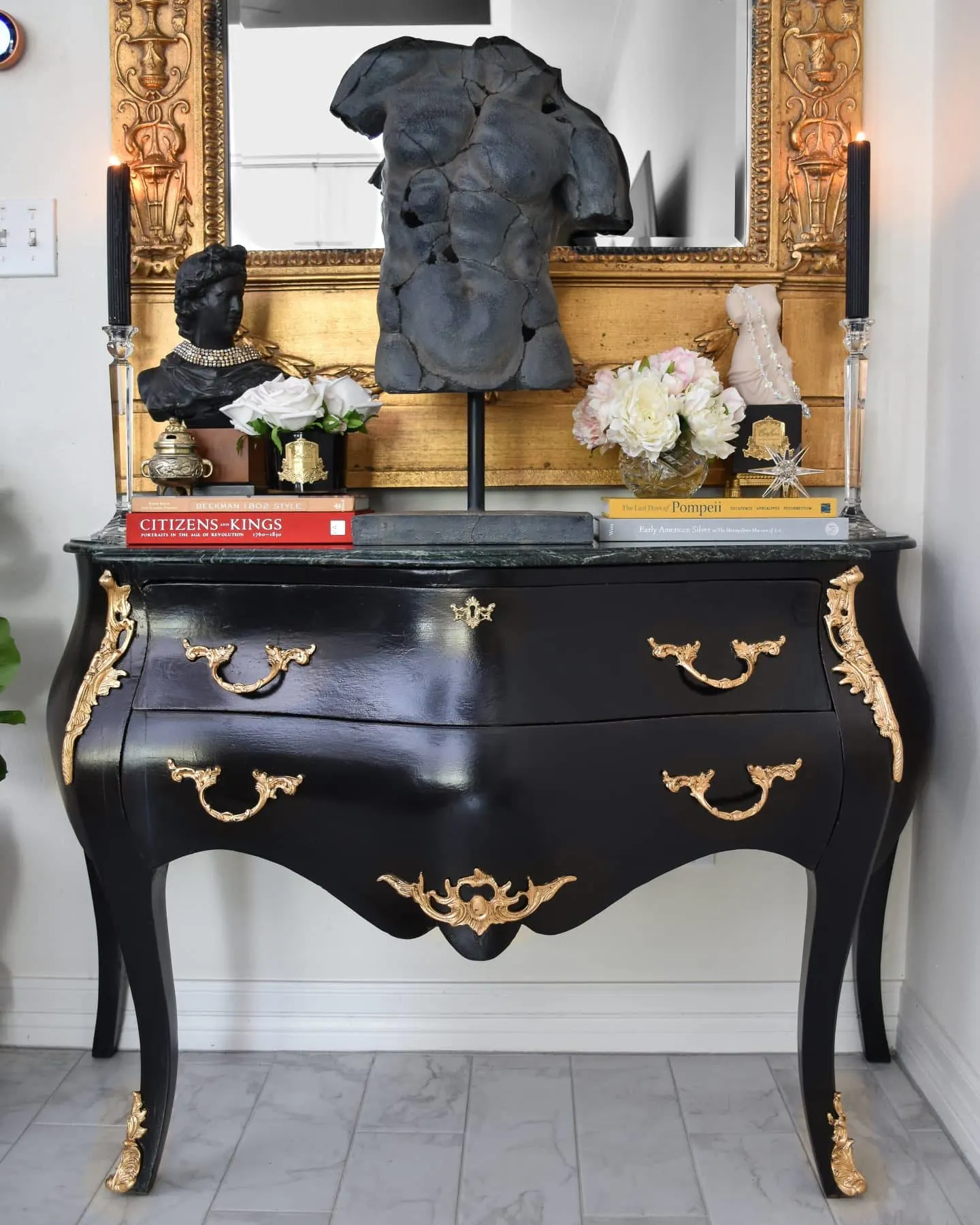 For furniture appliques, ormolu, edges, borders or detail work, you may need to use a smaller brush than you would if you were applying liquid gold gilding to a lamp base.
When applying gold gilding paint, dip your brush into the jar, use the edge to remove excess paint, brush in one direction onto the item and avoid going back and forth. Avoid going over the same section you've just painted because gilding dries fast and if you put more gilding over a semi-fresh layer it'll create an almost gummy, sticky consistency and lead to visible brush strokes or brush marks.
This liquid gilding provides good coverage in one coat, and that means a little goes a long way. I will confidently say it is the absolute best metallic paint with a true metallic finish, plus it's affordable, high quality and easy to find.
Could I paint an entire piece of furniture gold with this liquid gilding?
Technically, yes. I've painted an entire large floor mirror frame as well as an entire small accent table. But if you're thinking a huge chest of drawers or a desk, it'd require many jars of liquid gold leaf.
If you're wanting to cover an entire piece of wooden furniture, you could go the spray paint route but I think going in a different direction and choosing a latex paint that you apply with a paint sprayer or with a roller and brush is by far a better idea.
This leads me the most important thing: whether you go with painting a furniture piece gold, black or purple using spray paint or traditional latex paints, I will always recommend you get on a good coat of primer. This is the best way to increase the durability of the piece as well as make your top coat easier to apply.
---
---
Can I add decorative accents to gild to plain furniture?
YES. A resounding yes– such a good idea. There are so many great inexpensive options out there to add some flair to your furniture pieces. I'll share a few below.
If you have a very rectangular kind of piece (let's say from IKEA), you could add some decorative corners to create a campaign chest look or you can splurge on some Overlays to spray paint or gild gold for a high-end custom look. I did that to this BESTA cabinet a few years ago.
Sometimes antique or vintage can be found for cheap at thrift stores, estate sales or Facebook Marketplace, but they may be missing hardware or original accents. Adding a faux key hole escutcheon like I did my this bombe chest cost under $10 and added so much character.
You can choose to update tarnished brass by gilding the hardware for a modern look for a similar color that feels fresh.
Buy The Gilded Age Guidebook
This blog post about the best metallic paint for furniture, while very informative, is just the tip of the iceberg.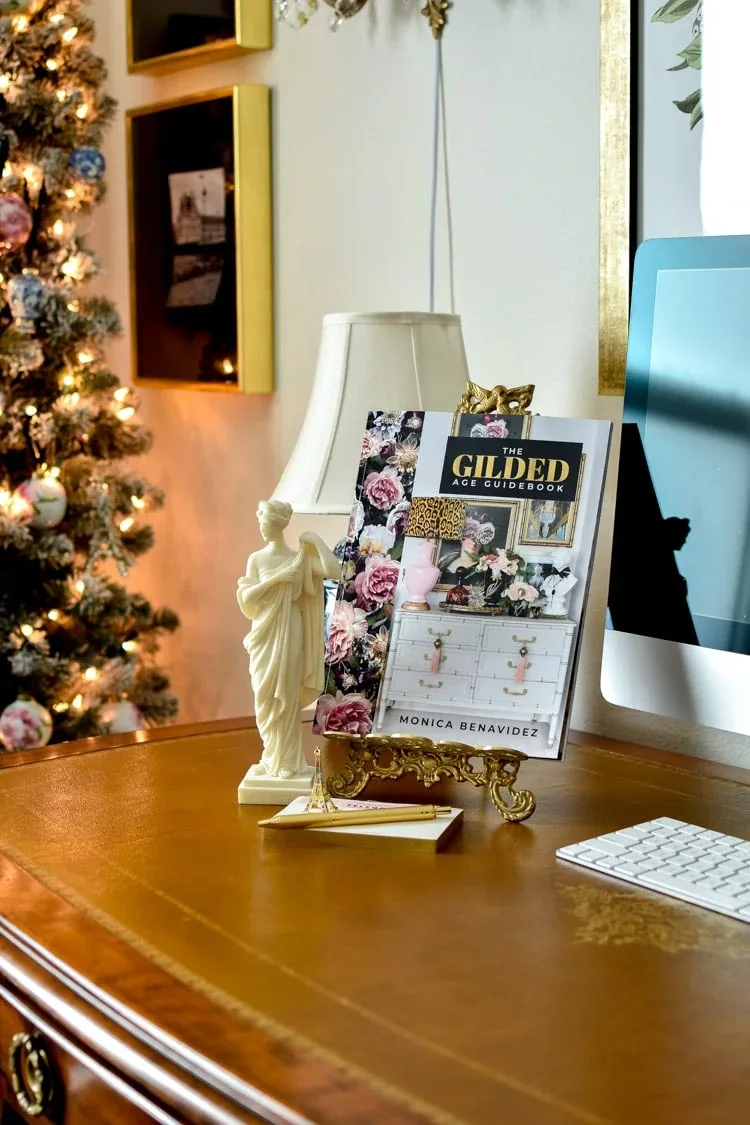 I literally wrote a 60 page guidebook where I have in-depth tutorials on how to prep, apply and protect items you spray paint, gild, etc. I also go into depth about three other products NOT MENTIONED IN THIS POST that I love to use when I want to turn furniture or decor gold.
I wrote the book as if I were writing it to my best friend and it's filled with the best products, advice and tips from my many years of DIY experience.
You can snag my e-book for just $10 and get a PDF with instant access to The Gilded Age Guidebook.