Investing in the best latex paint sprayer for your DIY home projects will save you both time and money as you tackle projects in your home.
You can also read about the best paint for spray guns— I cover both primer and paint, plus I include tips for thinning the paint for excellent paint coverage and performance.
Whether you mainly tackle smaller projects such as accent furniture (chairs, side tables, dressers) or larger projects such as trim, baseboard, doors, cabinetry and even walls, buying a paint sprayer is a good choice.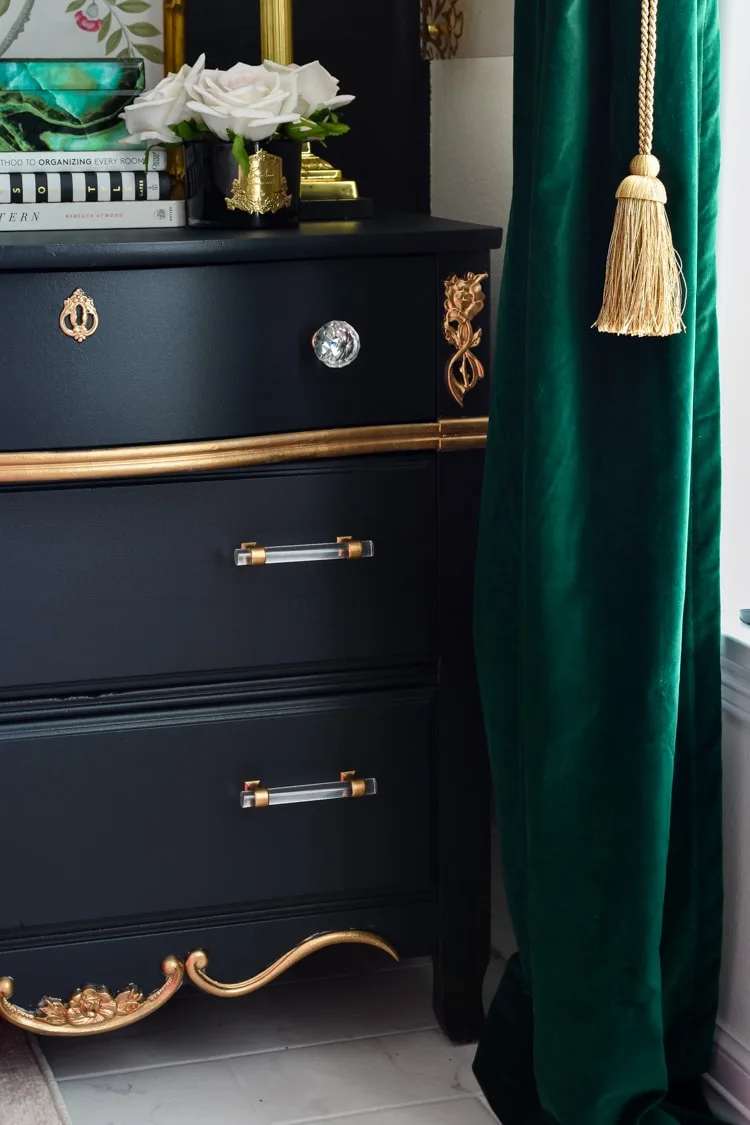 In this post, I'll cover different types of paint sprayers, painting project ideas, and I'll even show you all some of the many, many projects I've done for my own home (like the black dresser above) in recent years with the paint sprayer I'm going to recommend.
I feel it's helpful to learn about the different type of paint sprayers out there because there's a ton of options and acronyms.
The focus of my post will be geared towards DIYers, homeowners, and people who may want to upcycle furniture.
Best HVLP Paint Sprayer
Hands down the winner for the best HVLP spray gun is the Super Finish Max Fine Finish HVLP Sprayer. (Also known as the HomeRight C800971.)
There is nothing else in this price range that will outperform this model making this the best latex paint sprayer option for a DIYer, in my opinion.
At just under $100, you cannot beat this paint sprayer's performance, options, and ease of use for your average homeowner. It is very easy to operate, works with a variety of paints (latex and oil based), and the learning curve is small.
You'll find you get better results in not a lot of time when you compare to using a paint brush or paint roller. And again, your paint will go a lot further.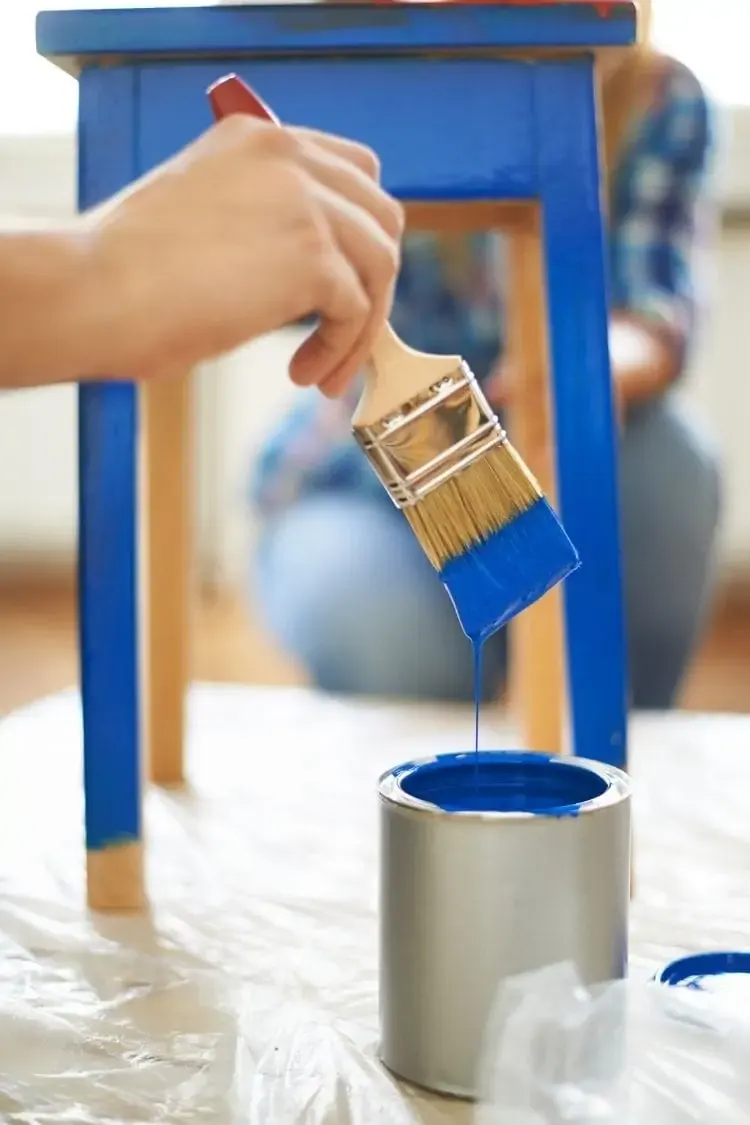 You'll also find your paint jobs, whether it be for indoor or outdoor projects (think decks, fences, furniture, patios), will look a lot more professional in finish and quality. Yay for no more brush marks!
HomeRight C800971: Latex Paint Sprayer Benefits
I'm going to give you all a brief overview of some of the different features of this particular handheld sprayer so you can make an educated decision, and then I'll show you some of the painting projects I've completed with this very same paint sprayer.
Adjustable settings: You can adjust the volume control knob to change spray pattern from 1 in. to 12 in. wide. Adjusting this knob will also change the intensity of the paint flow.
Air Caps: Comes with two air caps to control the air flow. The black cap, which is what I use 99% of the time, creates a fine spray pattern. The yellow creates a wide spray pattern. Both can be rotated to create different patterns: horizontal, vertical, or cone spray patterns.
Variety of Tip Sizes: There are six available changeable spray tips (1.5mm, 2.0mm and 4.0mm are included) for different types of paints, lacquers, top coats, etc. To be honest, I use the green tip that came installed and haven't ever switched it out for another tip.
Easy Cleanup: I often clean up the nozzle and paint container in my large kitchen sink using warm water and Dawn soap, but then I purchased this rapid cleaning kit that makes it ridiculously easy to clean outdoors using a garden hose.
40 oz Container: The container holds a large amount of paint, but not so much that it makes the paint sprayer heavy or cumbersome to use. I ended up buying additional paint containers to make my painting projects quicker. I have one exclusively for primer, one for dark paints, and one for lighter paints.
High Efficiency: Any paint I use goes a long way! Because of this, I'm able to easily do two coats of primer and three to four coats of paint without worrying about using up too much paint. Most of my large projects require less than a quart of paint.
Electric Paint Sprayer: I attach an extension cord and I am good to go! I've used my paint sprayer in my garage under a large paint tent, but it's also gotten outdoor use in my backyard on drop cloths.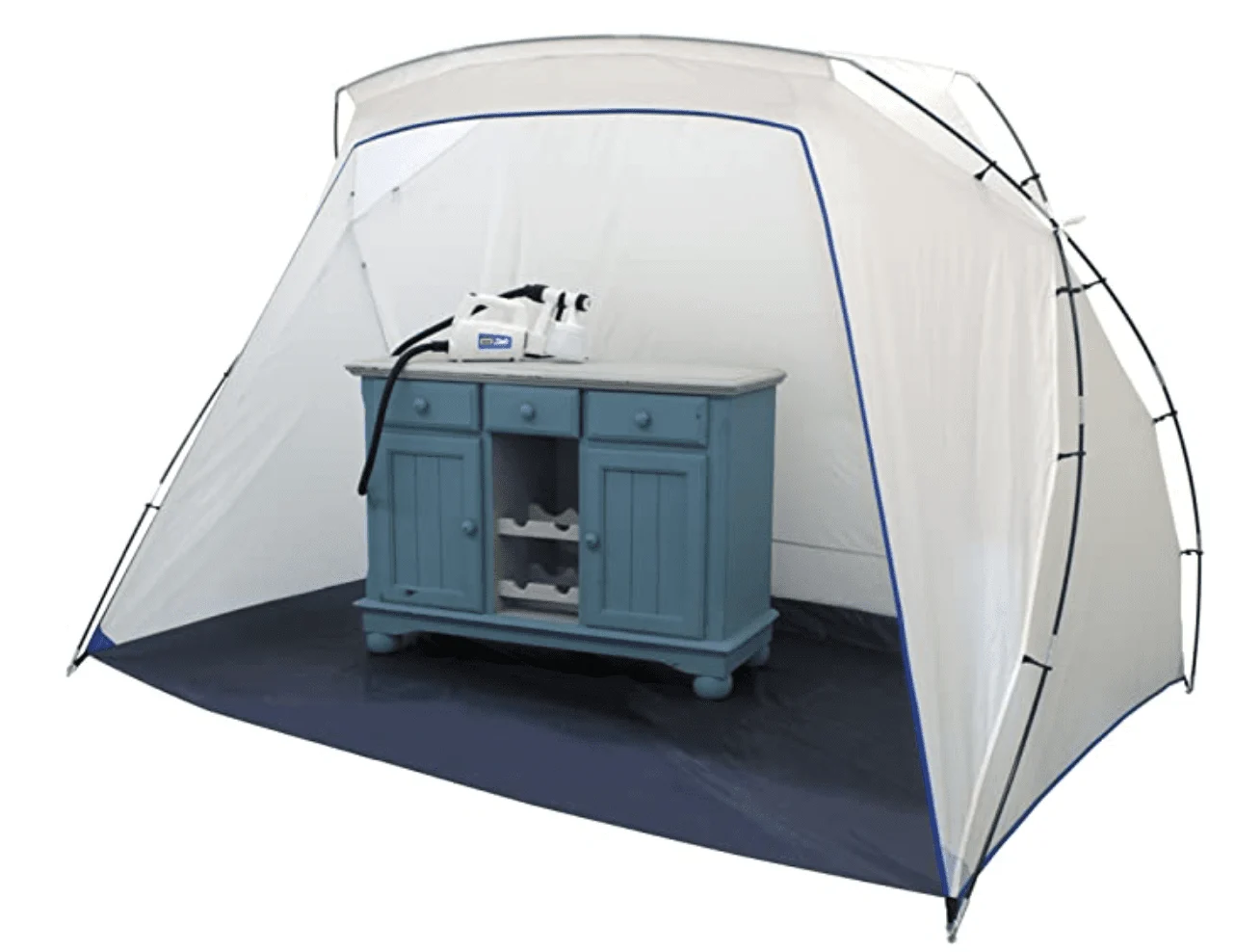 Save $$: Buy the Paint Sprayer + Large Spray Tent Bundle

This is the exact spray shelter I have, and it allows me to paint year-round in my garage without having to be outdoors in the hot Texas sun.
It also protects my floors and garage items from overspray. I've painted an 8-drawer dresser under this tent with no issues.
Types of Sprayers
HVLP Paint Sprayers
You may see a model with the label "HVLP Paint Sprayer" and basically what that translates to is High Volume Low Pressure.
This is one of the better types of airspray guns you can buy as a consumer because it is efficient and results in less paint being wasted.
If you've been to Sherwin-Williams lately, you'll notice paint prices have gone up a bit and that there's a latex paint shortage, so I find it a great idea to find ways to reduce the amount of paint wasted during my projects.
Additionally, HVLP paint sprayers are perfect for homeowners who want a smooth finish and accurate, speedy painting for things like crown moldings, chair rail and baseboard trim.
This Stonington gray Henry Link dresser was painted using the best latex paint sprayer featured in this post!
You'd be amazed at how fast a painting project can go when using an HVLP sprayer.
Truly, the most-time consuming part of owning an HVLP will be thinning your paint properly, cleaning the nozzles and components once you're done, and waiting for your paint to dry.
The actual process of painting is lightning fast with an HVLP sprayer (the dresser above took me mere minutes per coat).
LVLP Paint Sprayers
You can likely guess what LVLP stands for: Low Volume Low Pressure. These types of paint sprayers are mostly used by professionals or advanced enthusiasts for larger items such as automobiles, boats and woodwork.
LVLP sprayers are also common for applying clear coats and metallic paints that are more challenging to work with due to the viscosity (thickness) of the paint and need to be atomized into a fine mist for flawless applications.
Many LVLP sprayers also need to be connected to an air compressor, so I think for the most part a homeowner would be better off selecting an HVLP model that does not require an air compressor for their home renovation and smaller projects.
Airless Paint Sprayers
The final type of paint sprayer I'll cover is airless sprayers. On an airless paint sprayer, the piston pressurizes the paint, which sprays out of a nozzle much smaller than that found on an HVLP paint sprayer. The high pressure and tight squeeze shear the paint into particles.
An airless paint sprayer is likely beyond the needs of a homeowner who dabbles in smaller projects, but it is extremely useful when painting the exterior walls of a house or large surfaces (that are flat).
Something to note is that this type of paint sprayer uses a lot of paint very fast– it can use half a gallon to two gallons PER MINUTE. That is a lot of gallons of paint!
If you're planning on painting your siding or brick, you can see if a local big box store or tool rental company rents airless paint sprayers…or leave it to the pros.
Either way, I would still recommend a HVLP paint sprayer for 98% of homeowners wanting to buy a latex spray gun for the best results on their DIY home projects.
Can I use a paint sprayer on laminate furniture?
I recently wrote a post about the best paint for laminate furniture.
You'll definitely want to check it out to get tips and ideas for using your paint sprayer to whip up some gorgeous DIY painting projects.
Getting Started With A Latex Paint Sprayer
No matter which paint sprayer you use, I highly recommend not directly spraying the item you want to paint immediately. For this reason, I keep cardboard or newspaper around to practice on.
Even after doing over 20 painting projects with my Homeright paint sprayer, I still do a test on cardboard before I spray paint the piece I'm working on.
So why do a test run before every project? Well, you want to make sure you have the air flow correct, that the paint output is as desired (did you thin it too much or not enough?), and that your nozzle isn't clogged.
Taking the time to test it out first will help troubleshoot any potential issues AND it'll spare you time.
If you directly spray your item and the paint comes out splotchy instead of a fine mist, you'll have to wait for it to dry and then sand it smooth….and start again.
DIY Projects Using the Best Latex Paint Sprayer
DIY Spray Painted Dining Chairs
One of my favorite small projects using this sprayer was my dining room chairs. They were a dark wood tone, and I knew I wanted them to be a high gloss white.
I ended up using this brand of high gloss white paint, and it required very little thinning!
The viscosity of Rustoleum's paint is almost exactly perfect for this particular model which is super helpful to people who are new to using HVLP sprayers.
Painting a thrifted or curbside chair is a great beginner project if you choose to buy this handheld paint sprayer. You'll get to see how easy and quick it is to paint a large area, but you'll also get to experience how easy it is to paint those hard to reach areas and details.
I'm always amazed at how it does NOT take a long time to paint anything. For a chair, you'll likely spend about 1-2 minutes per coat and then let it dry. Even on larger projects such as dressers (more on that in a moment), it's maybe 2-4 minutes.
The key to a flawless finish on any of these projects really boils down to thinning the paint, getting the airflow right, applying thin coats, letting them dry, and repeat as needed until done.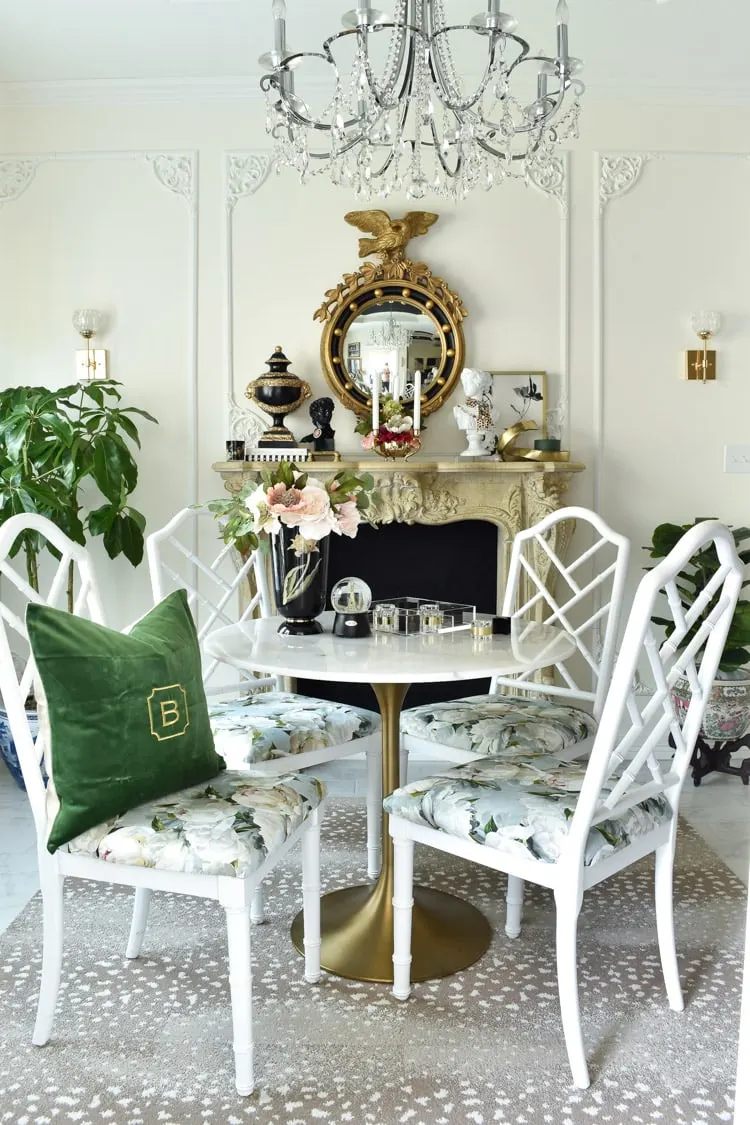 Henry Link Stonington Gray Dresser
This dresser project is what got me to 10,000 followers on Instagram back in 2020. I have a whole highlight tutorial on my Instagram if you want to see some videos of this process.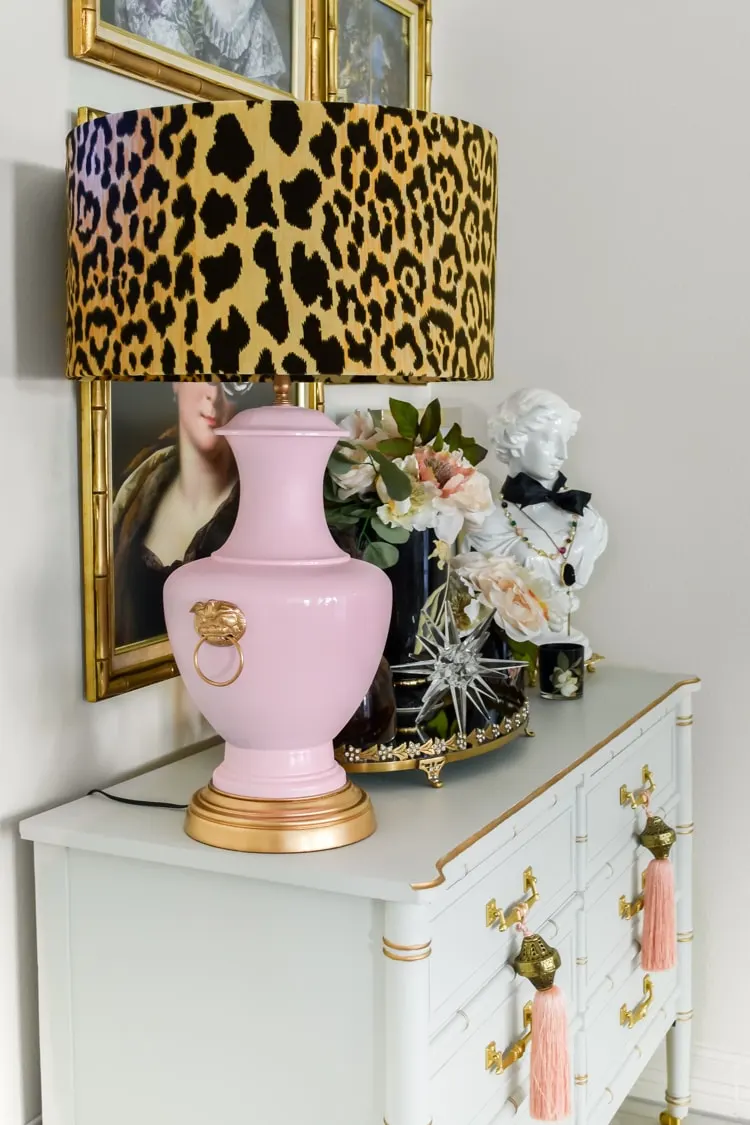 The most time consuming part of this project was taping the drawer sides so I wouldn't get paint on them. I painted the frame of the dresser on its own and had the drawers standing up so I could easily paint the fronts.
Much like the dining chairs, I did a few coats of primer followed by four coats of the paint and I achieved a beautiful satin finish. And because I am extra, I then added some gold accents using my fave gold wax product.
Black French Bombe Chest
This bombe chest was a bit of a rollercoaster ride. When I bought it off Facebook Marketplace, I was hoping that I could strip off the gold paint to reveal beautiful wood…and I was wrong.
So. Very. Wrong.
I then had to pivot to old faithful black high gloss paint. But, in the end, I think this worked out for the best. The high gloss black finish is a showstopper.
Furthermore, I found that high gloss sheen really helped hide any imperfections, which surprised me. I thought the high gloss black would magnify any issues.
After I was done, I used some gold leaf gilding to bring the ormolu accents back to life and created my own stylish French bombe heirloom piece of furniture.
$10 Cardboard Dresser Makeover
So far my examples have been of wood or already painted items that I then painted. This example will illustrate how even a low quality piece of (crap) furniture can be transformed with this latex sprayer.
I have a tutorial on how to paint a dresser that assumes you do NOT have a paint sprayer, so if you want to check that out, you should.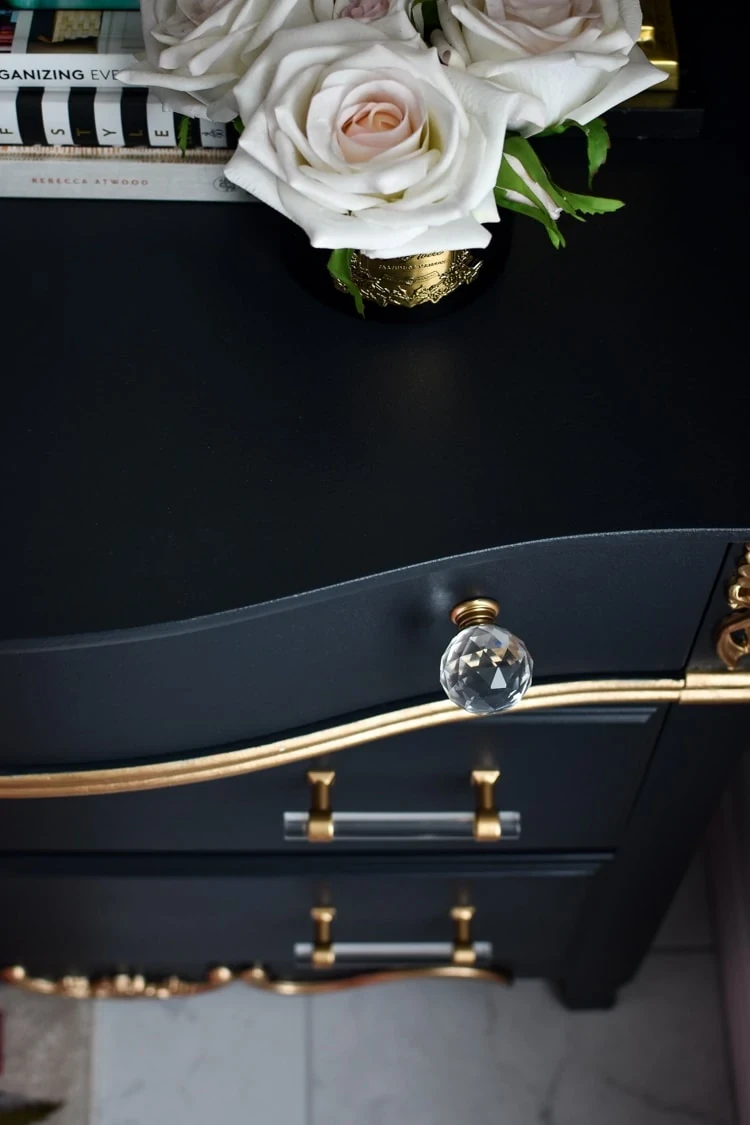 I jokingly said this $10 dresser was made of "cardboard and prayers" (which you can see in my Instagram highlight), and it's not an exaggeration. The sides and bottoms are paper like, and the bottom of the drawers legit feels, looks and acts like cardboard.
In fact, I've painted this junk piece of furniture TWICE with my paint sprayer. At first I painted it Oval Room Blue, and then I decided I'm basic and wanted a black and gold piece.
And yet, once painted, the smooth finish makes this piece look much more expensive and stylish than it did before. I couldn't have asked for a better result.
Best Paint Sprayer for Latex Paint (HVLP): Recap
All of these sample projects of mine showcase the perk to using this versatile paint sprayer— all of these used thinned latex paints (I prefer using latex paint for better results and easy cleaning), but I chose different sheens and the final results are flawless.
If I haven't convinced you this is the best type of sprayer, then let me know what else I need to show you.
Whether you have large projects or are mostly a small paint job kind of DIYer, this is the best latex paint spray gun for home use.
You could even use it for interior walls, which I haven't done yet, but once I do I will report back.
As you practice using your new sprayer on cardboard or newspaper, you'll get the hang of the adjustable pressure controls for air flow (flow rate), the different spray patterns, how to thin latex paint, and when to switch tips for thicker paints.
You'll also quickly master how to quickly and efficiently paint whatever surface area you're working on (this is important for larger jobs).
Ready to learn about the best latex paints for your paint sprayer?

I wrote an in-depth post all about the best paint for spray gun that includes both primer and paint suggestions, plus tips on how to thin them properly for optimal results.
In an upcoming post, I'll be going in-depth at how I use and clean my paint sprayer, as well as the different paints I've used and tried along with the pros and cons. I'll spill all the techniques I've learned to achieve factory finishes on my items.
I hope you found this post reviewing handheld sprayers helpful- if you did, please pin on Pinterest or drop a comment below. Happy painting!