As the peak time for entertaining and gifting is fast approaching, I thought it appropriate to make a list featuring the best ice bucket for a home bar.
With that being said, I realize many of us have different home bar set-ups.
Some people may have a bar cart, others may have a wet bar in their living or dining room, and some may have a whole room with a cocktail bar, man cave or butler's pantry type thing.
I decided to approach this buying guide with a list of the best ice buckets on the market with a little bit of something for everyone no matter your decor style, budget or whether you host small gatherings or large gatherings.
Affiliate links are used in this post. Thanks for your support of my small business!
---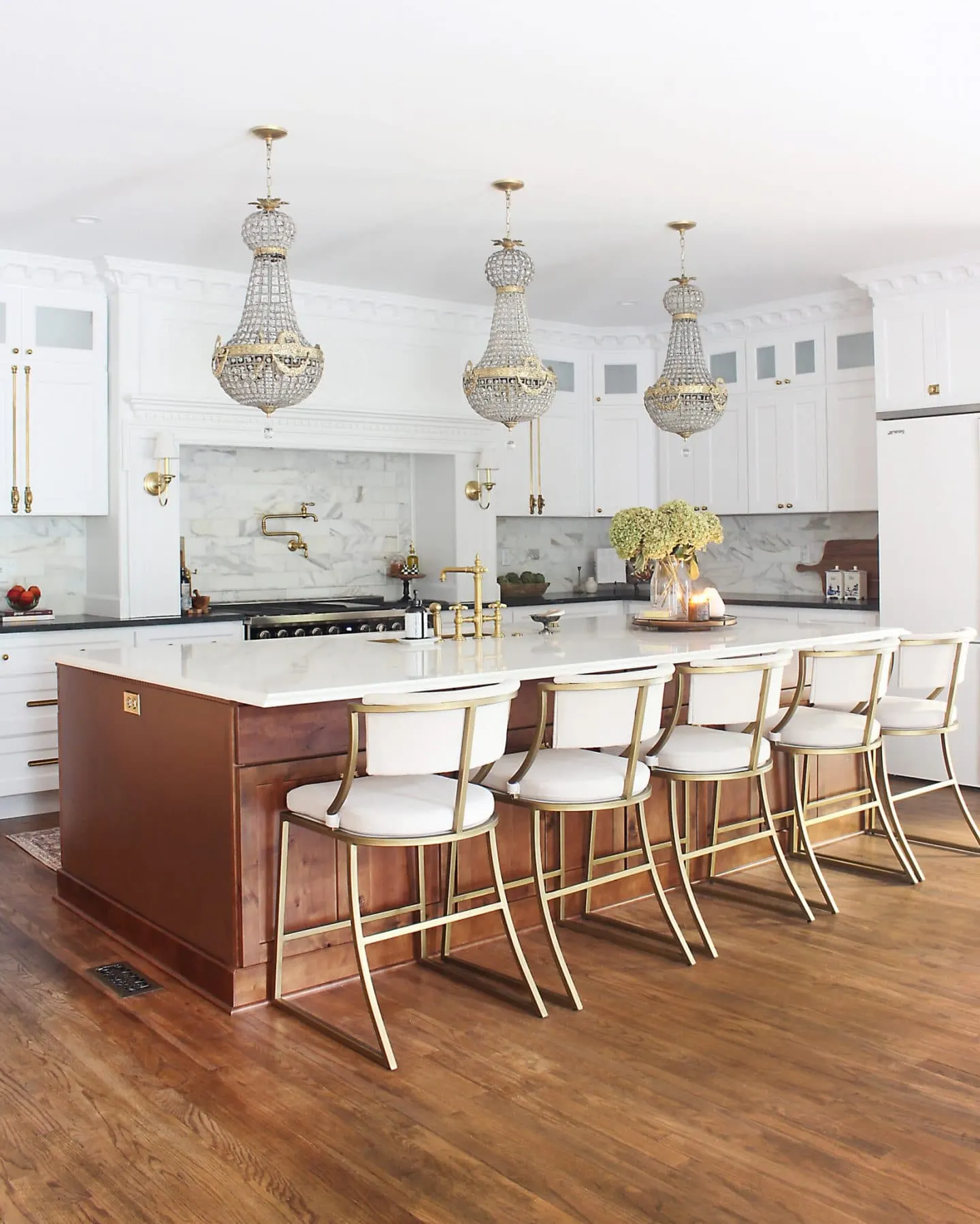 Need Kitchen Island Centerpiece Ideas?
This post features over 40 kitchen island centerpiece ideas for any holiday, season or decor style.
---
Best Ice Bucket: All Around Pick
If you're just here to get the low down on the best ice bucket and aren't too fussy about the looks, this is it. In my opinion, this ice bucket will look lovely in any home, plus it's right size or standard size for most users, and it's one of the most durable options.
This model will keep ice cold for a long time, it's easy to clean and comes with tongs and a garnish tray for extra value. Overall, this is a good ice bucket that will serve you will for many years for an affordable price.
Best Stainless Steel Ice Bucket
I chose this pick because of it's universal appeal. This stainless steel bucket features double-wall insulation, stainless steel ice tongs, an airtight lid, a scoop and a drip tray to separate melted ice water.
Overall, this a good brushed stainless steel ice bucket with a classic design that is an ideal choice and makes a great addition to any home. You also can't beat the price- this best seller comes in at under $30!
Best Special Occasion Ice Bucket
If you want a gorgeous champagne bucket for chic social gatherings or if you have a lot of outdoor parties, you need this stylish and versatile ice bucket. It can be used on its own OR with the included stand for some extra flair.
This gold ice bucket will be sure to add some glam to your dinner parties and the large capacity makes it a great choice to keep the bubbly flowing. If gold is not your color, they also have a silver version that is just as lovely.
Acrylic Ice Bucket
I love lucite and acrylic anything, so this next pick is the right choice if you want a large capacity, durable option. It holds up to five champagne or wine bottles and has sleek, modern design.
I think this larger ice bucket is solid choice for a social gathering or small get together of about 10-12 people. It's easy enough to top with fresh ice as needed, plus it's easy to clean and store.
Another selling point to this ice bucket is that it is made from food grade material, so you could serve a giant salad or other food items right out of it.
Best Glass Ice Bucket
If you love thrifting as much as I do, chances are you've come across many glass ice buckets in your shopping trips. While I love the look of glass ice buckets, I will admit it's mostly for looks rather than function.
Most glass buckets don't hold much ice, so it is not a good option for big gatherings or if you're providing drinks for a large group of people.
But these classy glass, smaller ice buckets are great for a date night or to place a bottle of wine in during a dinner party for 2-4 people.
If you can't find one secondhand, this stunner is a beautiful choice at a reasonable price that can easily last for many years to come with proper maintenance, plus it has comfortable carry handle and comes with a pair of tongs all for under $20.
MCM Inspired Ice Bucket
My pick for a modern ice bucket is also a bit of a nod to the Mid-Century Modern (MCM) aesthetic… because it has a burl type pattern paired with gold accents and comes with tongs!
The design reminds me a lot of the very expensive MCM Georges Briard ice buckets that sell for sometimes hundreds of dollars on sites like Etsy or Chairish.
It's a small ice bucket, but the sleek design and double-walled construction make this a solid choice for everyday use to have a little nightcap.
Best Affordable Ice Bucket for a Bar Cart
When I had my bar cart, I was often more concerned with the style and look of the items I placed on there versus how practical or functional they truly are. This is why traditional ice buckets found at Walmart or Target were so boring to me.
With all that in mind, if you want a chic, Pinterest or Instagram worthy ice bucket for your bar cart that also actually works well, this one of the best options I found for the price.
From the sleek black finish to the polished brass accents, this ice bucket would complement any bar cart or decor aesthetic from modern farmhouse to MCM to preppy chic. I recommend styling it on top of cocktail books, or even removing the lid and using as a vase with some faux florals when the ice bucket isn't in actual use.
Best Stylish Ice Bucket for a Bar Cart
If you have a little bit of money for a splurge for your bar cart or your home bar set-up in general, might I recommend this STUNNER?
(Side note: this site features an out of this world assortment of ice buckets with chic designs and contemporary styles, but they're a little bit more of an investment. It's all about the look.)
I love that you can it customized with a monogram and that it has beautiful polished brass handles. Also available are coordinating stemless glassware that can also be personalized with a monogram.
If a monogram is not a big deal to you, you can find a similar tortoise ice bucket for about $20 less via this link.
This ice bucket is definitely on my wish list. I just love tortoise style anything, plus I have a tortoise shell decanter that would look so beautiful next to it.
Best Vintage Inspired Ice Bucket
There are a lot of vintage inspired ice buckets out there that are brass or silver, and maybe a bit more ornate in an effort to come across as antique, valuable, one of a kind, or aged.
When I think of timeless vintage patterns for a bar, my mind kind of drifts over to the blue and white china realm or perhaps the ever so beautiful Famille Rose pattern.
I think this particular pattern would look classy displayed year round and it will be in style in 20 years just as it was in style 20 years ago. It can also easily double as a large cache pot to use as a centerpiece on your kitchen island or foyer table.
If that pattern is too frilly and froo froo for you, I get it. Then how about this gorgeous trophy ice bucket? It comes in white (shown) and a navy blue hue.
It features a powder coated aluminum finish and is absolute perfection for either decorating or chilling some bubbly. I really think I may have to buy this one and throw a fabulous Kentucky Derby party someday.
Best High-End Ice Bucket
I've used the term "double-wall stainless steel" a few times in this post, and now it's time to bring out the TRIPLE WALLED insulated stainless steel option. This ice bucket can keep ice cold for up to 48 hours!
The ice bucket has a non-slip bottom, an easy grip air tight lid, and comes in several colors. My fave? The color unicorn magic which seems to be a bit of an iridescent finish on a white background.
If you want to splurge even more, the brand also offers coordinating wine and champagne tumblers that are also insulated very well.
I imagine this ice bucket being useful for a pool day with friends.
Best Ice Bucket for Large Gatherings
If you're having a large event, you need a large ice bucket. This kind is the right ice bucket just for that, and I think this would look great at outdoor events.
I will say it's tempting and often easy to find those inexpensive galvanized tub and use that as a large ice bucket, but I think this option is better.
But my opinion may be a bit skewed. Back in 2012, my BFF hosted a house warming party for her dad who had just moved in to his BRAND NEW home. I went along to help, and we used a cheap galvanized bucket that worked well…BUT the condensation from the bucket left giant puddles of water on his granite countertops that I was feverishly trying to dry up constantly.
That's why I think getting something a bit more well made makes sense. This particular large ice bucket comes with a mat that will collect the condensation, and it can hold about 12-16 beers or smaller wine bottles.
---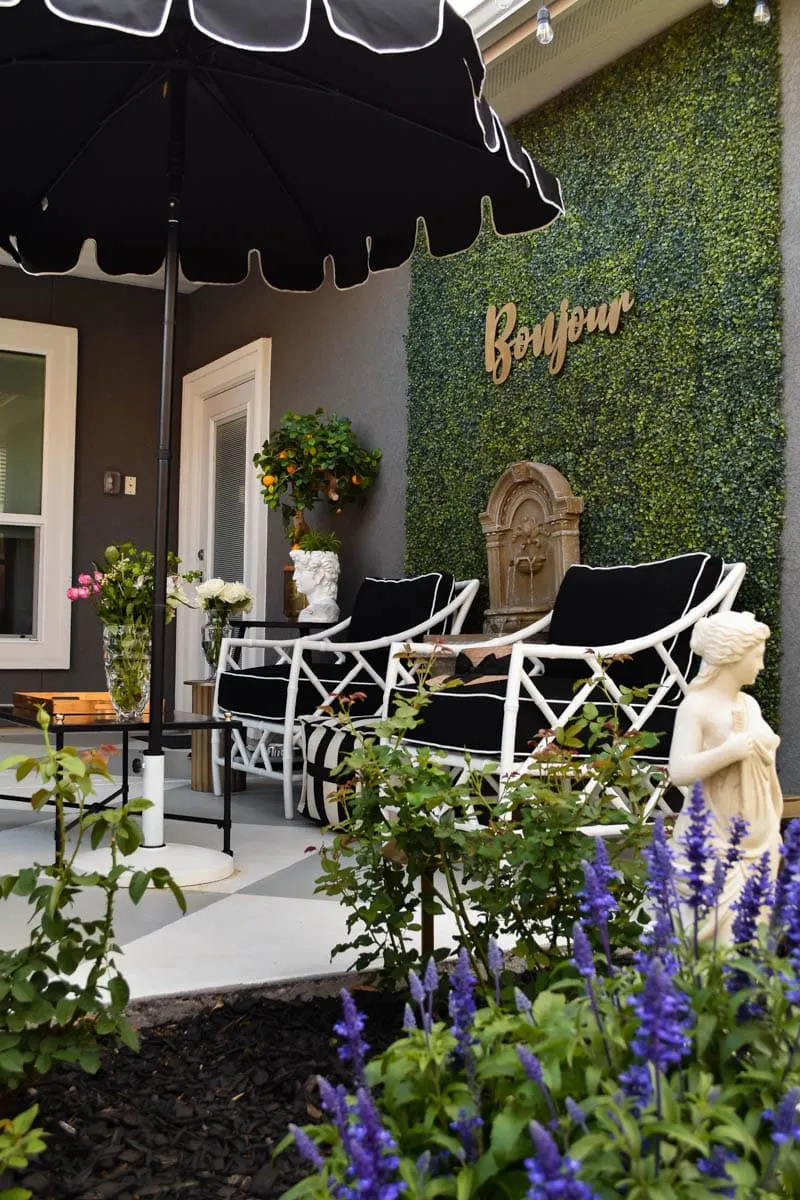 DIY Boxwood Wall Tutorial
Your neighbors and friends will be GREEN with envy after you install a faux boxwood wall in your home or outdoor spaces. I have a step-by-step tutorial that will guide you along the way.
---
Seasonal & Holiday Entertaining
If you're often the host for holidays and seasonal soirees, you can't go wrong with this elegant and timeless wine bucket. Truly, this pick would look great at big parties for cold drinks of any sort. Heck, sparkling water would look so beautifully presented in this wine bowl.
Available in three finishes to complement your style, I truly adore this pick for someone who loves to host people in their home and creates centerpieces, buffet spreads, etc.
House Warming Gift Giving
I can safely say that in the various times I've moved, picking out an ice bucket is something that was not at all on my radar. What I mean by that is, I think most first-time homeowners, newlyweds, etc. would be thrilled to get an ice bucket and a bottle of champagne or wine to celebrate their new home.
If you're not quite sure their interior decor style, I have two perfect ice bucket choices that I think anyone would truly LOVE to receive and use.
The first is the practical and popular Oggi insulated ice bucket with a few features that really make it stand out from the competition.
First, the lid is a flip lid, so you can't lose the lid. Second, it comes with a scoop AND it has a built-in holder on the ice bucket to keep the scoop in when not in use. Simple, timeless design that fits right in to any home.
The second ice bucket I would recommend as a fabulous, thoughtful gift option is this lucite one with a custom laser engraved monogram.
It is CLEARly (see what I did there?) meant to fit into any space and not take up too much room visually or literally. I love that this ice bucket is affordable and looks high-end.
Best Ice Bucket for a Man (Cave)
My husband is so into whiskey and bourbon, and he even has his own little bourbon room/bar/cellar thing in one of our spare bedrooms.
Whenever we go out thrifting or shopping, I always take mental notes of what he likes so I can write well informed articles for you all.
This leather and glass ice bucket would look lovely in any man cave for that guy who is a liquor or craft beer connoisseur (AKA: beer snobs, ha ha!). The aged brass rivet and equestrian inspired vibe make me think of a Ralph Lauren catalog.