I absolutely love the color black and have used it extensively in my home. Over the years I've developed my faves, so this post is dedicated to the best black paint color options for furniture, doors and walls.
I have a popular series about living with black doors. When we built our home back in 2017, a few people thought our choice for black interior doors was a bit odd or unconventional.
Five years later, we still absolutely love our satin black doors, but I'll admit I have been considering painting our front door a different color such as dead salmon for a different vibe. But more about that some other time.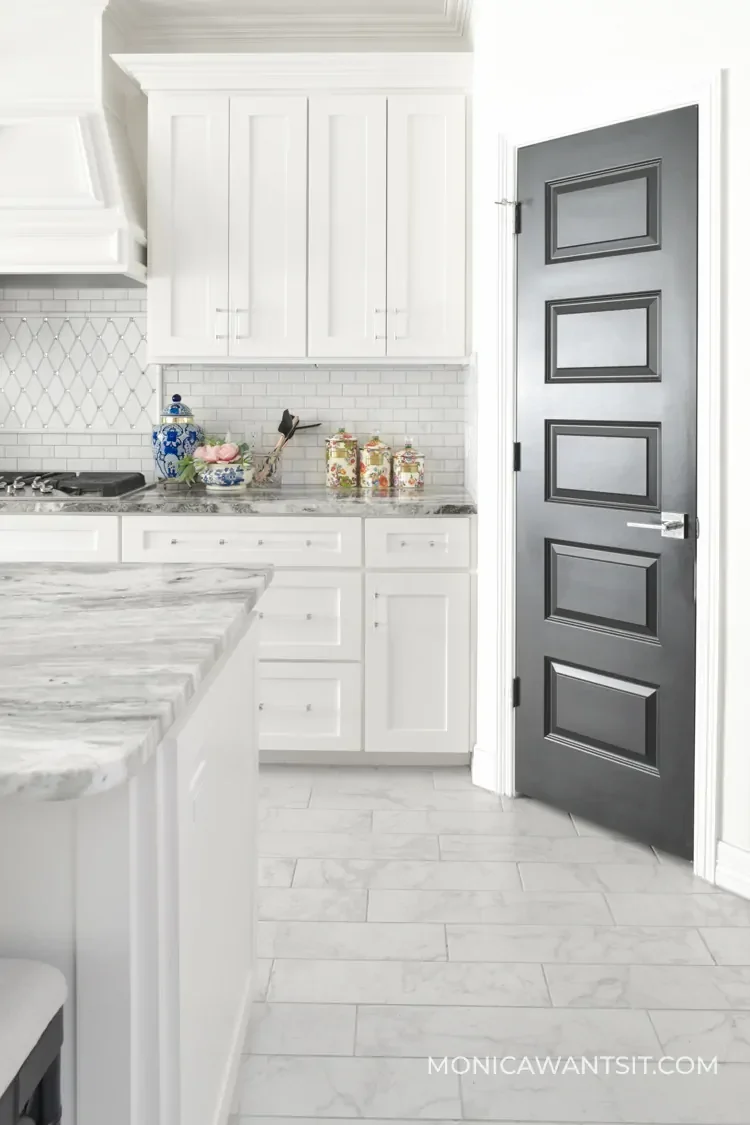 I'm going to break this post up into black paint colors you can get custom mixed at a popular paint store like Sherwin Williams or Benjamin Moore, or at a big box store like Home Depot or Lowe's.
Additionally, I'll also include some black colors you can literally grab off the shelf or order online without ever needing to head to the paint counter or leaving your house. These black paints are great options for painting furniture without needing to wait to get paint mixed or agonize about the perfect black paint color to choose.
And if you've landed here, you may be wondering, "isn't black paint just black?" Not quite, but more on that in a bit.
---
Why Choose Black for Furniture, Doors and Walls?
I think black used to get a bad rep as being the color of wall an angsty teenager might choose, but not anymore.
Painting furniture black can seem like a bold choice, but it is a timeless classic color at its core. Additionally, depending on the color of your walls, a black piece of furniture can be striking, bold and accentuate the decor on it or around it. Using black paint on furniture allows it to be more of an accent color than painting an entire room black.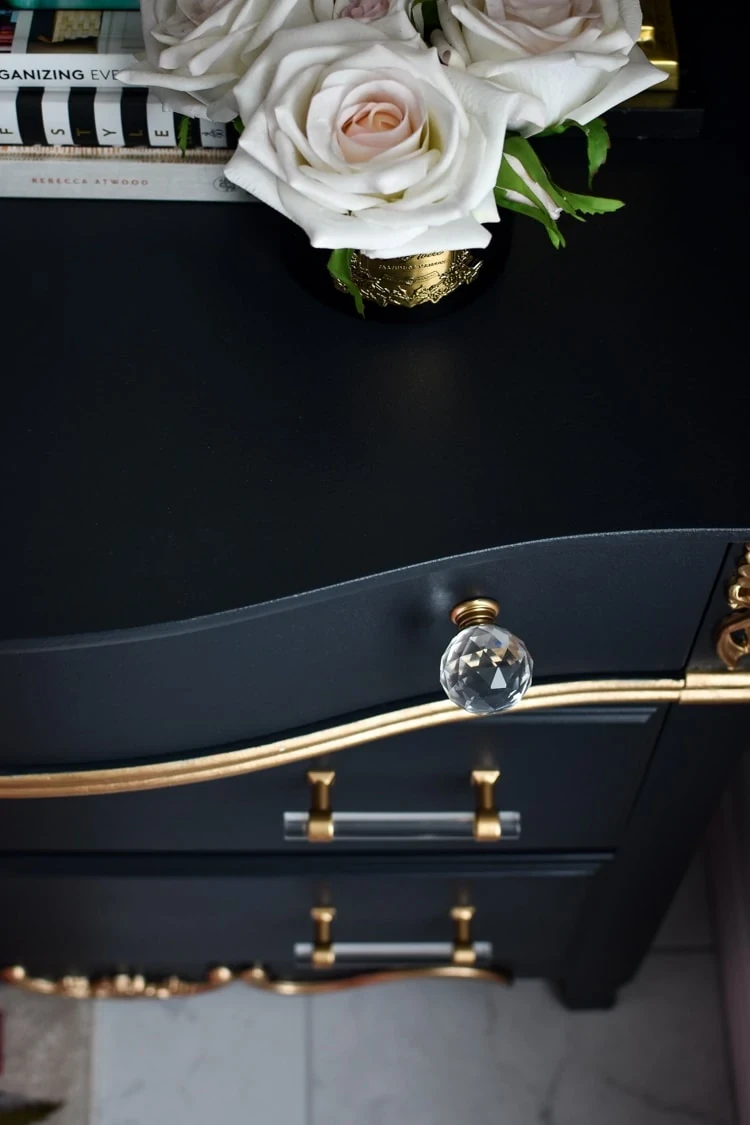 Personally, lately I am smitten with pairing the color black with brass finishes, wood furniture and florals and greenery. It feels fresh, calming and ethereal. Black and gold is a timeless color combination that can look modern or French baroque or fun and fresh. It's so versatile.
You can also add a pop of color to a furniture piece or room that is painted black. There's something magical about dark walls or furniture when paired with colors that add high contrast.
When thinking about black walls, you have to take into consideration how much light a room gets and the overall mood you want to achieve. This is why in my original office in this house, I opted for a black accent wall and left the rest of the walls white.
The room was small, got plenty of daylight, but since it was a space where I had to be productive and work, I didn't want to be enveloped in the color.
A question I get asked a lot about our black interior doors is whether they show dust easily, and honestly they don't, thank goodness! I've written why we chose black doors for our home, and I did a follow-up blog post about maintaining black doors if you want to take a look.
And now let's dive in to my favorite black paint colors.
Sherwin Williams Tricorn Black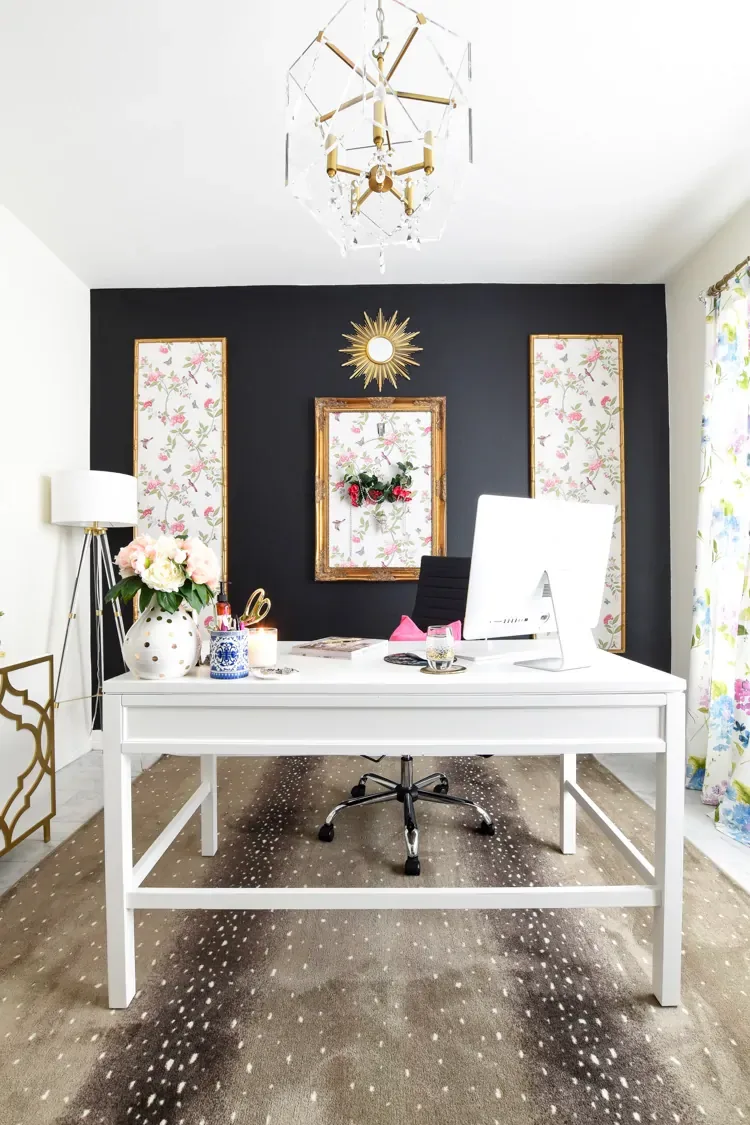 In my opinion, tricorn black is the best black color option and best choice. Tricorn black is one of the top picks you'll see over and over with interior designers and DIYers alike (and for good reason!). Tricorn black is a true black color with no undertones. It's a great option if you're wanting a matte finish or a satin finish.
Truly, tricorn black is a great choice if you want a true black wall color. You could stop reading here and be confident in your decision, but I will show you some examples of tricorn black below.
Our interior doors have all been painted tricorn black in a satin finish and the doors look fantastic in natural light and with the lights on.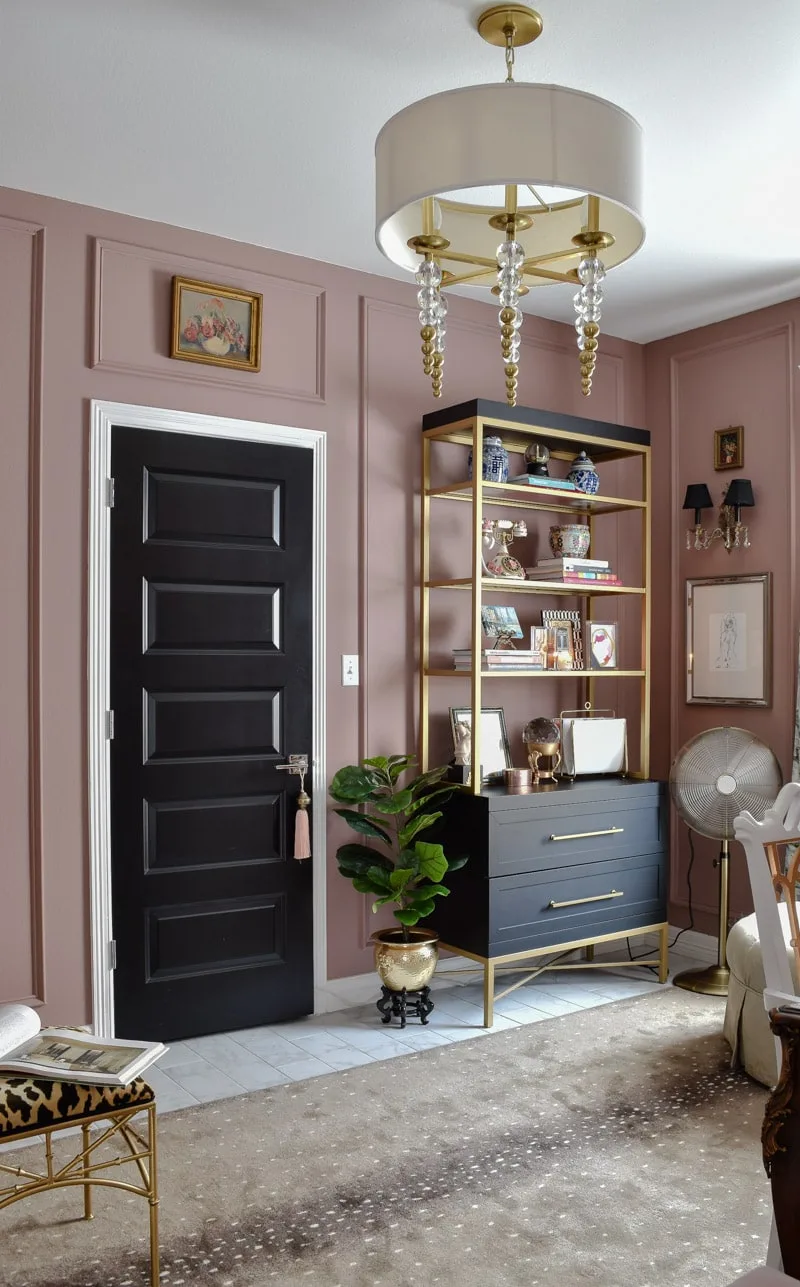 Our builder got tricorn black color matched into a PPG paint and sprayed all of the doors, but if I was going to buy some of this black paint for a furniture or DIY project, I'd likely buy directly from Sherwin Williams in their cashmere line for walls or their Pro Classic lineup for doors, trim and furniture. Both of those paint lines can be a little pricey, but they have great coverage and are worth it.
In our first home, we first used tricorn black in our owners suite as an accent wall. I enjoyed how much our headboard stood out against the black.
Using tricorn black is a solid choice if you have a lot of neutral color, furnishings and decor in your home– if you love Scandinavian style or farmhouse, you can't go wrong with this paint color.
We are considering painting our kitchen island tricorn black to add some contrast to our kitchen. I love black kitchen cabinets, but don't want to commit to a whole wall of black cabinets, so a black kitchen island with a brass foot rail is on my wish list.
Best Black Paint for under $15
If you're an introvert like me, sometimes you just want to buy some black paint in your yoga pants and do self-checkout so you can be on your way to enjoy your iced coffee and true crime podcast.
I feel you. This is when you'll be thrilled to hear about Painter's Touch by Rustoleum. This black furniture paint comes in quarts (and pints online) and it is a lifesaver and excellent quality for the price and the fact it's ready mixed paint. It can be bought online in addition to being on the shelf ready to go at Home Depot and Walmart. I even found it at Ollie's recently for $5 a quart.
Painter's Touch in black paint (or white paint) is my go to paint when I plan to use my paint sprayer (which I've written extensively about here. Truly it is the best paint sprayer ever!) for DIY furniture painting projects.
I used the Rustoleum black paint in a black satin finish on this office chair I revamped for Daniel's office.
I used the high gloss version of this paint on a bombe chest I bought from an antique store. The chest had a lot of imperfections and due to the curves of the chest I opted for a high gloss finish to help hide those issues. Mission accomplished.
This burl wood piece I upcycled from the thrift store also used this specific paint in a satin finish, and I love how gorgeous this looks with our home decor aesthetic. This Rustoleum line dries to a smooth finish with a couple coats of paint, and you can't beat how affordable it is.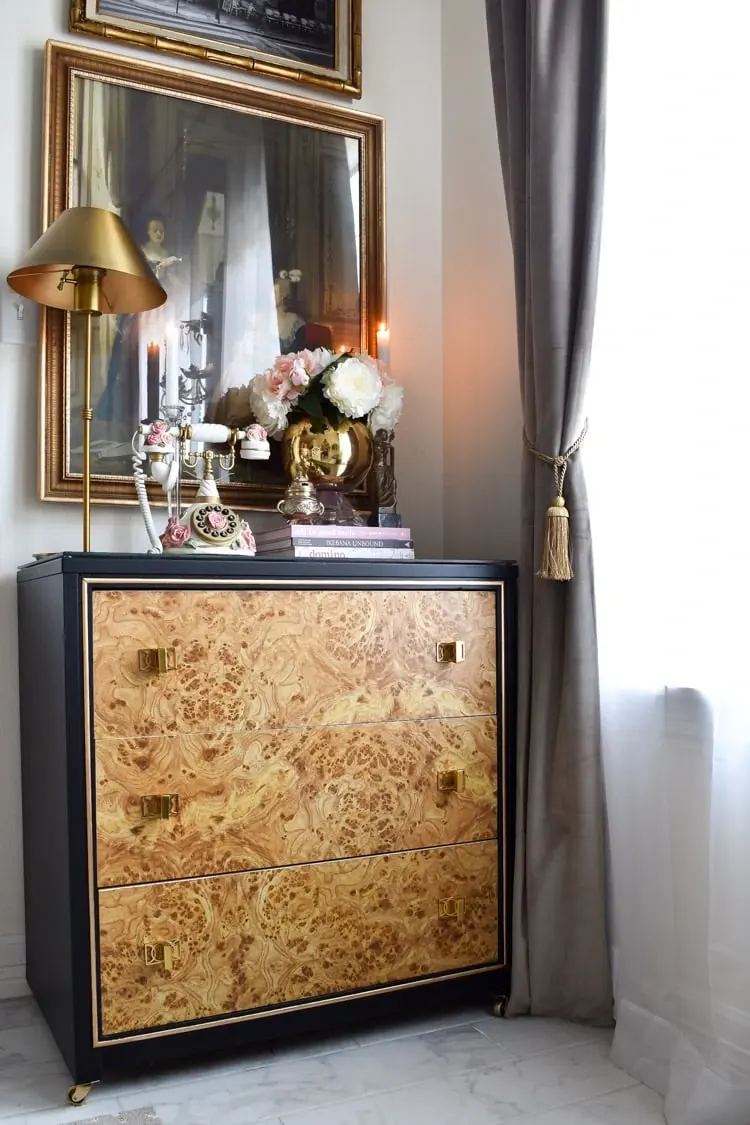 An important note about this paint line is that in the can, the black paint looks navy. This really tripped me up the first time I was going to use it to paint a dresser. And even as you spray or brush it on, it still looks very navy. It does dry to a solid black color, I promise.
Best Very Nearly Black Paint Color
The first two options I've shown you are true pitch black paint colors. So what if you're wanting almost black or very rich but not super dark black? This next paint color is definitely soft black with a teeny amount of blue undertones.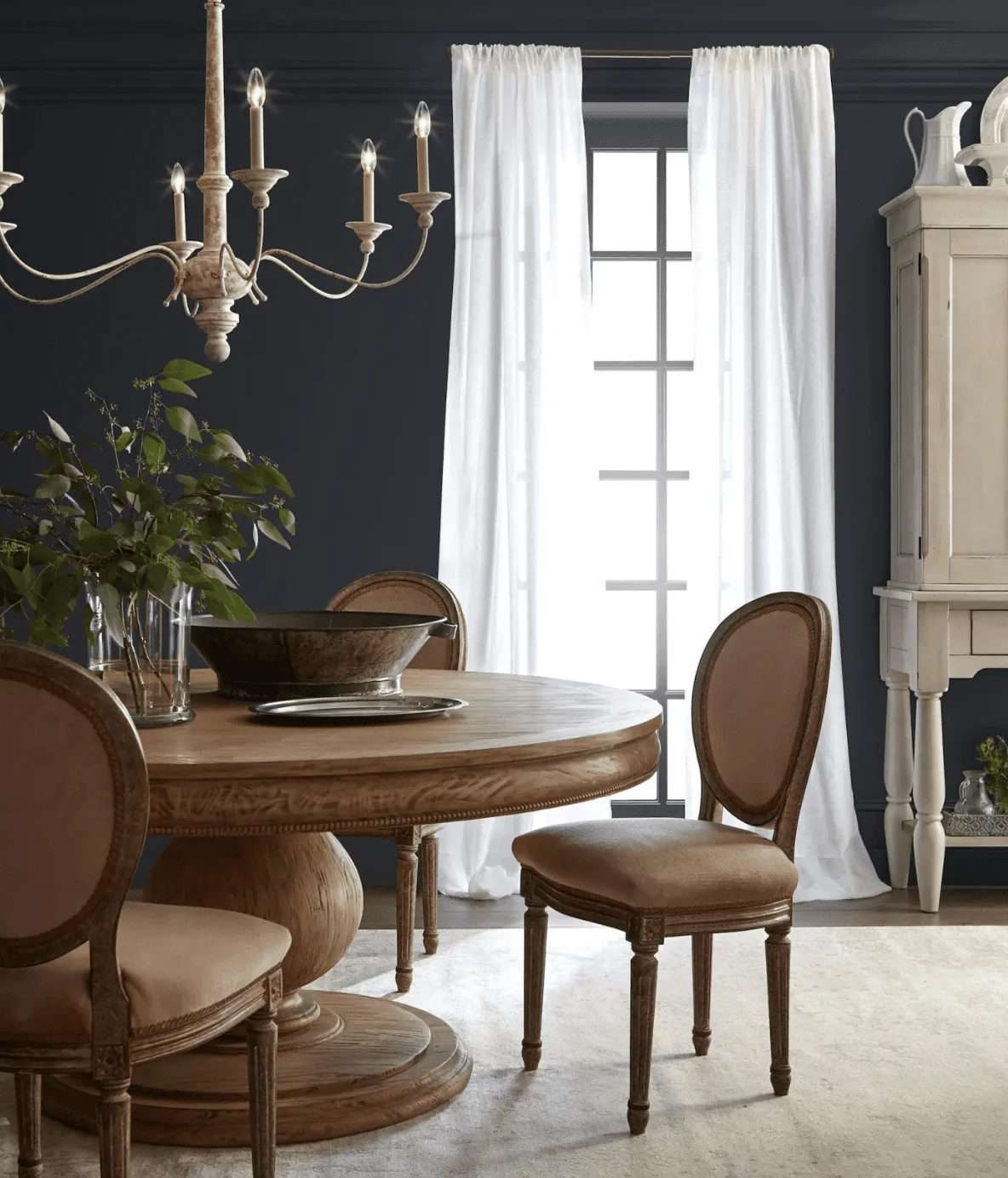 Back in 2021, I tried out the Magnolia Home Paint line, which is made by KILZ, to revamp a dresser that was originally painted oval room blue. I looked at the swatches and noticed there wasn't a true black paint color, but I still liked how the color Blackboard looked on the swatch card.
The color is true to its name– definitely looks like a school blackboard. There's a slight blue undertone when the paint is going on, but once it dries that blue undertone is less pronounced and shifts more to a very dark gray black hue.. Against my warm white alabaster walls, I honestly think it looks like a bright black if that makes sense.
Blackboard is a good wall paint color that would be a good choice for a living room or dining room that gets plenty of light, and it's by Joanna Gaines!
Dark Gray Paint Color That Could Be Black
If you have a small space that you want to feel cozy and moody, but you don't want it to be pitch black, I have two paint color recommendations for you that will help achieve that vibe.
In our previous home, we painted our foyer Peppercorn by Sherwin Williams. This color was huge around 2012ish when we used it because it was also heavily used and promoted by Pottery Barn.
What I still love to this day about the color Peppercorn is that depending on the lighting and time of day, it can look warm black, dark brown or dark gray. It's a paint color chameleon that is a safe, solid choice for a man cave, powder room or a study type of space.
A similar paint color is Railings by Farrow and Ball. Seriously, I think Farrow and Ball can do no wrong and Railings is a popular black paint color right now. It's not quite a true black like Pitch Black is, and on the swatch card it reminds me of Blackboard, which I covered earlier in this post.
Peppercorn and Railings, which are popular colors to this day, both look amazing when paired with gold or brass hues, and would also be lovely on cabinetry.
Next Steps: Best Black Paint for Furniture
With these black paint ideas, examples and color choices, I think you're well informed enough to pick the best paint colors for furniture or any other painting project you have going on in your home.
For best results look at swatches, try out some paint samples to pick the right paint color for you and then dive in and make it happen.
My biggest advice is to not panic when you open the paint can and it doesn't look quite dark enough– use the black paint, allow it to dry and then decide how you truly feel about it.
If you're looking for more painting content, here's some of my other paint guides that might help you on your DIY journey. Thanks for stopping by!