I'll admit I'm in a bit of a French Country Style mood lately (especially when it comes to a french country fireplace). While I'm not going to go all in with that shabby chic, rustic appeal approach, I do love how simple french cottage style can be at times.
The amount of time I have spent looking for a cottage in the french countryside is borderline concerning.
The simple, classic architectural design paired with abundant natural light, stunning views, away from the noise of the city really appeals to me as a woman who loves to dream and write.
My favorite part of imagining my little slice of french country paradise is the living room. I crisp white walls, a ceiling design that features reclaimed wooden beams that all support the focal point… a gorgeous french fireplace mantel.
French fireplace mantels can be expensive, especially if you want a white marble surround or a stone mantel in general. I get a lot of questions about the french style fireplace surround I have in my small dining room.
It is so darn beautiful. And you can buy it for around $1,000. I know that's still an investment, I hear you, but when you compare it to the ones on Chairish or 1st Dibs, you kind of change your tune.
Buy once; cry once is my mantra with these sorts of purchases.
With that being said, I wanted to do a round of affordable-ish French Country Fireplace Mantels. I found five fireplace surrounds that will make your home exude classic elegance.
I'll show you the inspiration behind the pick and then show you the "get the look for less" pick. I hope this helps you create the french inspired home of your dreams. You got this!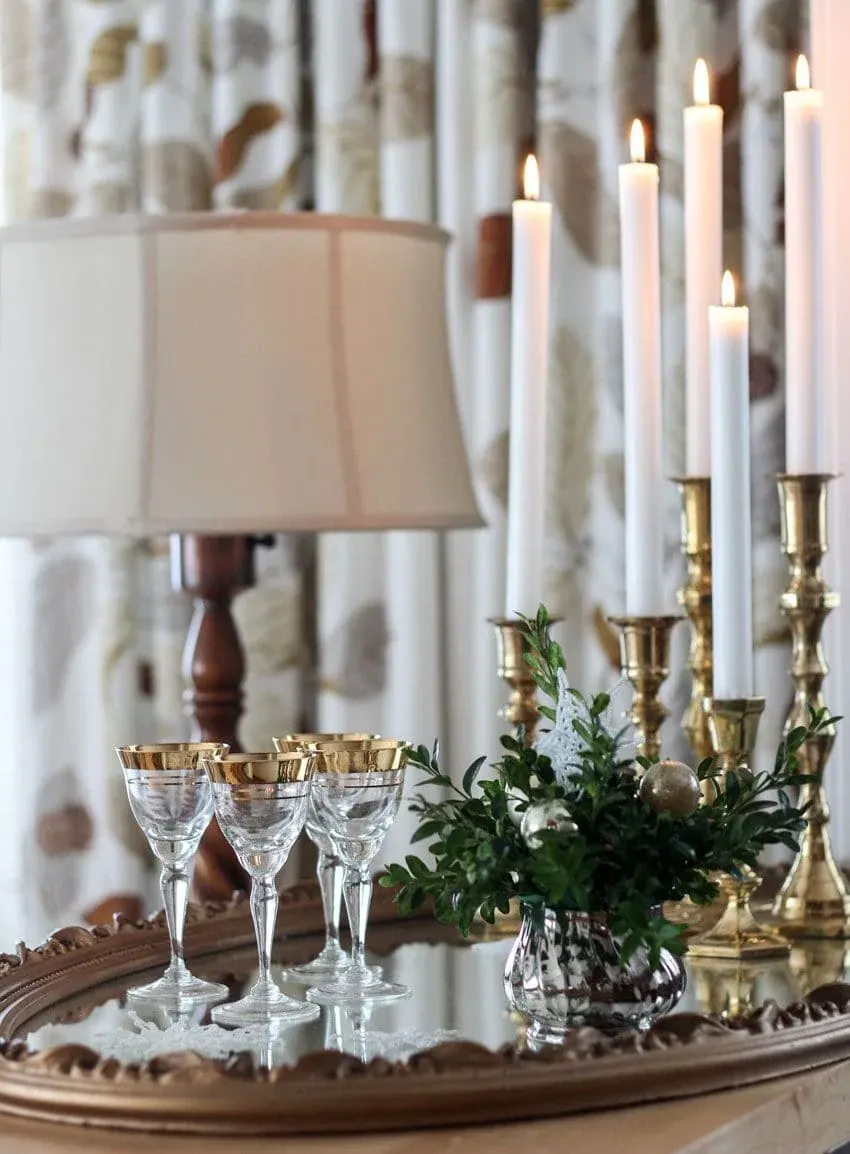 29+ Vintage French Decorating Ideas
Check out this post that features creative ideas for secondhand, vintage items to look for to achieve the french aesthetic.
The Look: Ornate French Mantel Surround
This to me is the classic, quintessential Parisian/French fireplace surround. Ornate, grand, intricate and oh so swoonworthy.
If you hop on Pinterest and search "French Interior Design" you'll be flooded with images such as the one below. It's for good reason… I mean, what's not to love, right?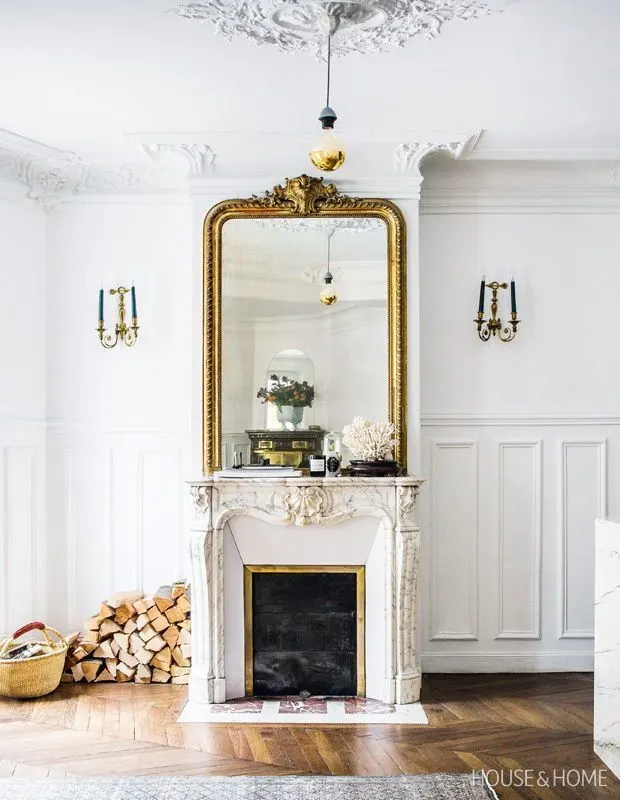 The Look for Less: Ornate Mantel Surround
For about $1,100 you can have this exact same look in your home. Pair it with this gorgeous RH mirror dupe that's a bargain, and you'll have yourself an Instagram worthy space in your home.
Imagine decorating it for the holidays, seasons or with your secondhand treasures. A french fireplace mantel is a great way to incorporate many of my vintage french decorating ideas.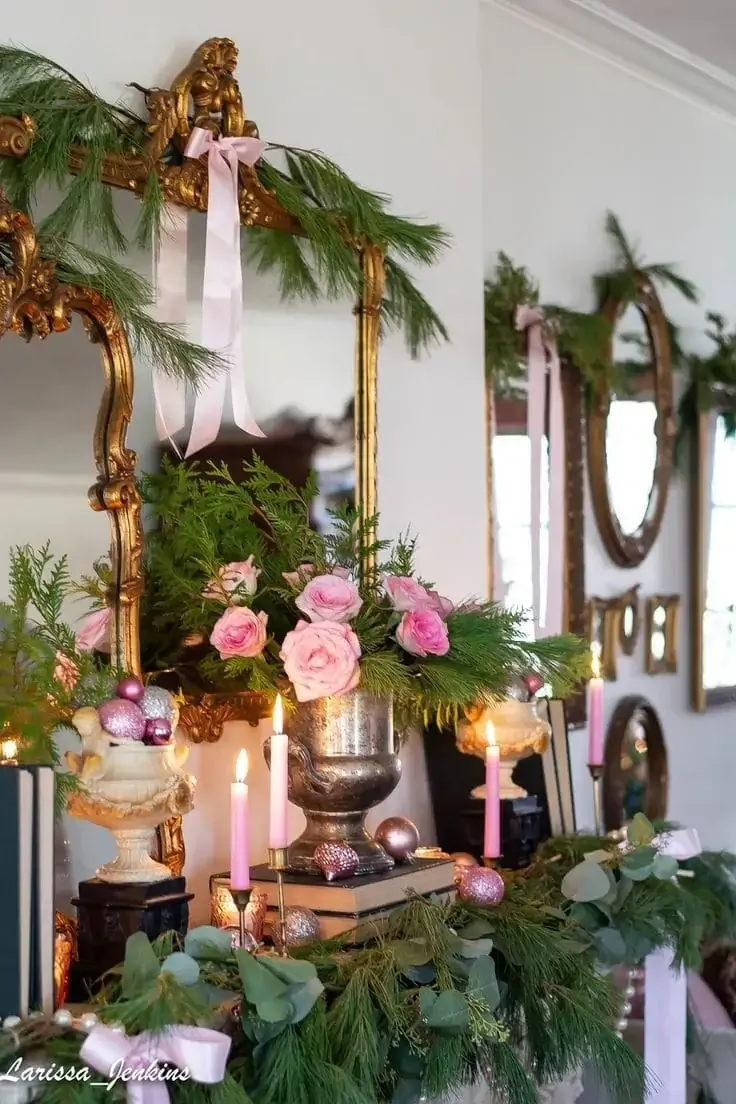 ---
Modern French Farmhouse Tables for Every Budget
In the market for a new dining table? I've rounded up chic options from as low as $200 that will help you achieve that modern french aesthetic on any budget.
---
The Look: Rustic French Country Fireplace
I would describe this next french country fireplace inspiration as definitely a little more rustic, shabby chic in style. It looks aged, worn, used and like it's been there for years on end.
Typically you'll see these in white and paired with vintage books, brass accents and other pieces that feel like they have some history.
The Look for Less: Rustic French Country Fireplace
I am surprised by this find. First of all, it's actually a really decent size. Sometimes you'll find this style of french fireplace surrounds online and they'll be about 28″ tall.
Who needs a fireplace surround that little? This pick below comes in at a size of about 40″ tall and 43″ wide, which may on second thought be a little large.
The good thing? It's only 13″ deep, so this is great if you're tight on floor space. The delivery fee is a little hefty, but overall, this fireplace surround is kind of a bargain.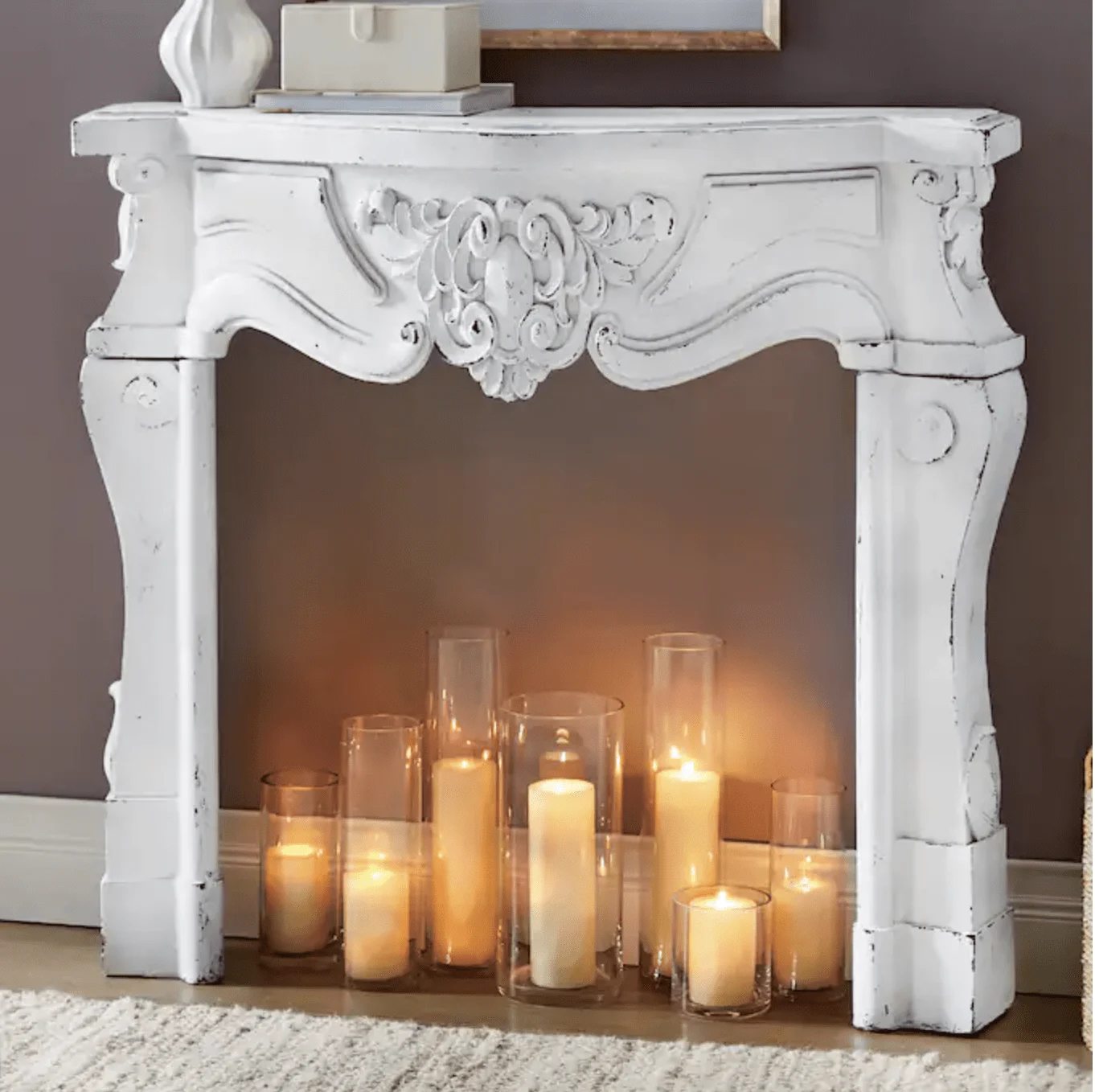 Below is another good option if you're wanting the chippy white paint look for under $500. You could always add some wood appliques or onlays to add more flair.
Another idea would be to wrap the wood top in some marble contact paper for a truly upscale look. Or leave the wood mantel shelf in place for some warmth and french country style.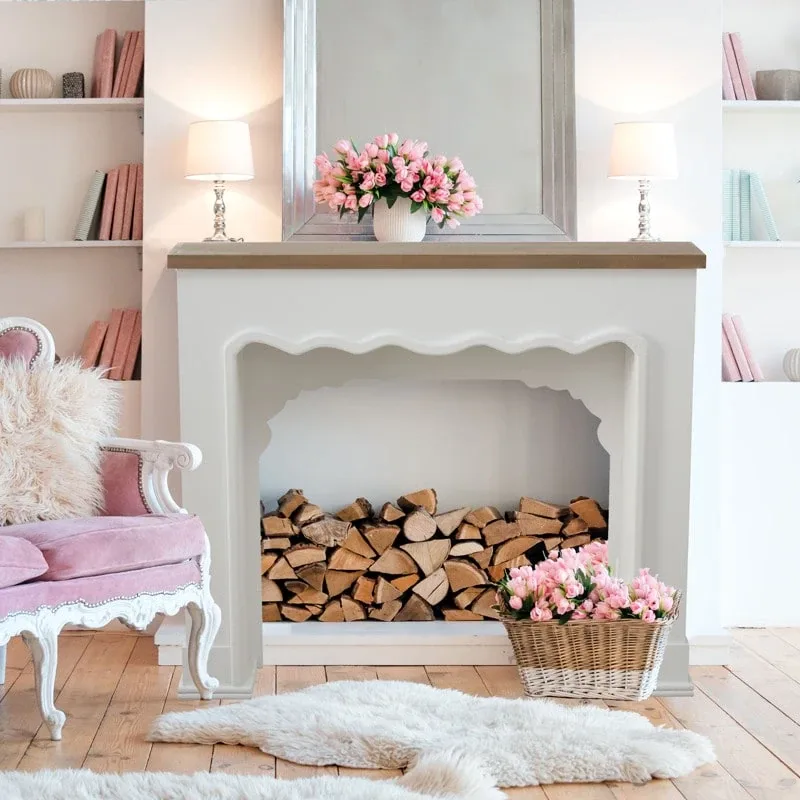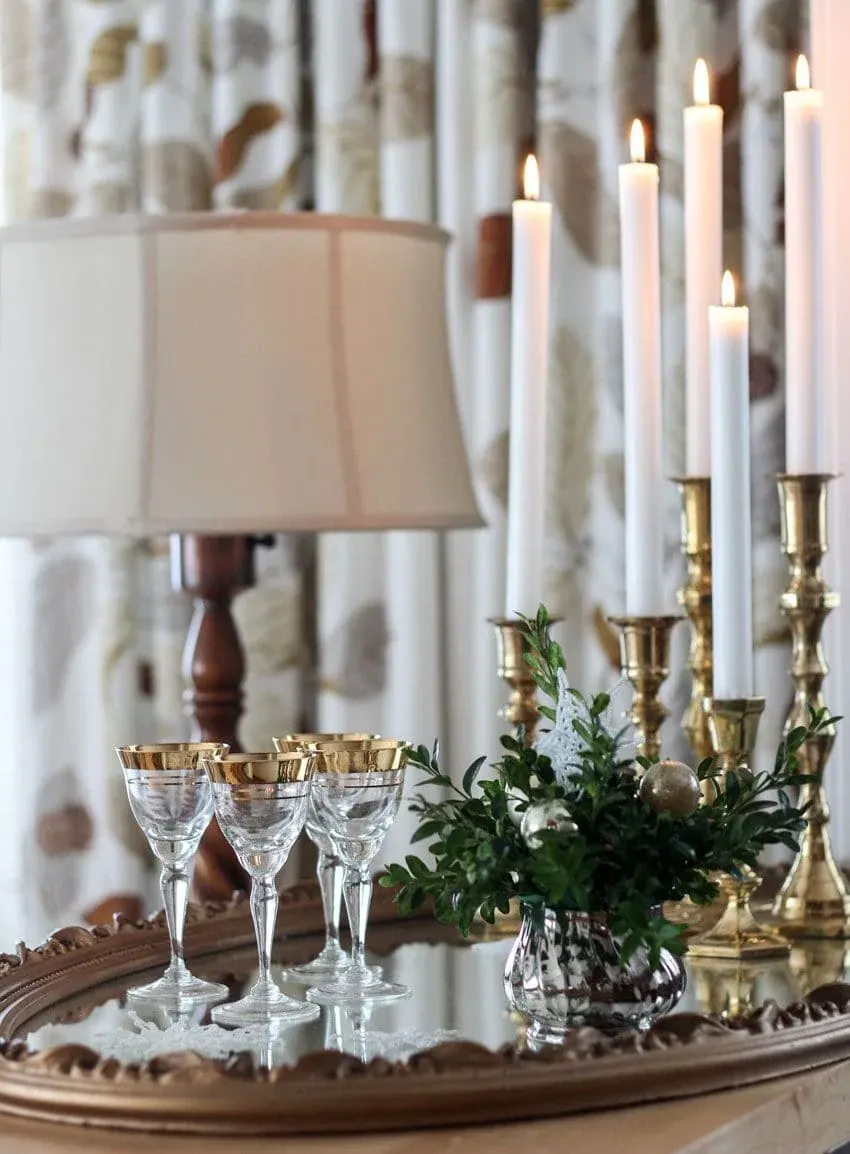 29+ Vintage French Decorating Ideas
Check out this post that features creative ideas for secondhand, vintage items to look for to achieve the french aesthetic.
The Look: Wood French Country Fireplace
One of my regrets is not learning to appreciate wood pieces sooner. I think it's the fact that I was surrounded by hideous honey oak cabinets in my first home, and I wanted to paint all the wood.
Now that I am older and wiser, I realize that there are so many beautiful wood pieces out there that deserve to be a focal point in a home.
While this whole set-up isn't exactly my Parisian glam style, it is still absolutely stunning.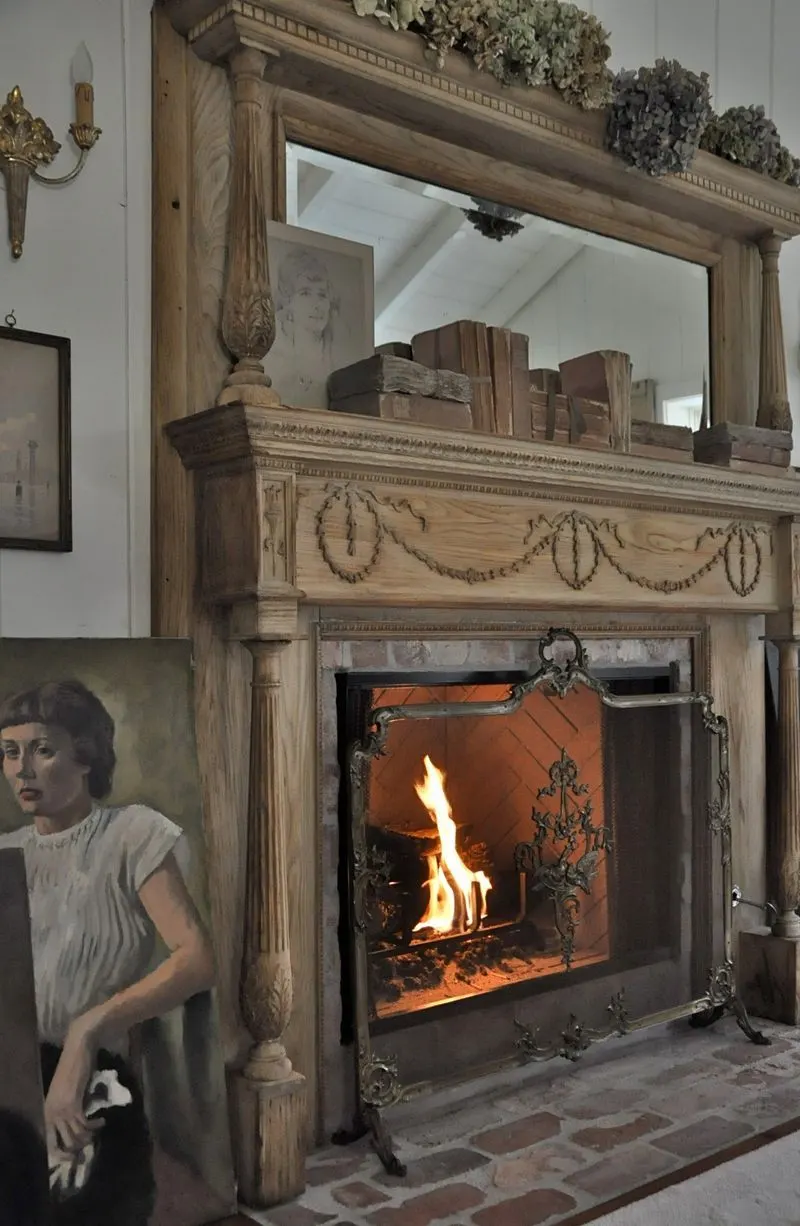 ---
---
The Look for Less: Wood French Country Fireplace
Hear me out- you'll have to do the tiniest bit of DIY to accomplish this look with the fireplace below.
But if you can put some glue on this applique (or this one, or even this one if you put it on the sides/legs, or even this girly one), you can have yourself the look for waaaaaay less than this comparable antique french fireplace.
The color does seem a little dark, so follow this DIY tutorial for lightening stained wood to your desired tone.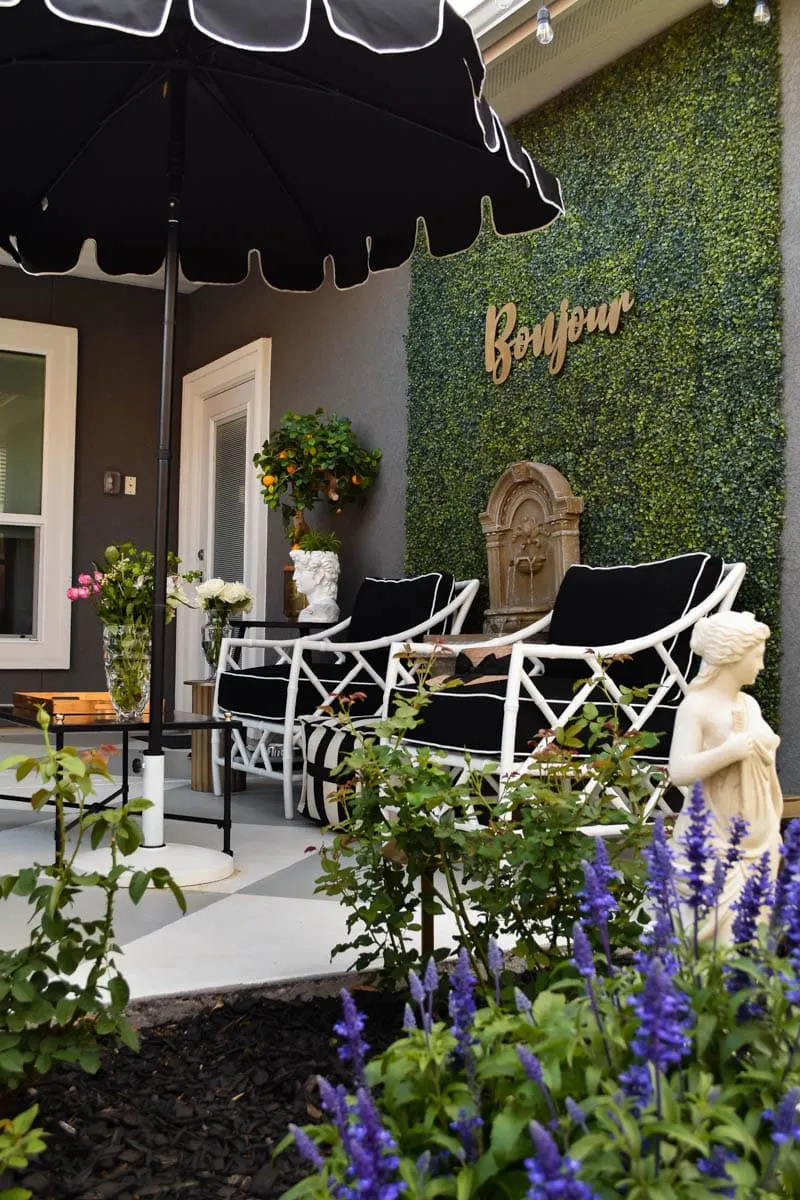 DIY Boxwood Wall Tutorial
Your neighbors and friends will be GREEN with envy after you install a faux boxwood wall in your home or outdoor spaces. I have a step-by-step tutorial that will guide you along the way.
The Look: Moody & Dark French Fireplace
Typical french country design tends to be very airy and white. If you lean a little more towards the dark, cozy, moody side BUT want to incorporate french country accents, a black fireplace may be a good choice for you.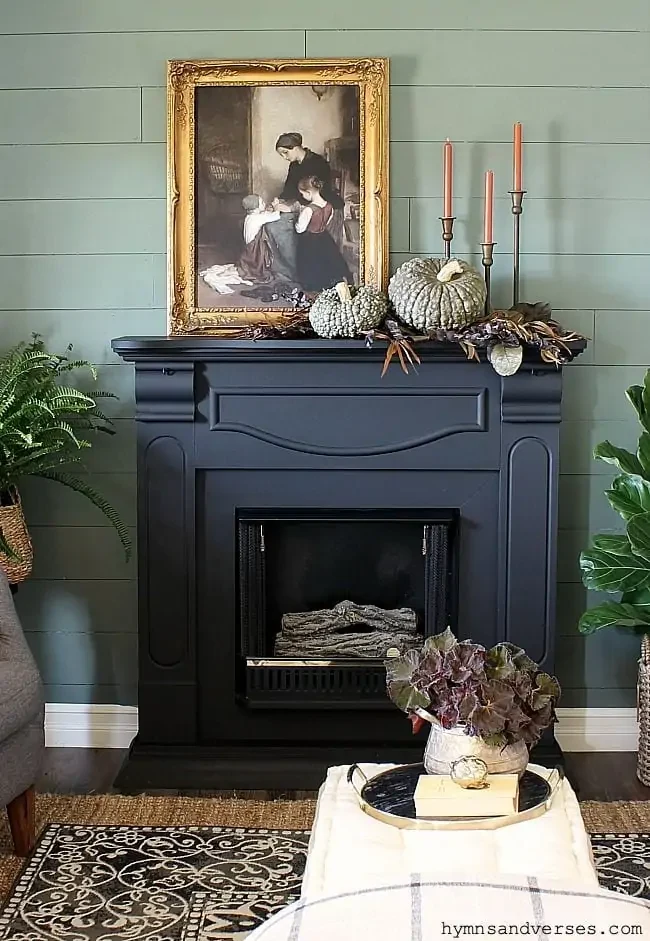 The Look for Less: Moody & Dark French Fireplace
At right around $250, this black curvy fireplace is a steal! Now, most of the french fireplace surrounds I've shared thus far are pretty big.
This one is more pint sized (roughly 35″ tall by 37″ wide) making it perfect for small bedrooms or small homes in general.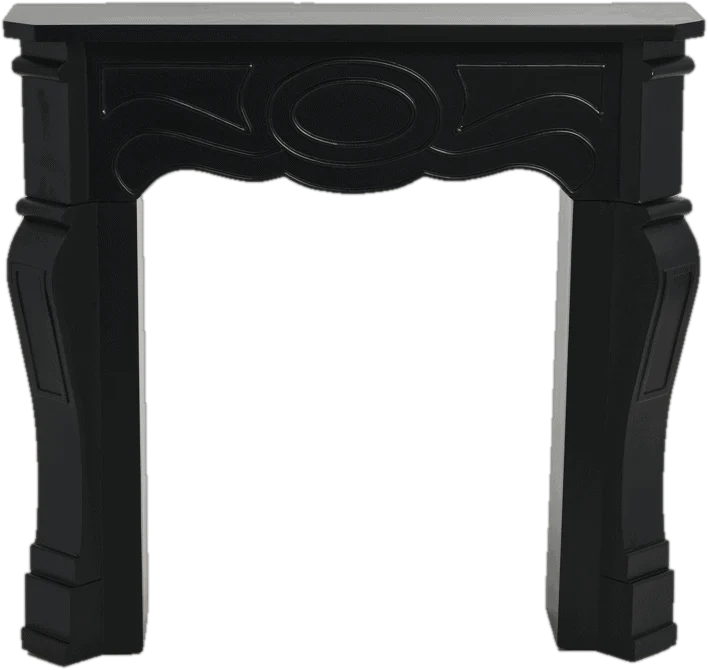 If you're on the fence about a black fireplace surround, or a moody room in general, check this out.
---
---
The Look: Modern Black Marble Fireplace
If you want a style contrast, you might also like a more modern black marble type of vibe to achieve the moody look.
This look below definitely has those warm, rustic, aged french country home feels while incorporating a more modernesque black marble fireplace.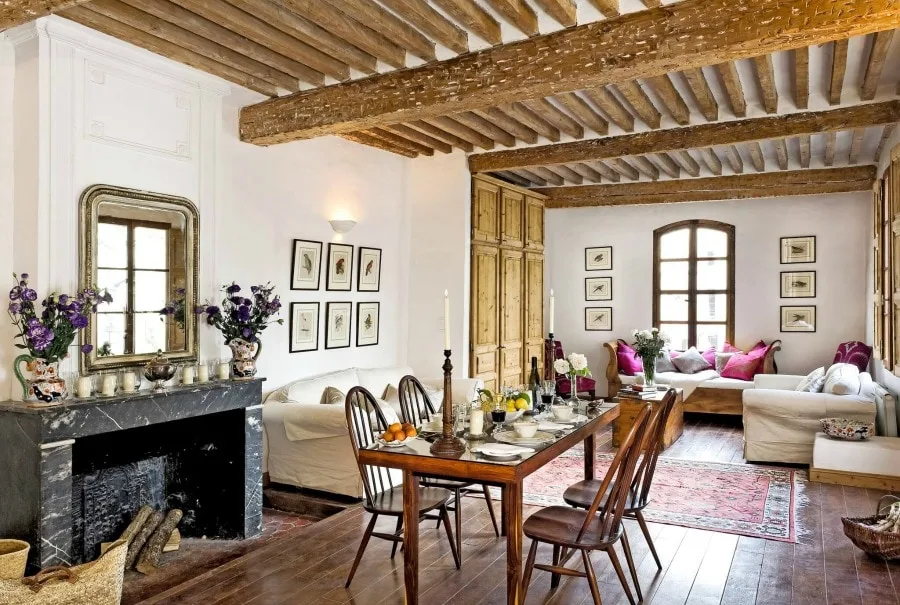 The Look for Less: Modern Black Marble Fireplace
If you want a french country fireplace surround that is a little less ornate and a little less dark, this is another affordable option. At under $300, it's a simple, no fail decor solution.
But to make it look like modern black marble, you'll have to do some DIY. I chose this specific type of mantel because it'll be easy to apply black marble contact paper to the panels as you assemble it.
No major curves to fight with, no big deal. You can totally do this! The black marble is so busy that lining up any veining, etc. is not even needed.
Another DIY option is to also get some quarter round or similar molding to add a bit more interest to the silhouette. A simple miter and hand saw will work with 45-degree cuts.
Finding Vintage Fireplace Surrounds & Mantels
All of the finds above are very affordable and will ship right to your front door.
But don't forget to check out the options near you! The benefits to buying local is you're helping a small business, you get to see it in person and instant gratification.
I recommend scoping out the following places before you commit to buying a piece online:
Facebook Marketplace
Craigslist
Estate Sales
Garage Sales
Rummage Sales
Thrift Stores
Antique Shops
I hope these ideas help your interior design and decor ideas come true. Happy shopping!
---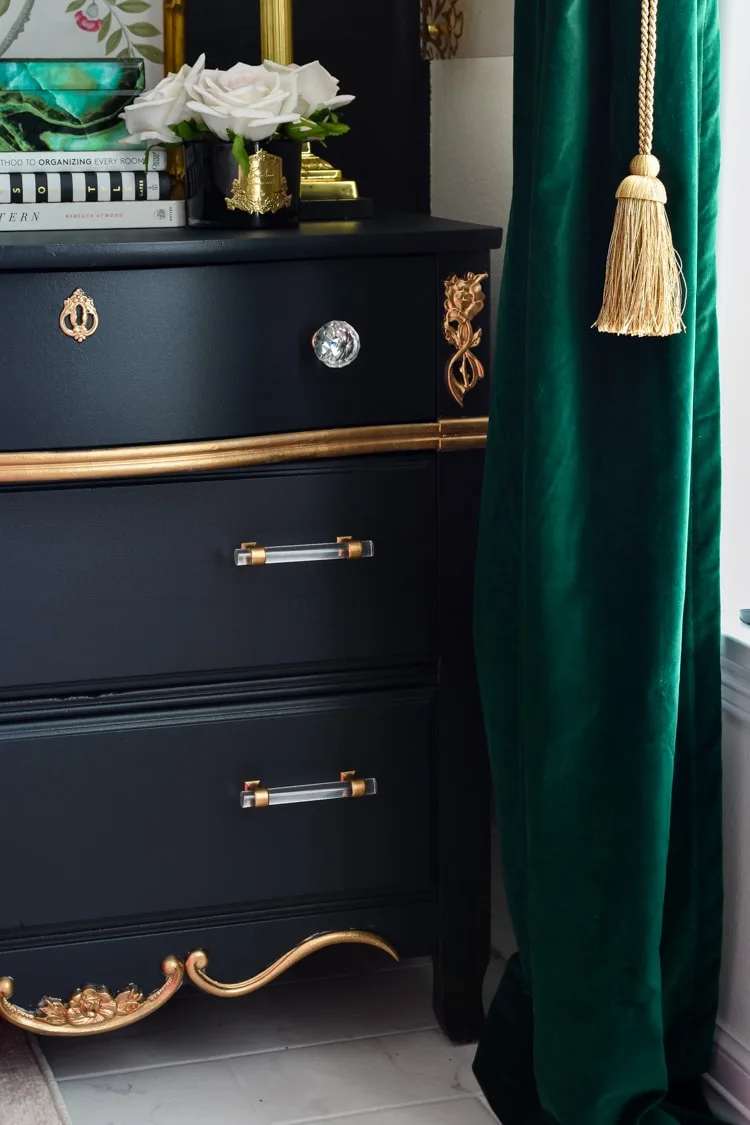 Want to know what's the best paint sprayer under $100?
Check out my full review!
---