When I found out I was pregnant, I immediately began dreaming of the books I'd be able to read to my baby. Naturally, that's where this post about nursery bookshelf ideas stems from because I've scoured shopping sites and Pinterest for inspiration and ideas to find unique nursery shelf ideas that are beautiful and affordable.
I'm going to focus on nursery bookcases and wall-mounted options for those with less space. I hope you leave this post with nursery shelf decor ideas and tons of creative ways to make your baby's nursery special and one-of-a-kind.
Affiliate links may be used in this post, which means I earn a small commission from your purchases and help support my baby girl. Thanks a bunch!
---
Nursery Bookshelf Ideas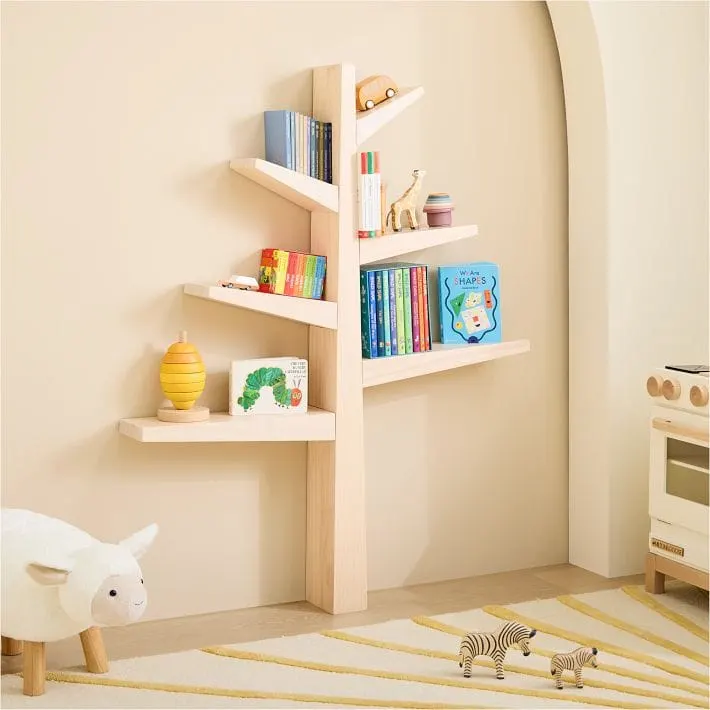 Creating a beautiful and functional bookshelf in a baby nursery is a great way to encourage a love of reading and learning from an early age. Here are some creative bookshelf ideas for a baby nursery:
Floating Shelves: Floating shelves are a popular choice for nurseries because they provide a clean and minimalist look. You can arrange them in different shapes and sizes on the wall, allowing you to display books and other decorative items.
Tree Bookshelf: A tree-shaped bookshelf, like this one under $150, can add a whimsical and natural touch to the nursery. The branches can serve as shelves for books, while the trunk can be used for storage or as a decorative element.
Rainbow Bookshelf: Arrange books by color to create a rainbow effect on your bookshelves. It's not only visually appealing but also a great way to organize your child's books.
Wall-Mounted Book Ledges: Wall-mounted book ledges are low-profile shelves that are perfect for displaying books with their covers facing forward. This makes it easy for little ones to see and choose books independently (or for you to find your child's favorite books quickly).
Cubby Bookshelves: Cubby-style bookshelves with open compartments provide ample storage space for books, toys, and other baby essentials. You can use bins or baskets to keep items organized within each cubby and it's a versatile piece that is perfect in a kids room.
Corner Bookshelf: If you're short on space in your child's room, consider installing a corner bookshelf. This utilizes the often-unused corner of the room and provides a cozy reading nook.
DIY Bookshelf: Get creative and build your own custom bookshelf to match the nursery's theme and decor. You can use crates, pallets, or repurpose old furniture into unique book storage.
Book Nook Shelves: Book nook shelves are designed to create a small, whimsical scene within the bookshelf itself. These can be shaped like little houses, caves, or other imaginative settings.
Floating Reading Nook: Create a cozy reading nook with floating shelves (often called picture ledge shelves) for books and a cushioned bench or small chair underneath. This provides a dedicated space for reading together and can be made even more appealing by adding in plush toys.
Repurposed Furniture: Convert an old dresser, armoire, or even a ladder into a bookshelf that adds style to small spaces by adding shelves or repurposing the existing storage compartments. Remember to use an anti-tip kit to securely fasten it to the wall for your child's safety.
Personalized Bookshelf: Add a personal touch by customizing the bookshelf with your child's name or initials. This can be done with letter decals, stenciling, or even painting.
Mobile Book Cart: Consider a mobile book cart with wheels that you can move around the nursery. It's a flexible option and allows you to bring the books to your baby during story time.
Remember to anchor any heavy or tall bookshelves securely to the wall to ensure your baby's safety. Additionally, organize the books in a way that makes it easy for your child to access them as they grow.
Creating an inviting and organized reading space in the baby's nursery will help foster a love of books and learning from an early age.
Decor Ideas for a Nursery Bookshelf
Decorating a nursery bookshelf can be a fun and creative way to add personality and charm to your baby's room. Here are some ideas to help you decorate a nursery bookshelf:
Themed Decor: If you have a nursery theme, such as animals, space, or under the sea, it's a good idea to decorate the bookshelf with items that match the theme. For example, you can place stuffed animals, wall art, or figurines related to the theme on the shelves.
Color Coordination: Coordinate the decor on the bookshelf with the room's color scheme. Use items like vases, picture frames, and decorative boxes in complementary colors to create a cohesive look.
Personalized Items: Add a personal touch by incorporating items that are special to your family. This could include framed family photos, baby's handprints or footprints, or custom name art.
Bookends: Use decorative bookends to hold books in place and add a stylish touch to the bookshelf. You can find bookends in various shapes, colors, and themes to match the nursery's decor.
Storage Bins and Baskets: Incorporate storage bins or baskets on the shelves to keep small items organized and tidy. These can also add texture and style to the bookshelf.
Floating Shelves: If you have floating shelves, consider placing a few decorative items, like potted plants, small lamps, or decorative letters, alongside the books.
Wall Decals: Apply wall decals or stickers around the bookshelf to create a whimsical and visually appealing backdrop. This can tie the bookshelf into the overall theme of the room.
Nursery Artwork: Hang artwork above or near the bookshelf to create a focal point. This could be a canvas print, framed artwork, or a DIY art project that matches the nursery's decor.
Letter Blocks: Use wooden letter blocks to spell out your baby's name or meaningful words on one of the shelves. Paint or decorate them to match the room's color scheme.
Soft Lighting: Add soft, ambient lighting to the bookshelf by placing a small lamp or string lights on one of the shelves. This can create a cozy atmosphere during nighttime feedings or storytime.
Educational Decor: Incorporate educational elements like alphabet letters, numbers, or educational posters to stimulate early learning.
Seasonal Decor: Change out some of the decor items seasonally to keep the nursery feeling fresh and updated throughout the year. Consider holiday-themed decorations or items related to the current season.
Remember to keep safety in mind when decorating a nursery bookshelf. Ensure that all items are securely fastened, and avoid using small objects or items with sharp edges that could be hazardous to your baby. Ultimately, the goal is to create a SAFE, visually appealing and functional space that complements the nursery's overall design.
Stylish Wall and Small Shelves for a Nursery Under $50
Favorite Nursery Bookshelves Under $500
I wish I had the floor space to accommodate this gorgeous angled bookshelf because of how much storage it provides. I love the spacious shelves and the bottom shelf which acts like a giant bin for toys.
This dollhouse bookshelf is very highly rated and a total bargain at under $150. It serves double-duty as a dollhouse and book/toy storage, so if you're tight on space and funds…this is a wonderful choice!
The great thing about this rolling acrylic bookcase is that when your child is older, it could serve as a functional nightstand that isn't visually heavy. Or use it as a craft cart or end table in another room! This nursery bookcase is a versatile option that will stand the test of the time.
This stunning mid-century modern bookshelf is made of eucalyptus wood and is a piece that would stand the test of time in both style and durability. I could easily see this shelf in a teens room or even a man cave for records and books.
I simply adore this ROTATING castle bookshelf and toy storage… this would be a great option to create a fun little kids corner with a play mat or a child's table and chairs for tea parties or Lego building. Such a bargain for under $100, and did I mention it ROTATES?
I'm all about nursery furniture options that won't quickly lose utility as baby gets older, so this bookshelf storage bench is a handy addition to any kids room (especially under a window)! The cubbies and shelves make it perfect for books, toys, craft supplies and shoes as your kiddo gets older, PLUS it comes with the bench and bins making this a great value.
Popular Baby Books to Start Your Child's Collection
Popular baby books often become classics for a reason – they engage young readers and provide valuable life lessons in an accessible and entertaining way. Here is a list of some of the most popular and beloved baby books:
These popular baby books have been loved by generations of children and parents alike. They offer engaging stories, beautiful illustrations, and often incorporate early learning concepts, making them great choices for building a love of reading from a young age.