Recently I spotted a gorgeous little cottage style home that made me get into "dream house" mode again, but I thought to myself, "I wish it was a white house WITH black trim and windows".
Here she is…my almost perfect little dream house.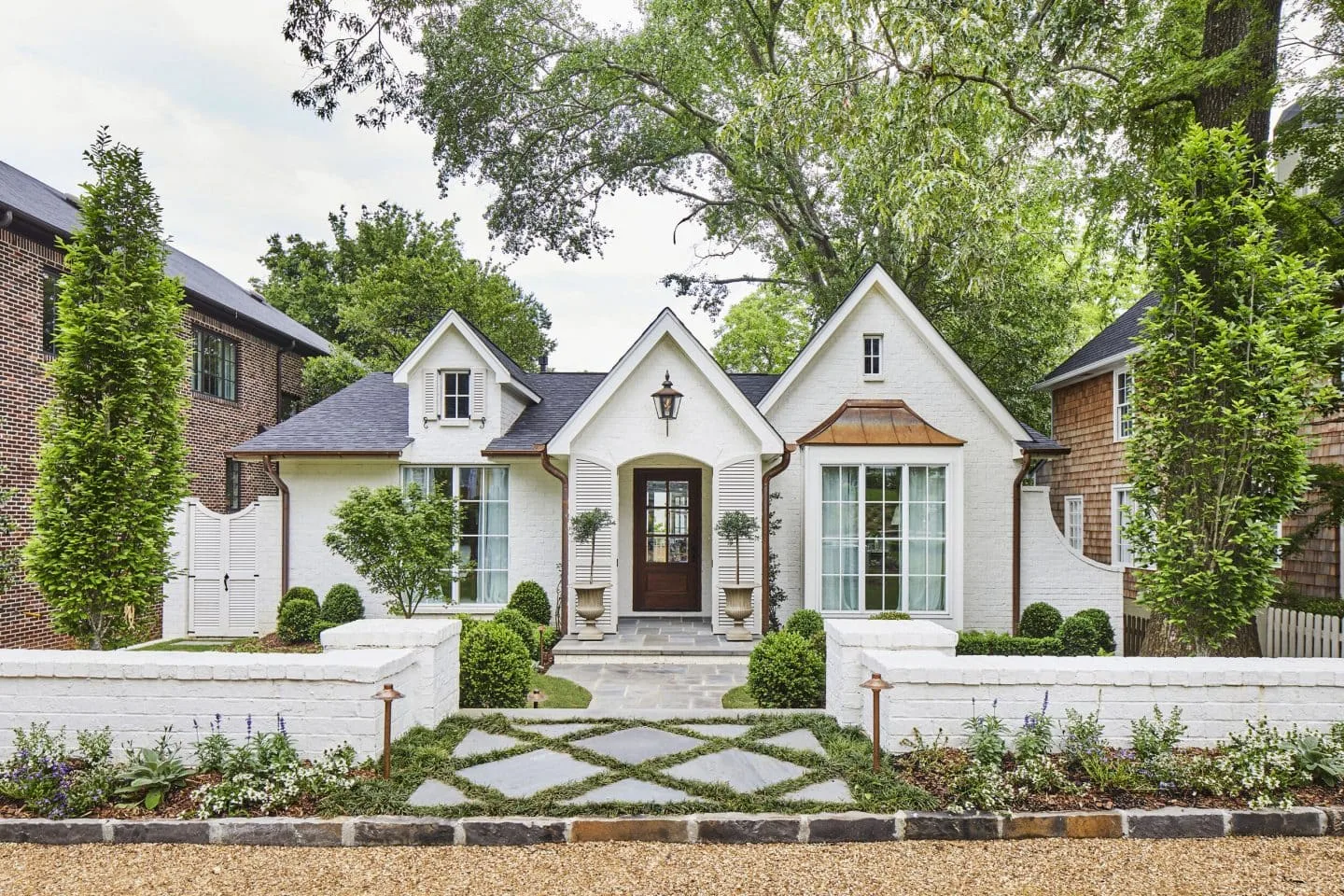 I started to dissect what I loved most about this charming white home, and it was the white exterior, copper gutters, awning, the landscaping and yet I was still harping on wanting black trim for it.
There's just something about black and white, isn't there?
It's a color combination I LIBERALLY around my home. Some may consider it a safe option; I call it the timeless bold option. And it's definitely the option dujour for home exteriors lately.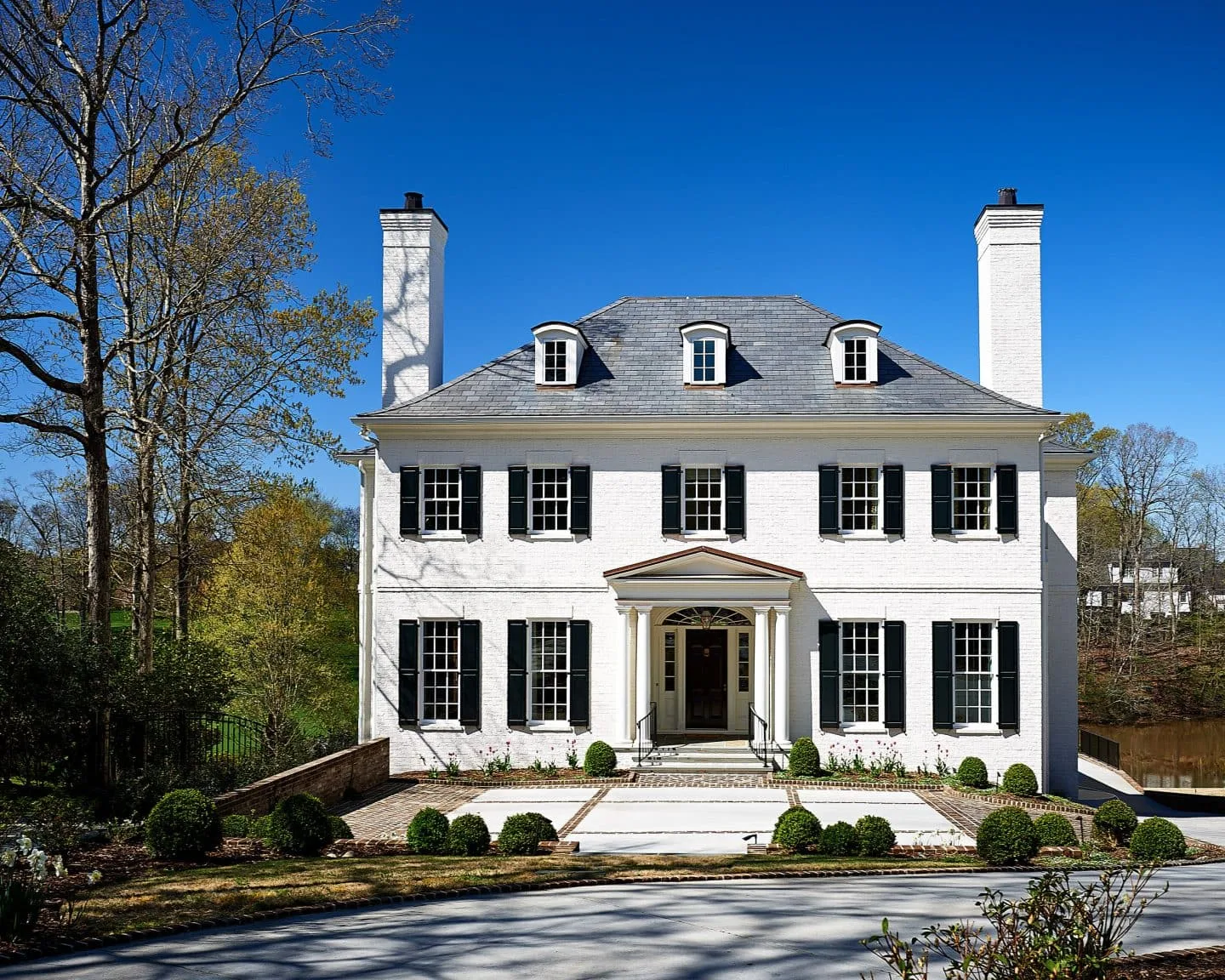 It seems as if the white house and black trim combo was made popular with the modern farmhouse exterior movement that has dominated Pinterest and Instagram for years, but if you truly think about it… this color combo for the exterior of a home is a timeless choice. Always and forever.
Joanna Gaines, lovely and talented as she may be, didn't invent this but God bless her for making it popular again after all those years of gray exteriors. (And I say this as someone who lives in a gray stucco home.)
But back to my dream house… I've been slowly curating images in case we find the perfect piece of land to build on. I'm pretty set that our own home (or forever home) has to be a white house with black trim AND black windows. Ideally, a pair of vintage French gold gas lanterns would adorn the front door.
I got curious and did some research and thought I'd compile my findings into a blog post (you are here!) What I found is that this color duo is perfect for many different styles of architecture, plus it lends itself to incorporating other natural or wood elements, copper gutters and of course big, beautiful black windows.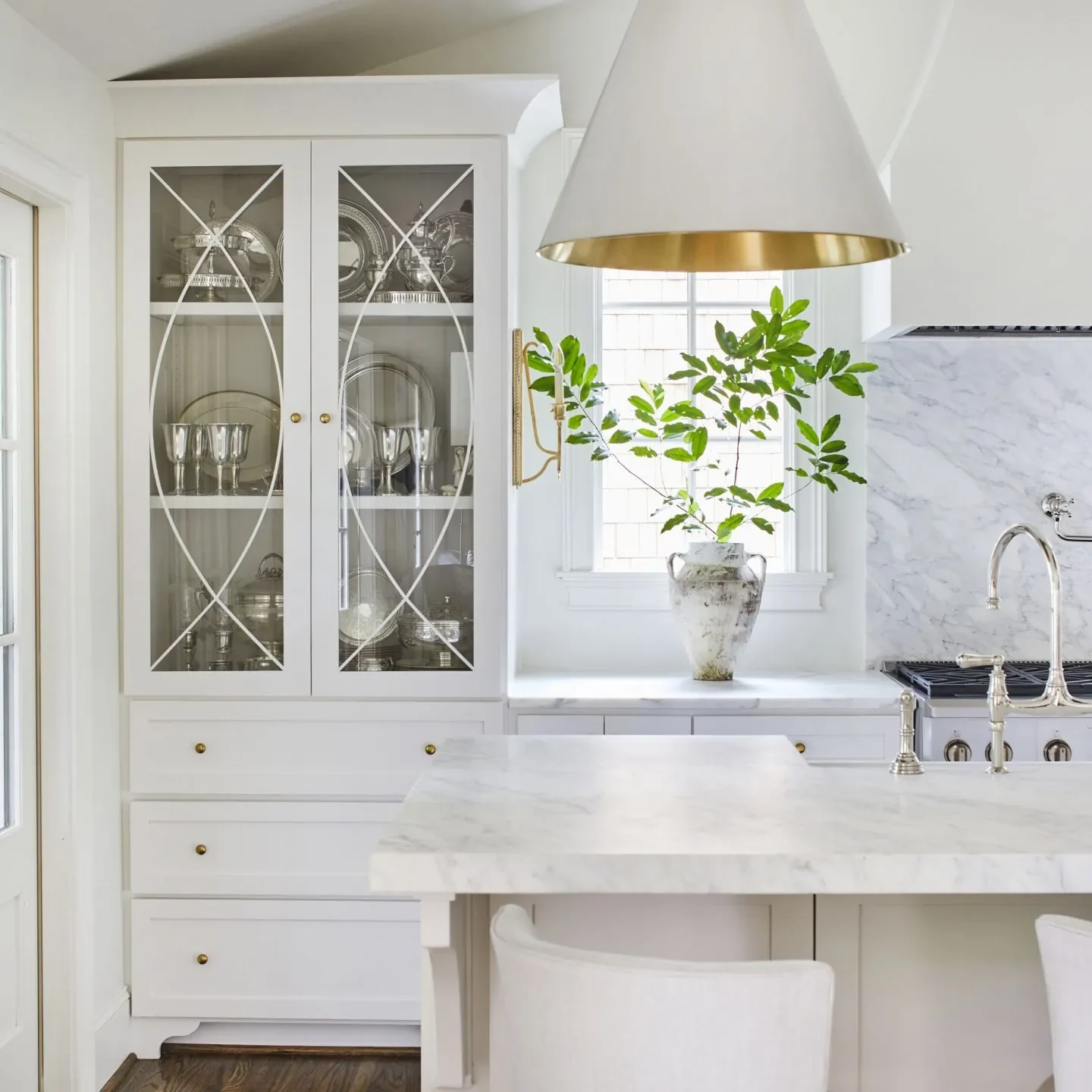 So yes, it's common in modern farmhouse homes, but it can also be found in traditional, modern, tudor and even Mediterranean style homes. Essentially, most house's architectural style can lend themselves to a white house exterior paired with a black trim exterior color.
Tips to Enhance a White House with Black Windows
A white house looks gorgeous with black windows or black window frames.
It breaks up the brightness of the white, plus it adds in contrast. To me, strong contrast is a pillar of classic good design and will look good for a long time.
Adding in Stone or Natural Elements
This home below is a good example of how a traditional split-level ranch style home looks so much more updated and oozes curb appeal. The addition of the stone accent brings in some warmth and charm.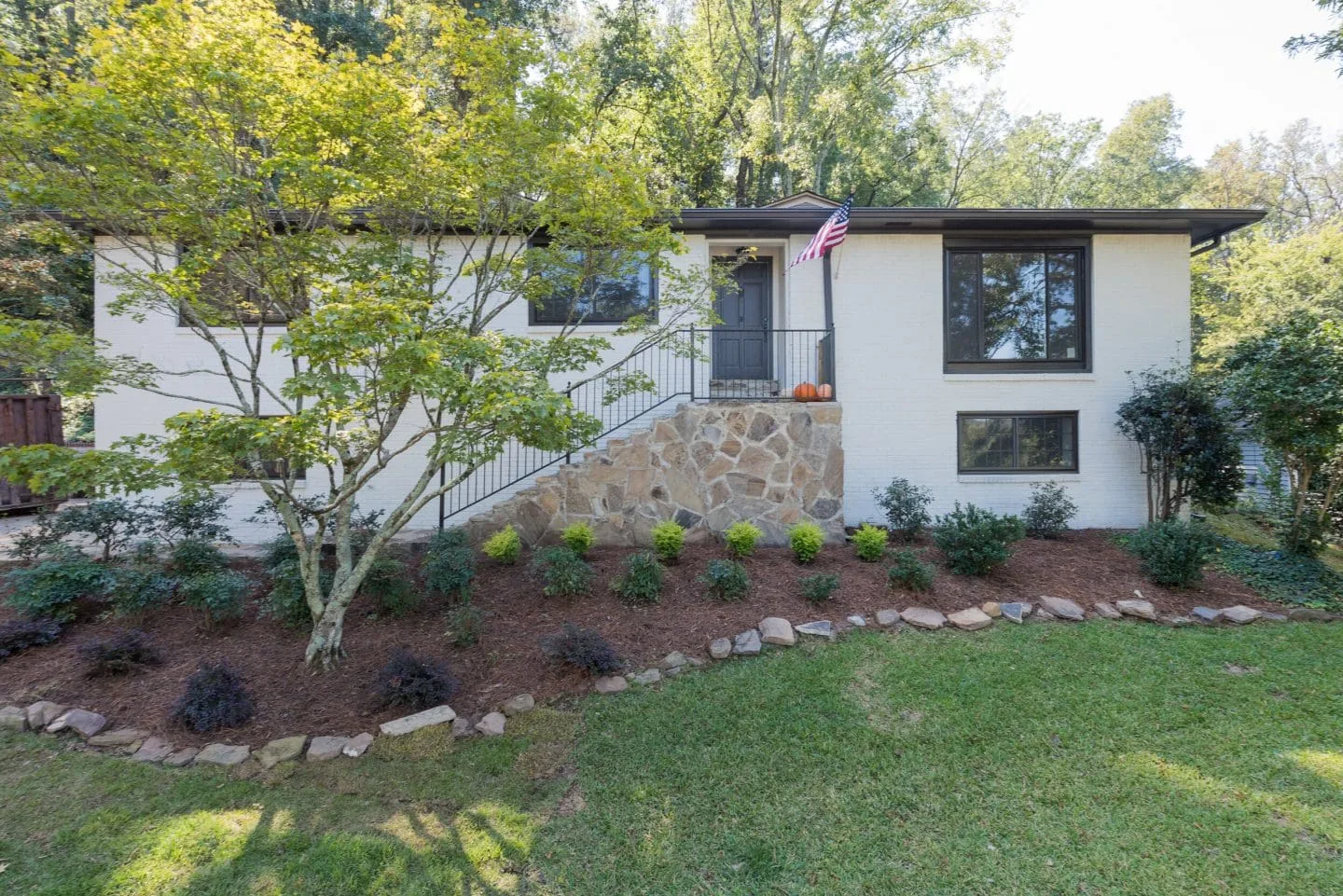 A stunner for sure, this home features black windows, copper gutters, beautiful stone and incorporates a white exterior as well for a breathtaking combination. The overall design and mix of features is beautifully accentuated by the green landscaping that is kept very simple and timeless.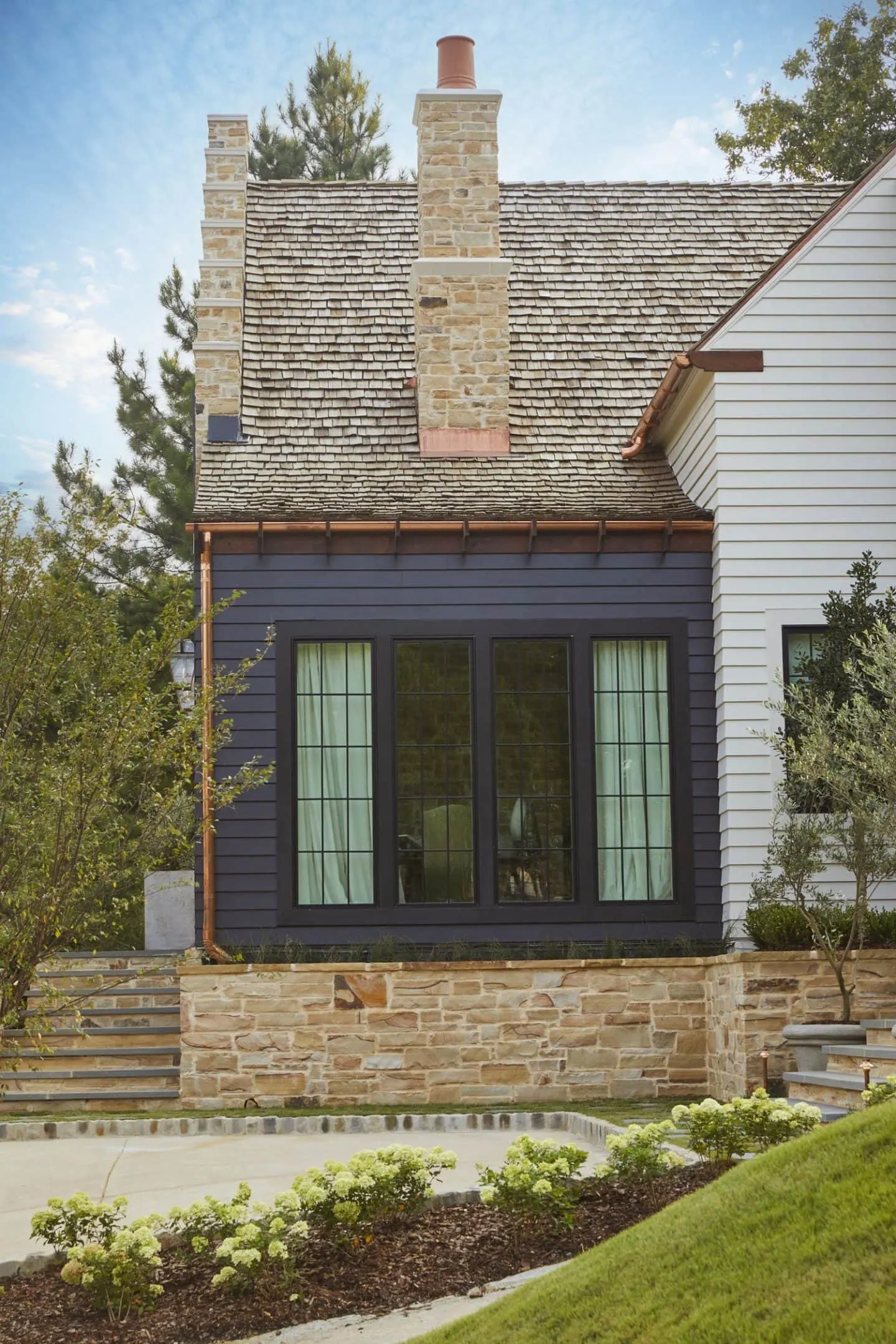 Corbels, especially very large, oversized ones, can add a load of curb appeal to a home with a white exterior and black trim or accents. These corbels add in wood accents and interest to this rustic craftsman style home.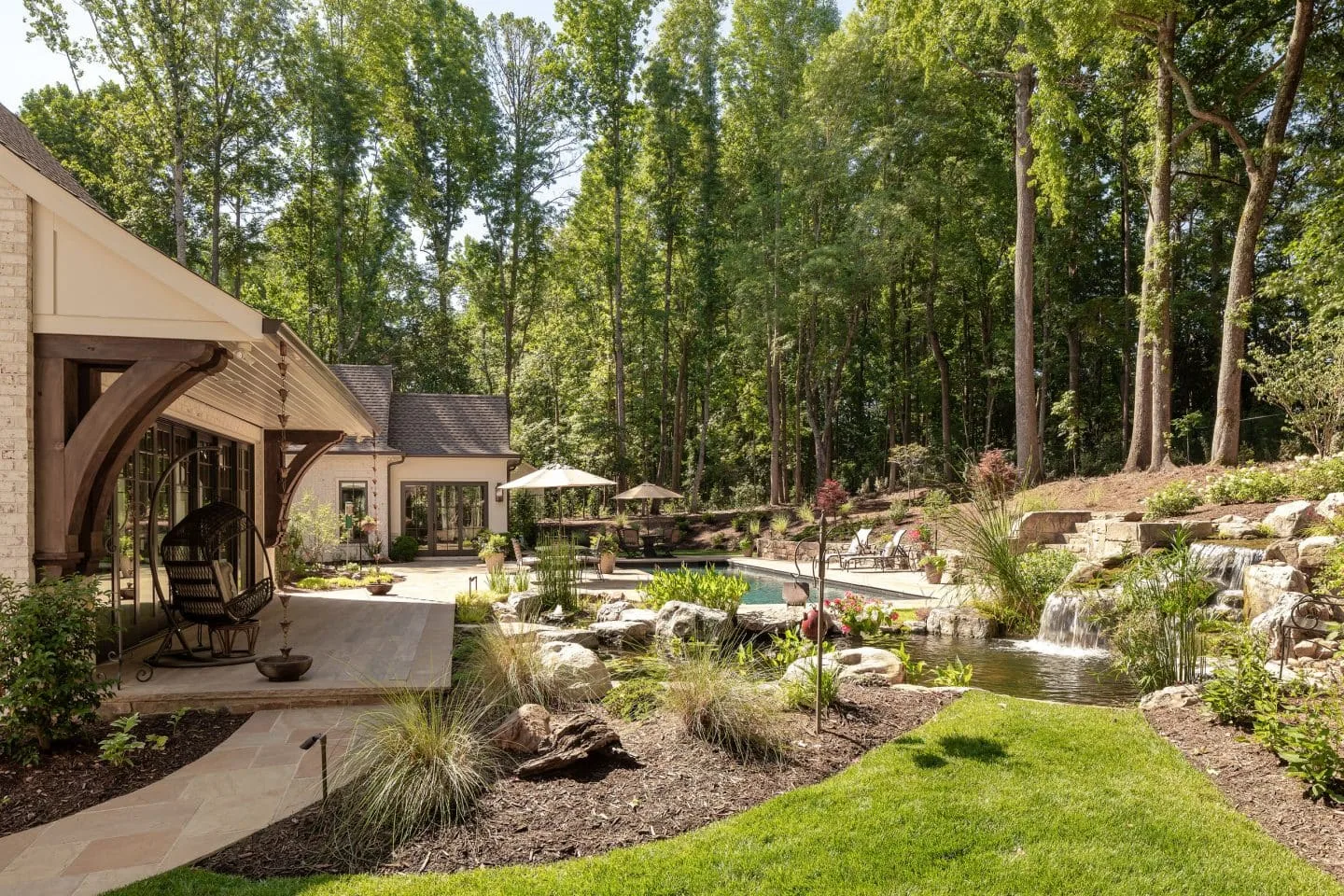 Another example of a home that incorporates wood elements for interest, is this massive Modern Farmstyle home with gorgeous tiered landscaping. The way the builder chose to connect the various sections of this home by layering in beams and a covered walkway looks fab!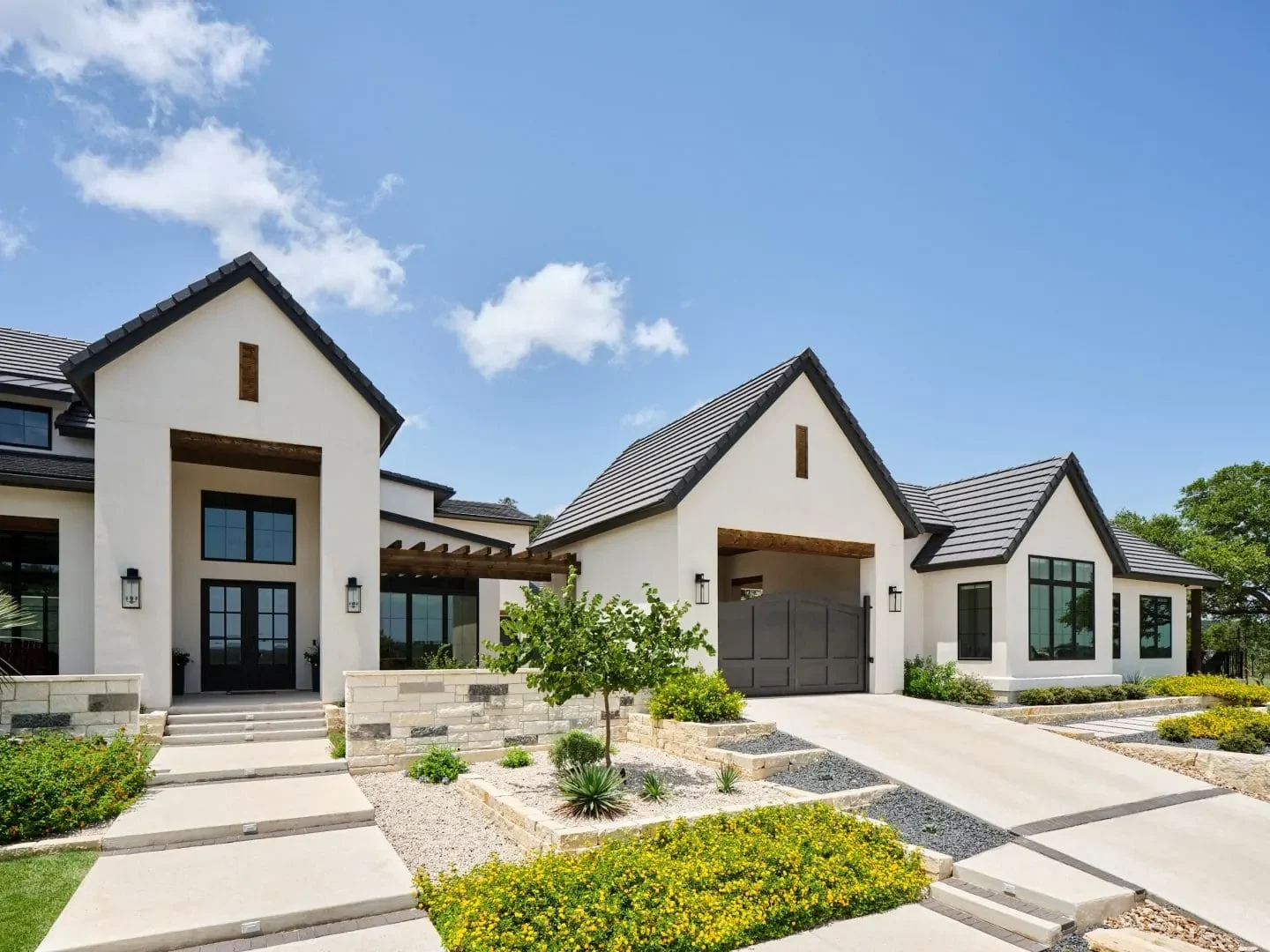 White House with Black Trim: Backyard Photos
Although a backyard exterior can usually not be seen by people other than the residents, I love how this home incorporates the black not only in the windows and doors, but also as a ceiling accent on their back patio.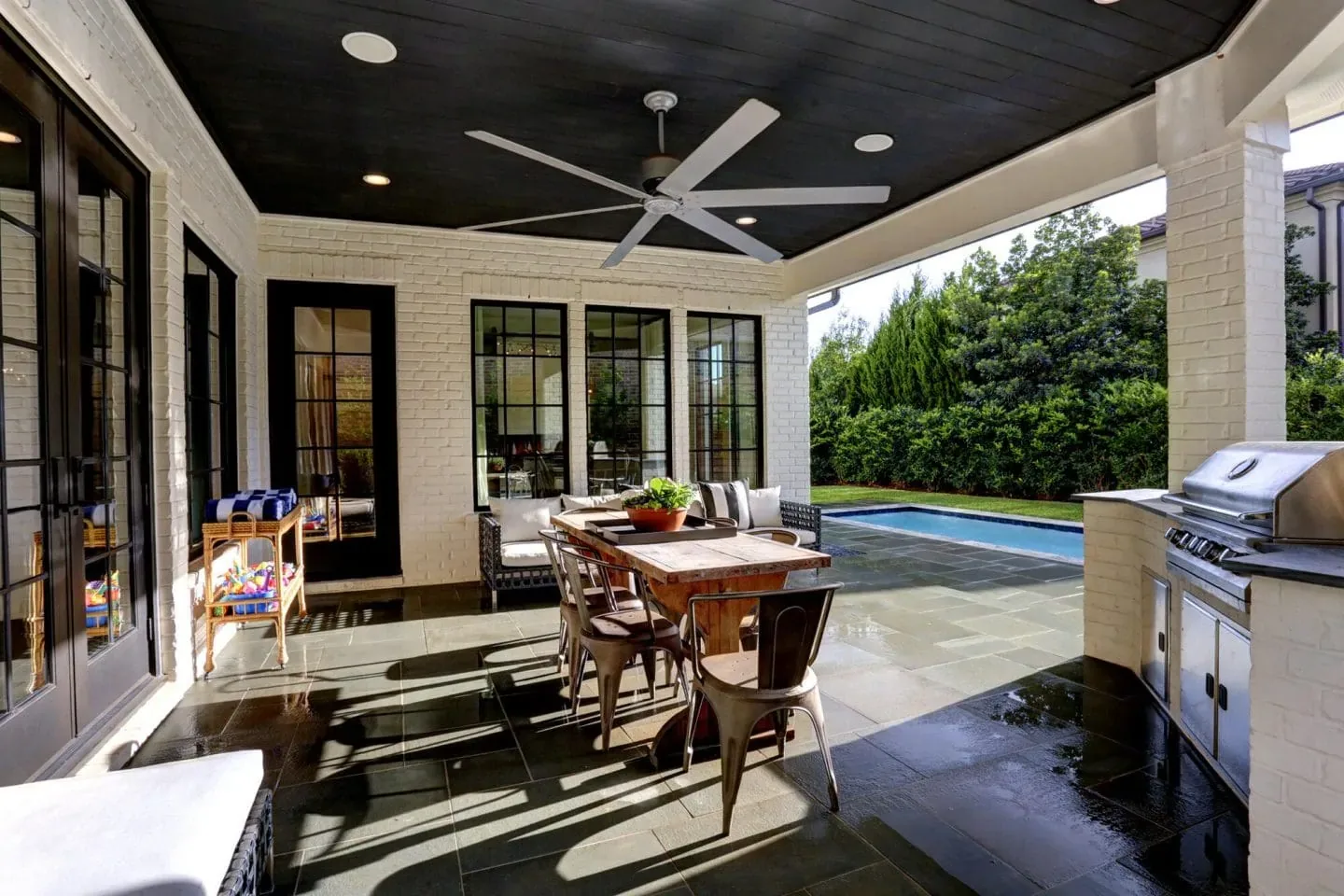 Decidedly modern and crisp, this home features a simple, sleek approach to its exterior. This makes that quatrefoil shaped pool that much more fabulous against the exterior of this home.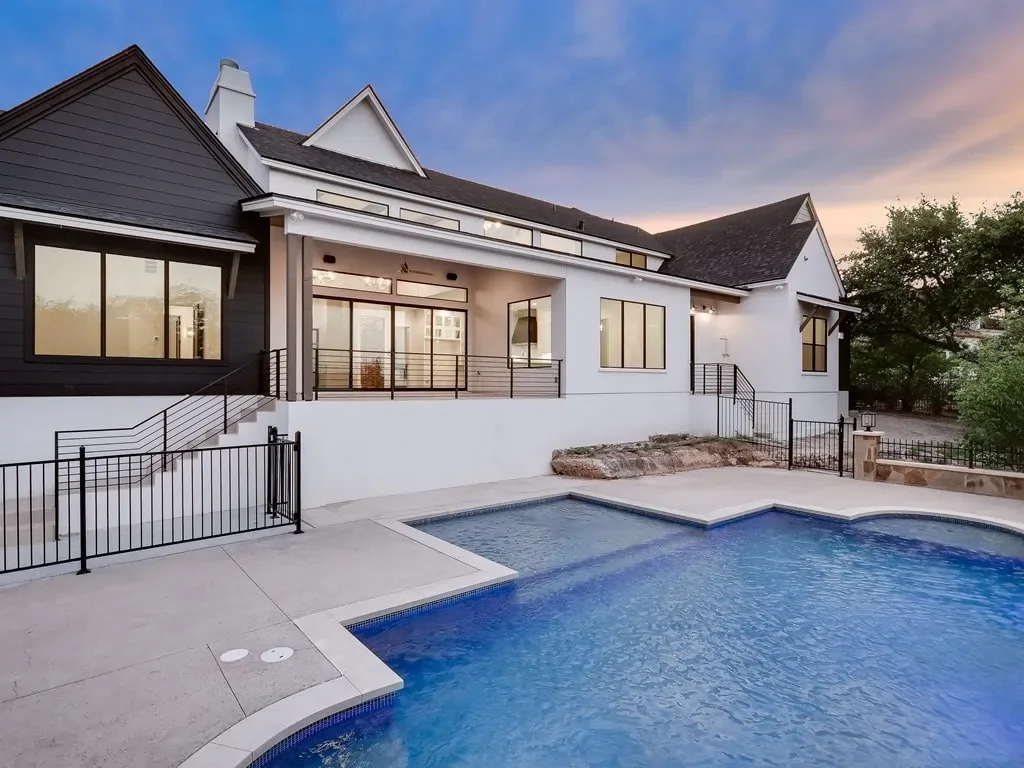 In my lifetime, I think I've likely had at least 500 different "dream backyard" images that I have sworn were "the one"… I LIED. This one below is definitely it, forevermore.
Promise me you'll click on the link below and scope out the exterior and all the perfect architectural features. There's a pool, garden, water feature, espalier on the fence. I'd never leave this house.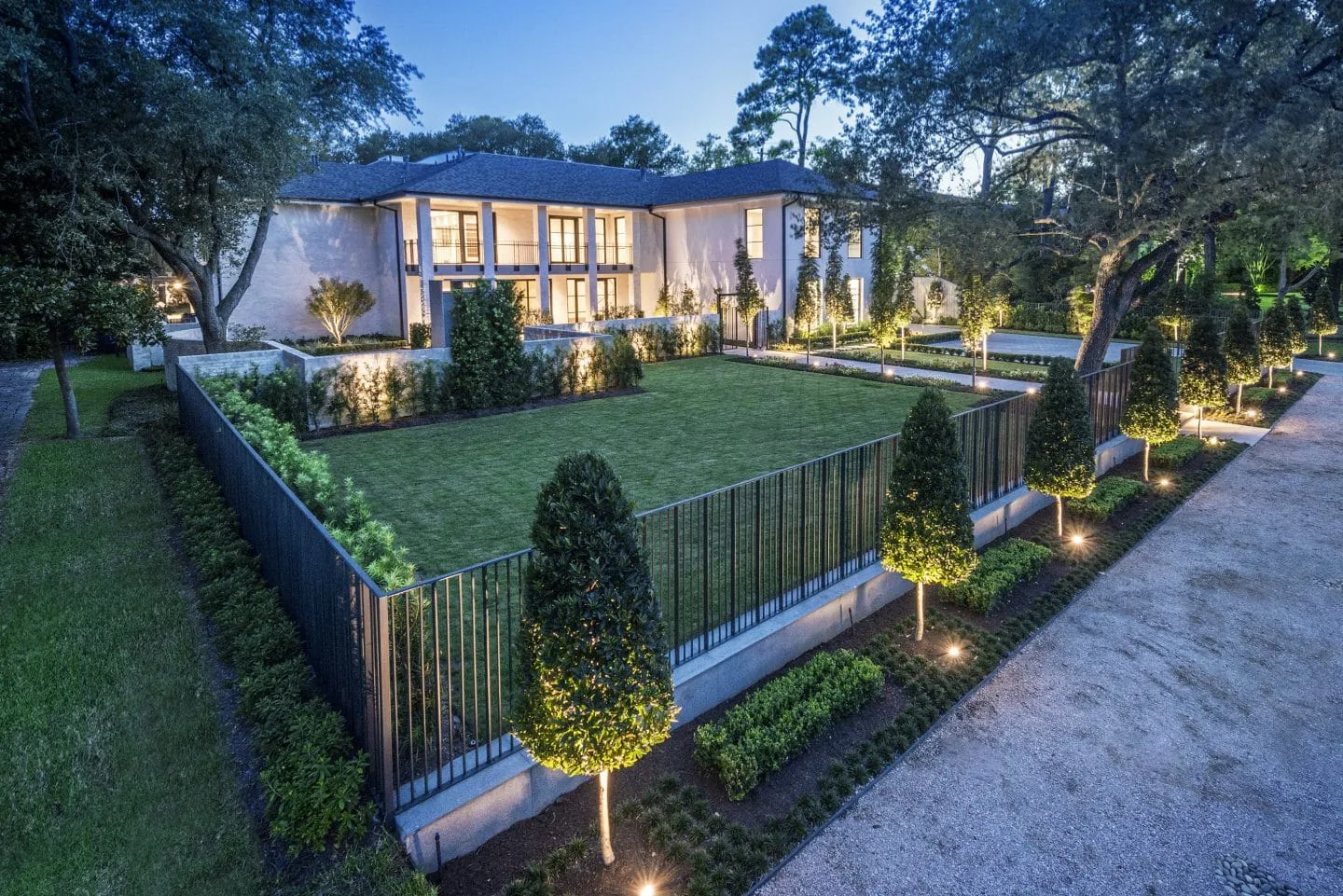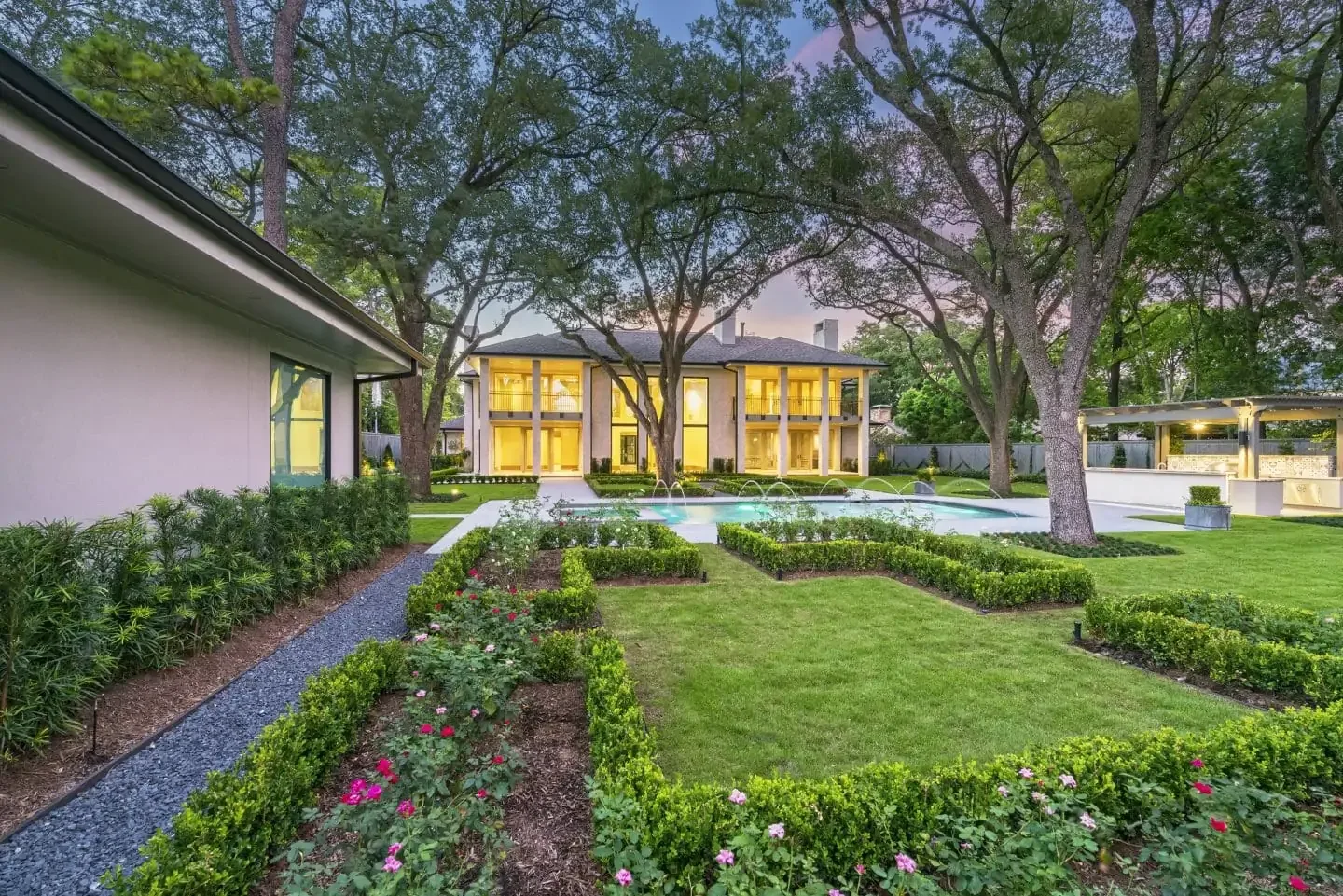 Incorporating Awnings & Shutters
Adding in an awning is a good idea if you're after those French style vibes. This sprawling estate with a white exterior, black trim, black windows and that charming awning is a must-see.
If a French style exterior awning isn't your thing, here's a more traditional contemporary approach. I love how the builder managed to make this home exterior modern, but not too modern, if you know what I mean.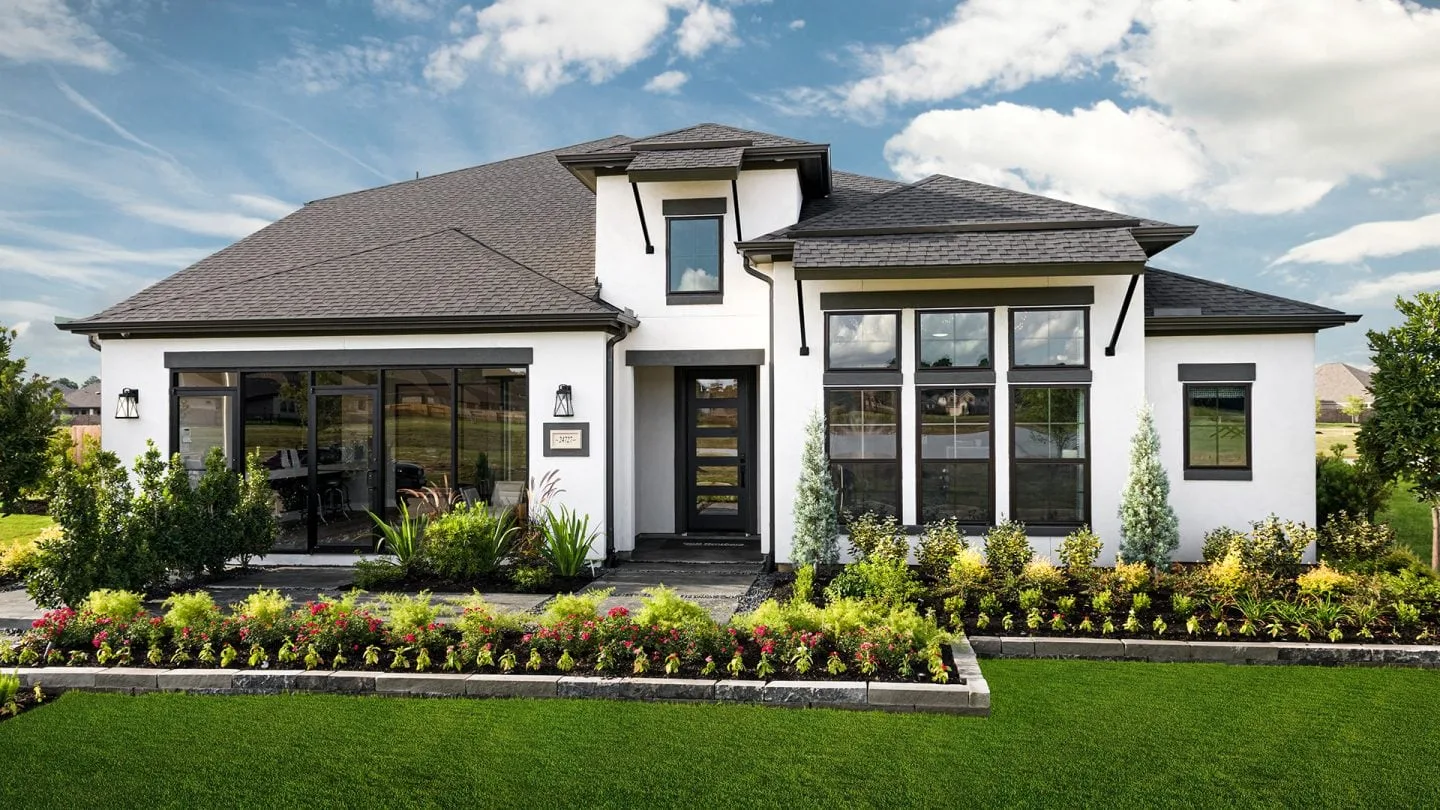 Going all in with the black and white color scheme by layering in black shutters AND a black front door makes this remodeled home shine. Loving those little topiaries framing the front door sidelights.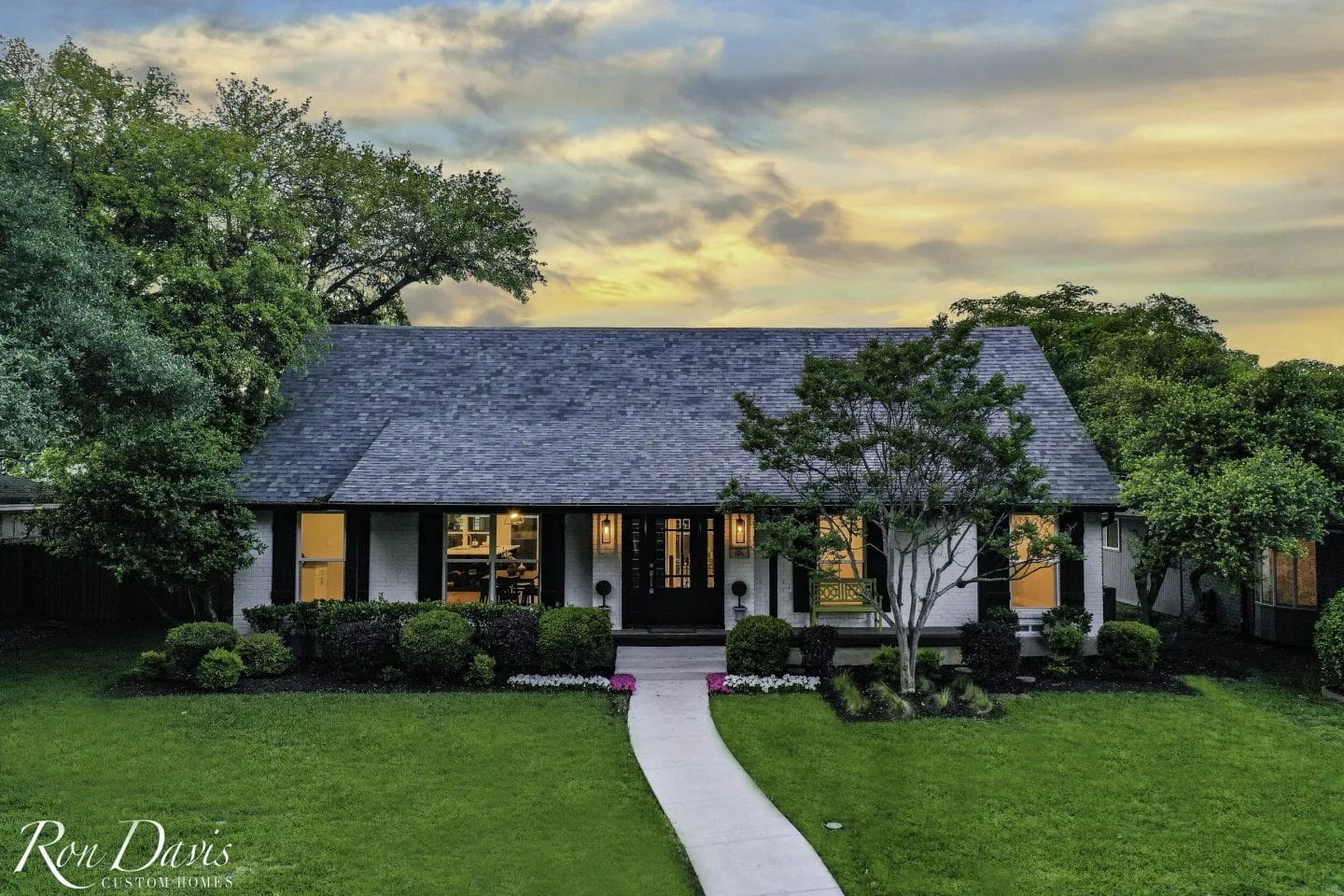 Unique Front Door Options
Having three giant windows as doors may not be everyone's cup of tea, but it's a great option for this house. The black panes add a bit of contrast and invite you to peek inside. Can you imagine this home during the holiday season?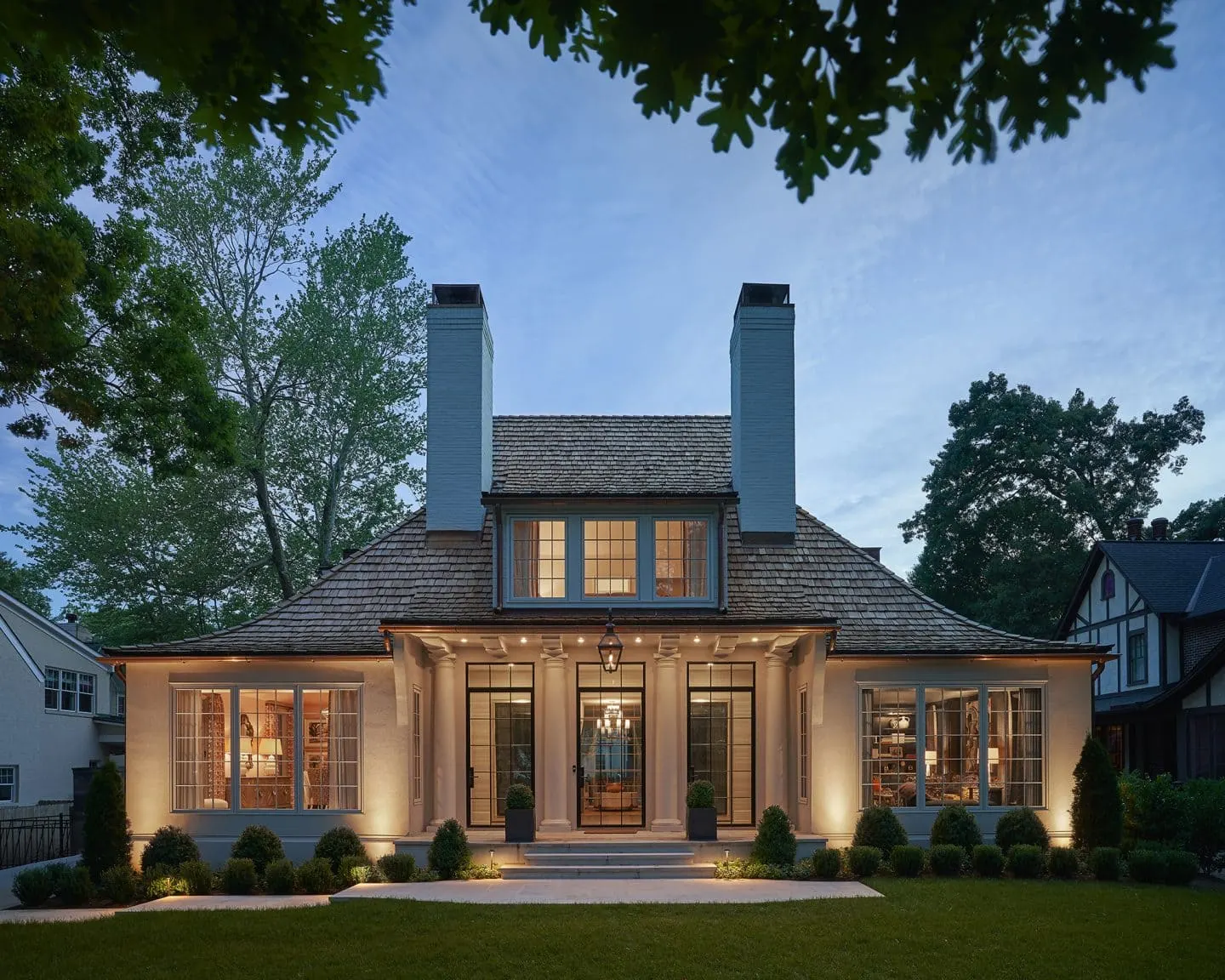 Many of the white exteriors seem to have big glass doors, which let in a ton of natural light and are gorgeous, but if you want a bit more privacy… beefy wooden front doors may be a good choice. This home exterior is quite simple, but the door does stand out.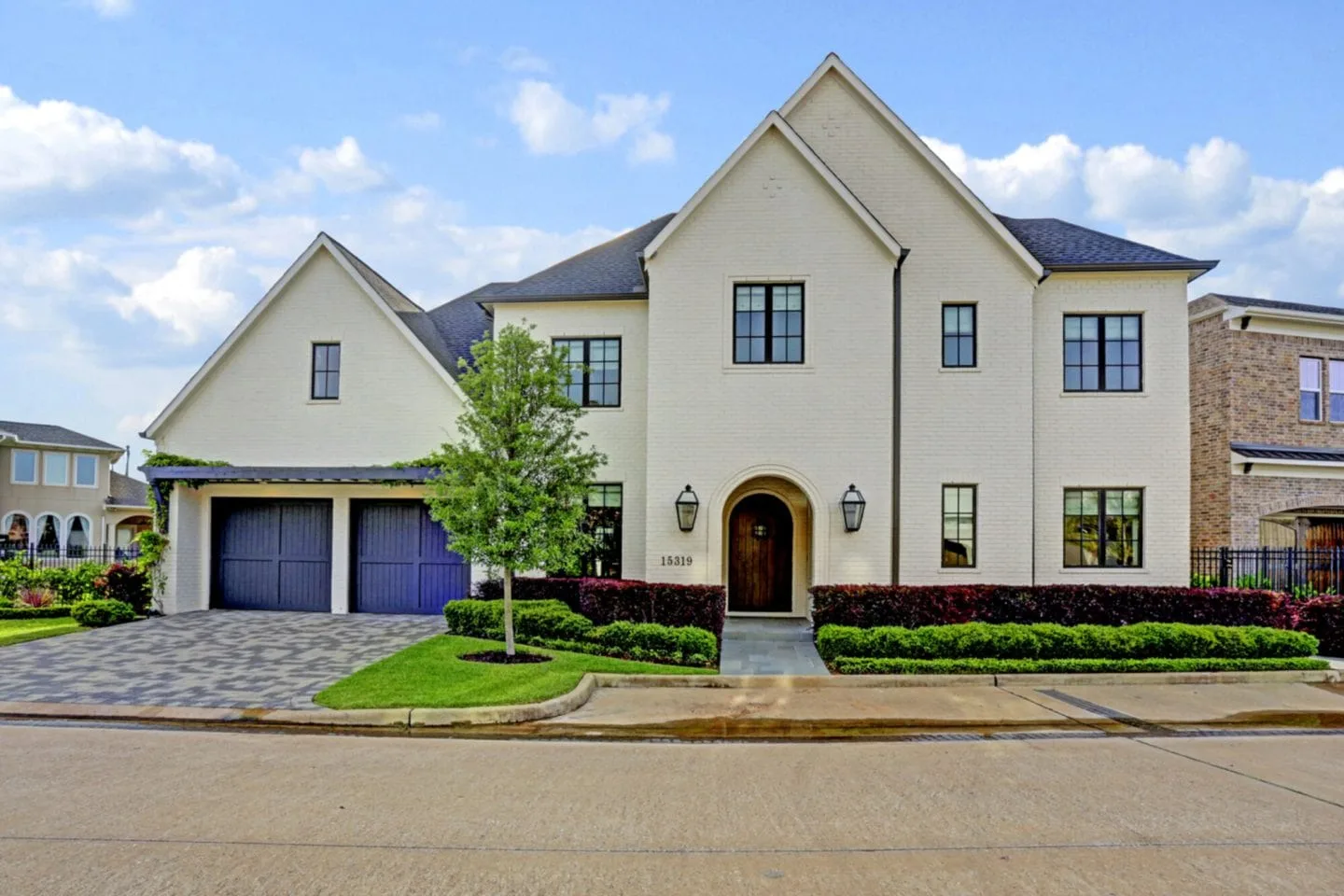 The pop of color with orange on the front door makes this VERY modern home in Austin, Texas much more inviting. Also notice the tone-on-tone lighting– it just blends right into the exterior, which I like as an unexpected surprise.
The house interior is also swoonworthy if you love a modern aesthetic.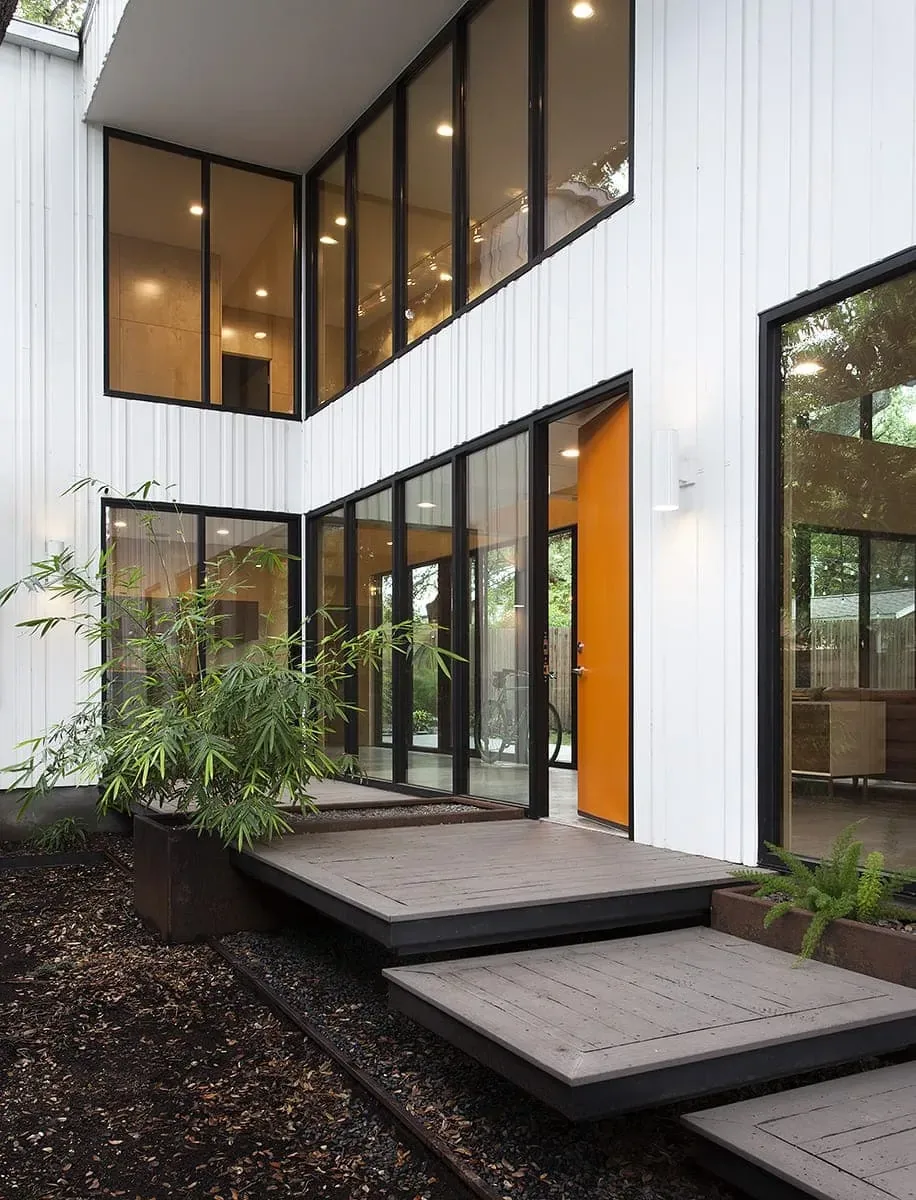 Lighting Options for White Houses with Black Trim
I dream of the day I will have a home that has gas lanterns in the front. As you can see, the oversized lanterns on this sprawling Beverly Hills Transitional home are charming and accentuate the stone cladded entryway.
I love how many black windows the facade of this home has, too. It's clean, timeless and sheer perfection.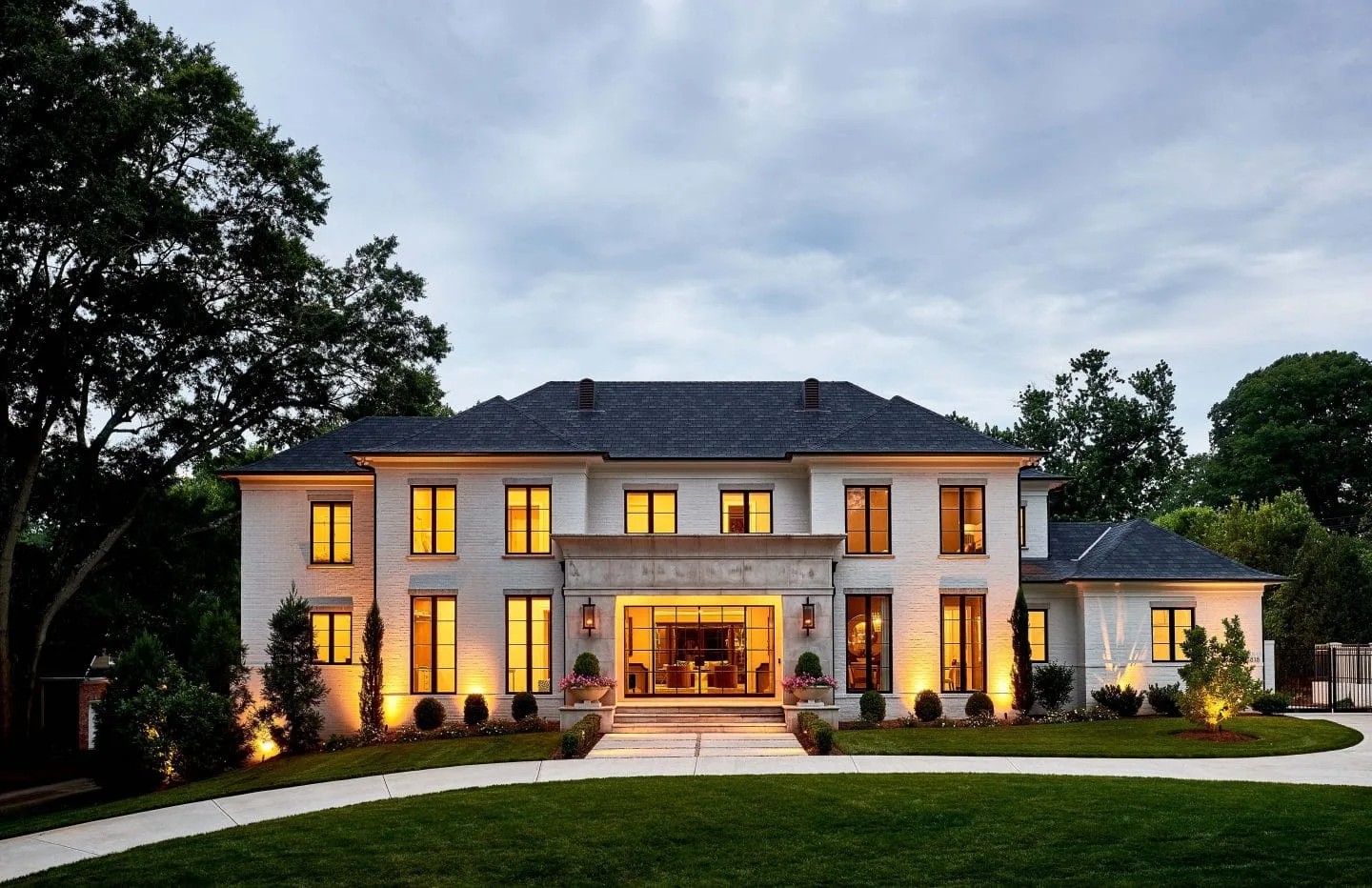 In homes that are quite large, exterior lighting is all about scale. The grandeur of these lights makes an impact, and I also noticed how the address numbers are under the lantern on the left. Again, these subtle but meaningful architectural details really elevate the home's exterior.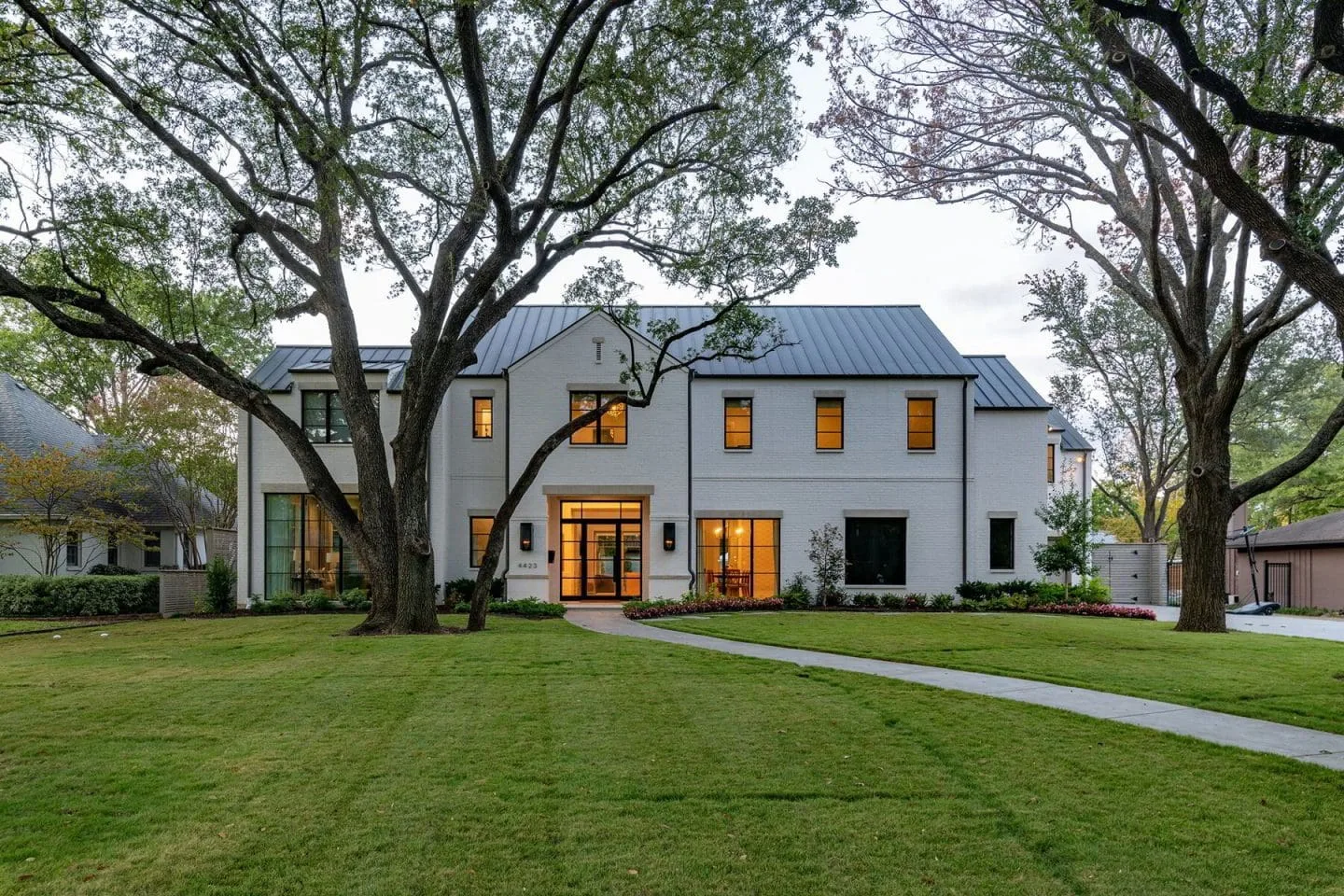 Mediterranean Style Home
Proving that a white house with black trim isn't exclusive to modern farmhouse, this Mediterranean style uses what looks to be a slightly off white color. I love how the garage door breaks up all the stucco and the tiny pop of pink in the landscaping also adds to its charm.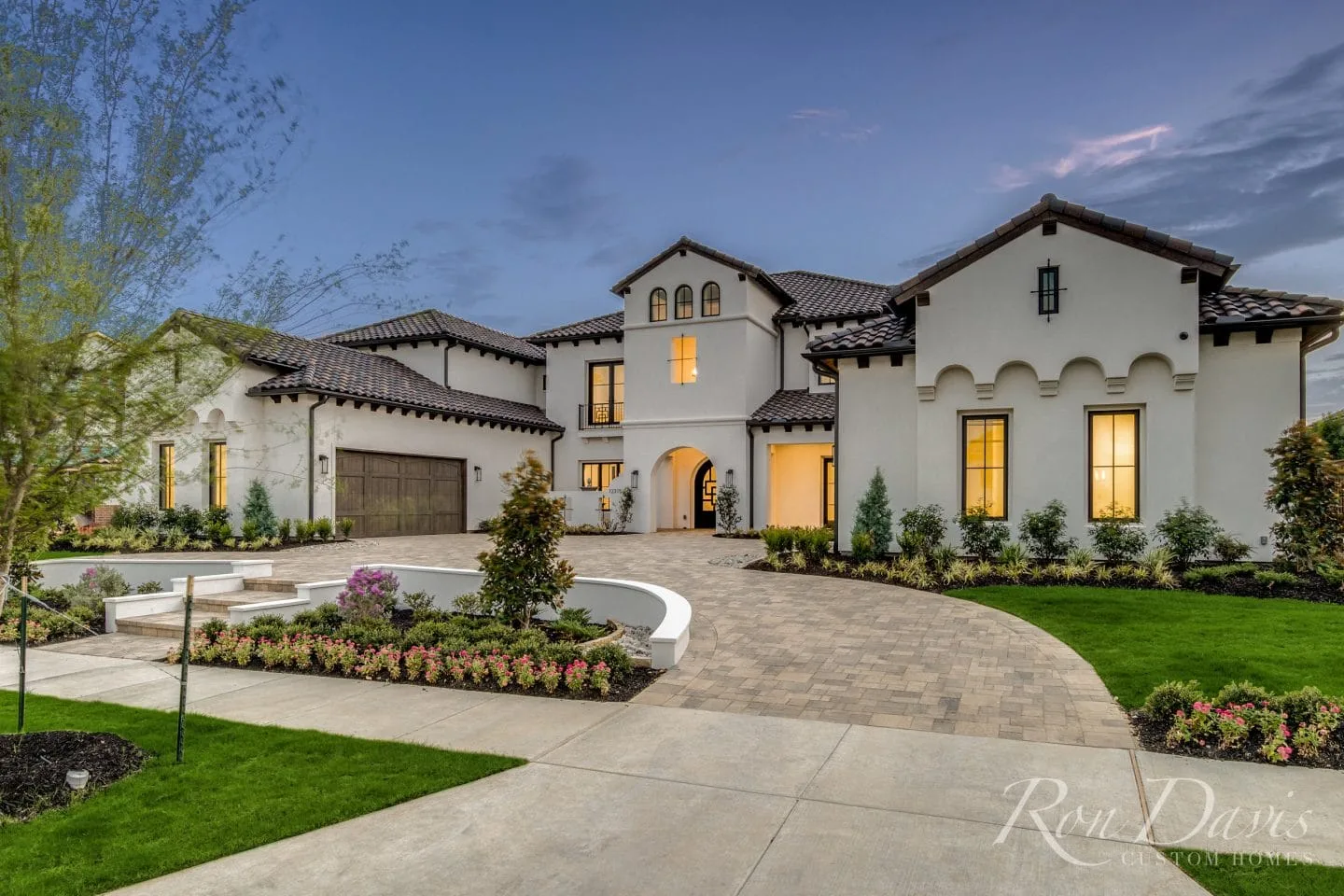 Another lovely white exterior black trim Mediterranean style home is this luxury build with a jaw dropping entrance to the home. It looks like a fancy museum, but it is someone's jawdroppingly amazing home in Westlake, Texas.
Also notice the arched windows flanking the front door- I appreciate this approach rather than the common use of sidelight windows. My fave front porch of the bunch, but I'd add in some seating to make it a bit more inviting.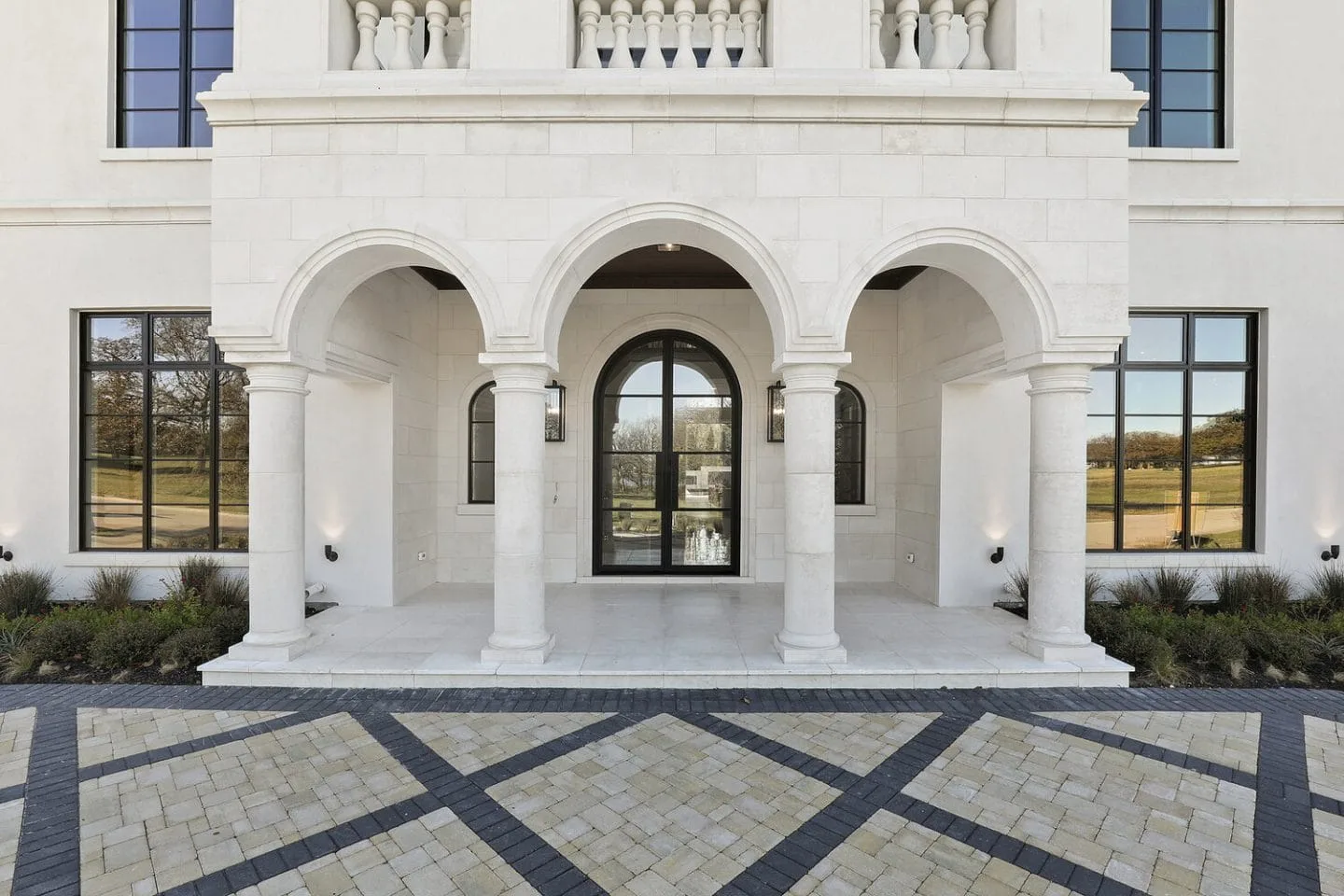 White Painted Brick Home
The metal roof pops on this painted brick home really sets it apart from other white brick exteriors. This home has a modern look while also giving a nod to its likely traditional roots.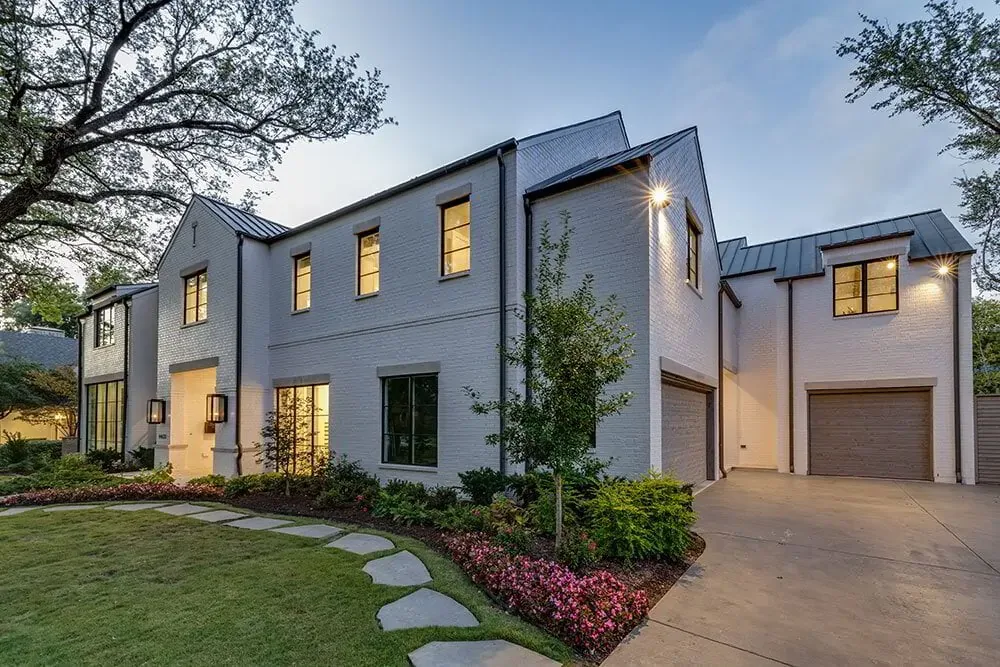 White Exterior Paint Color Options
It's a little crazy how many shades of white paint there are out there, right? You have to think about undertones, how well it'll coordinate with the trim color, front door color, the overall style of the home and even how it'll look in relation to your neighbors' house.
To me, these are the top 5 choices for a white exterior paint colors if you're wanting to pair it with black trim.
Snowbound by Sherwin Williams
Alabaster by Sherwin Williams (Warm white)
White Dove by Benjamin Moore
Pure White by Sherwin Williams
Chantilly Lace by Benjamin Moore
I will note that alabaster is a hair on the warm, creamy off-white spectrum, but it's the white I have used on all the white walls in my home and it looks AMAZING with my tricorn black doors.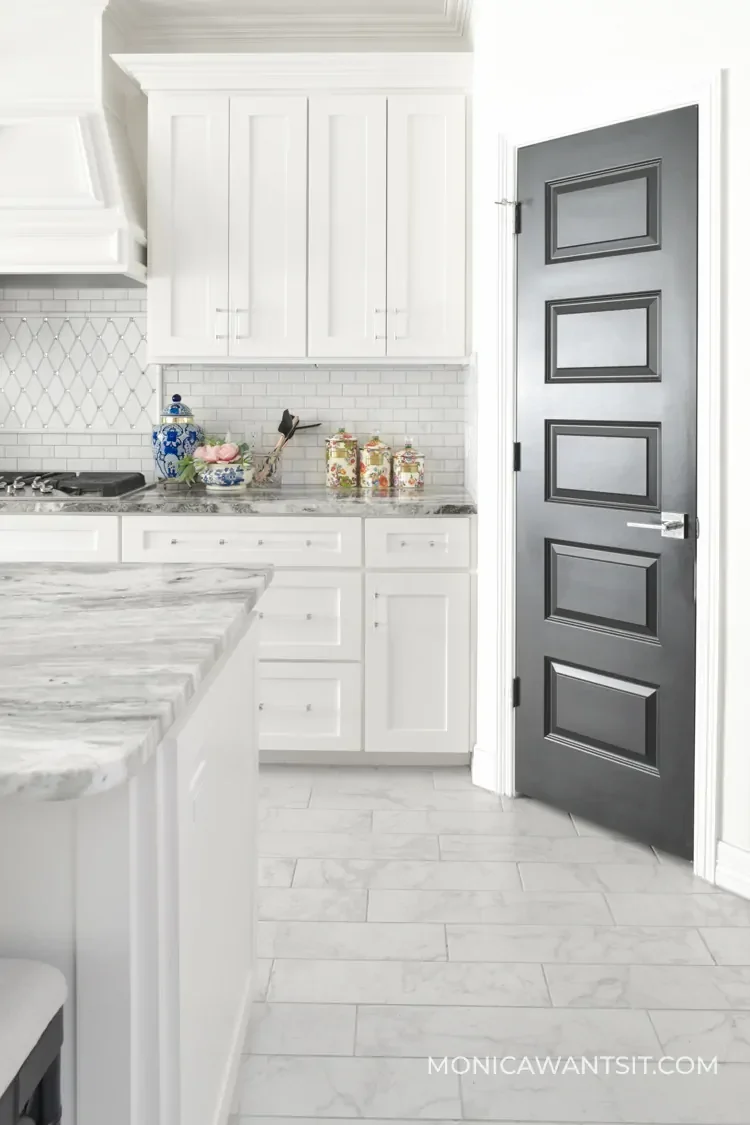 White House Black Trim Exterior Paint Color Examples
Whether you want a white brick house or white siding, these paint color examples below will help you refine your paint selection and make your DIY home improvement dreams come true.
The paint color is listed under each photo.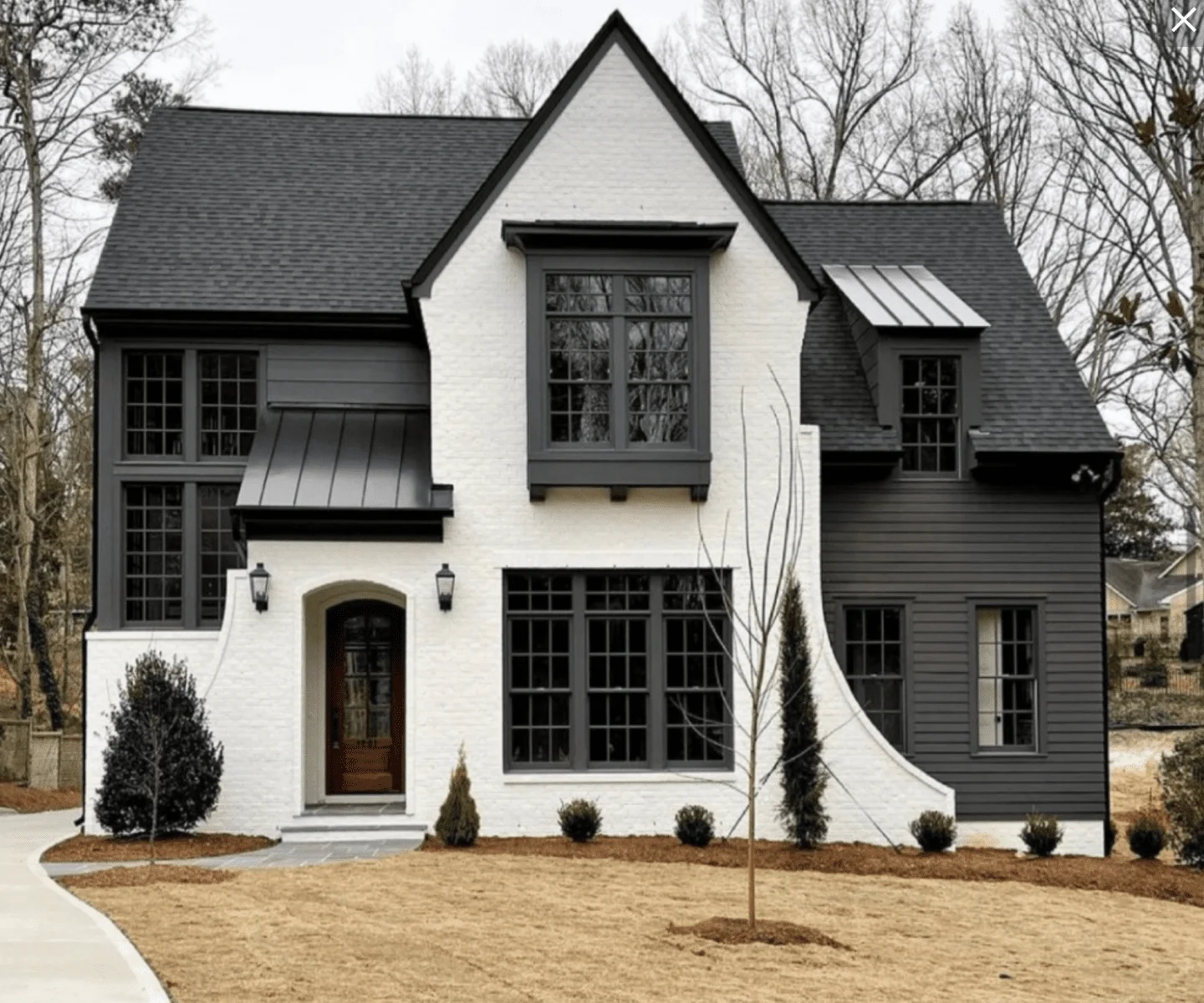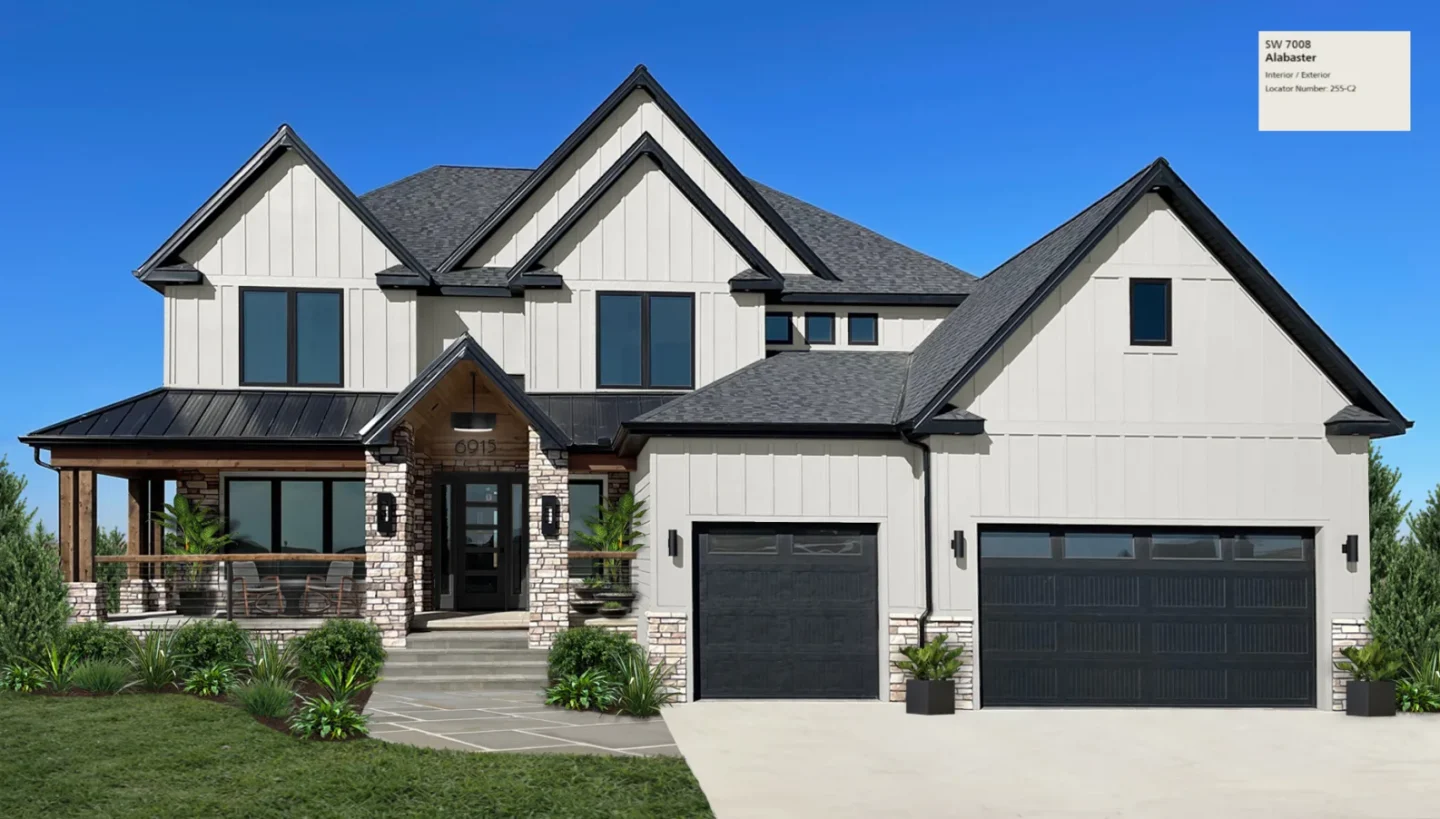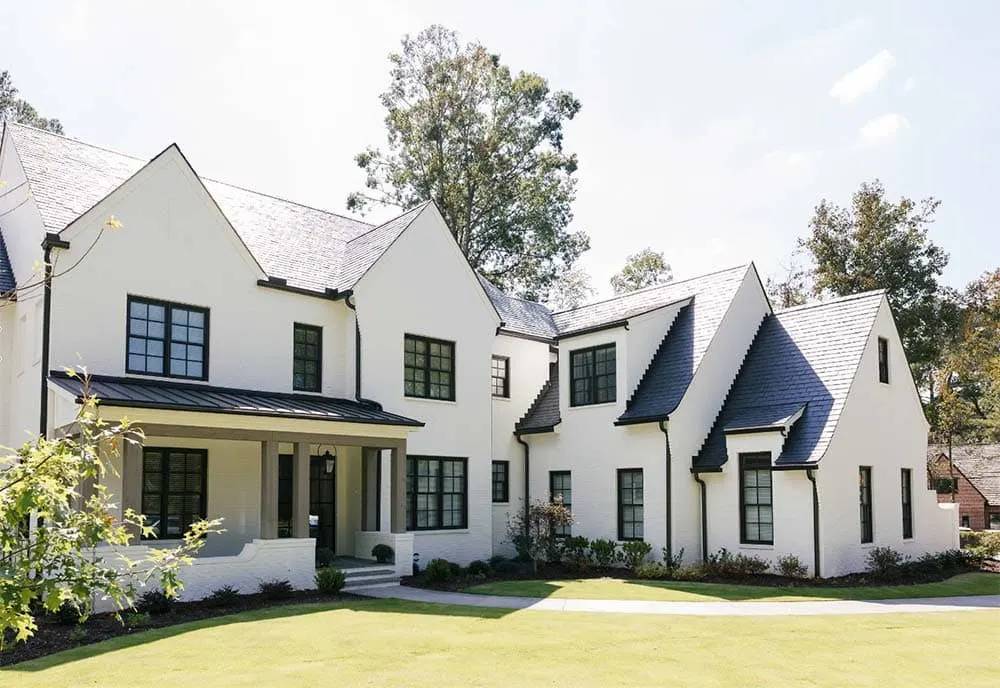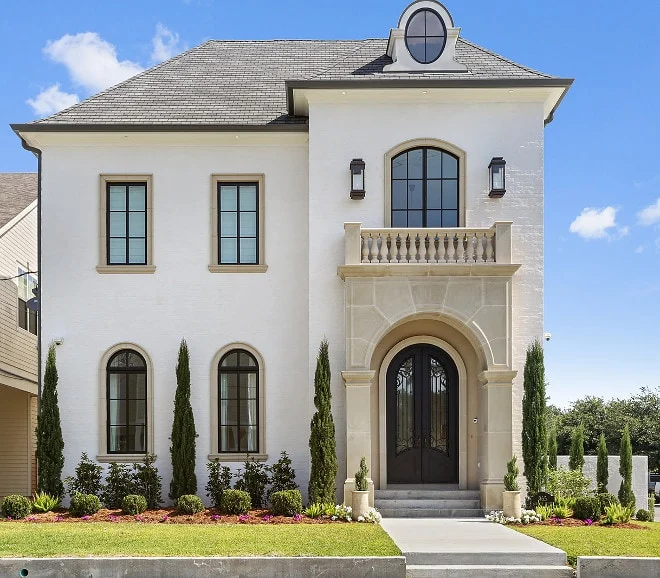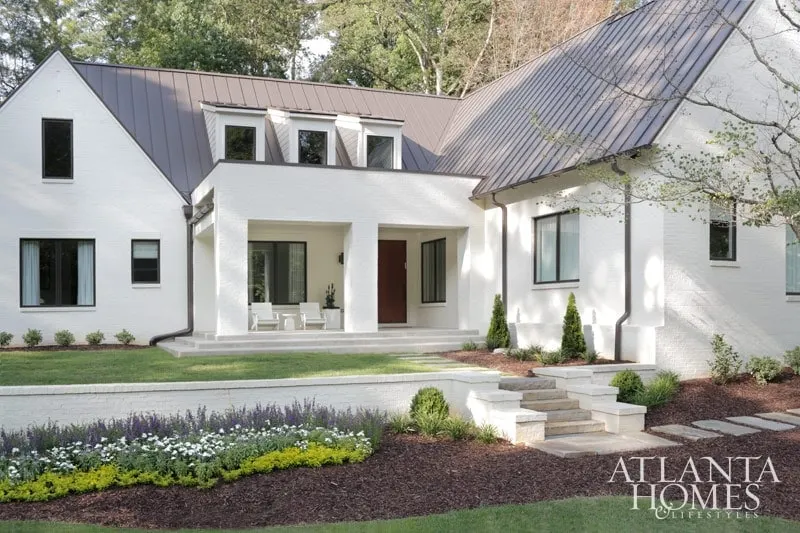 Black Exterior Trim Paint Color Options
Much like white, there are a lot of black paint color options. If you think black is black is black… think again!
I've written about my favorite black paint colors for furniture, and essentially it's tricorn black. End of story.
But truly, tricorn black is an excellent door and trim paint color because it is a true black with no undertones.
Black accents are a great way to add some drama and interest to your home whether it be outside or inside. Now, here are some other good options if you're wanting a very nearly black paint color but not literal black.
Tricorn Black Sherwin Williams (Popular choice)
Iron Ore Sherwin Williams.
Black Magic Sherwin Williams.
Soot Benjamin Moore.
Black Beauty Benjamin Moore
White House with Black Trim Ideas & Paint Color Examples
These black trim exterior colors are a great launching point if you are on the prowl for swatches to try for your next painting project.