Happy fall! It means nothing here in South Texas, but on the blog it means it's time for my 2020 fall home tour. A big thanks to Jennifer and Jewel for inviting me to be part of their It's a Colorful Life fall blog hop.
As excited as I was for fall to get here, once I started to decorate for fall I realized it was more about the pumpkin flavored food/drinks/treats and fall scented candles than it was about pumpkin decor.
Truthfully, my fall decor this year is rather minimal because since late August I've been on a home metamorphosis of sorts. My colorful chinoiserie vibes are kind of blending and getting toned a bit by my French Parisian decor influences.
My home is definitely a bit of a chinoiserie, Francophile mash-up with a dash of moody florals and I couldn't love it more! This also means it is a massive work in-progress where the only room that feels "done" is my home office which I just made over in late August.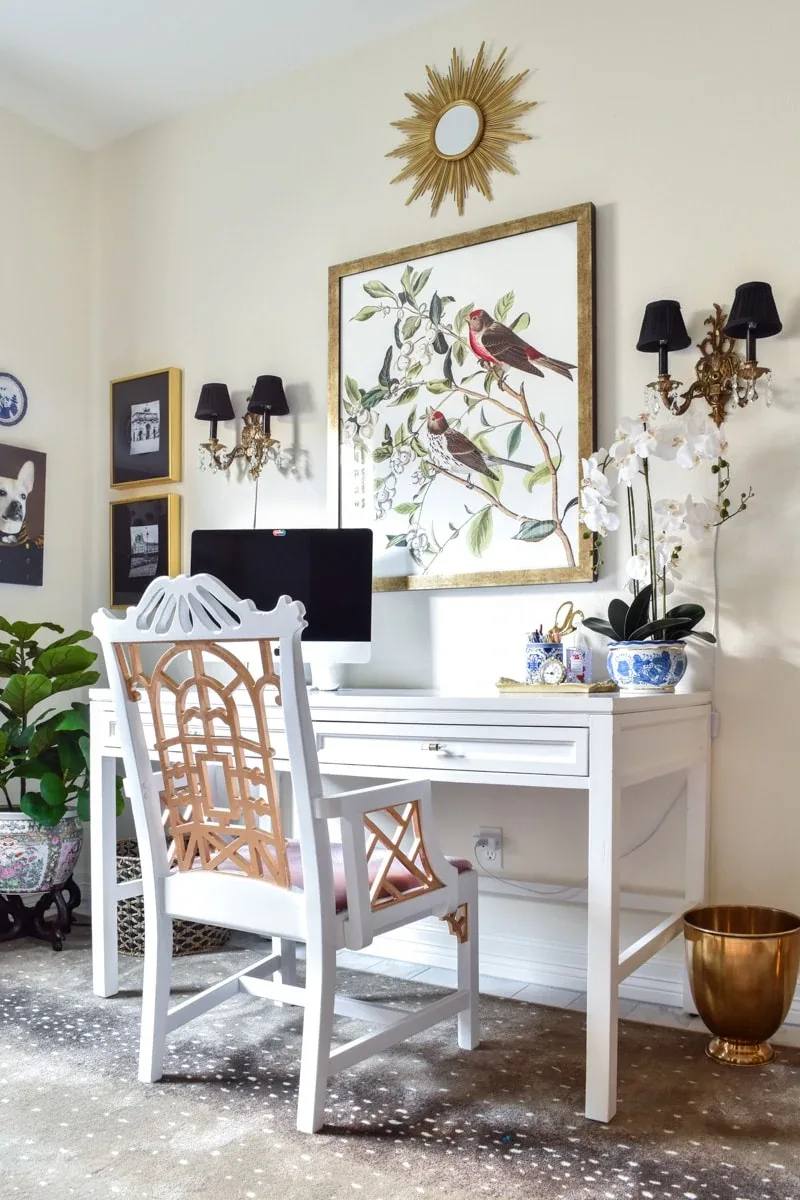 My home is technically always a work in progress– I already changed the DIY abstract gallery wall…
To this new gallery wall which uses some photos from my Paris trip earlier this year AND some gorgeous free museum art! Yes, FREE art you can download and print at Walgreens, CVS, Costco or wherever you want.
Today I will showcase the small pockets of my home that do have some fall decor, so I hope you feel inspired someway to create gorgeous little vignettes in your home, too. I pinky promise I will be more on my game for Christmas home tours with more spaces completed.
Fall Bar Cart Decor
Right next to my kitchen is a little open area that I put my bar cart in. It's super close to the fridge to grab ice for an adult beverage, and this bar cart is one of my absolute favorite places to decorate seasonally.
Since the last time I showed this bar cart on the blog, the mirror above it has changed! I snagged this Anthro dupe at Kirklands for a steal, and then I gilded it to make it more luxe and gold.
I used one of these beautiful DIY chinoiserie pumpkins that I made using my Cricut Joy. Can you believe it was once a cheap ceramic Goodwill pumpkin? The power of spray paint.
I'm loving this simple approach to seasonal decorating- a few things layered in with everyday decor makes for stress free decorating.
Decorating a Wide Console Table for Fall
Ok, technically, this is a dresser but I am essentially calling it a console table because it is wide and in my living room.
People went NUTS over this dresser makeover on Instagram, and it's all saved to my highlights if you're curious about the process. But Cliff's Notes– I snagged this Henry Link Bali Hai dresser for $75 on Facebook Marketplace, painted it, gilded it and made it taller (I added casters not seen below).
I finished this dresser at the end of July, and by mid-August, I had it decked out with fall decor. But I do think the gorgeous moody florals, cranberry colors and leopard translate well to a fall color palette, too.
For the fall transition, I added in more rescued Goodwill pumpkins that I spray painted and added vinyl to them. I do not ever do orange for fall, so it's fun to use other colors that are a little unexpected.
This area yet again underwent a massive change that I'll be writing about later this week on the blog, but if you follow me on Instagram, you likely already know what it is. Best $2 I've spent lately, right?
Dining Room Decor
My dining room has undergone probably the most dramatic makeover recently in my home. The giant black and gold etagere has been relocated to my home office, where it is a lovely showcase piece that provides a ton of storage.
In the dining room, I added moldings to the giant blank wall in that space, and also added in a faux fireplace mantle area that has been a DELIGHT to style.
Along with new moldings came new upholstery on my dining chairs kindly gifted by the lovely Maura at Down Filled Designs (they are self-professed fabric snobs who sell designer fabrics at bargain prices!)
I've shared several (ok, MANY) sneak peeks on Instagram of this yet to be finished room, but since the space is technically not done, so I have yet to do a full room shot.
I recently did a styled magazine shoot and splurged on flowers, and they looked so STUNNING here for about 4 days until they wilted.
Our tiny 36″ dining table is perfect for a family of two, but it is challenging to do a full blown tablescape, but I did share some tips about how I make it work in an IGTV video.
Over in the other corner of my dining room sits this lovely $10 dresser I snagged at a church rummage sale. I documented and saved the entire transformation on my IG highlights, and this dresser is truly made of cardboard and prayers.
It's a piece of junk in terms of craftsmanship, but it sure does look pretty, doesn't it? For $10 I guess I can't complain too much.
I know that was just essentially a series of sneak peeks or vignettes, but I did do a full VIDEO tour of my living room last month that you can checkout to see even more of my fall decor.
I thank you so much for coming over virtually, and if you want to see more of my home definitely make sure to subscribe! I have some AMAZING content lined up that you won't want to miss. I now am thrilled to send you over to my friend Lori's blog/home where I know she will have many colorful, chinoiserie things to inspire you!
It's a Colorful Life Fall Home Tour Lineup
MONDAY:
TUESDAY:
WEDNESDAY:
FRIDAY:
Join us on Instagram by following #ItsAColorfulLifeTour