Hi, friends! If you're here visiting from Setting for Four, welcome to the 2019 My Home Style Blog Hop: Christmas Tree edition hosted by Casa Watkins Living.
Soooo…I know it's been a long while since you all have heard from me here on the blog, and before I dive in to today's post, I wanted to give you all a bit of an update.
This is probably one of the few holiday posts I will do this year…truthfully, I haven't decided yet if I'm going to decorate for Christmas this year.
You see, my dad died on Christmas Day when I was 15 in a tragic house fire caused by a Christmas tree, and then a few years later my grandmother passed away on Christmas Eve when I was 21. I know, what are the chances…
This year, I've really struggled with depression and anxiety. It's something I've struggled with all my life, but it really got very serious for me in August of this year.
Since then, I've been put on medications that have improved my mood and I feel better overall. I am so grateful to feel more like myself.
If you feel depressed, I highly encourage you to seek help. Truly, I mean it.
I've also started seeing a therapist to cope with the losses I've been through and talk through some things I don't feel I've ever said out loud, and also to gain a new perspective on things in my life that are negatively affecting me.
Currently, I can't keep up with holiday decorating, social media, weight loss, mental health, a 40 hour full-time job, aging dog and life.
The thought of pulling out the holiday décor this particular year, getting it all photographed, sharing it on social media, commenting on every blog post in every tour I participate in is overwhelming.
However, I didn't get to fully share my beautiful smaller Christmas tree that I had in my office at this time last year, so I did decide to participate in this blog hop.
I'll write more about my future plans for this blog at another time, but for now, I will focus on this floral, fun and festive Christmas tree.
Why Choose a Potted Christmas Tree?
I chose the words floral, colorful and glam to describe the style of this Christmas tree, but more on that in a minute.
If you are tight on space or just like the look of a smaller Christmas tree, I would highly suggest opting for a 6-7' potted Christmas tree.
What I like about potted Christmas trees is that you don't need a tree skirt and they easily can be fit into corners, beside a chair or in non-traditional spaces like a dining room where you might not be able to accommodate a super wide tree.
The other great thing about this style of Christmas tree is how polished and neat it looks.
Floral Christmas Tree Décor Tips
Here are five tips for creating a floral, colorful and glam Christmas tree that will spark joy everytime you see it.
Use a variety of flowers: don't limit yourself to Christmas or "seasonal" flowers. This tree uses some fall and spring blooms to add a variety of colors and textures to the tree.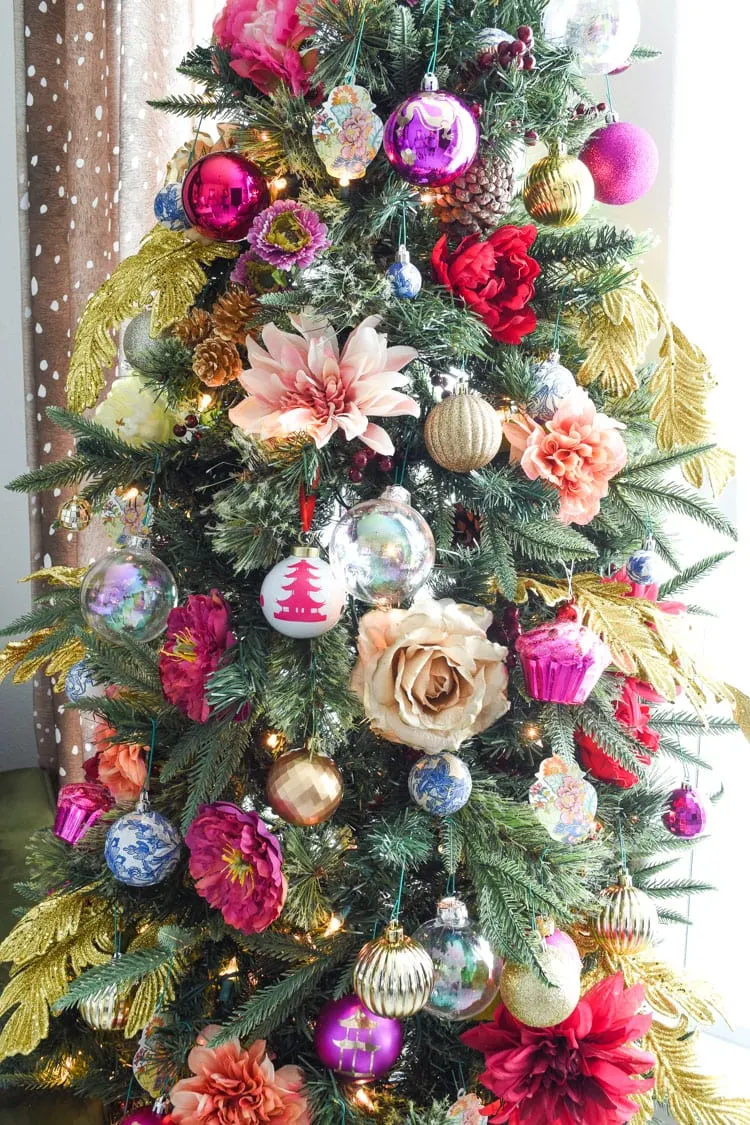 FOR DRAMA use a variety of colorful, shiny/matte/glittery ornaments: When using florals, you want to complement them by using bold complimentary or contrasting colors (depending on your style). I find using ornaments in a variety of finishes adds dimension to the overall look.
FOR SIMPLICITY: If you love a more simple, chic color scheme, opt for one color plus silver, gold or white. You can't go wrong with that formula. Hot pink and gold, blush pink and copper, or even gold and white would look lovely.
Get crafty: craft supplies such as vinyl or washi/scrapbooking tape are so affordable and an easy way to add decorative elements to your plain ornaments. I added some chinoiserie design elements to these ornaments below to give them some pizazz.
Or you can always get old school crafty with mod podge and napkins to create some custom ornaments- super cheap and easy! Here's my tutorial for DIY blue and white chinoiserie ornaments.
Go big: I know on a small tree you may think you don't need (or can't fit) a ton of décor, but these smaller trees are perfect for creating a statement.
My tip, and one my husband can attest to hearing me say on several occasions, is that you'll know when it's enough when you feel slightly uncomfortable about how much décor is on the tree.
Basically, don't be afraid to really go for it if you have glam and maximalist tendencies.
Speaking of which, I now hand you over to my friend Jess at Domicile 37 for what is sure to be a unique, haute eclectic tree that'll knock your socks off! Enjoy!
Other Christmas Tree Ideas
I've decorated plenty of Christmas trees over the years. Here's last years linked to their respective blog posts where you can find more pictures.
Happy holidays to you and yours!
My Home Style Blog Hop 2019
Monday
Casa Watkins Living // Up To Date Interiors // Delineate Your Dwelling // Thou Swell // House Of Hipsters // French & French Interiors // Haneen's Haven
Tuesday
Two Twenty One // Jeweled Interiors // Dimples and Tangles // PMQ For Two // Kaleidoscope Living // Reality Daydream // Heathered Nest
Wednesday
Setting For Four // Monica Want's It // Domicile 37 // The Happy Housie // Lovely Indeed // Lemon Thistle // Amber Oliver
Thursday
Taryn Whiteaker Designs // Cherished Bliss // Lovely Etc. // The Honeycomb Home // My Sweet Savannah // Cuckoo For Design // Kate Decorates
Friday
Our Fifth House // Kelly Elko // Daly Digs // Tag & Tibby // House Homemade // Lolly Jane // The DIY Mommy