I am still hunting for a lampshade for my Goodwill/Target reject shabby chic lamp that I mentioned in this post.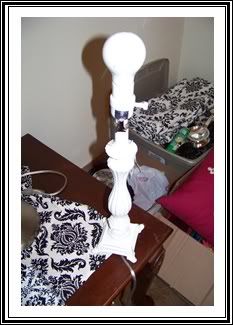 It has a crack all around the bottom part, which I will show you in a bit. My plan was to cover it with the spackle stuff that comes in the giant tube for like a buck at Wal-Mart, but I am lazy and I like bows. This morning I had an epiphany and remembered I had 2 fabulous, free items laying around. The first is a long white satin ribbon that was wrapped around a Macy's gift we got for our wedding (love satin ribbon…swoon) and the sparkly brooch that was on our unity candle:
Armed with 2 of my favorite things (sparkles and satin) I decided instead of fixing/filling in the crack, I was going to cover it up.
Picture of the crack.
Trimmed the ribbon.
Made the bow have pretty "bow" ends, and there you have it. A 2-minute lamp makeover that was FREE. My secret to making perfect pretty bows is to tie them using the bunny ears method as opposed to the loop-and-swoop. Very scientific, I know.
Sometimes it's the random stuff you already have that can add a bit of pizzazz to a new item.
Now if I could just find a lampshade.