I love using a variety of Christmas tree filler ideas to make my decor look extra festive, incorporate my color palette, and add a bunch of style to my living room and dining room during the holiday season.
I've rounded up a bunch of easy, affordable tree filler ideas that will work beautifully whether you choose to have an artificial tree (faux tree) or a real tree.
Over in our house, we opt for an artificial Christmas tree because I love how simple it is, plus we get to reuse it year after year. I'd love to scent of real tree, but the thought of all those pine needles on my white floors makes me itch!
Additionally, these tips can be applied to any size tree you have whether it be a giant 12-foot indoor tree or a simple tabletop Christmas tree (which are great in foyers or in a children's room, though you may opt for shatterproof ornaments if doing the latter).
Before we dive in to my suggestions for creating the most epic tree ever, let's start off with some basics that I prescribe to for a classy, stunning tree. Affiliate links may be used in this post- thanks for your support of my small business.
---
Basic Christmas Tree Must-Haves
Color Scheme
Loosely choose a color scheme to help create the perfect tree for your home. I like to have about 2-3 main colors in mind, then I'll add in a metallic, glittery, or sparkly accent for some glam, and then the tree fillers bring it home for the finishing touch.
Having a color palette in mind will help narrow down your Christmas tree decoration ideas and keep you on track. I also find having some parameters really helps when you're wanting to create a beautiful look that looks curated.
Special note about decorating a white Christmas tree: these trees are begging for a fun pop of color, so if you like to be creative and eclectic, a white tree may be a good option for you.
A flocked Christmas tree may benefit from a more restrained and simple approach to really let the beauty of the tree stand out. I loved the flocked tree I did a few years ago (see above) in our primary bedroom that had gold and silver ornaments for a monochromatic look.
Tree Skirt or Tree Collar
First thing I do when I set-up my Christmas tree is set the tree stand or base in place AND set-up the tree skirt (or tree collar). I find this approach helps with two things.
One: you don't end up having to crawl around on the floor after you have your tree decorated and try to finagle the skirt into place. (Ask me how I know this…)
Two: you can layout the Christmas tree skirt and ensure you have plenty of room for the skirt to lay as you wish AND for you to fit in all those wonderful presents! This is helpful if you have a small space or are placing your fancy tree into a corner like we usually do.
Classy Tree Topper
Last year, we added what I affectionately call our "classy Charlie Brown pre-lit tree" to our holiday stash, and I chose a big bow as the tree topper from Dillard's holiday collection in 2022.
I think choosing an impact piece for the top of your tree immediately adds a bit of grandeur and an elegant look, especially to smaller trees, and it can also add a bit of height if you choose wisely.
If you're the type to love the classic look of an angel or star tree topper, that totally works, too. Bottom line is to decorate with what you love.
---
Budget Friendly Christmas Filler Ideas
Faux Florals: Bouquet Style
You all know I love decorating with faux flowers! I will admit I've pared down my collection of faux florals when it comes to everyday home decor, but during the holiday season, I find faux florals can make for a gorgeous tree when paired with larger ornaments.
One year, during the peak of my Chinoiserie Chic phase, I did a colorful floral Christmas tree using jewel tones. This tree made a huge statement, but I want to point out it was just a 6′ slim potted tree.
Packing this small, slim tree with florals was an easy way to hide unsightly gaps AND make it much more fun and bold.
The good news is artificial flowers are super affordable, come in different colors, and can make a huge difference in setting the scene for a festive season. You can find floral bunches, bouquets, stems, etc. at your local dollar store or at a craft store such as Joann.
Joann tends to have epic end of season sales on faux florals where you can pickup flower bunches for CHEAP! I'm talking buy one, get three free kind of cheap. It helps to plan ahead for next year and pick some up in your color(s) of choice or just buy white or ivory florals that easily match any Christmas tree theme.
To turn these bouquets into individual floral picks or stems, just use a pair of heavy duty scissors or floral wire cutters (easily found at the dollar store) to snip them off the main stem and voila… you have instant floral picks to insert as you wish.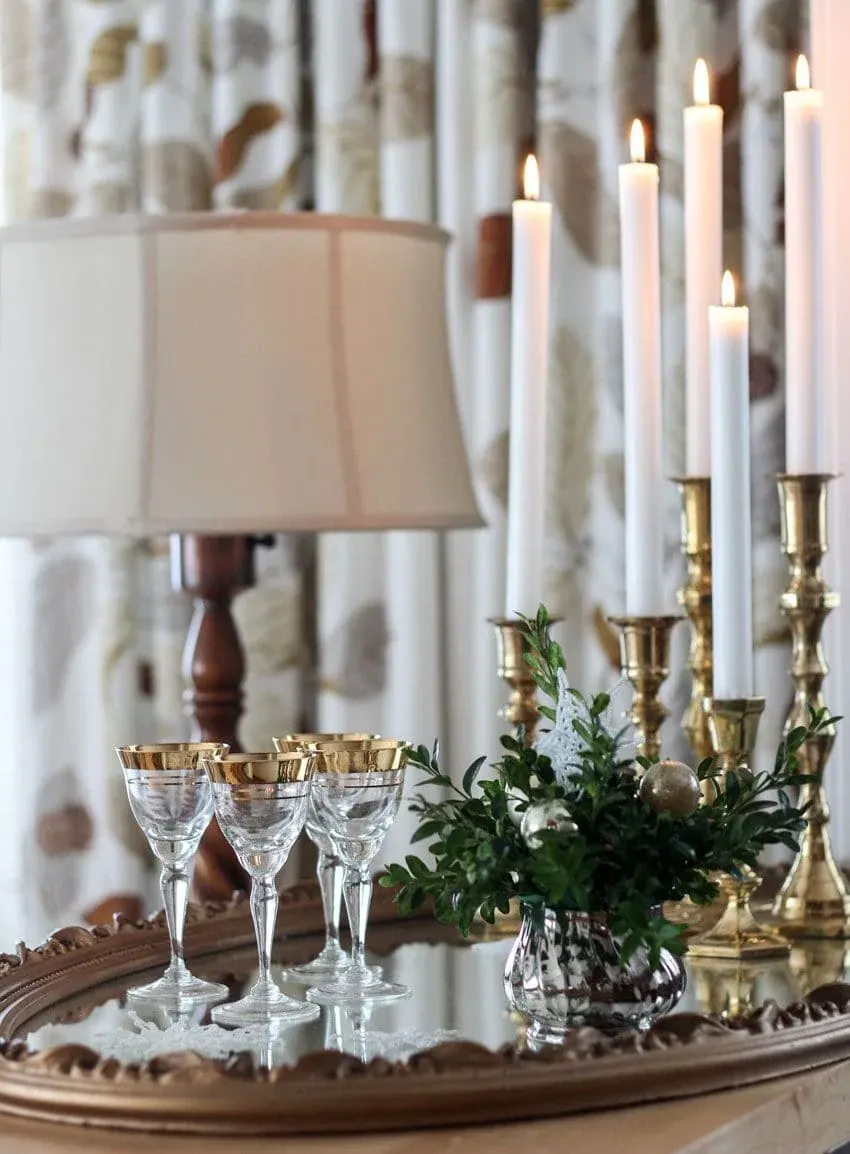 29+ Vintage French Decorating Ideas
Check out this post that features creative ideas for secondhand, vintage items to look for to achieve the french aesthetic.
Faux Florals: Floral Picks
The other style of faux florals that are common in-stores around the holiday season are floral picks! Michael's is the first place that comes to mind for this particular style.
In addition to flowers, you'll likely also see glittered or flocked pine cones, fancy Christmas tree branches with snow or sparkle, or giant poinsettias, gifts, or charming sparkly birds priced from $1-$5 per pick.
Whether you want to add natural elements or tons of glam… there's a ton of floral pick options for you.
Back when we were in our first home, I bought several floral picks of white flowers (magnolia flowers) from Dollar Tree that easily clip onto branches (if they don't have a clip, I love to just layer the picks in and use a bit of green floral wire to secure, if needed).
At the time, I had a cheap tree with skimpy branches, so these florals were a great way to hide all those bare spots and create a fuller tree.
Wide Ribbon: Solid Colors
I have developed the easiest way to decorate your Christmas tree using ribbon. The reason I am so obsessed with my easy, affordable method is that you don't waste time or ribbon looping ribbon around a whole tree… you're using individual pieces to achieve the very same look.
You can get the step-by-step instructions for my easy, no stress, no fuss ribbon method by checking out this blog post.
Ribbon can get pricey, especially the wide and ornate kind, so making it go further can be a great way to use ribbon without breaking the bank and achieve that luxe, full tree look.
Wide Ribbon: Patterned or Striped
Using wide ribbon can help add in sparkle, color or even pattern to your tree.
I love this black floral ribbon (seen below and in my post about creating a romantic French Christmas tree) I picked up during a going out of business sale because it legit looks like a tapestry!
I love to keep an eye out for unique ribbon at thrift stores and estate sales, but I'd be remiss if I didn't give a shout out to Sam's Club who has GIANT ROLLS of ribbon for every season at low prices.
Walmart and Target also both often carry affordable black and white wide ribbon options each year, and in my opinion you can never go wrong with black and white.
Thinner Ribbon: Create Layers
Much like creating a chic decor vignette, creating layers in your Christmas tree decor can elevate the overall look, so don't be afraid to layer ribbons together. This is a great idea if you have some boring ribbon you want to spruce up.
I took a wide mesh glittery ribbon and layered it with a thinner ribbon for a custom look. You can staple the ribbon pieces together or use hot glue or double-sided tape. Anything goes, so use what you have.
Thinner Ribbon: Create Bows
Walmart tends to have these mini bows that come tied to a cardboard card and are sold for a few dollars. Totally an easy way to get a bunch of tiny bows for not much money.
However, if you have thinner ribbon and some time during a lazy weekend, you can make a bunch of bows on the cheap. I recommend making extra bows to use to add some pizazz to Christmas presents.
To keep the bow together, you can use metallic floral wire, metallic twist ties, mini brooches, buttons or a contrasting ribbon.
I love using mini bows to create a balanced look if I'm aiming for a less is more vibe, like I did in 2022. I wanted the Christmas lights, crystal ornaments, and the rustic tree to be the focal point, but I also wanted to add in some of my classic black and white decor.
Giant Ornaments: Add Color
I know you're thinking, how is a giant ornament a tree filler, but I'm talking BIG ornaments (6″+) that take up a lot of literal and visual real estate.
Whenever my Instagram community reaches out about not loving the look of their Christmas tree, I often find it's because it's nothing but a collection of homogenous smaller ornaments.
Nothing wrong with that, but I promise you adding in some oversized ornaments will add interest and dimension to your decor.
Giant Ornaments: Embellished & Bedazzled
If they're a little plain, consider using some craft glue and picking up some appliques to zhush them up a bit. You can often find appliques for a few bucks online or at craft stores near you.
You can also glue on rhinestones, sequins, cover them in fabric or ribbon, or keep it super simple and create some DIY Kate Spade inspired ornaments using electrical tape.
Beaded Garland
If you have a stash of beads from Mardi Gras, now is the time to put them to good use! Or, if you're like me, just snag a few strands in silver and gold from Walmart's holiday decor collection (you may also want to check Dollar Tree or buy in bulk here).
I love the way beaded garland catches the sparkle and light from the Christmas tree and adds in a bit of shine and luster.
My recommendation is to use this type of garland on the ends of branches to create gentle swags to fill some of the sparse spots on the tree.
Craft Mirror Tiles
Using craft mirror tiles is a way not just to fill your tree, but to really AMP UP the sparkle of the lights on your tree by creating a serious of reflections.
The key to making this work is to strategically place the mirrors near or in front of a light so that the light can reflect and bounce off the mirror. You can glue an ornament hook to the back to secure on a branch.
I think this type of Christmas tree filler would look stunning if you're opting for a subdued palette of white, gold, silver, etc. but on the flip side, this approach could look stunning when paired with deep colors like maroon or dark green.
For a lazy version of this, opt for incorporating lots of disco ball style ornaments instead.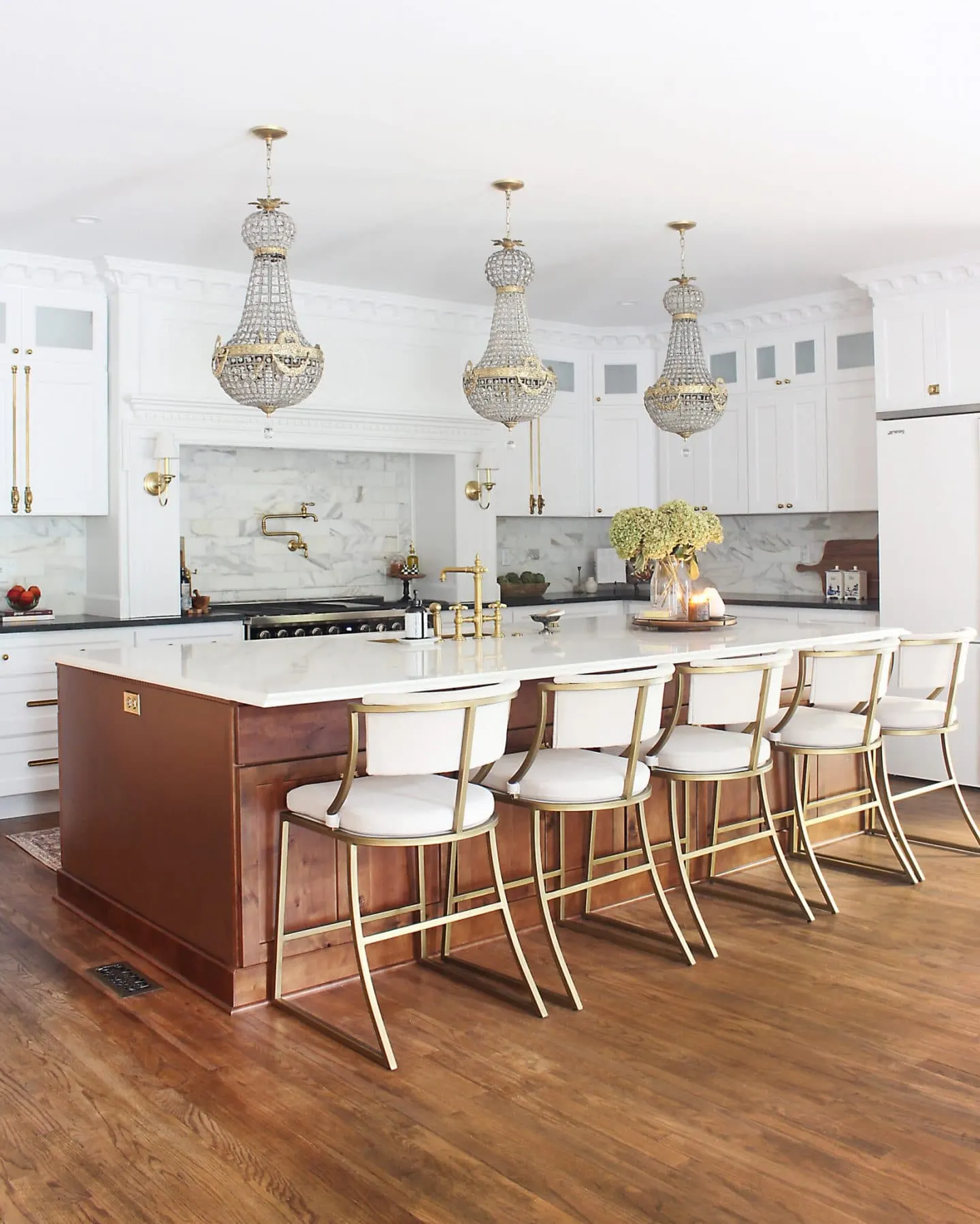 Need Kitchen Island Centerpiece Ideas?
This post features over 40 kitchen island centerpiece ideas for any holiday, season or decor style.
Chandelier Crystals
Every year I take a peek at the newest Waterford or Swarovski Christmas ornaments and promptly nope right off the page in hopes I can snag them on clearance after the holiday season.
Rather than paying upwards of $75 for one sparkly ornament, why not spend $10-$20 on 10+ sparkly ornaments by buying some chandelier crystals.
They often come with a few rings attached, so you can literally just place them on the tree and be done with it (or place the rings onto an ornament hook).
The great thing about chandelier crystals is they come in a variety of sizes, shapes, finishes and colors at relatively affordable price points when compared to traditional crystal holiday ornaments.
Mini Wreaths
I adore mini wreaths to decorate unexpected places of my home, like the back of a dining chair or stool.
But they can also look so pretty in a Christmas tree and break up the sea of ornaments.
Mini wreaths can usually be found sold in pairs at major retailers or dollar stores, and it's super simple to customize them to your decor theme or color scheme with some ribbon, small florals, or adding in some small brooches.
When out on the prowl for some mini wreaths, don't overlook seasonal napkin or candle rings that may be able to serve the same function and get you more for your money since they tend to come in packs of four.
If you're crafty and love to DIY I have a jeweled mini wreath tutorial for you.
You could always get some small wreath forms at the dollar store or create your own using a pool noodle or even some cardboard. Get creative and wrap it with velvet ribbon or fabric and then layer in your accoutrements to make it yours.
Word Signs
Now, I'm not telling you to add a giant LIVE, LAUGH, LOVE word sign to your tree, but I wouldn't be opposed to a Merry Christmas, Joyeux Noel, Seasons Greetings, or Ho Ho Ho!
Dollar Tree and the Target Dollar Spot are my top two places to find these types of seasonal sayings, but if you're handy and have a Cricut (or a friend who has one), you can create your own word signs on thick, glittery card stock for very little time and money.
Coffee Filter Paper Flowers
If the boho chic vibe is your jam, might I suggest making your own coffee filter paper flowers? These flowers are delicate, feminine and soooo inexpensive to create. You can't mess these up!
You could even dip the edges into some gold or silver glitter to add in some extra shimmer and sparkle or you could dye them fun colors.
I could even see coffee filter paper flowers looking gorgeous in a vintage inspired tree that has antique ornaments, lace garland and other frilly, frou frou finishes.
Doilies
You're thinking, "doilies, come on Monica?"
But hear me out. With the right theme and color scheme, some dainty doilies would fit right in. For example, my girly pink and floral French Christmas tree.
The perk about using paper doilies is they are already perforated along the border (usually), so it's as quick and easy as slipping on an ornament hook and enjoying.
Plus you can't beat the price! You could totally dig out Nana's doilies for this, but if you'd rather not, Dollar Tree has some great options.
You could also fold the paper doilies to make them into unique and interesting Christmas tree doily ornaments.
Kid Friendly Christmas Tree Filler Ideas
Tissue Paper Flowers
Letting my Hispanic/Mexican American roots come to the surface on this one by bringing up tissue paper flowers. Tissue paper is budget friendly, and the method involving making tissue paper flowers is very kid friendly and EASY.
You can make a ton of tissue paper flowers in a variety of sizes without investing a ton of time and energy.
This would be a fun way to let children be part of the Christmas tree decorating process in a hands on way that allows them to get creative, involves minimal frustration (on both the child and parent's part), and results in impactful colorful decor.
Construction Paper Garland
Another great paper craft that kiddo friendly is making a simple construction paper garland. Your kids get to practice cutting strips of paper (although if they're particularly young, you may want to do this part for them), gluing and connecting them together.
To make it extra special, you could have children write their names, what they're thankful for, etc. on the strips of paper and it becomes a cherished momento to reflect on in years to come.
Dried Citrus Fruit Garland
For older children, consider a family afternoon of cutting and drying citrus slices to create a dried garland. It's a fun way to get away from the screens and into the kitchen.
A fun bonus is your home will smell amazing, and you'll end up with a high-end looking garland that will bring a smile to your face each time you look at your tree.
While you're at it, you may want to make some mulled cider to enjoy (maybe a batch with and without wine!) or stove top potpourri to really take advantage of the seasonal scents.
Cricut or Silhouette Paper Crafts
If you have a Cricut or Silhouette cutting machine, you have a ton of free options for creating some beautiful ornaments due to the sheer volume of free SVG files out there.
I created some vintage inspired framed silhouettes a couple years ago, but I know there are gift box, ornament, bow, animal, dog bones, etc. cutting files out there so truly the sky's the limit.
If you don't have access to a paper cutting machine, you should keep an eye out in the scrapbook, party or holiday paper crafts sections to see if any options will work.
Other Christmas Posts You May Like